Tree Removal in Bell County, TX
The Texas Forest Service estimates that over 5 million trees in urban areas across the state have died in the past few years because of prolonged dry conditions. These drought-weakened trees can more easily fall, causing significant damage to your home and surrounding properties. The removal of dead or diseased trees often requires specialized equipment and knowledge many of us don't have. When it comes to tree removal, Bell County homeowners count on the arborists at ABC Home & Commercial Services to quickly and safely get the job done.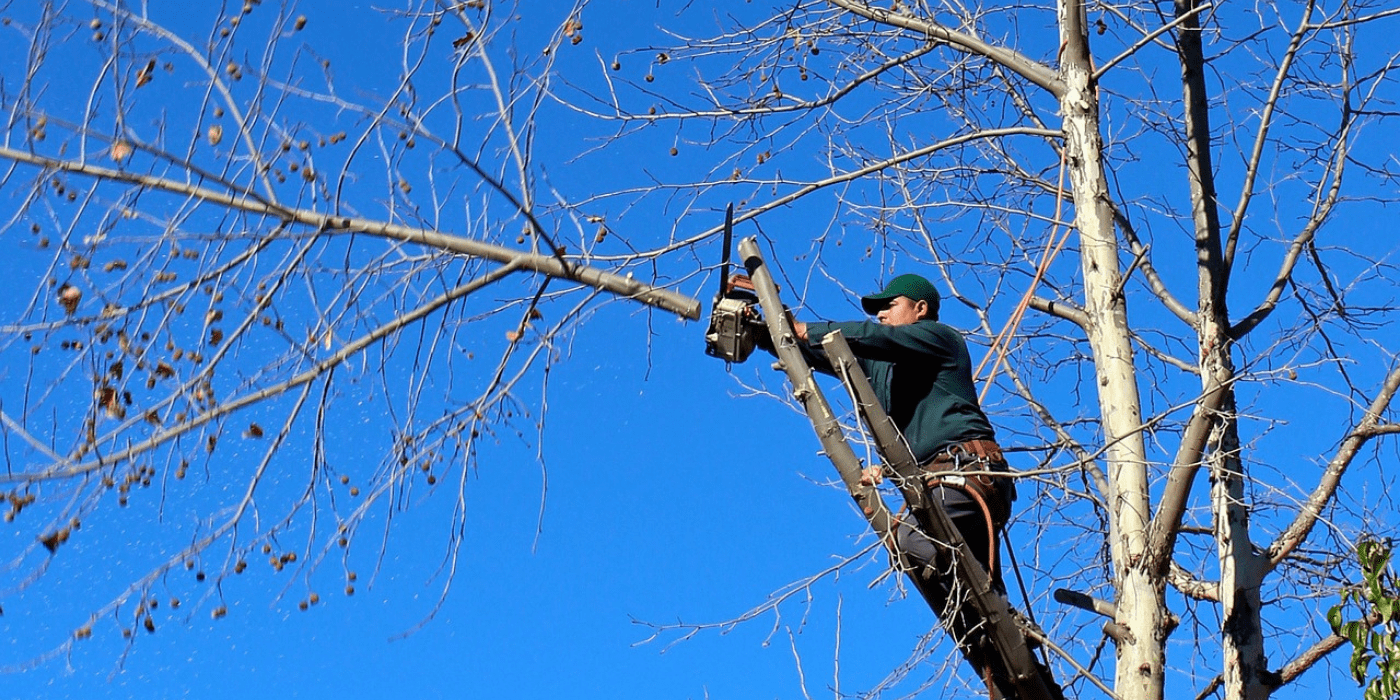 Our tree experts will arrive on your property with all the tools they need to complete the job. The team will first conduct a site survey to determine what obstacles might be a factor in trimming and or removing your tree, whether it is a fence, a beloved garden, vehicles or overhead utility lines. Then, our arborists will inspect the trunk for signs of decay and assess the risk for damage as the tree is trimmed and or felled.
Larger trees will be undercut in the direction the tree should come to the ground. A backcut will be made on the opposite side of the undercut to relieve pressure, allowing the tree to fall. Limbs will then be removed and the trunk will be cut into firewood, if you so desire. If you don't need or want the wood, you may instead opt to have us remove it entirely. Our crew will clean up any remaining debris so your lawn is left in pristine condition.
The ABC Process
1. Contact ABC
We'll learn what you need over the phone or during an in-person meeting at your home. Usually, we can schedule an appointment in a few business days.
2. Get An Estimate
We'll provide you with an estimate based on your goals and our recommended set of services. Once we get your approval, we will get you on the schedule.
3. Service
Our trained specialists perform all agreed-upon services. When we're done, we will clean up any debris to keep your yard neat and looking great.
4. Follow-Up
Depending on what services we performed on your property, we'll provide you with an update or recommend additional follow-up or ongoing services.
We treat your lawn as we would our own. That means that we take extra care during our tree removal process to minimize the impact on your existing plants and landscaping. When your tree (or trees) have been safely removed, our crews clean up your yard and leave you with any firewood you might want to use later on. Our goal is to leave your yard in as good as or better condition than we found it.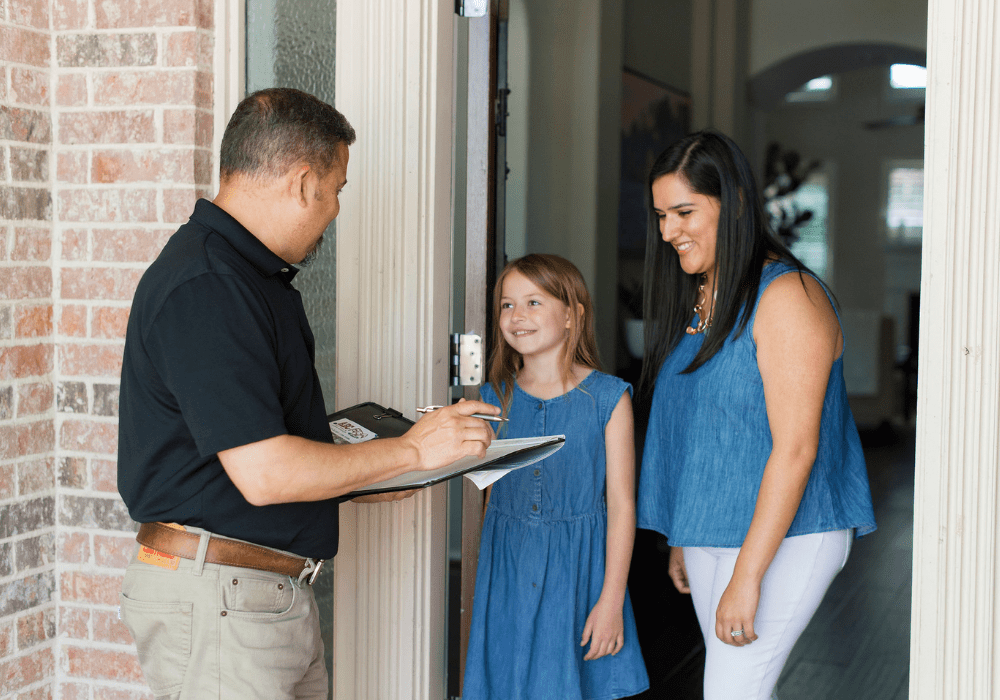 Get Started
We can turn your vision for your yard into reality.
Trees are a very valuable asset, so you should make sure to only hire the most well-qualified professionals to handle your tree care and removal. ABC shows we take our tree care seriously by hiring staff with the following credentials:
International Society of Arboriculture (ISA) Certified Arborist®
Texas Department of Agriculture (TDA) Commercial Pesticide Applicator
Hiring a company that prioritizes these qualifications gives you the confidence that your technicians will use the most accurate and up-to-date industry standards when making recommendations to you about your trees. ABC also belongs to both the International Society of Arboriculture (ISA) and the Tree Care Industry Association (TCIA).
Our customers tell us that they chose ABC for tree removal because of our highly trained and experienced staff. We conduct thorough background checks and drug testing on all our employees so that you can feel safe with our technicians on your property. Our experts don't just perform tree removal; we can also handle tree trimming, fertilization and other needs you might have, all year long.
Frequently Asked Questions
Why might my tree need to be trimmed or removed?
There are a variety of reasons homeowners consider removing trees on their property, including:
Trees growing too close to your home. Branches can scratch your roof and siding and a large tree's root system can destroy your home's foundation.
Dead or diseased trees which are at risk of falling or losing limbs. Many of us don't detect signs of common tree conditions until it's too late. An arborist can perform a health check of your tree to determine how likely it is to fall or shed large and heavy branches.
Trees posing a safety hazard. If a tree grows too close to a power line, homeowners risk power failures, electrical fires and electrocution.
Storm damage which weakens a tree. In some cases, damage from a weather-related event can compromise the structural integrity of a tree, putting you and your family at risk if the tree falls.
What are some warning signs to look for that my trees are in trouble?
If you are wondering about how healthy your tree is, here are some warning signs that can indicate a problem:
A cavity in the trunk. A hole inside of your tree can lead to decay, which can weaken a tree over time.
A leaning trunk. If you notice a tree leaning at more than a 15 degree angle because of damage to its roots or exposure to heavy winds, you should remove it to avoid the risk of it falling.
Rotted roots. Fungal growth on the trunk or mushrooms growing around the base of a tree which can indicate disease.
Sudden loss of limbs or leaves. An unusual shedding of branches or leaves can indicate an unhealthy tree.
Cracked or missing bark. Spots where a tree's bark is dead are called cankers, which can make the tree vulnerable to further damage.
If you see any of these signs, have a trusted arborist inspect your tree to determine if it needs to be removed.
How much do tree trimming and removal cost?
Unfortunately, there is no quick and easy way to tell you exactly what the cost of your project will be. That's one reason we send an inspector to meet with you at your home to gather the information we will need to provide you with a free, no-obligation estimate.
The factors that influence the cost of a tree removal job include:
the height of the tree
its diameter
the current condition of the tree
how easy it is for our technicians to access the tree
what you would like us to do with the tree trunk and limbs after it has been removed
One of the reasons homeowners elect to have trees removed is that potential damage from a trunk or limbs falling can far outweigh the cost of removing a weakened or dead tree.
What does tree trimming service look like at my home?
What impact will tree trimming or removal have on my yard and flowers?
At ABC, we treat your lawn as we would our own. That means that we take extra care during our tree removal process to minimize the impact on your existing plants and landscaping. When your tree (or trees) have been safely removed, our crews clean up your yard and leave you with any firewood you might want to use later on. Our goal is to leave your yard in as good as or better condition than we found it.
Do I need to be at home when my trees are being trimmed or removed?
When you contact us about having a tree (or trees) removed, we schedule a time that's convenient for you to meet an ABC inspector on your property. During this visit, our inspector will get a better idea of the time and tools that will be needed for your tree removal project and answer any questions you might have about our process. Then, ABC will provide you with a free, no-obligation estimate to have the work done.
Once you approve the estimate, in most cases, we can schedule the job when you are away at work, as long as we have access to your yard to do our work. For their safety, we do also ask that you keep your dogs and children inside while our experts are removing your trees.
If I want to plant another tree on my property, what are some things I should keep in mind?
The three main factors which can lead to tree failure are root damage, poor planting techniques and overcrowding. Some of the things you can do to promote healthy tree growth include:
Planting your tree in a hole with about a four foot diameter so that new roots have enough room to grow.
Positioning your tree so that its root ball is about an inch and a half above the ground to promote healthy root development.
Loosening the root ball as you are placing it into the ground to cut through circled or long roots. Doing so enables nutrients to move up into your tree's canopy.
Providing your tree with enough room to grow to maturity.
Make sure to leave adequate space between your tree and your any surrounding structures, concrete and other trees.
Considering how sprawling your root structure can become before undertaking construction projects so you don't harm your tree's base.
Avoiding overwatering your tree when it's dry since you can inadvertently kill roots, which can lead to instability.
Keeping your trees pruned to avoid decay and strengthen the overall structure. Don't top your trees, as this can lead to uneven growth and limb and trunk failure.
Our tree care experts can help recommend a new tree which can thrive in our climate and in your landscape.
Get Started
We can turn your vision for your yard into reality.
More Lawn Care Solutions In Bell County
What Our Customers Are Saying
"We use ABC for grub treatment of our rental home to keep the lawn pest-free and also lawn aeration. The techs and gentleman that came our home for the initial consultation are SO nice and patient while answering all of my questions! I've only spoke to the ladies in the lawn department and they were helpful and friendly everytime I've called and the overall professionalism and friendliness of the employees is why we call them to come back every year. Once you find the gem of a place you never stray! Happy to have found them."
"ABC has done another excellent job for me! I use ABC for a variety of things and they always excel at each and every one of them. Today I had my leaves picked up and my front and back yards mowed and edged. They did a beautiful job and were extremely fast. Not to mention, the technicians were extremely kind and nice!"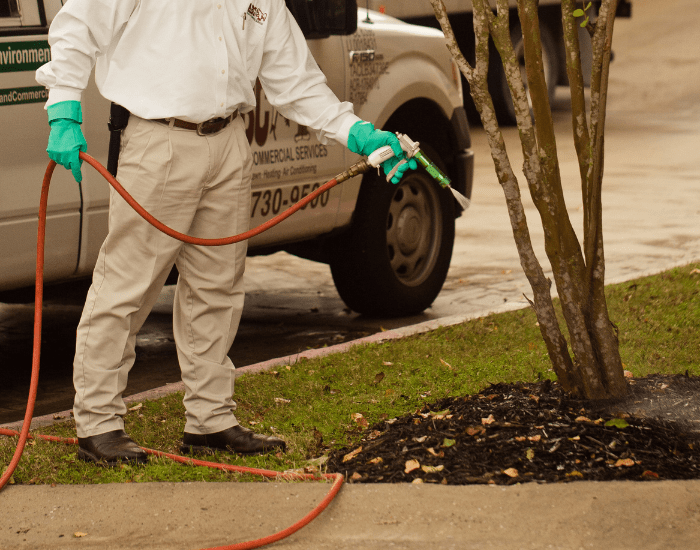 Need Lawn Services For Your Business?
Our lawn care specialists will ensure you make a good first impression on your customers by keeping your facility's exterior looking nice and tidy.
ABC's Complete List of Home Services in Bell County
Why deal with multiple service providers when ABC can do it all?
Hot Tub & Pool
Cleaning, Maintenance & Repair
Lawn & Tree
Landscaping, Mowing, Tree Care, Fertilization, Sprinkler Repair
Pest & Rodent
Ants, Spiders, Termites, Roaches, Bed Bugs, Scorpions & More