Termite Control in OKC
Termites may be the biggest threat your home will ever face. Virtually all homes are vulnerable to termite infestations, which cost homeowners billions of dollars in damage each year. If you see signs of termites—or even if you don't—having your home inspected is critical to protect your biggest investment. The experienced professionals at ABC Home & Commercial Services have built a reputation on providing effective termite control in Oklahoma City and can help you prevent future pest problems.
ABC's pest experts provide full-service termite control in Oklahoma City and the surrounding areas.
Our friendly, knowledgeable technicians are called to area homes to provide the following services:
Termite Inspections
Since subterranean termites establish a new colony each year, homeowners need to remain vigilant to ensure these destructive invaders don't decide to make your home theirs. One of our skilled inspectors can survey your home for evidence of wood-destroying insects (WDIs) and the damage they may have done.
Termite Treatment & Monitoring
If you discover termites near your home, you'll want to take swift action to prevent any further damage. Termidor is a liquid termiticide only available through certified pest control professionals which ABC's professionals can apply which bonds to the soil to create a barrier that termites don't detect. We also pay special attention to areas where your plumbing enters your slab, as this is a common termite puncture point.
Termidor is odor free and poisonous to termites, so these voracious pests are killed on contact. Termidor can eliminate 100% of an infestation within three months of the initial application. Studies have shown the product to be effective for more than a decade after treatment.
Since controlling an infestation is dependent on eliminating the entire colony, which can have up to a million members, ABC's professionals can also install monitoring stations around your property. These stations contain cellulose-based tablets, an attractive food source that any invading termites carry back to the colony. The tablets contain inhibitors which prevent termites from molting and producing eggs, which halts the reproductive cycle. Professionals will return quarterly to check the station for signs of termite activity and inspect your property to keep you protected from a future infestation.
Termite Damage Repair Plan
Some of our customers take advantage of our Signature Pest Control Service and Termite Premier program because it provides a termite damage repair plan for any new termite damage.
The ABC Process
1. Contact ABC
When you contact us, we will schedule an inspection to get an understanding of the problem. In some cases, we can give you a quote over the phone.
2. Get An Estimate
If you have an inspection, we will send you a custom treatment plan and estimate afterward. Once we get your approval, we will schedule your treatment.
3. Treatment
We will come to your property and treat for pests in common hiding and nesting areas. Over time, you will start seeing less and less pest activity.
4. Prevention
Customers with our ongoing pest management services will receive periodic retreatments to prevent the return of the most common pests in our area.
The problem with termites is that the varieties responsible for the most damage spend most of their lives underground and out of sight. As such, most of the time we don't realize there is an infestation until these pests have caused extensive damage to the structural integrity of our home.
Keep in mind that termites look quite similar to flying ants. If you believe you have an infestation of either of these insects, we would be happy to send an inspector to your home to identify which type of insect has invaded your home and what you should do to evict these unwanted houseguests.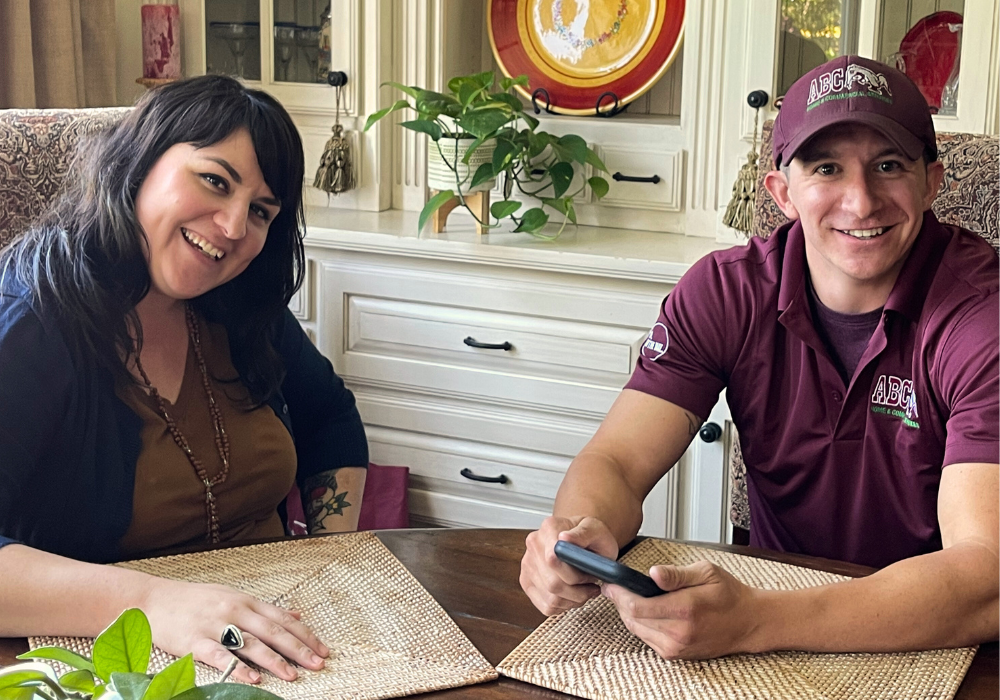 Get Started
We offer a full range of pest control services.
Because of the real danger that termites pose to your home, experts are better equipped to handle an infestation than trying to address the problem on your own. A trained eye is vital to spot the source of your problem and other signs you might have termites. ABC has built a reputation on delivering friendly, effective pest control services in Oklahoma City and the surrounding communities.
We have a rigorous hiring process to ensure we are only bringing the most qualified applicants into our ABC family. Prior to joining the team, candidates must go through drug testing and background checks, so you can feel safe having a technician at your home. Last, but certainly not least, ABC treats your home as we would our own.
Frequently Asked Questions
How soon can you inspect my home for termites?
When you suspect you may have termites, we understand that you want a professional in as soon as possible to determine if you have an infestation and to start a course of treatment if your home has already sustained damage. That's why we make every effort to schedule a time at your earliest convenience to have a trained inspector meet you on your property.
Here's what your inspector will do during this complimentary inspection:
Ask you questions to learn more about why you suspect you may have termites.
Examine your property for any signs of termites.
Assess any damage that may have been caused by termite activity.
Locate entry points these insects may have used to gain access to the wood in your home.
Answer any questions you may have.
Determine whether any features unique to your home are making you more vulnerable to termite activity.
After that initial visit, we'll provide you with a customized treatment plan with recommended next steps. Once you approve our plan of action, we can schedule your first treatment visit.
Are the products you use friendly for pets and children?
At ABC, your family's well-being is our top priority. This is why we do extensive research on the products that we use and only select treatments we would feel comfortable using in our own homes. We are happy to answer any questions you might have about your treatment plan, and our technicians can work with you to address your concerns.
Does ABC perform inspections for Wood Destroying Insects (WDIs)?
ABC routinely performs WDI inspections in Oklahoma City and the surrounding area. If you spot damage to your home that makes you wonder if you have termites, ABC can send an inspector to your home to take a closer look. If an infestation is discovered, we will advise you on your best options for treatment and ongoing monitoring.
What can I do to prevent termites?
The best way to avoid termites is to make your home unattractive to these unwelcome insects.
To make your property less alluring to these pests, you can:
Keep gutters and drains clear of leaves and debris.
Fix leaky roofs and gutters, check for any leaking faucets or water lines and make sure the soil around your house is graded so that water drains away from the foundation.
Don't keep firewood, mulch, scrap lumber, sawdust or other wood debris close to your home.
If any surrounding trees are infested, remove the stump and any infected wood.
Remove any wooden trellises from exterior walls of your home.
Make sure that wood siding, stucco and foam board are at least six inches off the ground.
Ventilate crawl spaces and attics to prevent humidity and cover at least 90% of the ground in crawl spaces with plastic sheeting.
When one of our experienced team members comes to your home, you will receive additional tips to keep termites out that are customized to your space and any unique conditions or features on your property.
Get Started
We can create a treatment plan that targets these pests, so you can have peace of mind.
More Pest Control Solutions in Oklahoma City
What Our Customers Are Saying
brandon townley
4/14/2021
"I have been in the Food Industry for 20 years and have required the services of Pest control at all of my facilities. In 20 years I have never received the type of service from a pest control company like I have since coming to Oklahoma and working with ABC Home and Commercial Services. I have a food safety audit coming up and Clayton Schiegg was out at my facility one day after I contacted them. He was attentive to my needs and I felt like food safety was just as important to him as it is me. He spent three hours with me going over my records and walking/inspecting the facility to make sure I was audit ready. Clayton also had a tech out the next day to make sure I had working apparatuses. Highly recommend ABC for your commercial and residential needs, you will not be disappointed, nor will you have a pest problem. Brandon T"
"Lindsay was great as the arrangements were made for the service at our house. She was both professional and pleasant. The tech that came, Will, was great! He explained what he was doing and told us what we needed to do in regard to our pantry moth problem. Great service by everyone!"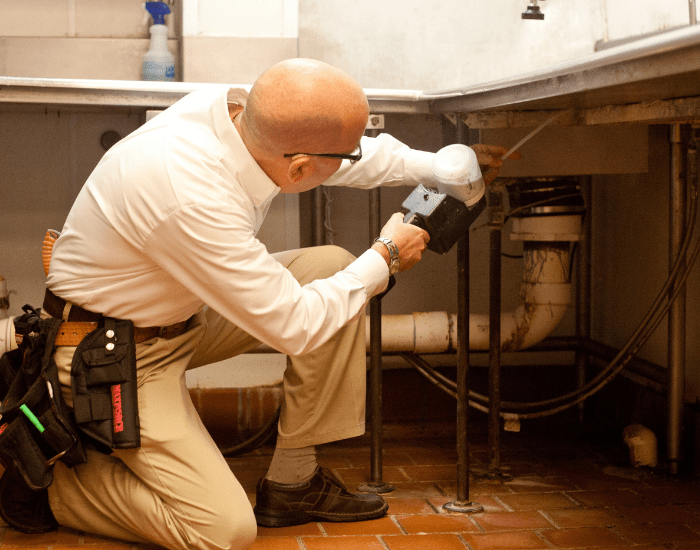 Need Pest Control For Your Business?
We understand that businesses have different needs than residences. That's why we have specially trained technicians who can service your business.