Holiday Lighting
Festive lighting can get you into the spirit of the season. But, installing and removing these decorations is time-consuming and can be dangerous. When it comes to Christmas light installation and holiday lighting in Dallas, homeowners trust ABC Home & Commercial Services to get their homes ready for the holidays. Our safety-conscious approach ensures that you have more time to spend with your family and friends.

Download Transcript
Our team of professionals can handle any outdoor lighting project, large or small. A few examples are:
Installation of festive lights along your eaves, driveway, walkways and in your shrubs and trees.
Drawing attention to your windows, doors, archways and fascia with decorative lighting.
Highlighting your mailbox with Christmas lights.
Illuminating your outdoor living spaces where you host special gatherings with attractive and soft lighting.
Designing a custom event or holiday lighting display based on your style and budget.
Using thoughtful, low-profile lighting to direct your guests toward event entryways.
ABC can provide you with nearly any color of LED holiday lighting, including clear, white, red, green, yellow, orange and blue lights. Even better, we can also provide you with wreaths, lighted garlands and bows. Every decoration that ABC provides is high-quality to make the best impression on your guests and visitors.
After an event or the holidays, there's nothing worse than untangling all those lights. The best way to ensure that you can have everything ready for your next event or holiday season is by storing it all correctly. We want to make your life easier, so as a part of our holiday lighting services, ABC team members will return to your home, take down your lights, and take the extra time to pack them away safely for next year.
The ABC Process
1. Contact ABC
When you contact us, we'll ask questions to get an idea of what you're looking for. For example, we may ask about color schemes or design preferences.
2. Get An Estimate
We'll provide you with an estimate for all needed services.
3. Perform Service
We will work quickly to hang your lights and perform any other agreed-upon services.
4. Pack Up Your Lights
When the holiday season ends, we'll return to your home to take down all the decorations. We put everything in boxes so you are ready for next year.
Tired of all those boxes in your attic and the mess from last year?
ABC has everything you need to turn your holiday vision into a reality. We provide lights, cords, everything you need to create a beautiful display this holiday season. Most importantly, our energy-efficient options can help you save money on utility bills.
Get Started
We can get your home ready for the holidays.
ABC is the leading home services company in the greater Dallas area. Homeowners trust us on their property because we take the time to hire only the best employees. We conduct thorough background checks and drug tests of all of our hires. We give our technicians the training and tools they need to consistently exceed our customers' expectations. We treat your home as we would our own. Make the most of your free time and let ABC handle your holiday lighting.
Frequently Asked Questions
How far in advance do I need to reserve my event and holiday lights installation services?
ABC is here to help make homeowners' lives easier all year long. With our assistance, this becomes even more important during the holidays.
That's why we make our staff available during these busy times of the year. As more and more homeowners rely upon Dallas ABC for event lighting services, we see that our limited number of appointments fill up early, so it's best if you contact us in late October or early November to reserve your spot.
How early can we have our lights installed?
We can install your Christmas lights in early October so that you don't have to worry about getting this done later during the busy season. We recommend contacting us as soon as possible because our schedule tends to fill up quickly.
What if I have a problem with my display after installation?
Your lights are important to you, so we want them to work at their best. That's why our technicians will do everything they can before leaving your property to make sure everything is running smoothly and without issue. In the rare instance that bad weather or an electrical issue causes your lights to malfunction, ABC will return to make sure your lights display is up and running again at no additional charge.
What if my lights need maintenance? For example, what happens when a timer goes out?
The team at ABC is here to make your lights shine bright. Our team will come out and fix any problems with them, no matter what they are. Whether you need a new bulb or a timer goes out, just reach out to our team. We will send someone back to your home to make your lighting beautiful again, at no additional cost to you.
How will you attach the lights to my house?
ABC's trained technicians use universal clips to attach the lights to your home. This approach protects your home from any damage that can be caused by using tools like screws or nails and also allows our installers to quickly remove them when the holiday season is over.
Where are the lights stored after you take them down?
We'll take down your holiday lights and decorations at the end of the season so that you can easily access them next year. Many homeowners are happy to hear that their costs will go down in future years because of their investment in high-quality displays from ABC. Of course, if you want to add on additional lighting or wreaths for next year's holiday display, we are happy to help.
What other services does ABC provide that can help me get ready for my event or the holiday season?
One of the advantages of using ABC as your lighting service is that we provide a wide range of other home services. Contact us for help with anything from interior design and landscaping projects:
Identifying the source and extent of any household or yard pest infestation, as well as treating your property so that no uninvited guests get in the way.

Sprucing up your outdoor spaces with our lawn mowing, landscaping and tree trimming services.

Cleaning your pool or making any needed repairs.
All of these "little" tasks can add up to a lot when you are getting ready for the holidays. Trust ABC, we will take care of it all so that your home looks perfect for those special occasions.
Get Started
We can get your home ready for the holidays.
What Our Customers Are Saying
"We have used ABC Commercial Services for a number of years. Our current technician Hunter Johnson is doing an excellent job responding to customer requests and he is very thorough in his twice a month visits to our village. We have had several occasions to call technicians this past year on urgent matters. They have always responded in a timely manner. It is a big job to handle a Village of 128 units. ABC has so far met the challenge."
"Hunter is the BEST SERVICE TECH EVER!! Extremely professional, knowledgeable, reliable, and responsive. His 5 star service has made me an ABC client for life! Thank you for all your help!! Absolutely Exceptional!"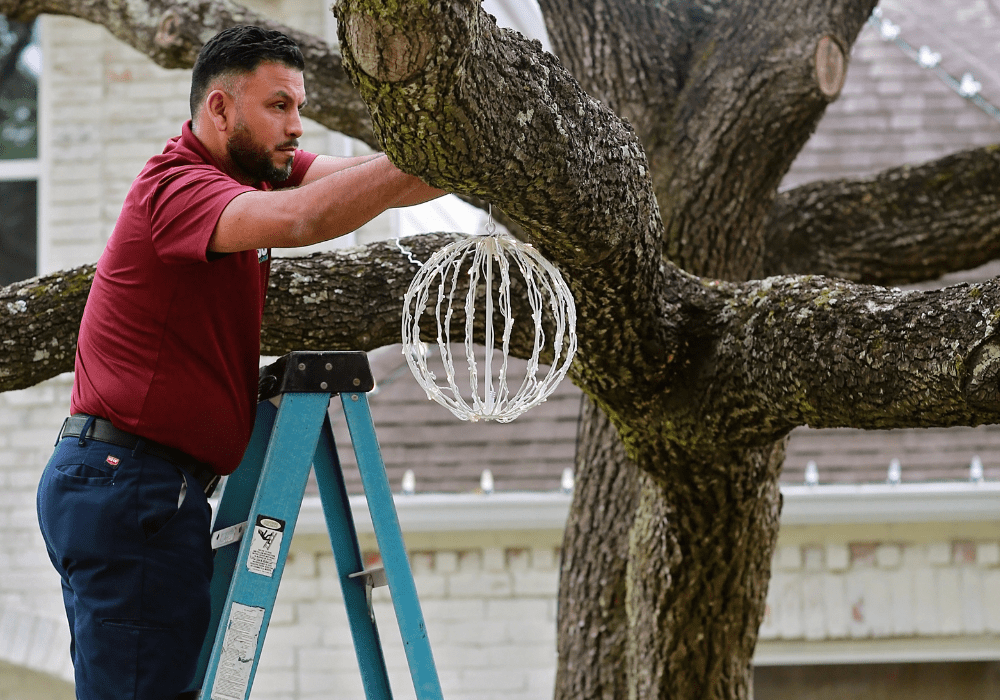 Need Holiday Lighting Services For Your Business?
Spread holiday joy to your customers. We can get your business beautifully decorated for the holiday season!
ABC's Complete List of Home Services in Dallas
Why deal with multiple service providers when ABC can do it all?