Lawn Services & Lawn Mowing in Dallas, TX
A vibrant, green lawn not only enhances your curb appeal, but also shows neighbors that you care about your community. As we all know, it's not exactly easy to maintain a Texas lawn, especially without dedicated time and attention. When it comes to lawn mowing in Dallas, as well as lawn care in Dallas, homeowners trust ABC Home & Commercial Services to lend a hand to free up more time for leisure and relaxation.
Comprehensive Lawn & Landscaping Services
You don't have to worry about dusting off that weed whacker or getting your mower out of the back shed. ABC's lawn crews arrive at your home with everything we'll need to work on your lawn. Our commercial-grade equipment produces consistent, high-quality results.
The ABC Process
1. Contact ABC
We'll learn what you need over the phone or during an in-person meeting at your home. Usually, we can schedule an appointment in a few business days.
2. Get An Estimate
We'll provide you with an estimate based on your goals and our recommended set of services. Once we get your approval, we will get you on the schedule.
3. Service
Our trained specialists perform all agreed-upon services. When we're done, we will clean up any debris to keep your yard neat and looking great.
4. Follow-Up
Depending on what services we performed on your property, we'll provide you with an update or recommend additional follow-up or ongoing services.
ABC's lawn specialists have one overarching goal: we want to help you keep your lawn green and healthy! Our reliable and friendly professionals are regularly called to Dallas-area homes to provide the following lawn services:
Lawn Mowing
Finding time to keep your grass cut and looking neat and tidy can be quite a challenge, given all the other regular tasks on the average homeowner's to-do list. ABC's lawn pros can take over this thankless job for you, so you don't have to worry about fitting in lawn mowing into your busy weekend schedule. Our lawn service customers appreciate that they can come home after a long day to an attractive yard that has been mowed and edged, and that hedges have also been trimmed. While our technicians are at your home, we'll also treat for broadleaf weeds to keep your lawn free of these eyesores. Best of all, we'll make sure your driveway and walkways are free of grass clippings and other yard waste so your outdoor areas are picture-perfect.
Landscaping
While attractive and colorful landscaping can showcase your property year-round, actually doing the research to see what would work in your yard, purchasing the plants and turning your vision into a reality can quickly become overwhelming. That's where ABC's landscaping experts come in. We can take on all projects, large and small, whether it's changing out flowers in existing beds or implementing an entirely new landscaping plan to improve the look and function of your outdoor areas.
Sprinkler Repair & Inspections
It won't take long for our North Texas grass and flowers to suffer if our irrigation systems stop working. If you notice areas in your yard that are consistently dry, or damp spots, you could have a broken or missing sprinkler head or a station that is not working. ABC can perform an inspection for you to determine what's wrong with your system, recommend a watering schedule to get your landscape the water it needs and make any needed repairs.
Lawn Fertilization
One of the reasons our plants can suffer at certain times of the year is that our soil does not provide needed nutrients to withstand our hot climate and infrequent (but sometimes heavy) rainfall. Fertilizers and lawn amendments can give your yard a boost to keep plants thriving. ABC's lawn pros have designed a year-round fertilization program designed specifically for North Texas landscapes. We can work with you to implement a schedule which meets both your budget and your lawn's needs.
Weed Control
Weeds are unattractive and are a nuisance to have to deal with. ABC's lawn specialists can apply pre-emergent weed control in the spring which discourages the growth of these stubborn plants, all year long. We can also target certain common problem plants, including broadleaf weeds and Nutgrass.
Insect & Disease Control
As the largest independently-owned and operated pest control company in the state of Texas, ABC has considerable expertise in the many different types of pests that could be responsible for damage to your plants. Whether it's gray leaf spot, spring dead spot, brown patch, grubs, armyworms, chinch bugs or another lawn pest or condition, we can implement a program to help your yard recover.
Core Aeration
One of the primary culprits for slow plant and tree growth is soil compaction. Over time, your dirt can become too dense without proper aeration. When this happens, water cannot penetrate down to plants' roots, robbing your grass and landscape of vital nutrients. ABC's lawn professionals can ensure that air, water and nourishment can reach the root zone in your landscape.
With proper mowing, fertilization and watering, you can have the greenest lawn in your neighborhood.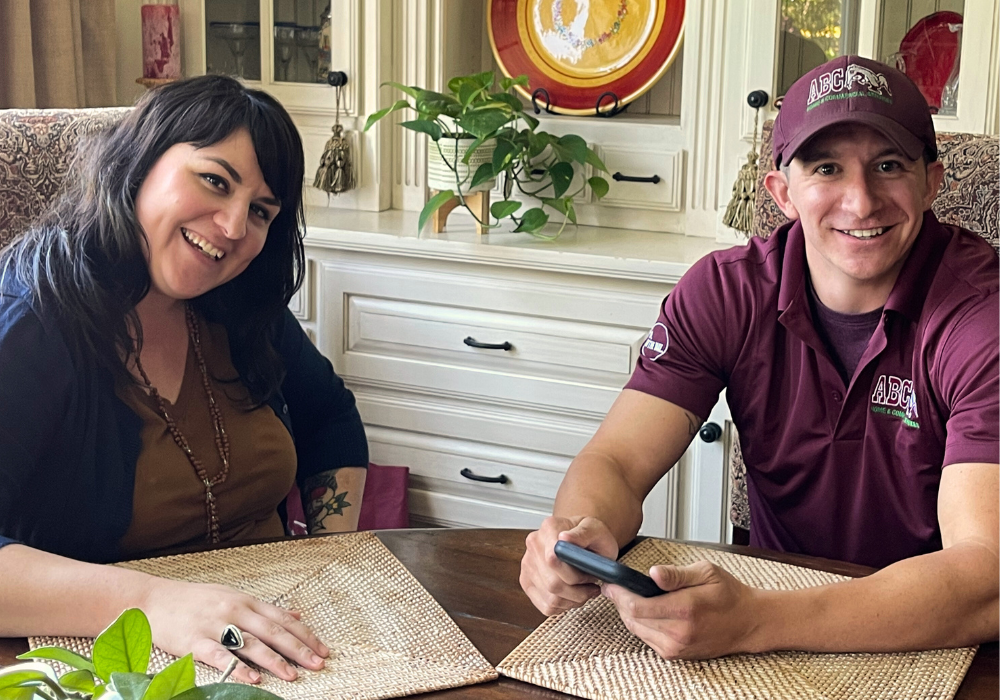 Get Started
We offer a full range of lawn services.
First and foremost, our loyal customers tell us that they keep coming back because we provide the most reliable, professional lawn services in the area. We also hear that the fact that we perform extensive background checks and drug testing makes our customers feel safer having an ABC crew on their property. Last, and certainly not least, we treat your property as we would our own.
Frequently Asked Questions
How often will you mow my grass?
Grass grows at different rates, depending on several different factors, including the type of grass in your yard, the time of year, how much you water and the amount of full sun your lawn gets.
We will work with you to create a lawn schedule based on your budget and your needs. Typically, our pros will recommend a weekly or bi-weekly lawn maintenance program to keep your grass healthy.
Do I need to be at home for you to mow my grass or provide lawn fertilization services?
In a majority of cases, our lawn specialists are able to cut your grass and care for your lawn, even if you aren't at home. All we need is any special instructions on how to access your yard, if applicable, and that pets and children are kept indoors while we are working.
Are the products you use on my lawn pet- and kid-friendly?
As a family-owned business, the welfare of you and your loved ones is our top priority.
Our lawn products are designed to be low-impact on people, pets and the environment in mind. In addition, our thoroughly trained specialists perform lawn and pest control services responsibly. We are happy to address any concerns or questions you may have about the products we are using on your property and our methods.
Get Started
We offer a full range of lawn services.
Additional Lawn Service Areas in Greater Dallas
ABC services many surrounding communities, including, but not limited to:
What Our Customers Are Saying
"They always give me a call as a reminder the will be out. I get a text 30 minutes before arriving . They do a great job. My wears are always in control and our grass is green. We used the plumbing service and are great!"
"I've only had 2 apps so far but it's made a huge different. The tech is always very kind and explains EVERYTHING, which is so nice. Instead of just fixing the problem, he explains why we may have the problem. When they give me a window for visits, he's always within that window and usually on the earlier side. I've waited 2 hours over the window with another company before (more than once) so being on time is some thing I really appreciate. Overall I recommend them and am happy I went with ABC!"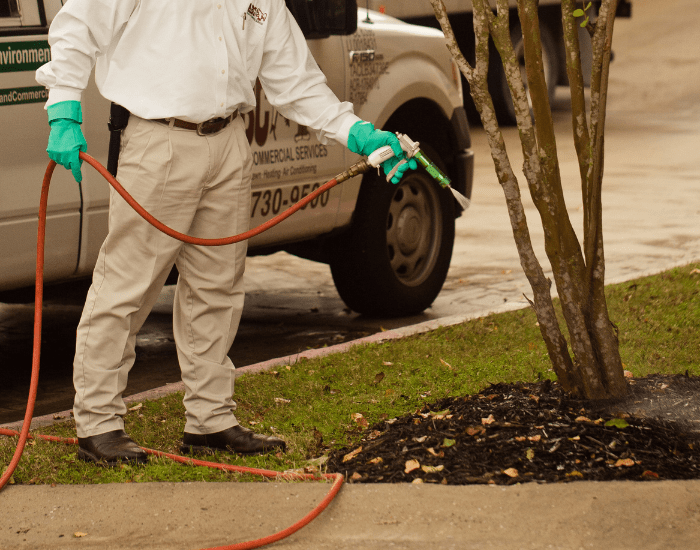 Need Lawn Services For Your Business?
Our lawn care specialists will ensure you make a good first impression on your customers by keeping your facility's exterior looking nice and tidy.
ABC's Complete List of Home Services in Dallas
Why deal with multiple service providers when ABC can do it all?