Handyman in Dallas, TX
As homeowners in the Metroplex know, maintaining a house is hard. There's always something that needs to be replaced or fixed. As soon as you finish one job, two or three more pop up. Most of these projects are small, such as changing out light bulbs or filters, but the tasks can pile up quickly. Larger tasks like making door adjustments, cleaning gutters, doing carpentry, painting and so on may sit undone for months. When it comes to hiring a handyman, Dallas/Fort Worth homeowners trust the experts ABC Home & Commercial Services to get things done right—the first time.
Expert & Reliable Handyman Services
Some homeowners don't want to reach out to a handyman service because they feel that they could (or should) do the job themselves.
On the flip side, many of us can realize we're in over our heads right when a project begins or as it's underway. Or that even if we have the needed skills, we just don't have the time or the equipment. In some cases, you may question if a project is even right for a handyman in the first place—either because the task is too minor or too big.
Let's clear a few misconceptions.
If you have something on your property that needs to be maintained, repaired or replaced, chances are that the skilled handymen at ABC can help, no matter what it is.
We see our job as professional helpers. You have a to-do list that's just getting longer, and we can help you cut it down to size and cross as many items off as you need.
What exactly can ABC's pros do?
Painting – interior and exterior
Repair of wood rot
Power washing
Bathroom remodeling
Siding replacement
Backsplash installation
Grout and tile repair (when tiles are missing or broken)
Carpentry jobs, including adding crown molding, deck building, fixing stairs or cabinets and framing doors
Sheetrock repair
Hanging new doors
Mounting or hanging shelves
Furniture assembly
Wall-mounting TVs
Picture frame hanging
Our handymen do not deal with plumbing issues—but that doesn't mean we can't help. One of the best things about working with ABC is that we also have licensed plumbers who can install toilets, fix leaks, replace faucets and more.
The ABC Process
1. Contact ABC
When you contact us, we will ask questions to get an understanding of what you need done.
2. Get An Estimate
We will schedule a half-day or full-day of handyman services. For larger projects, we will meet with you to give the most accurate estimate.
3. Perform Service
Your ABC handyman will perform all agreed-upon tasks during the scheduled time block.
4. Follow Up
We will update you on the work we performed and provide any helpful follow-up instructions or other guidance.
Everyone who works for ABC is licensed and certified in their particular trade or trades to better help them help you in your home. Because we know how important it is for our customers to feel safe when inviting people onto their property and into their homes, we put all employees through rigorous drug screening and background checks.
It doesn't matter what kind of service you sign up for. When you choose ABC, you can rest easy knowing that the people helping you have passed our stringent quality standards.
Frequently Asked Questions
How soon can you start on my list of projects?
The fastest way to get your around-the-house to-do list done is to get in touch with us. Our promise is that we will strive to set you up with the earliest available appointment.
What are ABC's handyman prices based on?
When you hire a handyman from ABC, you're essentially buying their services for a set block of time—either a half day or full day.
In our experience, most homeowners can get several projects completed within a half day time period. That being said, the best thing to do is ask us, since it really depends what you have in mind.
When you reach out to schedule the service, you'll tell us what you want the handyman to do. From experience, we'll recommend how long it should take to complete the job. Moreover, knowing the specific types of tasks you need to be done enables us to match you with a craftsman whose abilities best fit your needs.
Have a bigger job? No problem. If it seems like your task will take longer than a full day, we'll have a Specialist do a walk-through and offer an estimate before starting the project. This estimate will incorporate all associated costs, so you never have to worry about being surprised by any hidden costs.
What if the ABC craftsman can't finish my projects in the set amount of time?
This scenario doesn't happen often, because we have extensive experience in estimating how long it takes to complete different types of handyman tasks. However, if you find yourself in this situation, our craftsman will tell you how much more time it will take to complete the list. You then have the option of leaving the remaining tasks unfinished or paying for additional time to complete them.
Do I need to provide any kinds of tools or equipment?
We will explain what tools and equipment are required for the specific task or tasks. Our promise is that the craftsmen from ABC will come with all the basic tools and supplies needed to complete your project.
If there are other specific materials required, we recommend that you buy these ahead of time and have them ready, so your Specialist can focus their time on completing your task rather than shopping for what they need.
Why does ABC have time blocks for handyman services?
Most homeowners in the Dallas/Fort Worth area who get in touch with us have a long list of tasks they want to be completed, rather than just one. Because of this, our experienced handymen work on a flat-fee basis. This allows them to finish numerous home improvement projects for the same price rather than charging for each individual service.
ABC's goal is to help homeowners enjoy their free time, rather than always having home maintenance tasks get in the way of relaxation and fun. These handyman time blocks help our Specialists get through a large number of home improvement tasks in a short time and provide homeowners with the peace of mind that comes from working with trusted professionals.
Is there anything I should do to get my home ready for your handyman?
If you want to make sure your ABC Specialist can get right to work, we have a few suggestions to make the best use of your time:
Clear furniture and other objects from the area where your handyman will be working before he or she arrives.
Make sure pets and kids stay away from the area while the handyman is working.
Be available for any questions from your Specialist.
Get Started
We offer a full range of handyman services.
Additional Handyman Service Areas in Greater Dallas
ABC serves many surrounding communities, including, but not limited to:
Addison
Allen
Arlington
Benbrook
Carrollton
Cedar Hill
Coppell
Denton
DeSoto
Duncanville
Farmers Branch
Flower Mound
Frisco
Garland
Grand Prairie
Grapevine
Irving
Keller
Lake Dallas
Lewisville
Mansfield
McKinney
Mesquite
Midlothian
North Richland Hills
Plano
Richardson
Texarkana
The Colony
Waxahachie
Weatherford
Wylie
What Our Customers Are Saying
"We have used ABC Commercial Services for a number of years. Our current technician Hunter Johnson is doing an excellent job responding to customer requests and he is very thorough in his twice a month visits to our village. We have had several occasions to call technicians this past year on urgent matters. They have always responded in a timely manner. It is a big job to handle a Village of 128 units. ABC has so far met the challenge."
"Hunter is the BEST SERVICE TECH EVER!! Extremely professional, knowledgeable, reliable, and responsive. His 5 star service has made me an ABC client for life! Thank you for all your help!! Absolutely Exceptional!"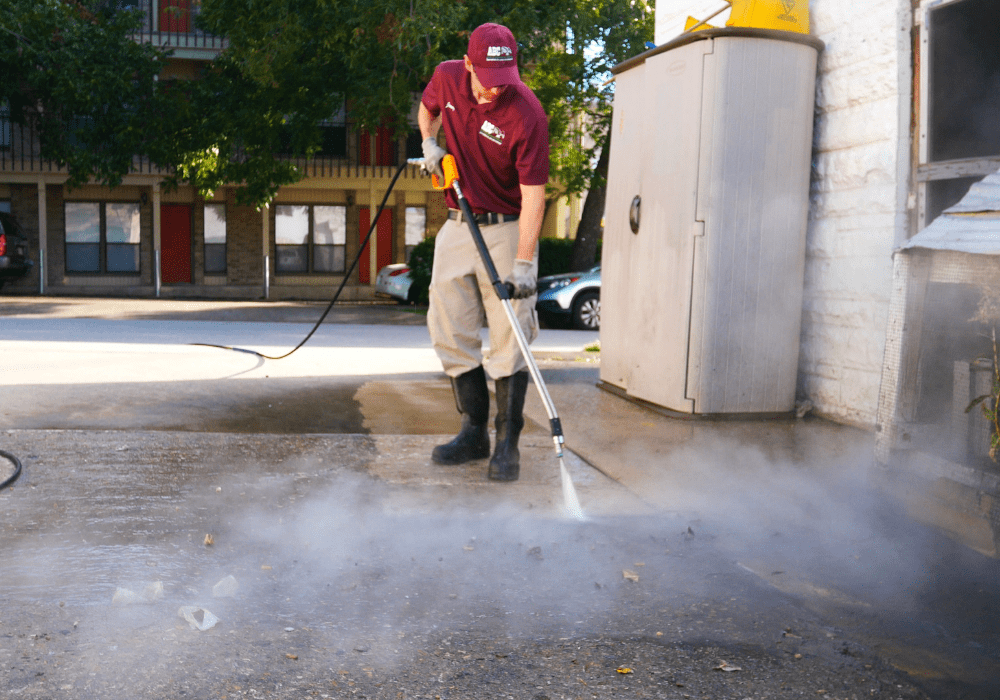 Need Handyman Services For Your Business?
Running a business is a lot to manage and it's nearly impossible to cross everything off your to do list. Let our handymen take some work off your plate.
ABC's Complete List of Home Services in Dallas
Why deal with multiple service providers when ABC can do it all?