Gutter Cleaning in Houston, TX
Your gutters protect your home by channeling water away from your foundation. To perform this important task, they filter out dirt and debris. When they get too full, a number of problems can develop, some of which can cause permanent damage. Not every homeowner wants to regularly spend hours on a ladder doing this chore. When it comes to gutter cleaning in Houston, homeowners trust ABC Home & Commercial Services to get the job done right.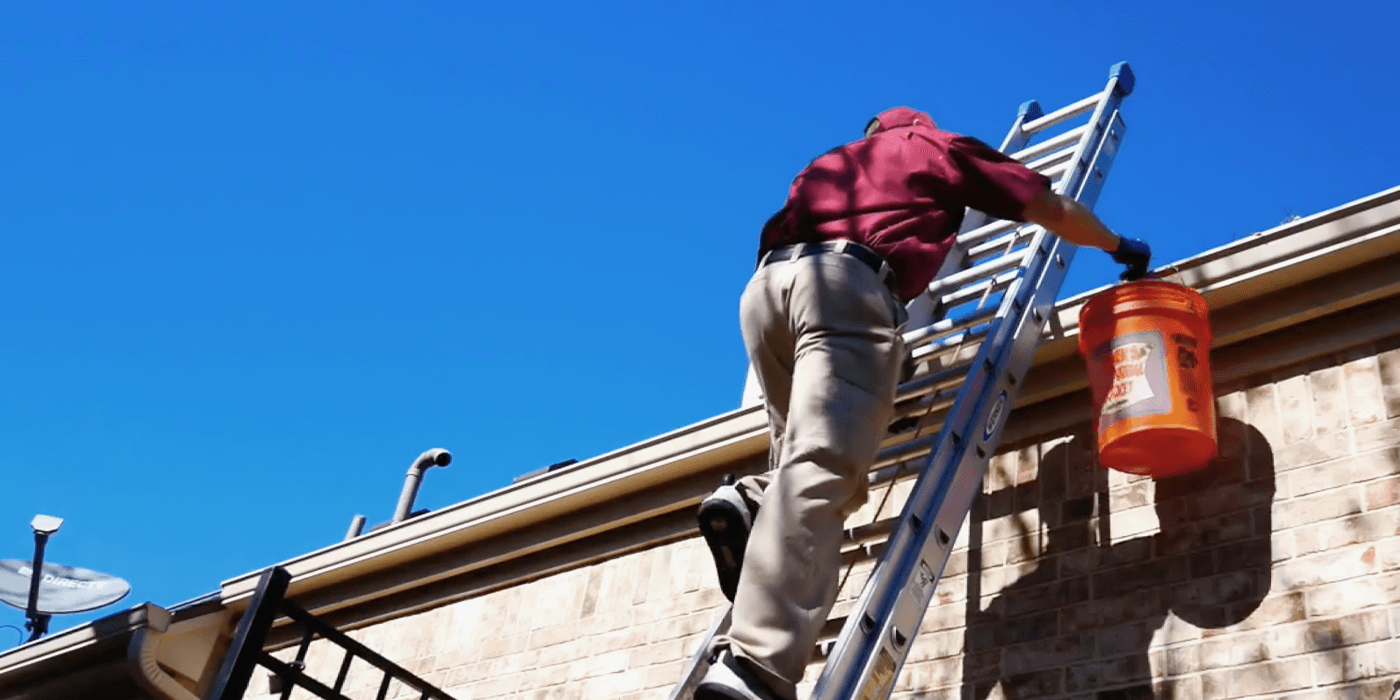 Our technicians use a specially-made tool to push sticks, leaves, and other debris across the length of your gutters to one side. These photos illustrate what our technicians typically see before the work is done and what your gutters look like when we are done.
Before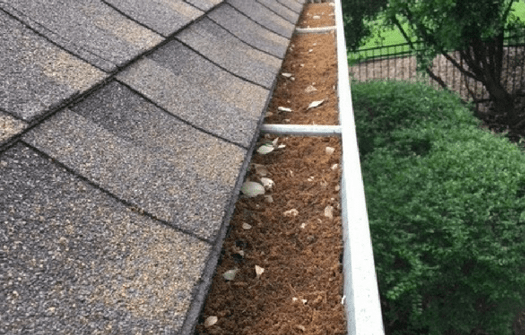 After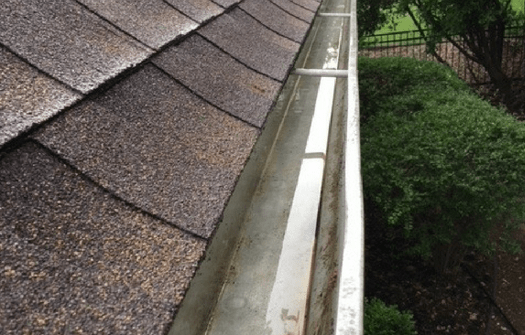 While some folks will use a hose to push the debris out from the gutter, we manually push the debris out of the gutters for easier cleanup, and so this residue can't damage or tarnish your driveway, yard or gardens. After checking the downspout for any blockages, our technicians will choose whether to use a leaf blower or disassemble your downspout to get rid of the debris.
After your gutters are cleaned out, our technicians clean up your property, leaving it looking better than they found it, by disposing of any debris or waste that came from the gutters.
The ABC Process
1. Contact ABC
When you contact us, we will learn more about what you'd like done and your property.
2. Get An Estimate
We'll provide you with an estimate for power washing. We can usually give this to you over the phone.
3. Perform Services
Our pros will get your surfaces sparkling clean.
4. Follow-Up
After each visit, we will update you on the work we performed and provide any helpful follow-up instructions or other guidance.
Taking care of your gutters is not just a cosmetic concern. Too much debris can act as an attractive nesting or resting ground for pests like mice and rats. If you neglect them for long enough, clogged gutters can cause permanent damage. When too much debris gathers in your gutters, they can also become too heavy and detach from the house.
Warning signs that a home's gutters are full and in need of cleaning:
Pests nesting in debris build-up
Rodent or bird nests
Visible build-up of leaves, dirt and other residue
Seeds sprouting
Improper flow of water when you see water coming out of the top or sides of your roof instead of down the downspout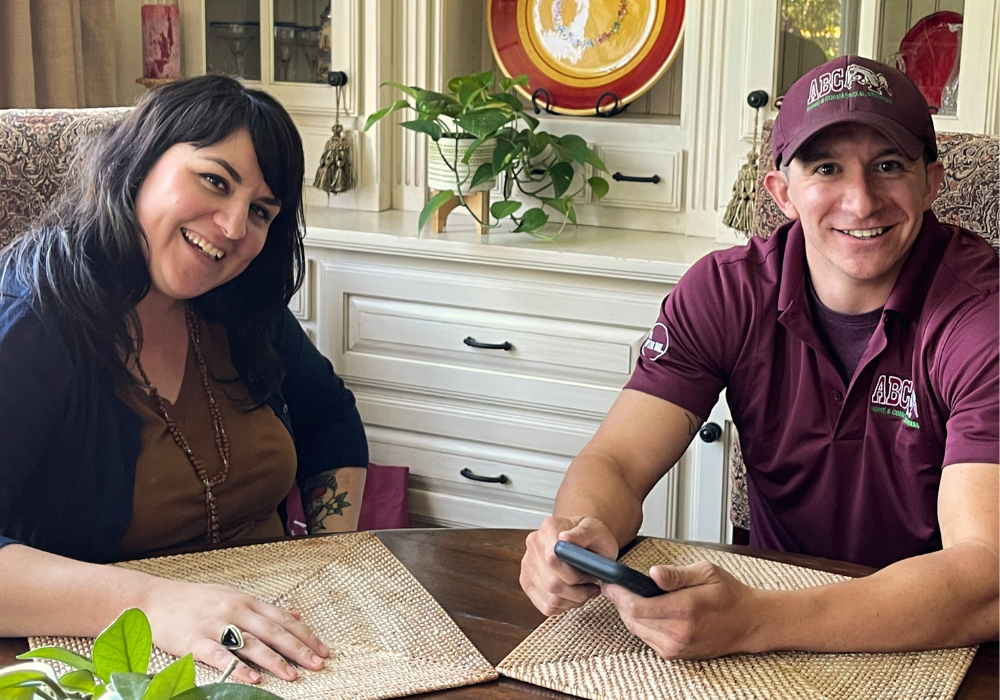 Get Started
We offer a full range of exterior cleaning services.
At ABC, we pride ourselves on treating every customer's home with the highest level of care that we would give our own homes. Since 1949, our family-run business has been providing homeowners across Texas with excellent service, so they can be out exploring Space Center Houston or spending time outside at Discovery Green instead of stuck at home, working on home improvements or other not-so-fun chores. Finally, our customers tell us that they appreciate that all of our employees are drug tested and have a background check before coming out to their homes. That means that you can feel comfortable having ABC on your property.
Frequently Asked Questions
Do you provide free estimates?
Yes! After you call ABC, we will arrange for a technician to come out to your home and take a look at your home's gutters. When they are done taking a closer look at your gutters, we will then give you an estimate. In some cases, we are even able to give you a quote over the phone. When you are happy with your estimate, we will schedule a time to come out that is convenient for you to get the work done.
Can you remove those black lines from my gutters?
Absolutely! Commonly known as "tiger stripes", these unsightly streaks you may seem forming along gutters are a result of electrostatic bonding of debris to your aluminum gutters. We know Houston homeowners don't want to see these stripes, so we can use a combination of power washing equipment and special cleaners to break up this chemical bond and remove any black lines or streaks.
How often should I have my gutters cleaned?
It depends, based on what type of trees you have in your yard; some trees like pine shed a lot. Since Houston faces a magnitude of weather changes, with high winds and storms, these can also add to the build-up of debris in your gutters.
We generally recommend that homeowners in Houston have their gutters cleaned twice a year to break up the debris that can form in them. However, if your gutters are positioned at a steeper angle to the roof, they may require more frequent cleaning.
Since homeowners often don't realize that their gutters need to be cleaned out until they're in bad shape, ABC offers a recurring service to take the guesswork out of scheduling an appointment and maintain your home's gutters on a regular basis.
Do I need to be at home when my gutters are cleaned?
We're here to take care of your home, so you can be out enjoying your precious free time! After the initial consultation, you are welcome to run errands while we are cleaning your gutters or grab lunch from the Original Ninfa's. We simply ask that technicians are provided with instructions on accessing the perimeter of your property, and that pets and children are not outside while our technicians are working.
Get Started
We offer a full range of exterior cleaning services.
More Exterior Cleaning Services In Houston
What Our Customers Are Saying
"Very friendly and helpful staff. On time and great service. They helped me trap and remove the mice that got into my house. The biggest part of their service is preventing them from coming in again. Every one of the people I dealt with either in the field or at the office were super nice! Highly recommend them. Very happy with my service."
"Professional staff, easy to schedule, and great communication. From the very first visit technician was efficient and pointed out a few areas to be aware of. Overall very impressed with quality of service. We have used ABC from the fall 2019 and still very satisfied. Our tech is amazing and does a great job addressing problem spots! We added the mosquito supression service and it has given us our outdoor space back! We love ABC and all techs are highly qualified and trustworthy!"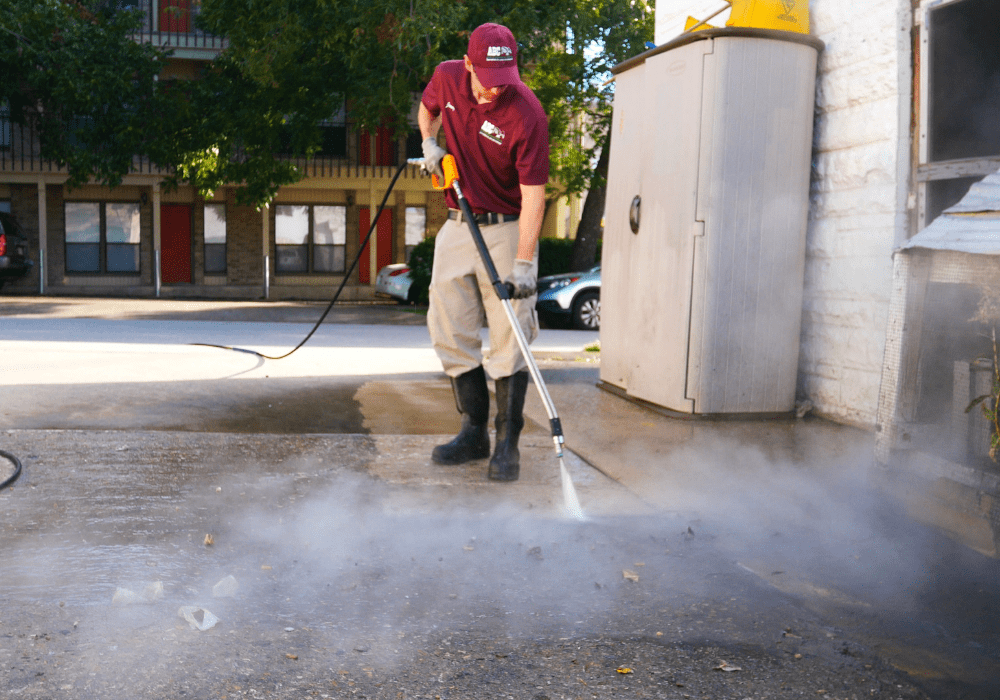 Need Exterior Cleaning Services For Your Business?
We understand that businesses have different needs than residences. That's why we have specially trained technicians who can service your business.
ABC's Complete List of Home Services in Houston
Why deal with multiple service providers when ABC can do it all?