Holiday Lighting & Christmas Lights Installation in Houston, TX
The most wonderful time of the year is also often the busiest. During the holiday season, decorating your house with Christmas lights—both inside and out—can make your home a welcoming destination for holiday gatherings and memory making. Before you agonize over when and how you will hang those outdoor lights, consider having ABC Home & Commercial Services take one item off your long holiday to do list. When it comes to Christmas lights installation in Houston and holiday lighting, Houston homeowners count on ABC to make their home sparkle.

Download Transcript
Our seasonal lighting pros can transform your home for the holidays.
Houston homeowners frequently rely on ABC to:
Brighten walkways, driveways and pathways with festive Christmas lights.
Highlight doors, windows, beds, archways, mailboxes and rooflines with lighting
Hang outdoor decorations, including wreaths and yard decor
Adorn trees, shrubs and hedges with mini lights
Design a custom lights display to dazzle your friends and neighbors
If the thought of going into the attic and dealing with tangled strands of lights sounds unappealing, rest easy. ABC can supply you with all the Christmas lighting you'll need to decorate your home for the holidays, including lit garlands and wreaths.
Brighten your home for the holidays with ABC's help!
The ABC Process
1. Contact ABC
When you contact us, we'll ask questions to get an idea of what you're looking for. For example, we may ask about color schemes or design preferences.
2. Get An Estimate
We'll provide you with an estimate for all needed services.
3. Perform Service
We will work quickly to hang your lights and perform any other agreed-upon services.
Pack Up Your Lights
When the holiday season ends, we'll return to your home to take down all the decorations. We put everything in boxes so you are ready for next year.
Houston homeowners depend on ABC for Christmas lights installation services for several reasons. First, all ABC employees undergo thorough background checks and drug testing, so you can feel safe about having ABC at your home. Second, we offer extensive in-house training to make sure your Christmas lights are not causing any damage to your roof or your home's exterior. Lastly, our employees treat your home as they would their own.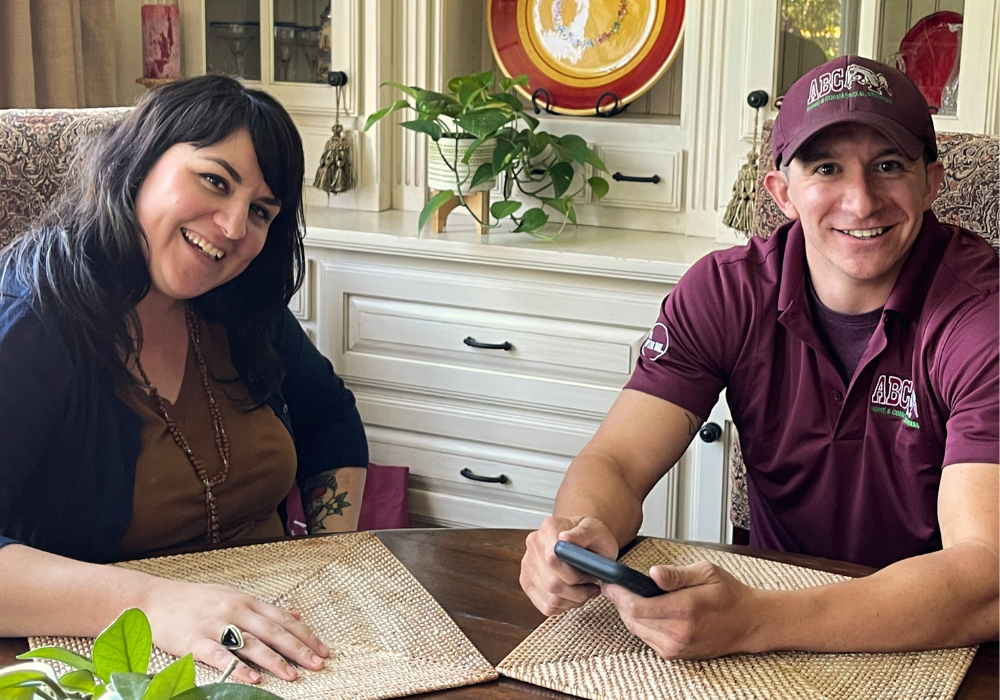 Get Started
We can get your home ready for the holidays.
Frequently Asked Questions
Do you offer free estimates?
When you contact ABC, we will send a technician to your property to meet with you and learn more about what holiday lighting services you would like and your budget. We can also answer any questions you might have about the services we provide.
ABC will then provide you with a free, no-obligation estimate. Once you approve the work you would like to have done, we can schedule a service call for installation. In many cases, we can take care of Christmas lights installation while you are away at work.
When do I need to book my Christmas lights installation?
To respond to increased demand, we have expanded the number of appointments we have available for Christmas lights installation. That said, we have found that more and more homeowners are booking earlier and earlier in the season.
Since our appointments are on a first-come, first-served basis, we recommend Houston homeowners contact ABC in early November to reserve your spot. Just think of it as the first item you can check off your holiday to do list!
Do you offer energy-efficient holiday lighting?
One of the benefits of purchasing new Christmas lights from ABC is that we offer energy-efficient options. In addition to the more traditional C9 bulbs, ABC customers can also select LED Christmas lights. LED lights require 80% less energy than their incandescent counterparts and can last up to 25 years longer.
Can you take my lights down?
ABC has been making life easier for Houston homeowners for decades, and this philosophy also applies to our Christmas lights installation services.
Our customers appreciate that as part of our Christmas lights installation services, our technicians will return to your home after the holidays are over to remove your lights display. ABC will safely pack your lights so that they are protected and ready for the next holiday season.
Don't have the space in your attic for another box for your lights? Is your garage full, too? ABC can now store your lights for you until you are ready to decorate for next year!
What happens if I have a problem with my display after installation?
ABC stands by our Christmas lights installation services. In the unlikely event that a storm or electrical problem causes your lights to stop working, our technicians will return to your property to get your lights working again.
What else can ABC do to help me get ready for the holidays?
We realize that installing Christmas lights is just one of the many things homeowners need help with during the busy holiday season.
ABC is also available to:
Control pests in your home and yard, including mosquitoes, rodents, roaches and other pesky intruders, before your holiday gatherings
Perform a heating tune-up so your house is warm and cozy for guests
Mow your grass and put in new landscaping to showcase your home
Winterize your pool so it's ready for next swim season
What do I need to keep in mind when decorating for the holiday season?
Make your Christmas safe and more merry by:
Keeping candles away from flammable materials
Setting timers to cut electric costs while you are asleep or away
Keeping extension cords out of the reach of small children and pets
Using specially-designed Christmas light clips outdoors instead of nails or staples
To see other smart holiday decorating tips, check out our infographic.
Additional Christmas Lights Installation Service Areas in Houston
ABC serves many surrounding communities, including, but not limited to:
Atascocita
Baytown
Conroe
Cypress
Deer Park
Dickinson
Friendswood
Galveston
Hockley
Humble
Huntsville
Jersey Village
Katy
Kingwood
Lake Jackson
League City
Memorial
Missouri City
Pasadena
Pearland
Piney Point Village
Richmond
Rosenberg
Sienna Plantation
Spring
Stafford
Sugar Land
The Woodlands
Tomball
West U
What Our Customers Are Saying
"Very friendly and helpful staff. On time and great service. They helped me trap and remove the mice that got into my house. The biggest part of their service is preventing them from coming in again. Every one of the people I dealt with either in the field or at the office were super nice! Highly recommend them. Very happy with my service."
"Professional staff, easy to schedule, and great communication. From the very first visit technician was efficient and pointed out a few areas to be aware of. Overall very impressed with quality of service. We have used ABC from the fall 2019 and still very satisfied. Our tech is amazing and does a great job addressing problem spots! We added the mosquito supression service and it has given us our outdoor space back! We love ABC and all techs are highly qualified and trustworthy!"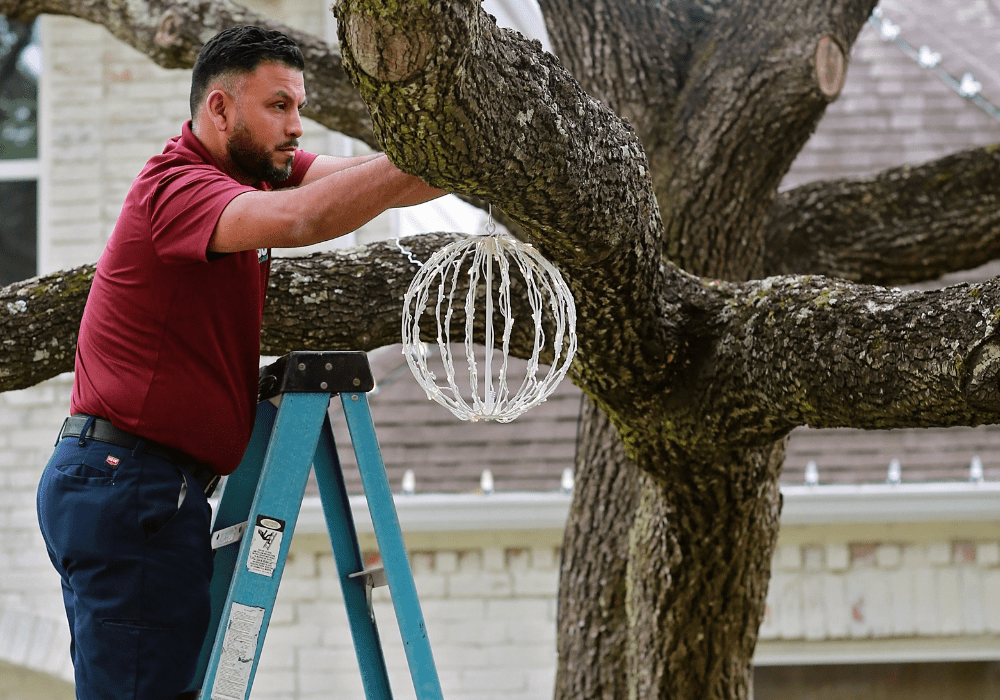 Need Holiday Lighting Services For Your Business?
Spread holiday joy to your customers. We can get your business beautifully decorated for the holiday season!
ABC's Complete List of Home Services in Houston
Why deal with multiple service providers when ABC can do it all?