Hot Tub & Pool Service in Houston, TX
Let ABC take care of all of your pool needs so you can spend your weekend enjoying your pool instead of cleaning it. ABC has detail oriented team members to ensure your pool is clean, the chemicals are balanced, and your equipment is in tip top shape so you can have a sparkling pool year round. We recommend pool services be performed weekly to ensure the best results.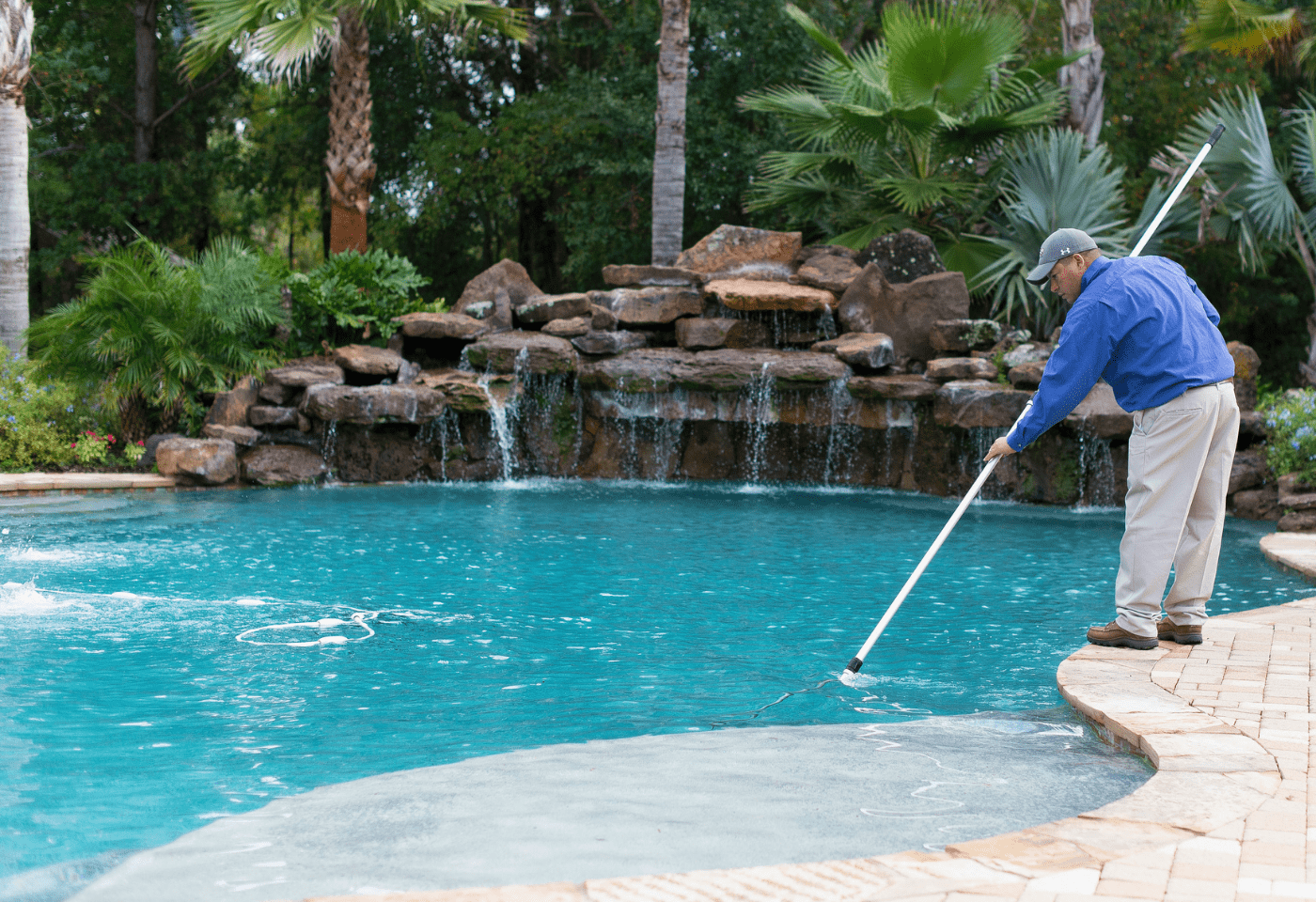 Download Transcript
Expert & Reliable Pool & Hot Tub Services
ABC is a full-service provider you can trust to get the job done right.
Our highly-trained professionals provide the following pool services:
Our pros can wash, drain, cleanse, brush, vacuum and skim your pool, ensuring the water is pure and clear. We can also test the pool's pH, chlorine levels, alkalinity, calcium hardness and cyanuric acid. In addition, we empty the pump and skimmer baskets for our pool cleaning customers. ABC can also drain the pool (if necessary) and wash in acid to keep your pool looking its best.
Your pool is made up of many parts and components. If something isn't working properly or has worn out, you may not be able to use your pool or it may impact your water quality. ABC's experienced technicians know exactly how all your filters, pumps and other mechanisms function and can troubleshoot any issues you may be having so that you can enjoy your pool again.
You may have purchased a home with a pool or have lived in your house for enough time that your pool no longer fits your current style or needs. ABC can work with you to make updates and changes to bring your pool up-to-date and to make your pool the envy of the entire neighborhood.
Over time, your pool's plaster can break down in the intense Houston sun. When this happens, the bottom of your pool may start feeling rough and you may notice stains. ABC can give your pool a facelift which can also transform how your pool looks.
ABC can save you time so that you can focus on enjoying your pool instead of worrying about it.
The ABC Process
1. Contact ABC
When you contact us, we will schedule a service call to evaluate the problem. For emergencies, we will send a pro to your home as soon as possible.
2. Get An Estimate
We'll provide you with an estimate for all needed services. Once we get your approval, our pros will get right to work.
3. Service
We will come to your property to clean and maintain your pool and hot tub, or make needed repairs.
4. Follow-Up
We will update you on the work we performed and provide any helpful follow-up instructions or other guidance.
In addition to having experienced pool professionals on staff, we know our customers care about having the same crews at each visit. ABC performs background checks on all our employees and is proud to have very low turnover. Not only do our staff receive extensive training, but you can also count on us to be reliable. You can rest assured, knowing our employees will treat your home as they would their own.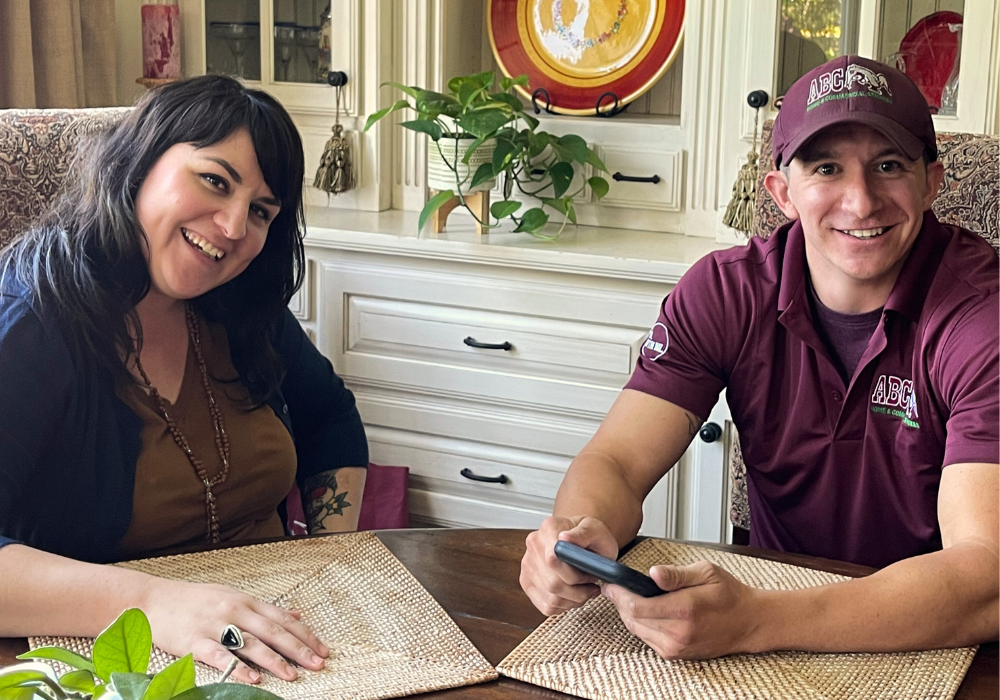 Get Started
We offer a full range of pool services.
Frequently Asked Questions
How soon can you come out?
We understand that some pool problems can't wait. Give us a call and we will send an experienced technician to your property as soon as possible.
What repairs can ABC provide?
If you are noticing that the water level in your pool is not staying consistent, you may have a leak. ABC's pool specialists can diagnose, troubleshoot and repair above-ground leaks.
We can also patch plaster, remove stains, repair cracks, replace tile and perform other additional services—all without draining your pool. You can count on ABC to save you money and keep you enjoying your pool throughout the year.
Can you remodel my pool or do pool replastering?
Yes! ABC can update your pool area and remodel your pool. Our skilled staff can install new equipment, such as ladders and pool lights, add new water features and outdoor lighting and replaster and retile existing surfaces. We can also add landscaping around your pool and implement mosquito control measures. We can even repave the area around your pool and resurface your deck.
How often do you clean?
During our initial meeting, our ABC pool specialists will inspect your pool and suggest a schedule which fits your needs and budget.
How long do I have to wait to use my pool after chemical treatments?
In general, you can use your pool an hour after we have applied a treatment, as this allows enough time for chemicals to dissolve in the water. If we shock your pool, we recommend that you wait until the chlorine levels drop to recommended levels.
How often should I test my pool water?
We recommend testing your pH, alkalinity and chlorine levels at least once a week to maintain healthy pool water chemistry.
What training do your technicians have?
All of our technicians undergo rigorous training to become experts in pool chemicals, equipment and maintenance. Our employees have experience with pools and draw upon a variety of disciplines to diagnose and address any problems you may be having with your pool. Let our experts handle your pool, so all you have to handle is enjoying it.
What chemicals do you use, and are they safe for my children and pets?
We care about our customers, and only use chemicals recommended by the Association of Pool & Spa Professionals. Your ABC technician can provide you with information about products we are using. We recommend that pool owners keep any pool chemicals in an area which children and pets cannot access.
Will I be charged extra for chemicals used during pool cleaning?
We charge a per visit rate for our monthly pool cleaning services, which includes the standard amount of chemicals recommended by the Association of Pool & Spa Professionals.
If we discover an issue with the water composition and chemistry of your pool, your ABC pool specialist will bring it to your attention, along with a recommended course of action. We will wait for your approval to implement any changes which result in additional costs above and beyond your monthly rate.
What pool equipment can you provide?
One advantage of using ABC for your pool services is that you can purchase any needed equipment directly from us. Instead of spending money on old or malfunctioning equipment, you can invest in newer and often more energy-efficient parts.
ABC carries the following parts and equipment:
Pumps
Pool filters
Heaters
Time clocks
Valves
Pool cleaners
PVC and other materials to fix leaks
Chlorinators
Suction and circulation lines
Pool lights
Do you make repairs with used parts?
No. When we make repairs to your pool, we only use new parts. Our staff will go over a recommended list of new equipment with you for your approval before work begins.
Get Started
We offer a full range of hot tub & pool services.
Additional Hot Tub & Pool Service Areas in Greater Houston
ABC serves many surrounding communities, including, but not limited to:
What Our Customers Are Saying
"Very friendly and helpful staff. On time and great service. They helped me trap and remove the mice that got into my house. The biggest part of their service is preventing them from coming in again. Every one of the people I dealt with either in the field or at the office were super nice! Highly recommend them. Very happy with my service."
"Professional staff, easy to schedule, and great communication. From the very first visit technician was efficient and pointed out a few areas to be aware of. Overall very impressed with quality of service. We have used ABC from the fall 2019 and still very satisfied. Our tech is amazing and does a great job addressing problem spots! We added the mosquito supression service and it has given us our outdoor space back! We love ABC and all techs are highly qualified and trustworthy!"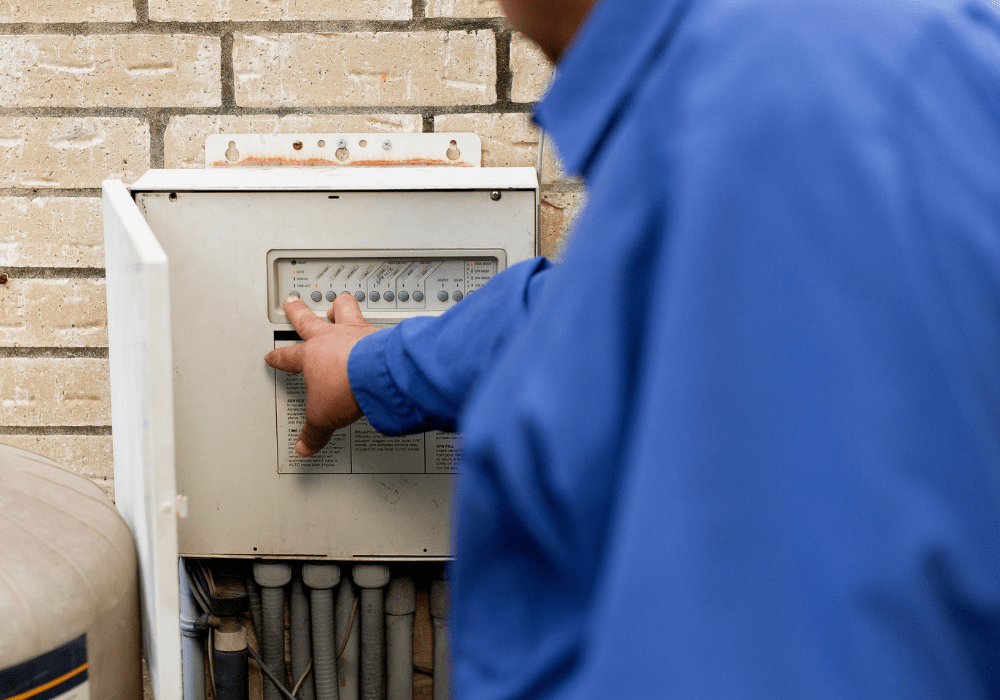 Need Pool Service For Your Business?
We understand that businesses have different needs than residences. That's why we have specially trained technicians who can service your business.
ABC's Complete List of Home Services in Houston
Why deal with multiple service providers when ABC can do it all?