Tree Removal in Houston, TX
Prolonged drought-like conditions are responsible for an estimated 66 million dead trees in the Houston area alone. Dying and dead trees pose a fire risk and put people and property in danger if they become unstable enough to fall. Most homeowners lack the equipment and training to remove trees without damaging surrounding property. When it comes to tree removal, Houston homeowners trust the experts at ABC Home & Commercial Services to diagnose the health of the trees on their property and to safely remove dangerous trees.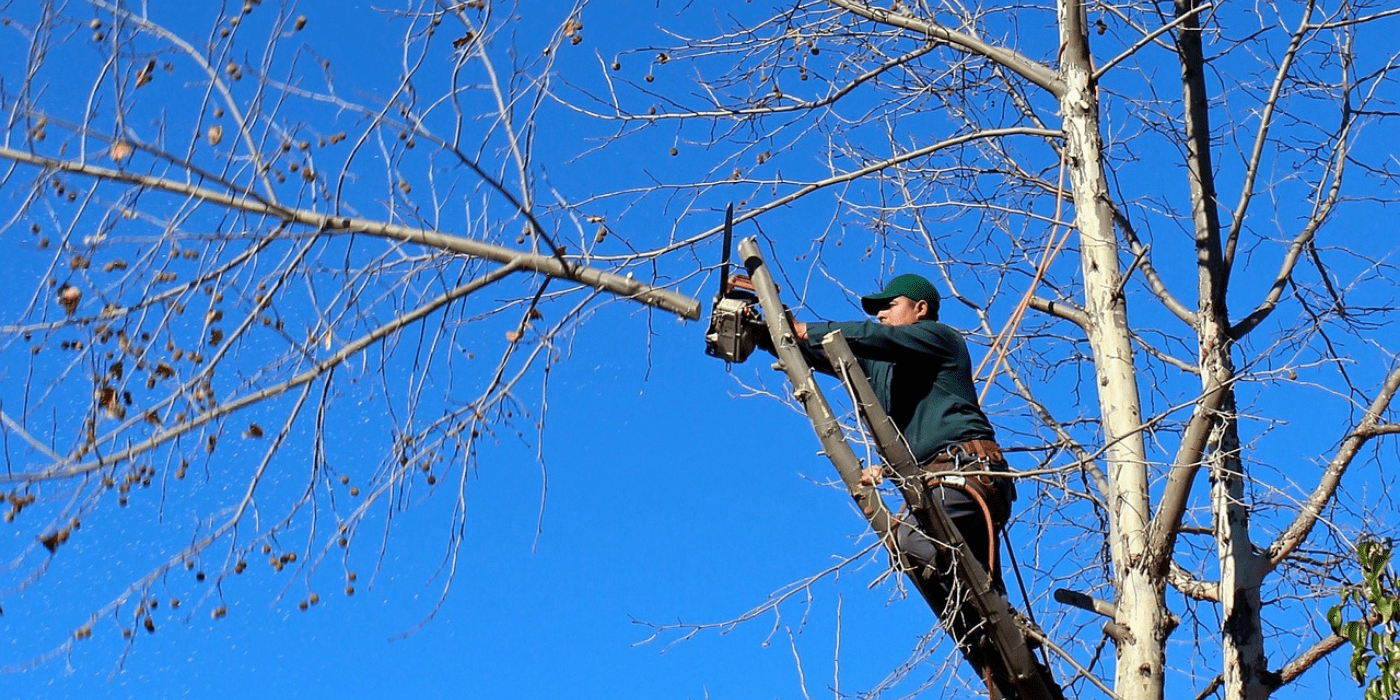 ABC's certified arborists can safely handle the removal of most types of trees from your property.
The steps to remove a tree include:
Conducting a thorough site assessment to determine what steps need to be taken to lessen any potential impact to nearby trees, fence lines, landscaping, power lines, cars or sheds.
Pruning any hanging or dead branches that are likely to fall as the tree is being removed.
Undercutting and backcutting the tree in the direction the tree should fall to prevent any potential problems during the removal process.
Limbing the tree to remove branches from the trunk.
Cutting the trunk into right-sized pieces for firewood, if you desire, and cutting and bundling branches so that they can be put out with your tree waste for disposal.
Cleaning up your yard of any remaining limbs and branches.
The ABC Process
1. Contact ABC
We'll learn what you need over the phone or during an in-person meeting at your home. Usually, we can schedule an appointment in a few business days.
2. Get An Estimate
We'll provide you with an estimate based on your goals and our recommended set of services. Once we get your approval, we will get you on the schedule.
3. Service
Our trained specialists perform all agreed-upon services. When we're done, we will clean up any debris to keep your yard neat and looking great.
4. Follow-Up
Depending on what services we performed on your property, we'll provide you with an update or recommend additional follow-up or ongoing services.
Some of the reasons you might want to remove a tree include:
When a tree becomes seriously damaged during a storm or weather-related event
If a tree outgrows its intended footprint and its roots or branches endanger your roof or come close to overhead power lines
When the costs of repeatedly removing dead wood become more expensive than removing the entire tree
If the tree is an undesirable species, which could mean that it is non-native and requires more water, is more vulnerable to disease or pest infestations or if it drops a large amount of debris in your yard
An assessment from a tree expert which indicates that 50% or more of the tree is damaged or if over 25% of the trunk shows signs of disease or decay
A hollow trunk, large dead branches, a leaning tree or a concentration on dead limbs on one side of your tree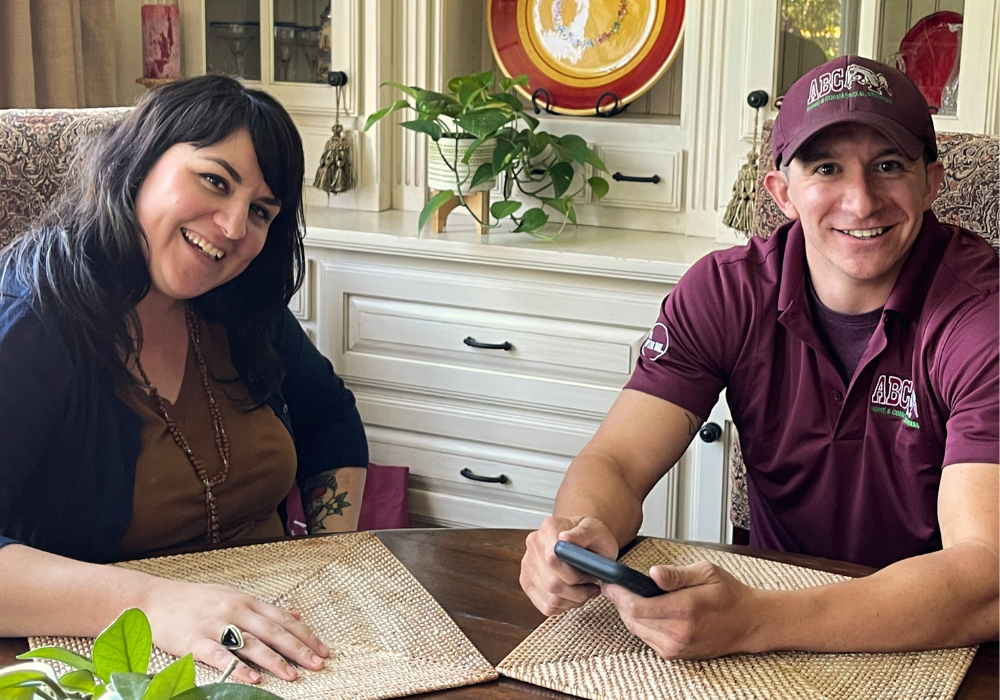 Get Started
We can turn your vision for your yard into reality.
ABC's tree care team includes certified arborists, so our customers benefit from the best and up-to-date knowledge on tree biology and environmental factors which impact tree growth and health. The industry-related certifications and accreditations which our staff hold include:
International Society of Arboriculture (ISA) Certified Arborist
Texas Oak Wilt Qualified
Texas Department of Agriculture (TDA) Commercial Pesticide Applicator
Knowing why and how to remove a tree requires specialized knowledge, so Houston homeowners trust their tree care to ABC. In addition, our company is proud to be a member of the Tree Care Industry Association (TCIA) and the International Society of Arboriculture (ISA).
Frequently Asked Questions
How much will it cost to remove my tree?
The cost to remove a tree is based on a number of factors. To give you the most accurate estimate, when you call ABC, we will send an inspector to your property. The inspector will take a closer look at the tree you would like to have removed, address any concerns or questions you may have and tell you more about what you can expect if you choose ABC for tree removal.
After this free consultation, ABC will send you a no-obligation estimate. Once you approve this estimate, we will contact you to schedule a time to have the work done.
Can you advise me on whether my tree needs to be removed?
Removing a tree is a big decision, and ABC is happy to advise you on whether or not your tree is posing a potential danger to your home or family. Our tree experts can diagnose and treat any tree conditions or diseases which your tree might be suffering from. If you'd like to avoid removing a tree, we can suggest alternatives if our experts determine the tree is a low risk of falling.
What weather and environmental conditions can cause significant damage to my trees?
Here in Houston, we experience a variety of weather-related events which can lead to enough damage which may force you to make a decision about whether your tree needs to be removed.
Weather and environmental conditions which can contribute to tree damage with the potential for removal include:
Drought
Although the Houston area receives significant rainfall as a result of its geography, the area's trees are still reeling from the impact of the recent prolonged drought. In East Texas alone, forestland losses due to drought were estimated to equal over $500 million. Many trees sustained significant damage from a lack of moisture and have not yet recovered.
Hurricanes
Our trees in Houston not only suffer when it doesn't rain, but also when it rains too much. Hurricanes can bring heavy rains to the greater Houston area, which can result in tree damage and unexpected removal costs. The surge of saltwater after Hurricane Ike alone killed an estimated 40,000 trees in the Galveston area, which was roughly half of the area's tree cover.
Tornadoes
Tornadoes can sometimes accompany other severe weather events in Texas. These powerful weather events, which occur in the Houston area, can break a tree's main limbs, twist and separate the fibers in a tree's trunk, cause root damage and leave behind significant wounds.
Ice
Very rarely does it get very cold here in Houston, but when it does, our trees can suffer. The added weight of ice during a winter storm can cause a tree's limbs to break or even fall completely, making it necessary for the tree to be removed.
Flooding
Texas leads the country in an unfortunate statistic: we see the most flood-related deaths and damage. Excessive rain can alter soil conditions, disrupt the gas exchange between plants and the larger environment, increase sediment levels and cause physical damage to a tree. These weather events can also weaken a tree, which can make the plant more vulnerable to other problems, including disease and pest infestation.
Pest Infestations
Weather events aren't the only culprit in your tree being weakened to the point that it needs to be removed. Pest infestations can compromise your tree's ability to draw water and nutrients from the soil. Some insects bore into your tree's trunk, which can cause structural damage. If this damage goes unchecked, pest infestations can be severe enough to kill your tree. Although thousands of different insect species can damage your trees, two of the most destructive pests we see here in the Houston area are the emerald ash borer and the soapberry borer.
Get Started
We offer a full range of lawn services.
More Lawn Care Solutions In Houston
What Our Customers Are Saying
"Very friendly and helpful staff. On time and great service. They helped me trap and remove the mice that got into my house. The biggest part of their service is preventing them from coming in again. Every one of the people I dealt with either in the field or at the office were super nice! Highly recommend them. Very happy with my service."
"Professional staff, easy to schedule, and great communication. From the very first visit technician was efficient and pointed out a few areas to be aware of. Overall very impressed with quality of service. We have used ABC from the fall 2019 and still very satisfied. Our tech is amazing and does a great job addressing problem spots! We added the mosquito supression service and it has given us our outdoor space back! We love ABC and all techs are highly qualified and trustworthy!"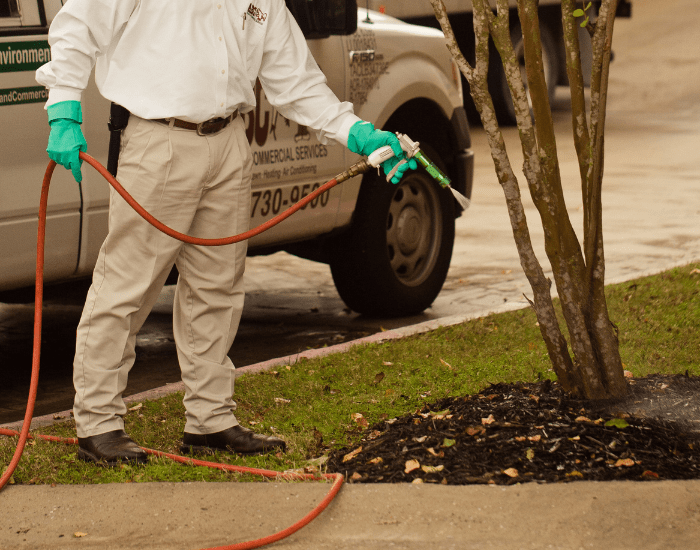 Need Lawn Services For Your Business?
Our lawn care specialists will ensure you make a good first impression on your customers by keeping your facility's exterior looking nice and tidy.
ABC's Complete List of Home Services in Houston
Why deal with multiple service providers when ABC can do it all?