Termite Control in Orlando, FL
When compared to other pests, termites are the most dangerous to your biggest investment—your home. These prolific pests attack your foundation through underground tunnels and can often go undetected, enabling them to cause significant damage. When it comes to termite control, Orlando homeowners rely on ABC Home & Commercial Services to quickly pinpoint the source of the problem and get long-term results.
Download Transcript
ABC customers can take advantage of our special Signature Service to keep termites away. We use scientifically-proven, top-rated treatments to eliminate entire colonies and prevent them from coming back.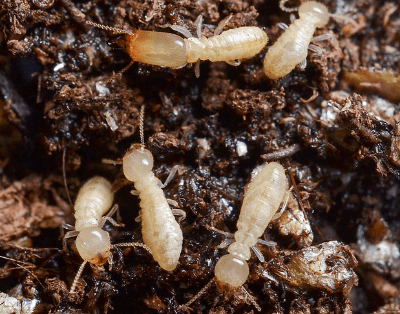 The reason ABC's termite control treatment is so effective is that we use a unique product called Sentricon. This bait system is installed around the perimeter of your home in stations placed into the ground. Termites actually prefer the bait in Sentricon to the cellulose that makes up the wood in your home. Sentricon takes advantage of the worker termites' nonstop foraging behavior to bring this targeted bait back to the colony's queen, killing her and eventually the rest of the colony.
Sentricon is scientifically proven and currently in use to safeguard many of our country's historical treasures, including the Alamo, the U.S. Capitol, the Statue of Liberty and the White House. Moreover, Sentricon was awarded the President's Green Chemistry Award to recognize the product's innovative approach to minimize impacts on human health and the environment.
Another reason to try Sentricon? ABC offers a termite warranty on your home once the system is installed with a yearly maintenance agreement. This means if termites cause damage at your home, ABC will not only retreat for termites on eligible homes, but also we will fix the damage they caused.
The ABC Process
1. Contact ABC
When you contact us, we will schedule an inspection to get an understanding of the problem. In some cases, we can give you a quote over the phone.
2. Get An Estimate
If you have an inspection, we will send you a custom treatment plan and estimate afterward. Once we get your approval, we will schedule your treatment.
3. Treatment
We will come to your property and treat for pests in common hiding and nesting areas. Over time, you will start seeing less and less pest activity.
4. Prevention
Customers with our ongoing pest management services will receive periodic retreatments to prevent the return of the most common pests in our area.
When you suspect you have a termite problem and pest control treatments begin, the last thing you want to see is a termite. Spotting termites after a treatment is usually a good thing, however, since that means that our treatments are working to drive these pests out of their normal hiding spots.
When termites are on the move, they are more likely to come across a bait station and bring these tasty, but deadly, morsels back to the colony to share with the other members, including the queen.
Customers who take advantage of our Signature Service will receive quarterly visits by our skilled technicians to confirm that there is no termite activity and to replenish or reposition bait stations, as needed.
Even better, you can set up an auto-renewal for your Signature Service and the service can be conveyed to a new homeowner if you sell your property.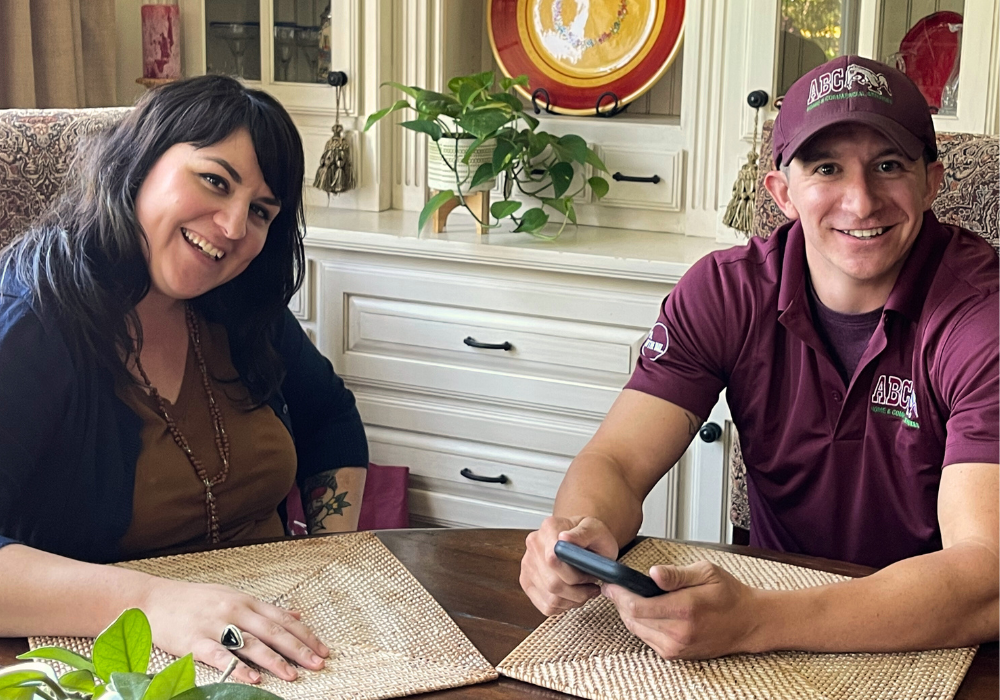 Get Started
We offer a full range of pest control services.
One of the main reasons ABC chose Sentricon for termite treatments is that it has been designed to specifically target termites and has proven to be non-toxic to mammals. Noviflumuron, the active ingredient, has been approved to use in homes which draw upon a cistern or well and even in coastal regions where homes are placed atop stilts.
The primary other preventative measure we recommend is Termimesh, a product created for use in new construction. This non-toxic metal screen is 100% effective at keeping termites out, and completely safe for your entire family.
At ABC Home & Commercial Services, your family's safety is our top concern. We listen to our customers' concerns about the products used in their homes and train our technicians to apply any chemical treatments carefully, in low concentrations and with the well-being of your children and pets in mind.
Frequently Asked Questions
How soon can you arrive?
Because of the damage that termites can do to your property, the EPA and other agencies advise enlisting the help of a professional immediately if you suspect you have termites on your property. You can start off the process by contacting us at (407) 265-0665.
We'll arrange to have someone meet you at your property at the earliest opportunity to conduct an initial inspection and provide you with a free, no-obligation estimate.
Does ABC provide free termite inspections?
Yes! In order to provide you with an effective, long-term solution to your pest problem, we create a free, customized estimate based on the pest activity you are seeing.
During your inspection, a highly-trained ABC technician will ask you some questions to learn more about which pests have become a problem and any circumstances unique to your property which might be impacting your control efforts to date. He or she will look at common areas pests breed and rest and determine the extent of your infestation and what interventions would be best.
You will have the opportunity to ask any questions you might have. ABC will provide treatment recommendations, and once approved, your termite protection plan can be scheduled and implemented.
How frequently will you be at my home for treatments?
No two pest problems are exactly the same, so your treatment plan and schedule will be individualized, based on the size and severity of your termite problem.
Is there anything I can do to prevent termites?
The most effective way to prevent a termite problem is to start when your home is first built. As we mentioned above, Termimesh is 100% effective at preventing termites from getting around your pipes can service wiring, which are the most common entry points. Another tactic is to use treated lumber for either renovations or new builds since this material is less attractive to foraging termites.
If you are like most homeowners, your home is already built. In that case, you can keep termites away from your foundation by removing anything that might be attractive to these pests—think leftover lumber from a recent project or firewood—or at least moving these piles away from your home. If you do need to keep these stacks in your yard, try to keep them up off the bare ground. Ensure that your lawn is well-maintained so that brush and other vegetation aren't attracting these hungry pests to your property.
Termites don't just come looking for food—they also need water to survive. Keep these insects away by removing any damp or moist areas, including fixing leaky outdoor faucets and dumping out standing water in birdbaths, children's toys and other problem areas. If needed, address drainage issues or improve ventilation to make your home and yard less hospitable to these pesky pests.
Lastly, take a hard look at your home's exterior to find any cracks or voids that might provide a pathway inside. ABC's trained technicians can quickly point out these potential problem areas and suggest other strategies to keep termites away from your home.
Does ABC handle commercial termite control?
Absolutely! ABC's commercial team is trained in the unique aspects of termite control in commercial settings, including restaurants, schools, hospitals and other types of locations.
Get Started
We offer a full range of pest control services.
More Pest Control Solutions in Orlando
What Our Customers Are Saying
Errol Condominium
12/16/2021
"ABC Home & Commercial Services is a pleasure to work with! Our property has been using them for a year and the level of service has been exceptional. We especially love their quality control, which was a huge issue in the past. I'd like to personally compliment our regular technician, Melvin. Our staff, owners, and guests have all commented on his amazing customer service!"
"Alfredo does a great job, lets us know when he will arrive and is always on time. We appreciate how thorough he is and how professional and friendly he is while working here. Thanks again for your service ! Highly recommend"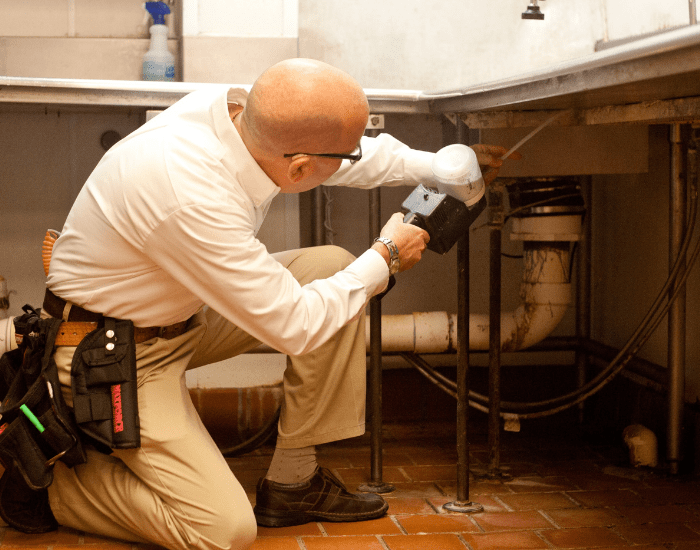 Need Pest Control For Your Business?
We understand that businesses have different needs than residences. That's why we have specially trained technicians who can service your business.