Pool Cleaning Service
Keeping your pool water crystal clear can seem like a part-time job. In between leaves, dirt and other debris, your backyard retreat can quickly turn into an eyesore without regular pool cleaning. Spend your weekends enjoying your pool instead of cleaning it by relying on ABC for your pool care in Houston.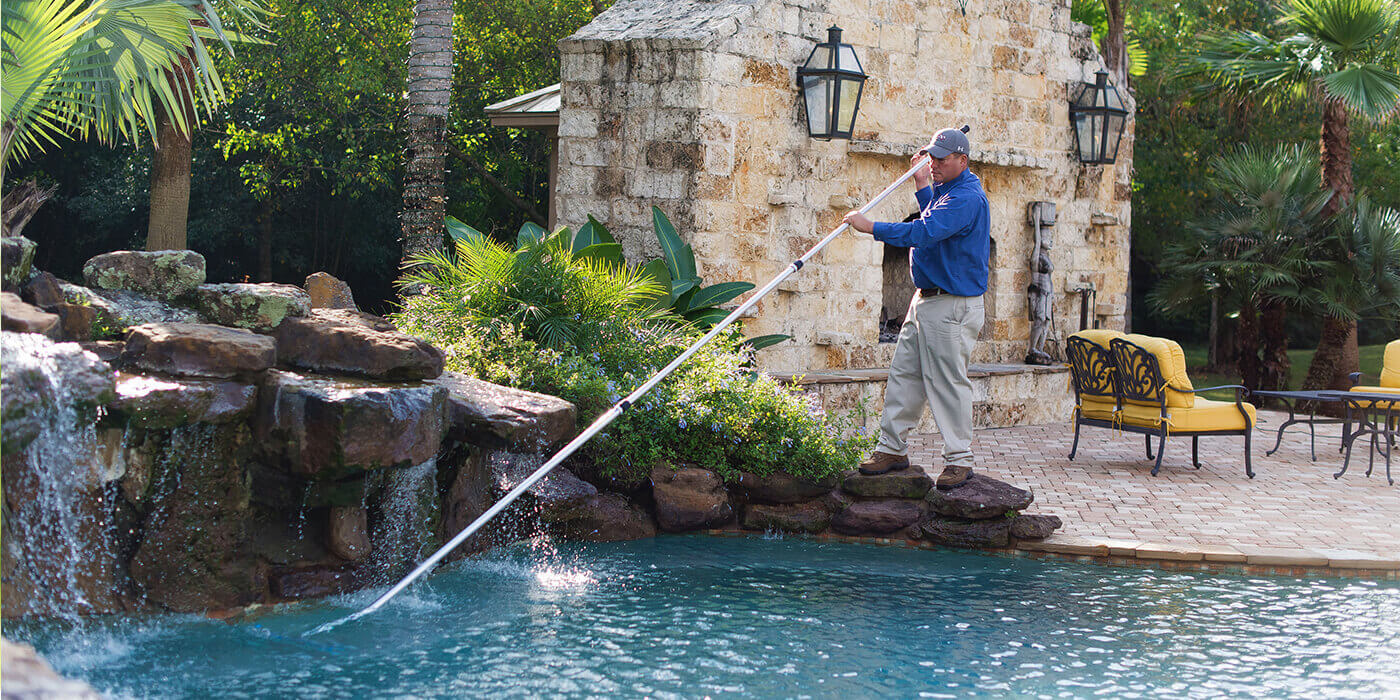 Let the Experts Take Care of Your Pool Cleaning Needs
Our pool care experts can clean chlorine and saltwater pools as well as spas. In addition to our experienced staff, ABC is recognized as a Certified Pool/Spa Operator by the National Swimming Pool Foundation. This program gives our employees access to special training materials on pool maintenance, care and operation.
Our experienced and friendly technicians will:
Skim leaves and other debris from your pool's surface.

Remove dirt and other materials from the side and bottom of your pool.

Empty the baskets of your pool pump and other equipment.

Test your water quality, including your pool's pH, alkalinity, and chlorine levels on a weekly basis. We test your cyanuric acid and calcium hardness monthly or as needed.

Make adjustments, when needed, to bring your pool chemistry back into balance.

Check your pool equipment to spot any potential problems before they become costly repairs.

Remove debris from your pool cleaner.

Backwash your sand or DE filter monthly or as needed.
Why regular pool service is essential:
Ensuring your pool's pH levels are balanced will extend the life of your backyard oasis which is why we recommend checking your levels weekly. 

Aside from being an eyesore, a dirty pool can lead to other issues such as bugs and build-up of algae and other debris.

Neglecting your filter can cause problems such as a cloudy pool and can even lead to a noisy pump.
Don't have the time or energy to keep your pool sparkling clean? Leave the hard work to us! Get started today with a free pool cleaning estimate.
The ABC Process
1. Contact ABC
When you contact us, we will learn more about your pool and your property.
2. Get An Estimate
We'll provide you with an estimate for routine pool cleaning. We can usually give this to you over the phone.
3. Perform Services
We'll get you on the schedule for routine pool cleaning.
4. Follow-Up
After each visit, we will update you on the work we performed and provide any helpful follow-up instructions or other guidance.
Manufacturers recommend weekly cleaning to keep your pool water clear and to maintain your pool balance. We can work with you to come up with a schedule that best fits your lifestyle, whether you opt for this regular cleaning or for more periodic appointments.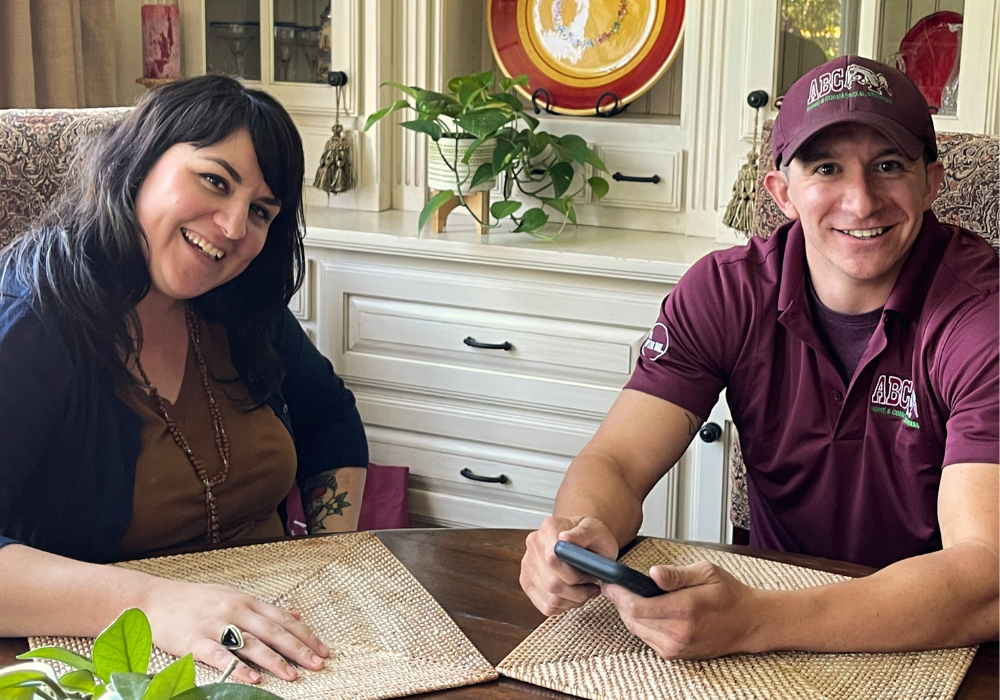 Get Started
We offer a full range of spa & pool services.
We understand that you have many choices when it comes to pool cleaning here in Houston. When we talk to our customers about why they chose ABC, they tell us that they appreciate the experience and high-quality services our pool specialists provide. Our licensed professionals undergo drug screening and a criminal background check during the hiring process, so you can feel safe having one of our specialists on your property.
Frequently Asked Questions
Will my pool be cleaned on the same day each week?
You will see the biggest benefit from your pool cleaning if a regular schedule is maintained. In most cases, your ABC pool specialist will come to your home on the same day each week. During holiday weeks or in inclement weather, our office will contact you to make any needed schedule changes.
We create our pool care schedules based on the availability of our specialists to serve different parts of the Houston area each day. We do everything we can to try to accommodate any schedule changes requested by our customers.
Do I need to be home when you clean my pool?
Most of our pool cleaning occurs during the day when our customers aren't at home. As long as our specialists know how to access your pool area and your pets are safely inside, we're happy to clean your pool when you're away and have it ready to be enjoyed when you get home.
How long do I need to wait to use my pool after a chemical treatment?
If we perform a chemical treatment on your pool during a routine visit, we will leave you with clear instructions about when you can use your pool again. Depending on the type of treatment, you can typically use your pool again anywhere from 15 minutes to an hour to allow the chemicals to mix into your pool water. If we need to "shock" your pool, you will need to test your chlorine levels to see when the level drops to a safe level to determine when you can swim again.
What am I doing wrong if my pool smells strongly of chlorine or if the water burns my eyes?
Although it may seem strange, a strong smell from your pool actually means the opposite of what you might think: that instead of too much chlorine, there is actually not enough of this chemical in your pool water to neutralize the ammonia in the water. Organic materials such as suntan lotion, makeup and hair spray—otherwise known as chloramines—can react with the chlorine in your pool water, reducing its ability to sanitize and disinfect your pool. In some cases, when this happens, you may need to perform a shock treatment to restore your pool's chemical balance.
Why is there a white build-up at my pool's water line?
The last thing a pool owner wants to see is an unsightly white line along the side of your pool at the water line. In most cases, white residue indicates that your pool's calcium levels are high. There are a few ways you can solve this problem, but the first thing you will want to try is to add a water softener to lower your total water hardness.
How often should I backwash my filters or clean my pool cartridge?
When your sand or Diatomaceous Earth (DE) filter's pressure gauge reaches 8-10psi more than the start-up pressure, you'll want to backwash the filter to remove dirt and debris. You may also consider backwashing your filter after you clean your pool after a big storm, when you notice an algae bloom in your pool or when you are trying to address cloudy pool water. For Diatomaceous Earth (DE) filters, you'll need to add new DE powder to the filter through the skimmer after each time you backwash.
Why is my pool cloudy?
The clarity of your pool water is based on three factors: physical, chemical and biological. Cloudy or green water may indicate that your filters are dirty or defective, your water isn't circulating properly, your pool chemistry is out of balance or that you have a buildup of algae.
How long do I need to run my pump?
Typically, you should run your pump about 8 to 10 hours during the summer months, when you are using your pool more often, and just four to six hours during the winter. As with many other parts of your pool's mechanics, however, the amount of time you should run your pump depends on several different factors. The best way to get recommendations on how long to run your pump is to ask your pool technician to take a look at your pool and the specific equipment you have.
Get Started
We offer a full range of spa & pool services.
More Pool Services In Houston
What Our Customers Are Saying
"I would definitely recommend ABC!! They were professional, courteous, and did a great job. During the treatment my blinds had to be removed, and they graciously put them back up before they left. Blair came three weeks later to do a follow-up check and was extremely friendly and helpful. He gave me more information and suggestions in regards to staying bed bug free. He even carried my large Amazon package into the garage for me. I would definitely recommend them for all your pest control needs. ⭐️⭐️⭐️⭐️⭐️"
"Do your research, but this is the company to choose for your pest and rodent control. A new townhouse community is being developed in an adjacent wooded field, so all these woodland creatures started relocating to our established neighborhood. I get it, this land was theirs before it was ours, but after 20 years, they had no right to move into my house rent free. The cute hares/ rabbits were ok at first. They would flop around, and the worst they would do is leave small chocolate eggs in the yard. But when we heard scurrying in the attic, our anxiety levels started to rise. We were already overwhelmed by a pipe bursting in the garage in February due to a flash freeze. Then we noticed droppings as the restoration company came and cleared out the garage. But we really didn't connect all the dots because simultaneously we were caring for my 85 year old grandmother who was on hospice care from terminal breast cancer. So our hands were a little full at the time. But when we saw evidence that there was probably a mouse or something, we had to make it a priority. I called 3 or 4 local companies for quotes. 2 came to the house and 2 acted like they could care less about actually securing my business but were willing to quote hundreds of dollars for the service. One thing that stood out was the other companies said they would plug the holes leading into the house, but 2 said they don't go into the attic. Well that's where we heard them and so it didn't make sense to not go in the attic to hunt them down. Then Kirby from ABC came out. He did a thorough inspection and designed a plan to attack the problem. They definitely weren't the cheapest company, but they provided the best proposal with the strongest warranty. So we pulled the trigger. The crew was very professional and plugged holes and set traps. And the we waited. But there were no dead mice for weeks. So they came back out and found more holes to plug. Then the rodents got more desperate. One was bold enough to entire the kitchen at night. I was ready to burn down the entire house. Frustration was level 10. By this point my grandmother had passed away. Grief plus phobia and a general sense of absolute exhaustion had settled in. All the techs that came out were nice, friendly, professional and courteous, BUT we were sick of the rats running our house. I was also frustrated by what seemed to be a long wait between reporting sightings and an available appointment time. Mark Rodriguez came out and did a good job observing the situation and he realized that a supervisor was needed for a solution. Enter Kenneth! He was absolutely amazing. Between crawling through the attic and discovering new holes to tracking down a food source (a case of mac snd cheese boxes) in the garage that my grandmother left months before her passing (she was always prepared for when her great-grandchildren came over), Kenneth understands the mind of a mouse and the rationale of a rat. He made it his mission to eliminate these evils. And one by one, he did. Kenneth is a hero in our household. He will be receiving a Christmas card this year. My grandmother's dying wish was to rid the house of these invaders, and Kenneth and his team were able to accomplish that. It was worth ever penny for the complete customer care and warranty on the work. If you are looking for a quality solution, you've found it. Be patient, because rodents can be tricky and hard to eradicate, but ABC is committed to the long haul."
Where To See the Best Holiday Lights in Houston
Wondering where to see the best holiday lights in Houston this year? Houston has a ton of sights and experiences to offer both locals and visitors year-round, and the holiday season is no exception. W...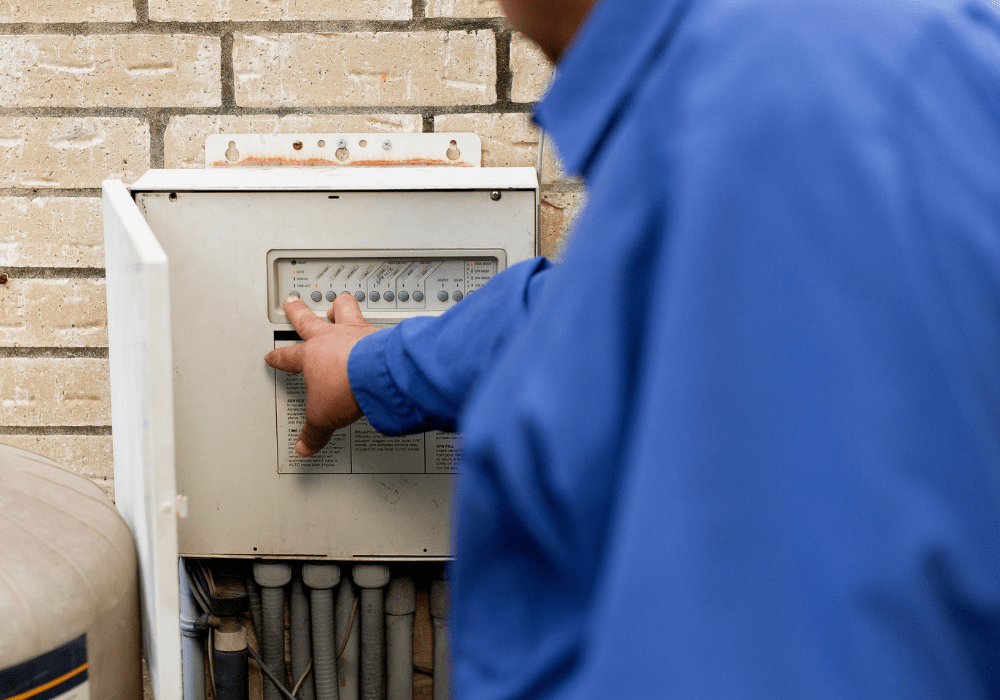 Need Pool Service For Your Business?
We understand that businesses have different needs than residences. That's why we have specially trained technicians who can service your business.