Outdoor Lighting in Houston, TX
Outdoor lighting can add to your curb appeal and make your property less attractive to burglars. While we can all appreciate the end result, the installation process requires electrical skills that many of us don't have. If you want to brighten up your yard with outdoor lighting in Houston, call the professionals at ABC Home & Commercial Services. We can create a customized design that enhances your home's exterior and highlights your natural features.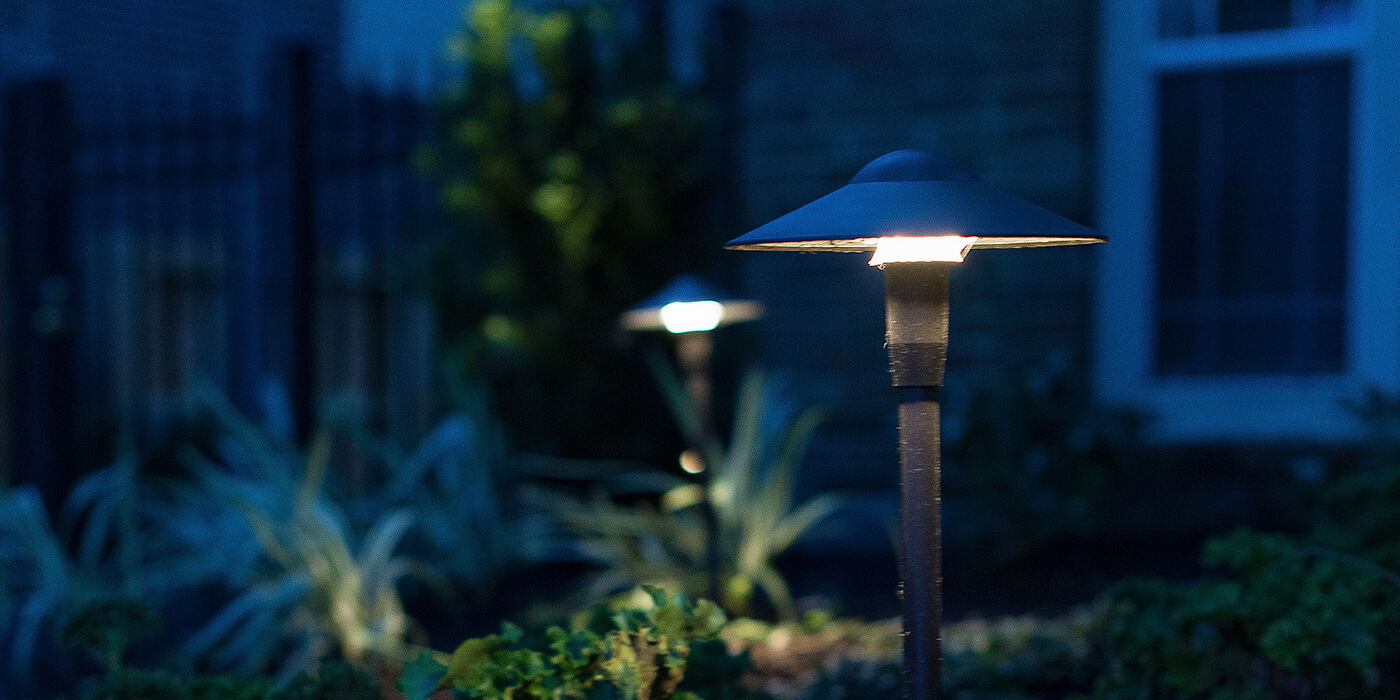 Landscape lighting has three main purposes. The first is to direct guests to your entryways which may be more difficult to see in the evenings. Another is to show off different aspects of a yard, which can encourage you to spend more time outside and make your property an appealing gathering spot. Lastly, a well-lit landscape is a deterrent to burglars, so outdoor lighting can make your home safer.
ABC's pros can work with you to add landscape lighting for practical purposes, as well as for aesthetic appeal. Popular areas to illuminate include:
Near entrances to your home, including near your front door, back door, side door and garages
Around any walkways that could be hard to see at night, such as along steps, driveways and other pathways
Throughout outdoor living areas where you might spend time or entertain: your patio, balcony or outdoor dining area
Surrounding your pool to create an inviting atmosphere for night time swims and poolside gatherings
Natural or architectural elements that make your property unique, including trees, flower beds, your home's facade, garden walls, fountains or pergolas or other structures.
The ABC Process
1. Contact ABC
We'll learn what you need over the phone or during an in-person meeting at your home. Usually, we can schedule an appointment in a few business days.
2. Get An Estimate
We'll provide you with an estimate based on your goals and our recommended set of services. Once we get your approval, we will get you on the schedule.
3. Service
Our trained specialists perform all agreed-upon services. When we're done, we will clean up any debris to keep your yard neat and looking great.
4. Follow-Up
Depending on what services we performed on your property, we'll provide you with an update or recommend additional follow-up or ongoing services.
We strive to exceed our customers' expectations, from the first phone call to the conclusion of your project. That's why our process beings with a complimentary consultation and estimate.
During this visit, one of our professionals will:
Learn more about the goals for your outdoor lighting project.
Inspect your yard to determine how to best achieve your desired look and feel.
Examine your electrical systems to determine what possibilities or limitations exist that can impact what you might want done.
Once the landscape designer has the information we need about your project, we can create a set of customized recommendations for you, along with a complimentary estimate. After you have approved our plan of action, we will work with you to create a schedule for your project.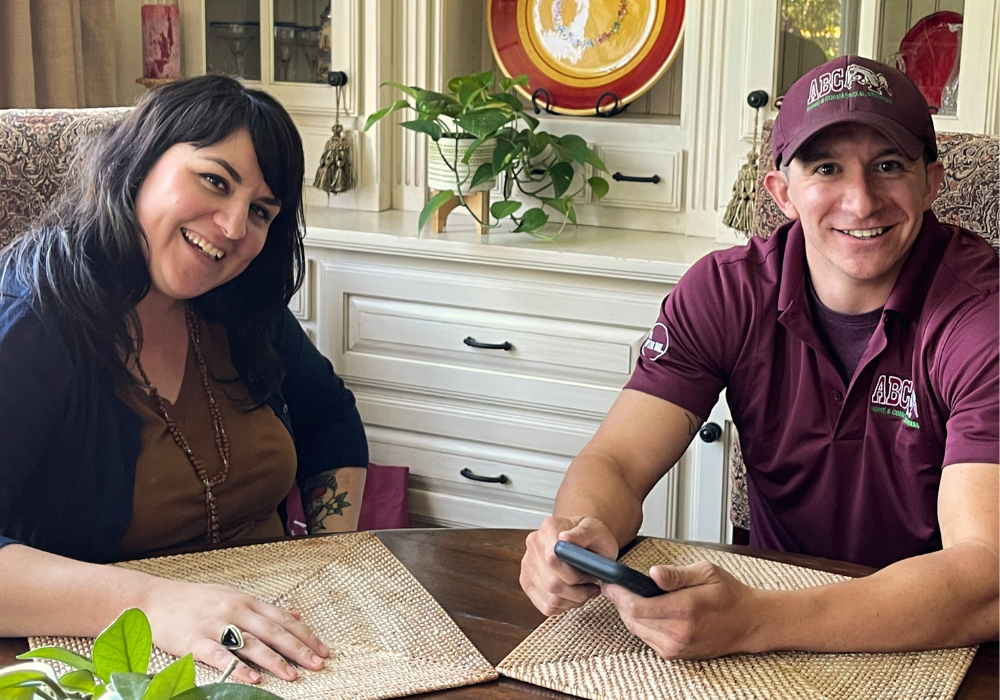 Get Started
We can turn your vision for your yard into reality.
Homeowners in the Greater Houston area trust the landscaping experts at ABC Home & Commercial Services for high-quality, professional outdoor lighting installations. Our skilled professionals can provide you with recommendations for your landscape lighting project and execute on your plans. You can have peace of mind when our installers come to your home because every ABC employee is drug tested and undergoes a criminal history screening before joining our team.
Frequently Asked Questions
Can you work with my timeline and budget?
ABC's lighting experts can plan your project in a way that works with your timeline and budget. We can work with any-sized budget on jobs large and small.
Does ABC install Christmas lights?
Yes! Our experienced lighting specialists can perform your Christmas lights installation & add holiday lighting along your driveway, on trees or your roof. Once the holidays are over, ABC can neatly remove and organize your lights for safe storage. Learn more about these services here.
Can you install solar lighting in my yard?
Solar lighting has become more popular in recent years, particularly in areas like ours that get ample sunshine. If properly installed, these lights can save money on electricity costs and can be a better option in parts of your yard where you don't have an outdoor electrical outlet nearby. In addition, solar lighting systems are safer around water features, such as pools, since they don't require power cords or electricity.
Solar landscape lighting does require some maintenance over time. As the battery gets dirty, charging may become less efficient. Our experts can help troubleshoot any issues you might be having with your solar lighting and make any needed adjustments to keep your lights working properly.
Can I use LED lighting in my yard?
Another alternative to traditional landscape lighting that some of our customers request is LED lights, one of the most energy-efficient lighting technologies. When an LED light bulb is turned on, a current passes through a microchip, which in turn lights up the tiny LEDs, creating light. The heat that is produced during this process is absorbed into a heat sink, as opposed to released outwards as you would find in traditional lighting.
Since LED lights shine one direction, you don't need the reflectors and diffusers that are found in more traditional lighting setups. This is an added bonus if you are using LED lighting to highlight a specific feature in your yard.
What are the pros and cons of outdoor LED lighting when compared to more traditional lighting options?
While LED bulbs have a higher initial cost per bulb, they can end up saving you money in the long run. In fact, these bulbs use at least 75% less energy and can last 25 times longer. LEDs release very little heat in comparison to incandescent bulbs, which can emit 90% of their energy as heat. When a LED nearing the end of its service life, it will merely get dimmer, as opposed to an incandescent or compact fluorescent lighting (CFL), which simply burns out.
One disadvantage to this lighting option is that some LEDs can emit light that's a bluish tint. However, with advancements in technology, most manufacturers have resolved this issue.
ABC's lighting experts can work with you to weigh the pros and cons of all the options available to come up with a plan that best suits your needs and desires.
Will having outdoor lighting installed tear up my yard?
Our installers will make every effort to minimize any possible disruption to your regular routine when putting in your lighting. Your ABC pros will prepare you for what to expect, including any areas that we might need to disturb temporarily to get your new lighting up and running. We'll get your yard looking nice and neat before we leave. You can expect that any immediate impact to your yard will be minimized in a matter of weeks.
What is included in ABC's Pre-Spring Landscaping Services?
Spring is a great time of year to improve your home's exterior. As part of ABC's Pre-Spring Landscaping Houston Services, our lawn care specialists:
Apply a solution to prevent the growth of weeds
Mulch to encourage plant health and improve the appearance of your landscape
Prune your plants to encourage new growth and make your yard look cleaner​
Replace shrubs to better utilize space and sun exposure
What products will you use on my lawn, and are they environmentally friendly?
At ABC Home & Commercial Services, we not only care about your lawn, but we also care about the environment. During your free consultation, our lawn care experts will work with you to come up with solutions which help you reach your goals while minimizing the impact on the planet.
Get Started
We offer a full range of lawn services.
More Lawn Care Solutions In Houston
What Our Customers Are Saying
"Very friendly and helpful staff. On time and great service. They helped me trap and remove the mice that got into my house. The biggest part of their service is preventing them from coming in again. Every one of the people I dealt with either in the field or at the office were super nice! Highly recommend them. Very happy with my service."
"Professional staff, easy to schedule, and great communication. From the very first visit technician was efficient and pointed out a few areas to be aware of. Overall very impressed with quality of service. We have used ABC from the fall 2019 and still very satisfied. Our tech is amazing and does a great job addressing problem spots! We added the mosquito supression service and it has given us our outdoor space back! We love ABC and all techs are highly qualified and trustworthy!"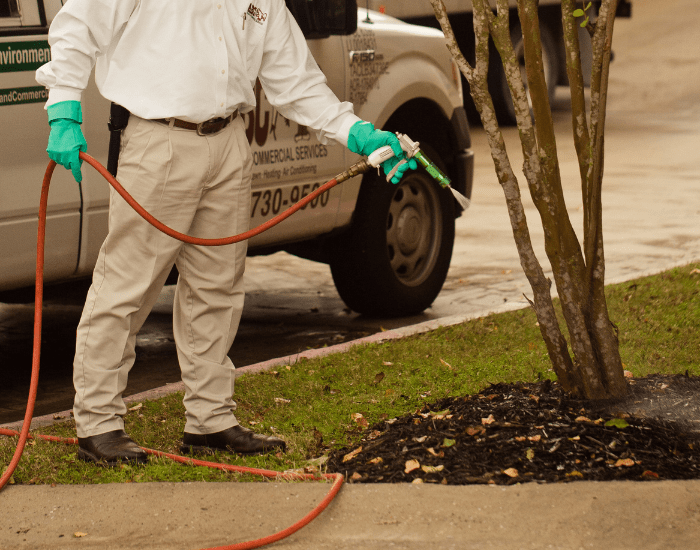 Need Lawn Services For Your Business?
Our lawn care specialists will ensure you make a good first impression on your customers by keeping your facility's exterior looking nice and tidy.
ABC's Complete List of Home Services in Houston
Why deal with multiple service providers when ABC can do it all?