Tree Trimming & Service in Houston, TX
Here in the Bayou Region of Texas, we love the shade that our oak, pecan, maple, ash and birch trees provide. A common mistake homeowners make is to ignore tree care, focusing our attention on our grass, flowers and shrubs. Healthy trees that can help lower our utility bills and pose no dangers to our families require specialized care and regular trimming. When it comes to tree service, Houston homeowners trust the certified arborists at ABC Home & Commercial Services for tree trimming, tree limb removal and even tree removal services.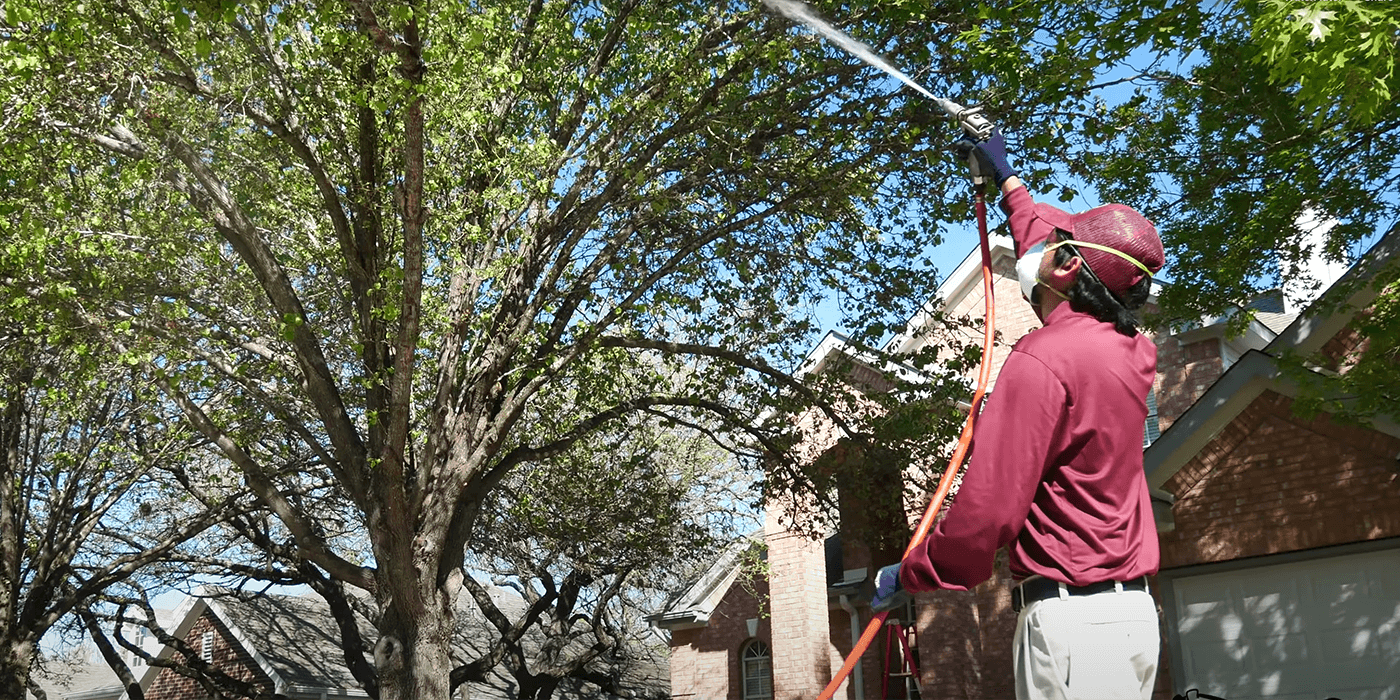 ABC's certified arborists can handle the full spectrum of tree care for Houston area homeowners.
ABC's certified arborists routinely help homeowners with the following tree services:
Tree Trimming
Many species of trees we find here in the Houston area benefit from regular pruning. Tree trimming can help remove dead or diseased branches and promote healthy growth by encouraging more air circulation throughout the canopy and allowing in more sunlight.
Keeping your trees trimmed can also help prevent disease and keep your entire lawn looking great. Tree pruning requires special tools, extension ladders and knowledge of how and when each species can benefit. Prevent risks from falling branches, working at dizzying heights and handling heavy equipment by taking advantage of the high-quality work of ABC's experienced tree specialists.
Tree Limb Removal
The Houston area experiences sudden and severe storms which can leave our yards looking like a mess. When you don't have the time or tools to take care of yard cleanup, call on ABC to remove large branches and other debris to get your lawn back to looking great.
Unlike other lawn care companies, ABC has certified arborists on staff who can also examine your trees for signs of damage after a storm. Our specialists can recommend steps to take to protect your family and property against potential dangers associated with falling trees or larger limbs.
Houston's dry conditions and persistent drought take their toll on our trees. In many cases, an untrained eye will miss signs that a tree is dying. A certified arborist can diagnose common tree diseases and conditions and advise you on the best course of action.
In some cases, removing a tree may be recommended if the tree poses a danger to your roof or other structures. Tree removal is a difficult and potentially dangerous job best left to experienced professionals. If you need a tree removed on your property, ABC can handle the job safely without damage to your yard, living structure or neighboring homes.
The ABC Process
1. Contact ABC
We'll learn what you need over the phone or during an in-person meeting at your home. Usually, we can schedule an appointment in a few business days.
2. Get An Estimate
We'll provide you with an estimate based on your goals and our recommended set of services. Once we get your approval, we will get you on the schedule.
3. Service
Our trained specialists perform all agreed-upon services. When we're done, we will clean up any debris to keep your yard neat and looking great.
4. Follow-Up
Depending on what services we performed on your property, we'll provide you with an update or recommend additional follow-up or ongoing services.
Since trees are so huge, it can be a challenge to diagnose potential problems, some of which could be high above the ground. That said, warning signs to look for include:
Detached branches caught in the tree canopy
A sudden or excessive loss of branches or leaves
Cavities along the major branches or trunk
Rotten wood
Discoloration on leaves
Pest infestations or damage
If you see any of these signs, contact an arborist promptly to evaluate your tree's health and suggest possible next steps.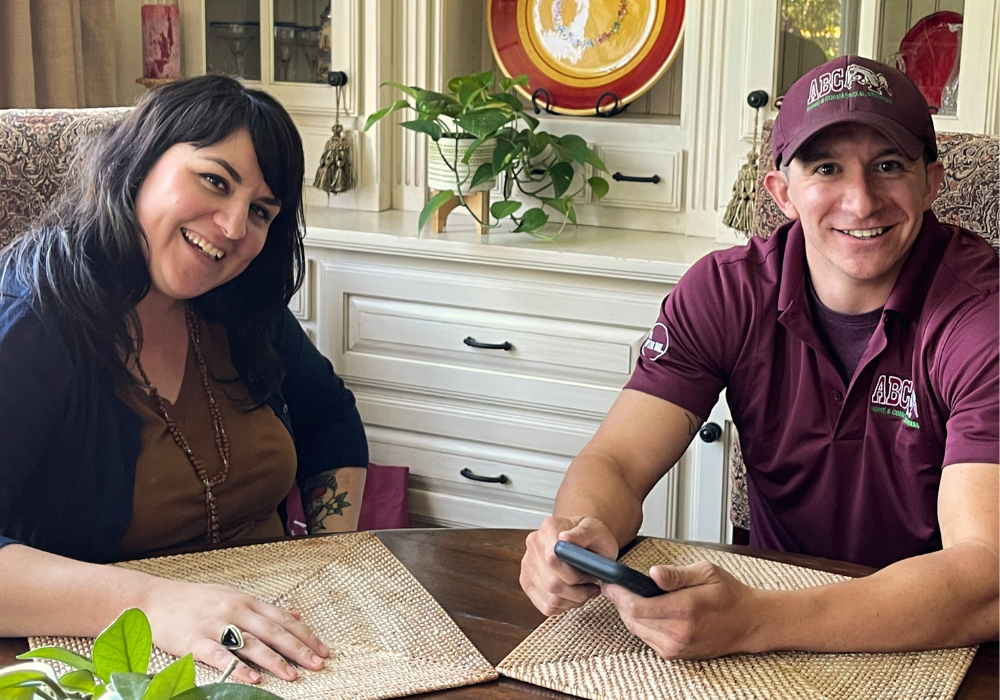 Get Started
We can turn your vision for your yard into reality.
Our tree care specialists receive extensive in-house and industry-specific training. In addition, ABC's tree care team holds the following professional accreditations and certifications:
Texas Department of Agriculture (TDA) Commercial Pesticide Applicator
Trees are an important part of your landscape, so make sure that their care isn't an afterthought. The specialists at ABC benefit from being up-to-date on the latest scientific research and best practices around the care of both native and non-native tree species. In addition, ABC is also a proud member of the Tree Care Industry Association (TCIA) and the International Society of Arboriculture (ISA).
Frequently Asked Questions
Can you provide me with a free estimate for tree care?
The cost of tree services is highly variable, depending on exactly what you would like done. That's why ABC sends an inspector to your property to learn more about what you need, your budget and to take a closer look at your yard and your trees.
After this in-person appointment, ABC will send you a free, no-obligation estimate to have the work done. Once you approve the estimate, we can schedule a time that's convenient for you to have the work done.
What species of trees do best in this area?
Native species are adapted to survive in our area, so choosing one of these types of trees will mean less maintenance and a healthier tree that will live longer than a non-native species. There are over a hundred species to choose from, depending on your soil type, site conditions and aesthetic preferences.
If you have a large space, you might consider adding one of the following species to your yard:
Live oak
Post oak
Shumard oak
Laurel oak
Bur oak
Pecan
Southern Magnolia
Bald cypress
Cedar elm
Green ash
Medium-sized trees which do well in our area include red maples, river birch, black cherry and eastern persimmon. Smaller trees you might select for your property include Mexican plum, redbud, Texas persimmon, Crape myrtle and the yaupon tree. A few species to avoid are silver maples, Chinese tallow and Arizona ash trees.
The best time to plant a tree here in the Houston area is generally between the middle of November and late February. Establishing roots before the brutal Texas summers helps ensure your tree will stay healthy for longer.
How can I keep my trees healthy?
Although tree trimming and selection may require the help of a professional, every homeowner can take steps to protect the trees that shelter your home.
A few measures you can take to promote tree health include:
Planting any new trees far away from your foundation. Tree growth can be unpredictable, so to prevent any damage to your roof and foundation, plant larger trees at least 20 feet from your home. Also, make sure to plant your trees far away from overhead power lines.
Applying fertilizer judiciously. While trees do often benefit from added nutrients, a common mistake homeowners make is to add too much fertilizer at the wrong time of year. Excessive fertilizer can damage roots which can leave to instability over time.
Avoiding soil compaction. A tree's root system serves as a highway, providing the plant with needed food and moisture. Pressure from walkways and driveways, heavy equipment such as cars and even digging and aerating can cause significant damage to a tree.
Should I mulch around my trees?
Yes! Mulch provides many benefits to trees. Among them are that it reduces competition for nutrients from weeds and grasses, helps tree roots retain moisture, protects the root system against damage from lawn equipment and can help prevent compacted soil.
To enable your trees to best benefit from mulch, keep the following tips in mind:
Add mulch in a three to four foot circle around your tree.
Organic mulch, including pine needles and wood chips, can also help improve your soil chemistry as they decompose.
Mulching around newly-planted trees is especially important.
Make sure that mulch does not directly come into contact with the tree's trunk to avoid root rot.
Avoid using limestone rocks near your tree's base, as this weight puts too much pressure on the root structure.
Although you want to make sure you are generous when you apply mulch, keep the level under three to four inches.​
How much and how often should I water my trees?
How much moisture your trees need depends on a variety of factors, including which species you have, the tree's age and what time of year it is. In general, trees benefit from being watered with a soaker hose once a week for four weeks after they have been planted. From November until February, your tree's roots will benefit from being a slow soak once every three weeks. In October, March and April, water these areas once every two weeks. From May until September, your trees will require once weekly watering.
During a drought, younger trees will require more frequent watering. Using a "slow drip" method, you'll want to add between seven and ten gallons of water to your tree's roots at least two or three times each week and even more for larger trees. Mulching two to three times during the growing season can help your tree retain this needed water.
What tree diseases and conditions are common here in Houston?
The most common tree diseases and conditions we see here in the Houston area include:
Pest infestations, including scale insects, pine beetles and spider mites
Mildew
Chlorosis
Gall
Although oak wilt is a problem in the Texas Hill Country, this disease is not currently a problem in the Houston area. That said, outbreaks are possible. If you fear your tree is suffering from any of these conditions, ABC can help.
Get Started
We offer a full range of lawn services.
More Lawn Care Solutions In Houston
What Our Customers Are Saying
"Very friendly and helpful staff. On time and great service. They helped me trap and remove the mice that got into my house. The biggest part of their service is preventing them from coming in again. Every one of the people I dealt with either in the field or at the office were super nice! Highly recommend them. Very happy with my service."
"Professional staff, easy to schedule, and great communication. From the very first visit technician was efficient and pointed out a few areas to be aware of. Overall very impressed with quality of service. We have used ABC from the fall 2019 and still very satisfied. Our tech is amazing and does a great job addressing problem spots! We added the mosquito supression service and it has given us our outdoor space back! We love ABC and all techs are highly qualified and trustworthy!"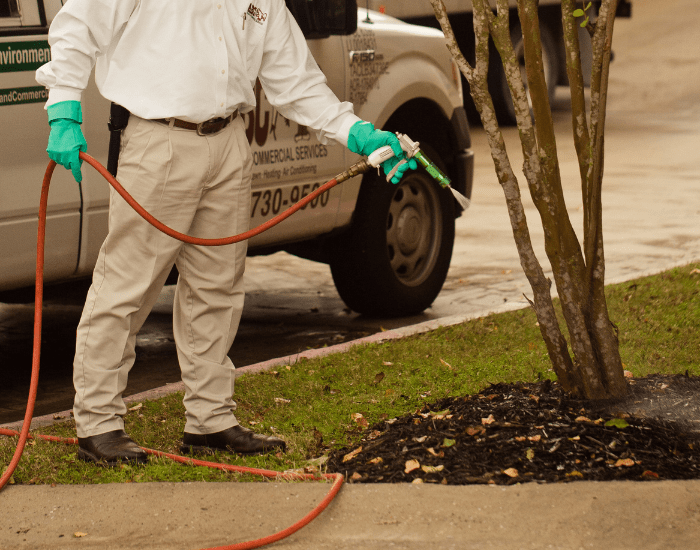 Need Lawn Services For Your Business?
Our lawn care specialists will ensure you make a good first impression on your customers by keeping your facility's exterior looking nice and tidy.
ABC's Complete List of Home Services in Houston
Why deal with multiple service providers when ABC can do it all?