Pest Control in Tyler, TX
Tyler's humid subtropical climate makes our area a perfect breeding ground for a variety of common household pests, including roaches, mosquitoes, wasps, ants, spiders, rodents, bed bugs, termites, bed bugs and other insects and wildlife. With neither the time nor the expertise to handle an infestation, many residents find eliminating pests on their own to be a challenge. When it comes to pest control, Tyler TX homeowners rely on the professionals who have been helping Texans win the battle against bugs for generations: ABC Home & Commercial Services.
Effective Pest Control Solutions
In the generations we've been serving Texans homeowners, ABC has become experts in pest behavior and how this activity changes based on seasonality and location. This expertise informs how our technicians design your customized treatment plan and how we control an infestation.
ABC's Signature Services include:
An in-depth examination of your property to note any changes from the initial inspection.
The careful application of targeted treatments, when and as needed.
The creation of a protective barrier around the outside of your home to safeguard you and your family from pest invasions.
A dusting using preventative products in and around the cracks along your home's exterior.
Sealing any possible entry points with dust and copper wool.
Checking your crawl spaces and attics for pest activity and performing any needed treatments in these typical problem areas.
As a company with the National Pest Management Association's QualityPro accreditation, ABC checks all employee driving records, requires technicians to undergo drug testing and conducts background checks on our staff. To keep expanding the knowledge of our employees and performing to the highest standards, we require regular training and testing for our pest control technicians.
The ABC Process
1. Contact ABC
When you contact us, we will schedule an inspection to get an understanding of the problem. In some cases, we can give you a quote over the phone.
2. Get An Estimate
If you have an inspection, we will send you a custom treatment plan and estimate afterward. Once we get your approval, we will schedule your treatment.
3. Treatment
We will come to your property and treat for pests in common hiding and nesting areas. Over time, you will start seeing less and less pest activity.
4. Prevention
Customers with our ongoing pest management services will receive periodic retreatments to prevent the return of the most common pests in our area.
We are happy to provide a no-obligation, complimentary inspection, which allows us to learn more about the problems you are dealing with and to create a customized treatment plan.
Depending on the type of pest that's invaded your home, we may be able to provide you with an estimate on the phone. If that's not possible, we will arrange a time to meet you at your earliest convenience at your home. The purpose of this visit is to:
gather additional information from you about what you've been seeing to get a first-hand look at your infestation
identify the type of pest that's caused damage on your property, if necessary
evaluate the severity of your problem
determine any unique conditions on your property which might make your yard or home more susceptible to an invasion
look for signs of pest activity and related damage
address any concerns you might have or answer your questions
Once the inspection is complete, we can create a personalized treatment plan. We'll get you on the schedule immediately after you approve our estimate and suggested next steps.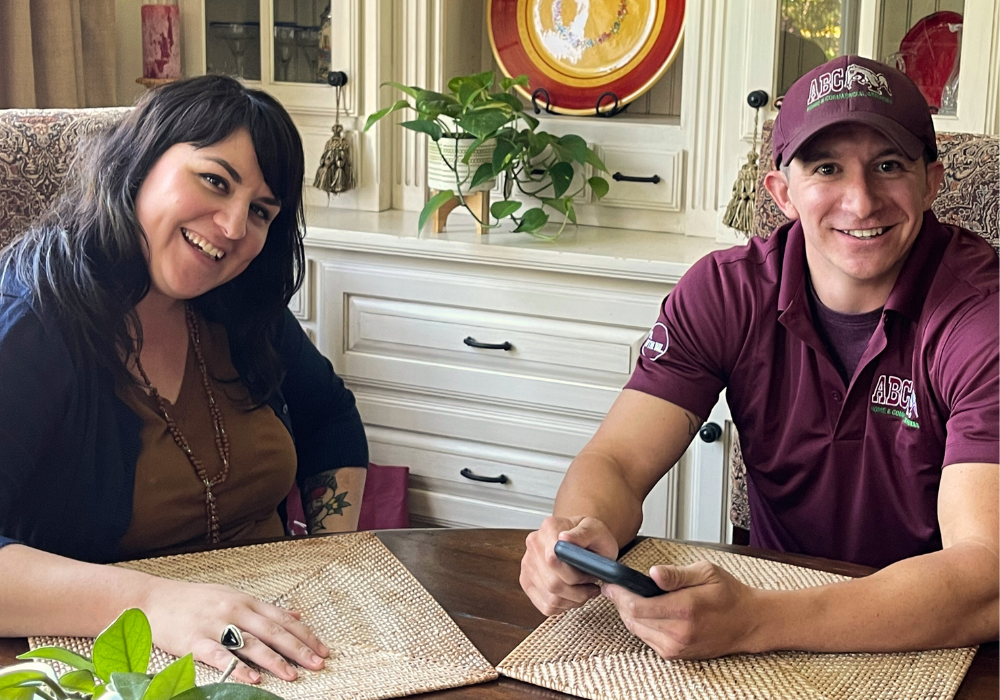 Get Started
We offer a full range of pest control services.
Why is ABC the best pest control company to handle your problem? First and foremost, ABC couldn't compete in a rapidly-growing area without getting results for our customers. Another reason we stand out from the competition is that our customers know they can feel safe with ABC in their home. Why is that? We conduct thorough background checks and drug testing on all our employees. Lastly, ABC promises to treat your home as if it were our own.
Frequently Asked Questions
Are the pest control methods your technicians use friendly for my pets and children?
As a family-owned and operated company, ABC cares deeply about the families and communities we serve. With this philosophy in mind, we have chosen products which are effective while being low-impact.
The products we use are designed specifically for use in residential settings and to target a specific type of pest. Our specially-trained technicians apply these treatments carefully in low concentrations. We are happy to address any concerns you might have about your treatment plan or ask answer questions you might have about our approach and pest control philosophy.
How often will you come to service my house?
We base your recommended treatment plan on a number of factors, including the time of year, the type of pests you have, the severity of your infestation and any conditions that might be unique to your property. While we understand that our customers would prefer that we resolve all the pest problems in a visit or two, the truth is that pest pressure in the Tyler area is high.
Our estimates often include quarterly monitoring visits to offer you continued protection from pests, so you don't have to worry about the inconvenience of a reinfestation. We can give you a better idea of both how often and how long we expect it will take to see results after we conduct our free inspection, and in some cases just by gathering information from you over the phone.
The good news is that if you notice pest activity between scheduled visits, we'll come back to perform an additional treatment, at no cost to you.
Additional Pest Control Service Areas in Greater Tyler
ABC serves many surrounding communities, including, but not limited to:
What Our Customers Are Saying
"They always do a fantastic job and have very friendly employees!"
"The 3 people I have talked to, met with, or provided the service were all courteous and professional. The tech was complete and fast. He knew his job."
Need Pest Control For Your Business?
We understand that businesses have different needs than residences. That's why we have specially trained technicians who can service your business.