Pressure Washing in Fort Worth, TX
There are countless ways to spend our free time, whether it's catching the latest exhibit at the Kimbell Art Museum or shopping at Sundance Square. It's no wonder that when it comes to pressure washing, Fort Worth residents often put this chore on the back burner. If your surfaces have developed a layer of dirt, dust, pollen or other debris, contact ABC Home & Commercial Services. Our pros can put in the hard work so your property looks its best.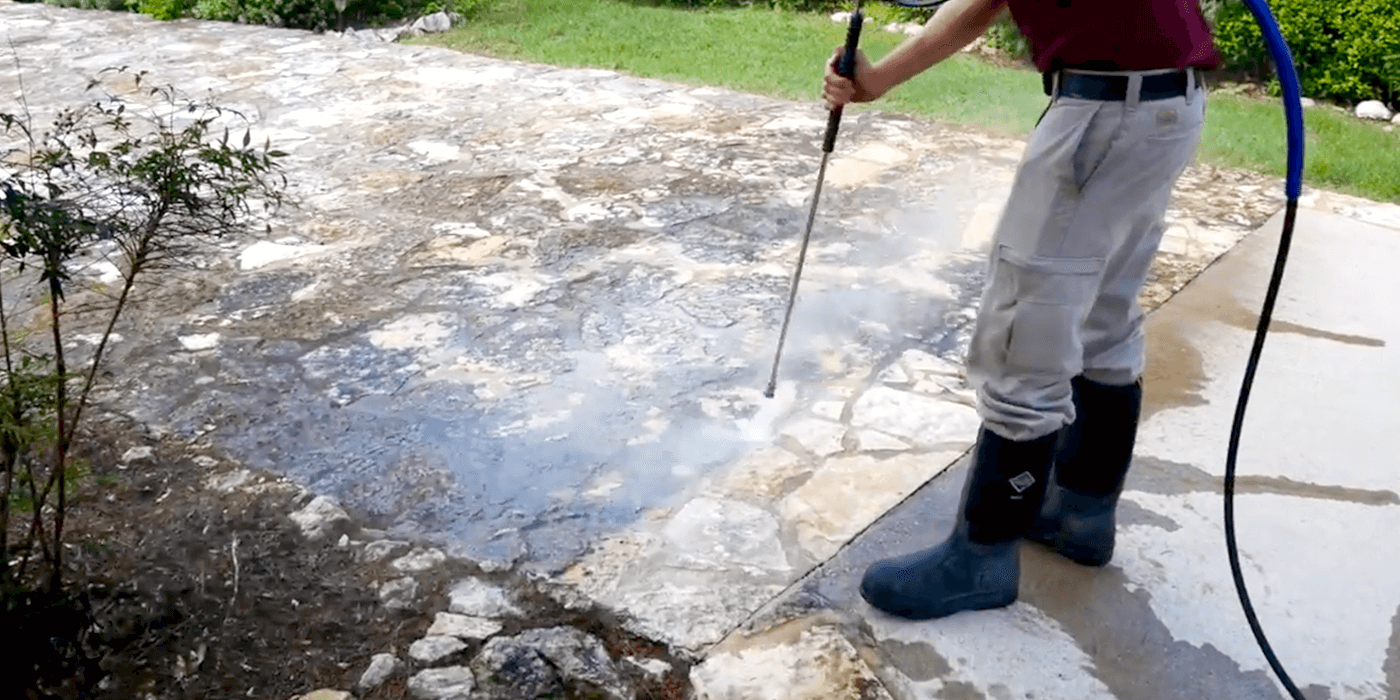 ABC's pros can remove dust, dirt and other debris off many of the surfaces on your property. We commonly get calls to pressure wash:
Decks
Patios
Concrete walkways or stone paths
Driveways
Vinyl, fiber cement and wood clapboard siding
Bricks
We would be happy to come to inspect the area you would like to have cleaned to determine if we'd recommend pressure washing for that type of surface to meet your goals.
The ABC Process
1. Contact ABC
When you contact us, we will ask questions to get an understanding of what you need done. For larger jobs, we'll schedule a brief meeting at your home.
2. Get An Estimate
We'll provide you with an estimate for all needed services. Once we get your approval, we'll schedule a time to get the work done.
3. Service
Our pros will get your surfaces sparkling clean.
4. Follow-Up
We will update you on the work we performed and provide any helpful follow-up instructions or other guidance.
Thanks to the warm weather nearly all year round in Fort Worth, there isn't one specific season that's better or worse for pressure washing. Some homeowners prefer to schedule pressure washing in the spring, after the wind has spread pollen all over walkways and patios. Others contact us just before the holiday season, so their property is fresh and clean for their out of town guests. Whether it's rain or shine, you can count on us to pressure wash your home. However, for the safety of our team members, if there is lightning, we will need to reschedule your appointment.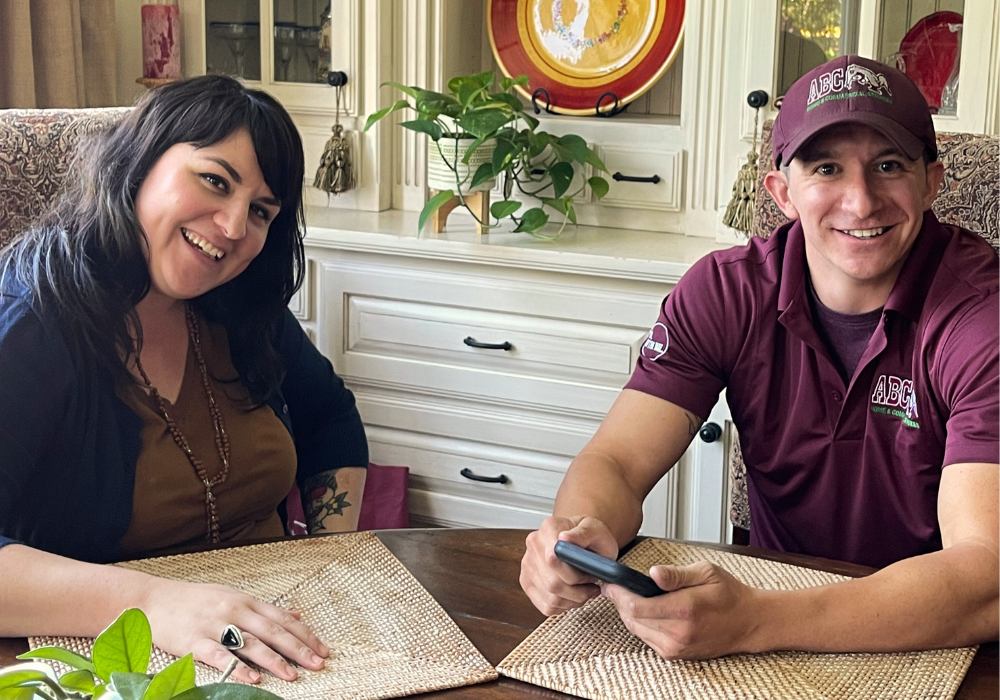 Get Started
We can turn your vision for your yard into reality.
ABC is a locally owned business that has been providing services to homeowners for over 70 years. As a family-run company, we understand that you want to feel comfortable when a specialist comes to your home. This is why we have a stringent hiring process and require all prospective hires to be drug tested and background checked before receiving an offer. After our technicians join our team, they go through an extensive in-house training program so we can feel confident that we can continue to provide the high-quality service that ABC is known for. Lastly, we believe in treating your home as if it was our own, so you can count on our specialists to leave your home in better condition than how they found it. 
Frequently Asked Questions
Do you offer free estimates?
Yes! ABC is happy to provide homeowners with free estimates for our pressure washing services. When you get in touch with us, we start by sending one of our team members to your home to get a better understanding of your wants and needs. After assessing the areas you would like to have pressure washed, we will present you with a complimentary, non-obligatory estimate. When we receive your approval, we will put your appointment on our calendar.
Why should I hire a professional for pressure washing?
At first glance, pressure washing may seem as easy as pointing and spraying. However, there are many important considerations to take into account whenever a surface is going to be pressure washed. To begin with, most of us don't have this type of equipment, so that means the inconvenience of a trip to the store to rent a pressure washer and taking it back when work is complete. Also, if we don't regularly use this type of equipment, we may not realize that most pressure washers start at 1,500psi, or pounds per square inch, and can reach all the way up to 3,300psi, which is strong enough to damage solid wood, asphalt and concrete. So, there is a risk you can do more harm than good if you don't know what you are doing. Additionally, even if you are using the correct amount of pressure for the surface you're washing, if you're standing too close, you could still end up damaging your surfaces or your belongings. By hiring a professional, you can avoid the hassle and just enjoy the benefits when the project is done.
How often should I get my home pressure washed?
Although there are many different considerations to take into account when determining how frequently to schedule pressure washing, most of our Fort Worth customers request these services at least once a year. Having a lot of trees on your property, living in a community that is more susceptible to dust storms and being close to new construction are factors that may make your surfaces more vulnerable to buildup.
Will pressure washing damage my siding, wood or plants?
When we come to your home for an inspection, we will take note of any areas that need to be cleaned that are in close proximity to surfaces that may be vulnerable to pressure washing damage. In these areas, our highly-trained experts can implement special techniques or use different products to ensure the area is properly cleaned without affecting any surrounding siding, wood, plants or anything else.
Furthermore, if there are any areas of your yard that you're concerned about, let us know and we will be extra cautious when cleaning that area.
What is the impact of the products that ABC uses for pressure washing on my family and the environment?
At ABC, one of our core values is that we will always treat our customers' homes as if they were our own. Part of this policy is that we only select products that we would use on our own homes. In addition, all of the products and equipment we use are manufactured for residential use. If you have any specific questions about the products we use, your ABC specialist would be happy to answer them.
Do I need to be at home while my property is being pressure washed?
In most cases, we're able to pressure wash your home even when you aren't there. All we ask is that you provide us with any needed instructions or directions to gain access to the areas of your property we'll be cleaning. Before we arrive, please make sure all windows are shut tightly and, for their safety, keep pets and kids indoors.
Will pressure washing remove oil stains on my driveway or garage?
Typically, we tell our customers that the best way to remove oil stains is by scrubbing the stain with a firm bristle brush and soapy water. Most of the time, specially-formulated products for these kinds of stains are more effective than pressure washing.
Get Started
We offer a full range of lawn services.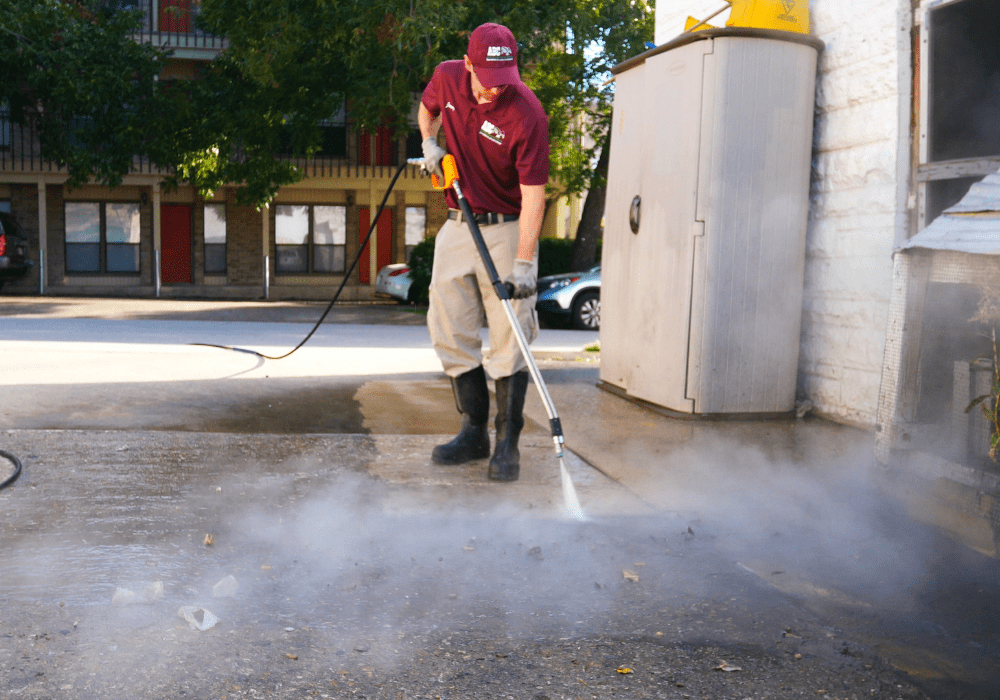 Need Handyman Services For Your Business?
Running a business is a lot to manage and it's nearly impossible to cross everything off your to-do list. Let our handymen take some work off your plate.
ABC's Complete List of Home Services In Fort Worth
Why deal with multiple service providers when ABC can do it all?