AC Repair in Fort Worth, TX
It's only natural to feel a sense of dread when your home feels hot or humid even when you have your thermostat set to cool. If you find yourself in this uncomfortable situation, contact ABC Home & Commercial Services. Our licensed professionals can work on any make or model of unit, 24 hours a day. Better yet, we don't just provide AC repair in Fort Worth—we also offer maintenance and installation services.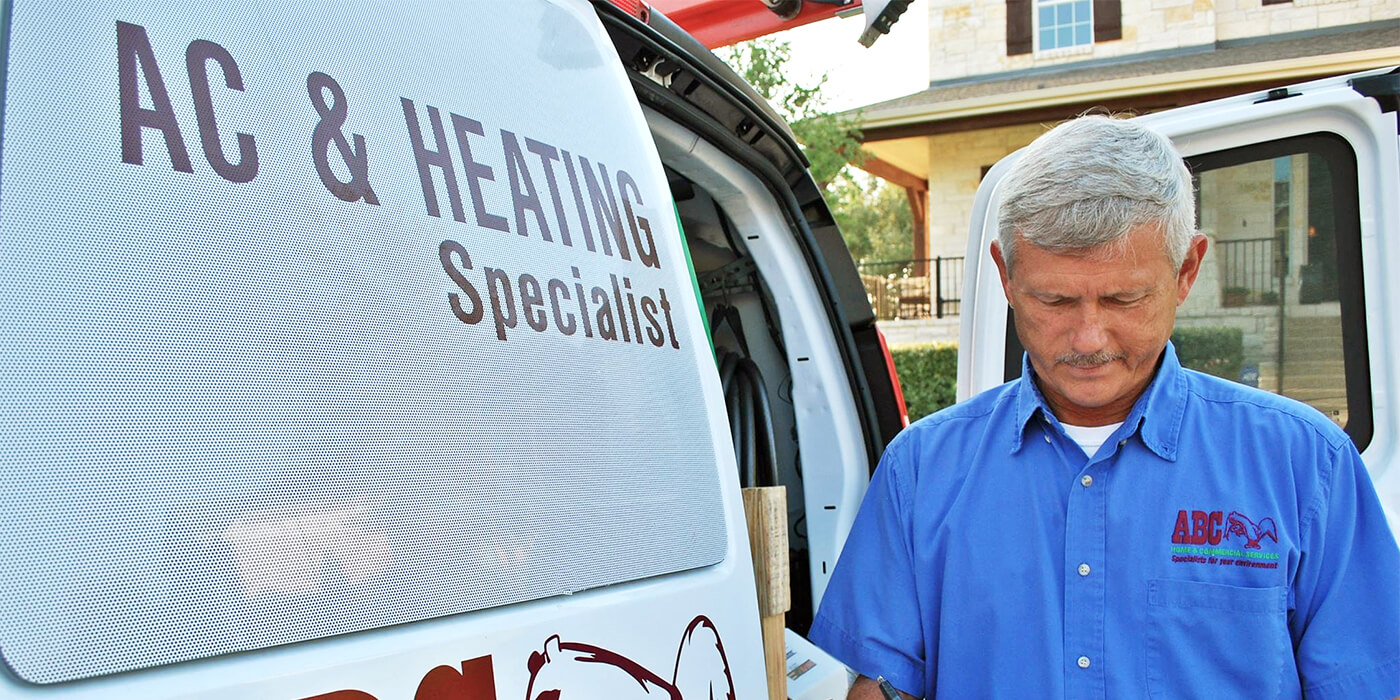 Comprehensive Air Conditioning & Heating Services
24/7 Emergency Service Available
We understand that if your air conditioning and heating system isn't working properly, you want a professional to come to your home quickly. Thankfully, our heating and cooling technicians are available 24/7, so give us a call and we will send someone to your home as quickly as we can.
The ABC Process
1. Contact ABC
When you contact us, we will schedule a service call to evaluate the problem. For emergencies, we will send a pro to your home as soon as possible.
2. Get An Estimate
We'll provide you with an estimate for all needed services. Once we get your approval, our pros will get right to work.
3. Treatment
We will work quickly to perform the desired services. At the end of your service call, we'll update you on what we did and any other needed follow-up.
4. Ongoing Maintenance
Customers who sign up for our Advantage Maintenance Plan receive two tune-ups a year and peace of mind that their system is working as it should.
ABC has acquired Daniels Air, a trusted family brand in DFW since 1969. Daniels is a licensed, full-service air conditioning and heating provider. When you call ABC, an experienced, highly trained technician will come to your home in a Daniels vehicle to deliver the same friendly, high-quality service you have come to expect from ABC.
Dallas-area homeowners can rely on our experienced technicians for a wide variety of services, including:
AC Repair
Is something wrong with the cooling and heating in your home? Our trained technicians can resolve issues with any make or model of heating and cooling system. Some of the most common requests we receive include problems with:
Not getting enough cold air
Reduced airflow
Moisture and leakage around the unit
Unusual sounds coming from the unit
A foul smell
Unusually high electric bill
Our specialists can diagnose any problems you may come across and give you recommendations on needed repairs. We can also advise you on when it might be time to replace your system.
System Replacement & Installation
If you have decided you need a new system, we can replace your current air conditioner and install a new one. If you aren't sure, we can perform a free inspection and advise you on which system would work best for your home, depending on your preferences and needs. Our estimate will also take into account the size of your home and the configuration of your duct system.
Ongoing Maintenance
By performing routine maintenance on your system, you can extend its life span. In addition, a professional can recommend any needed repairs before they become a bigger and more expensive problem. Our Advanced Maintenance Plan (AMP) includes performing diagnostic tests to ensure everything is running smoothly, testing for refrigerant leaks, inspecting parts for signs of wear and measuring airflow. When we finish our maintenance call, we will provide you with a report on the health of your system and tips on how you can keep your system running longer.
Heater Repair
While gas furnaces and heat pumps don't work nearly as hard as our air conditioners do, we still rely on them in Dallas to keep our homes warm during the winter months. That's why we recommend an annual maintenance service call during the fall to ensure everything is running smoothly before the temperatures drop and you turn on your heater for the first time. If you do experience a problem, our licensed technicians can quickly resolve the issue so that your home will be warm and cozy again.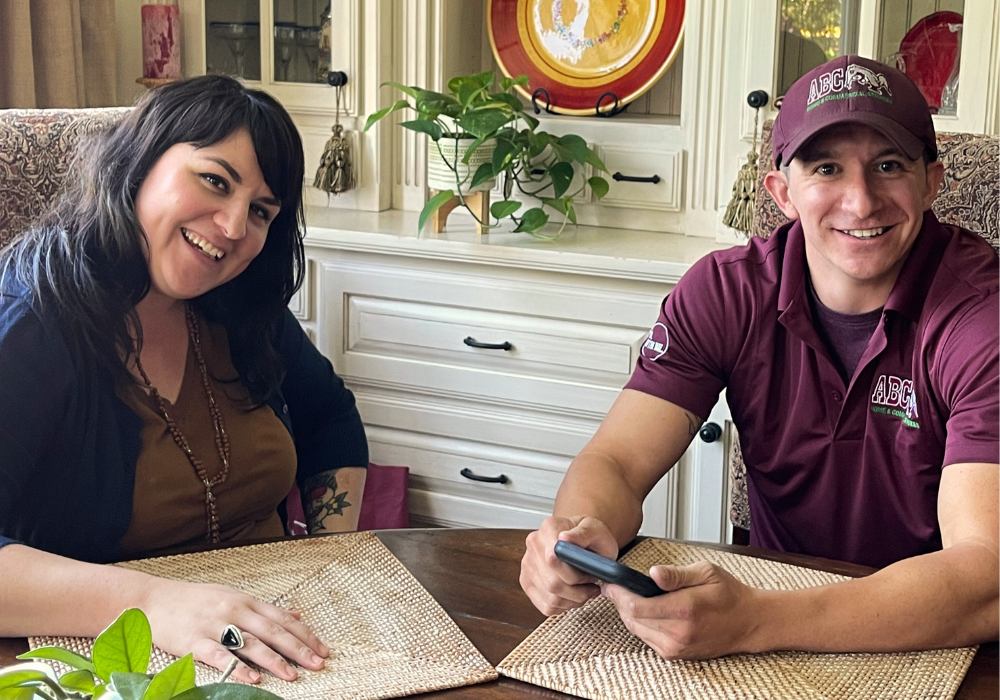 Get Started
We offer a full range of pest control services.
ABC has been serving Dallas-area homeowners for generations. We first established a reputation locally for our high-quality, effective pest control services. Our loyal customers and hardworking employees have allowed us to grow so that we now offer many other services for home and business owners, including repair, installation and maintenance of air conditioning and heating systems.
Through our acquisition of Daniels Air, a local AC and heating company founded in 1969, we will continue to provide the same reliable, friendly service you have come to expect from ABC. Our companies share similar values, and promise to treat your home as we would our own. Our licensed technicians who are available 24 hours a day 7 days a week receive extensive in-house training to ensure they are performing to our high standards.
Our satisfied customers tell us that they chose ABC because we get the job done right, the first time. If you experience any problems with your air conditioner or heating repair or installation within 12 months, we will return to your home to make things right, at no cost to you.
Frequently Asked Questions
How soon can you arrive at my home?
We understand that if your air conditioning and heating system isn't working properly, you want a professional to come to your home quickly. Thankfully, our heating and cooling technicians are available 24/7, so give us a call and we will send someone to your home as quickly as we can.
What can I expect when you come to give me an estimate for a new air conditioning system?
When one of our professionals comes to your home, we will gather information from you so we can perform load calculations, ask you questions about what you want out of a system, learn more about your budget and calculate how much you are currently spending to heat and cool your home. Taking all of these factors into account, we will create an estimate for a new system that will meet your needs.
In our estimate, we will include any opportunities you can take advantage of to save money through local and federal rebates or incentives. We can also give you other tips on how to make your home energy efficient, such as adding weatherization or insulation to lower your energy bill.
How do I know if I need a new system?
Usually, air conditioning and heating systems have anywhere from a 10 to 15-year life span. So, if you're approaching that time frame, it may be time to start looking into a new system. With proper maintenance, some systems last longer.
Some homeowners decide to replace their system early in order to be more energy efficient and save money on their electric bill. You may be surprised to learn that replacing your system could end up paying for itself, as some homeowners see a 50% savings on their energy bill each month.
ABC's Complete List of Home Services in Fort Worth
Why deal with multiple service providers when ABC can do it all?