Experienced Electricians in San Antonio, TX
We rarely think about how much in our home depends on electricity—that is, until something's not working correctly. Although some repairs are easy for homeowners, a DIY approach can be very dangerous if you are trying to fix your fan, appliance, air conditioner, computer or wireless network. When selecting an electrician, San Antonio homeowners count on the licensed electrical service experts at ABC to handle any problem they may encounter.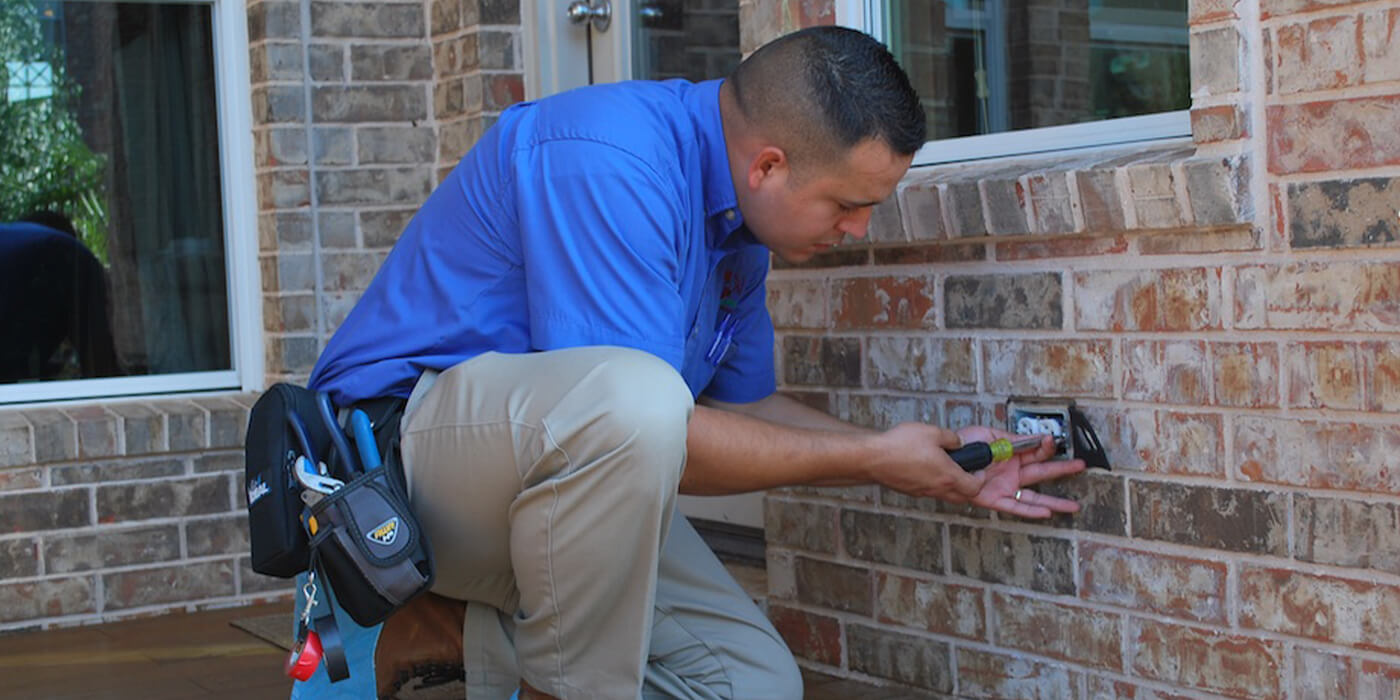 Download Transcript
Expert & Reliable Electrical Services
You can count on ABC's licensed electricians to handle all your electrical repairs and take care of any problem you might encounter with your home's electrical system.
San Antonio homeowners rely on ABC's licensed electricians to:
Install or fix lighting fixtures
Add or repair a fan in your bathroom
Replace broken or outdated breakers or fuses
Improve air circulation with a new or updated ceiling fan
Upgrade your home's electrical panel
Create softer lighting with dimmer switches
Put in GFCI outlets
Add outdoor lighting to deter burglars and highlight landscape features
Install new outlets and switches
Repair any electrical wiring or put in new wiring
Recommend surge protectors to safeguard your devices
Add an electrical outlet for an electric car charger or appliance
Integrate the lighting in your home with your smart home system
Install a new hood fan in your kitchen
Troubleshoot electrical issues you might have with your pool or hot tub
Our licensed electricians can even help with your home remodeling projects. Our team can help with any electrical project, large or small.
The ABC Process
1. Contact ABC
When you contact us, we will schedule an inspection to evaluate the problem. For emergencies, we will send a pro to your home as soon as possible.
2. Get An Estimate
We'll provide you with an estimate for all needed services. Once we get your approval, our pros will get right to work.
3. Perform Service
We will work quickly to perform the desired services.
4. Follow-Up
We will update you on the work we performed and provide any helpful follow-up instructions or other guidance.
24/7 Emergency Service Available
We completely understand that you don't want to wait around when you have an electrical problem. That's why ABC makes every effort to get an electrician to your property within a business day of your call, especially if you contact us in the morning. We also realize that these issues can crop up after our regular business hours, so our customers can rely on us for electrical service, 24 hours a day. Just give us a call at (210) 599-9500 and we'll do our best to get an electrician to your property as soon as we can.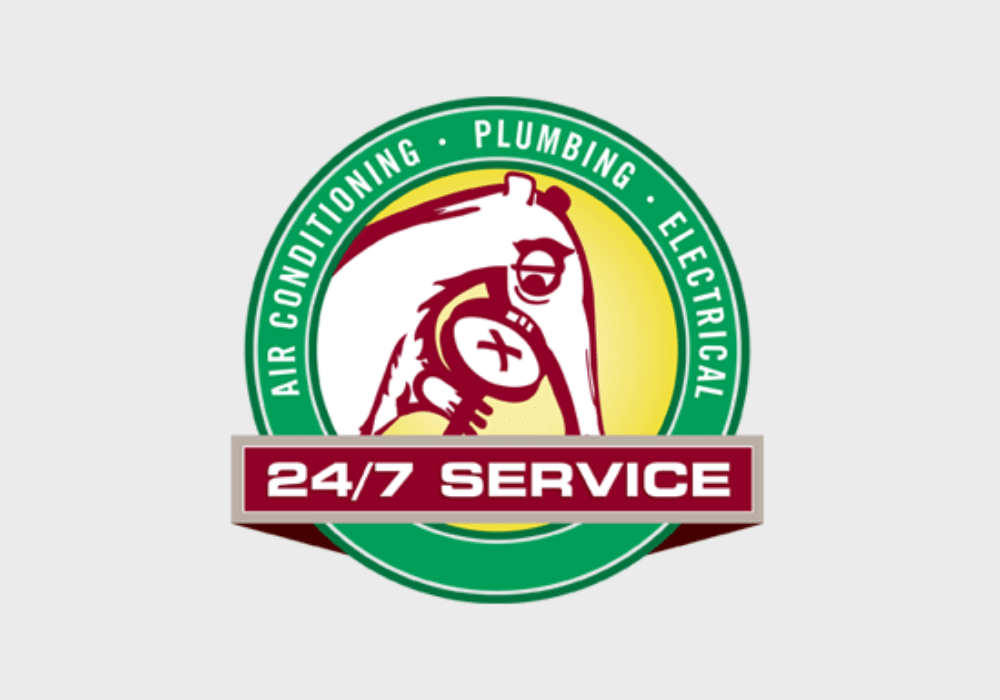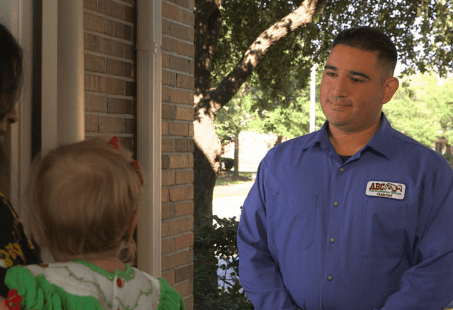 Get Started
We offer a full range of electrical services.
While some home repairs can be done without extensive training, electrical work is better left to the professionals. ABC's team of licensed electricians have the in-house instruction and the experience to deal with even the most difficult electrical problems you might have.
Our customers tell us that they chose ABC because we require all our employees to undergo thorough background checks and drug testing and our crews treat our customers' homes and we would our own. Trust ABC's licensed electricians to handle your electrical issues so that you can spend more time enjoying your home.
Frequently Asked Questions
Can you help me save money on my electric bill?
On average, homeowners in the United States spend 7% of their income on electricity, according to the Bureau of Labor Statistics. That's almost $200 a month! Some ways that you can save on your monthly bills are to:
Add attic insulation
Reseal ductwork and vents so no air is allowed to escape
Add solar film to your windows
Install weatherstripping
Increase air circulation with the help of an air filtration system
Since the largest part of your utility bill goes toward heating and cooling your home, ABC's HVAC specialists can recommend whether it might be time to replace your air conditioner with a unit that will save money over time because it is more energy efficient.
Why aren't my lights coming on?
When you flip a switch and nothing happens, it's hard to know exactly what could be wrong. A few reasons your lights might not be coming on are if you have:
A faulty outlet or bulb socket
A bulb that was improperly installed
A broken pull cord or switch
A blown cord
Loose, old or damaged wiring
Circuit malfunctions
Sometimes, electrical problems can signal more serious issues. You can count on ABC's experts to quickly discover why you are having a problem and present you with a plan on what should be done next.
Why do I need GFCI outlets in my home?
GFCI outlets, which is short for ground fault circuit interrupter, were created to protect against electrocution. This device is designed to shut off an electric current when it detects that it will flow from a grounded object, such as your plumbing fixtures, into a person's body. Now mandated in new construction, GFCI outlets were initially required around pool areas in the 1970s.
If your home doesn't have GFCI outlets, we recommend scheduling an appointment for one of our electricians to install these devices in parts of your home which can become wet. You might want one of these outlets within six feet of your sinks, outdoor outlets and inside bathrooms, laundry rooms, kitchens and garages.
Can I reset my breaker myself?
Typically, homeowners can reset their breakers on their own. What happens when a breaker shuts off—more commonly known as "tripping"—is that too much electricity has been sent into the circuit at one time. A breaker is designed to shut off in these situations since too much electricity can cause a breaker to overheat and eventually to catch on fire.
If this happens to you, you'll first want to try to pinpoint why your circuit tripped. Unplug or turn off any devices which may have been involved before you try to reset your breaker.
Some of the more common culprits responsible for tripping a breaker are:
A vacuum
Your heater
A window air conditioner unit
A damaged or old appliance
Any appliance that is left plugged in all day, including coffeemakers, toasters, dishwashers, microwaves and air conditioners)
Your breaker can also be tripped if you have a short circuit.
To reset your breaker, follow these steps:
Find your circuit breaker. If you aren't exactly sure where your electrical panel is, check outside of your home, inside a closet or in your garage for a rectangular box at eye level.
Open the panel and check to see which breaker was tripped. You'll know because one of your switches will be in the "off" position with either red or orange showing.
Flip the switch so that the breaker is back in the "on" position. As you do so, you'll probably detect a snapping or clicking sound as the circuit transitions back into its normal position.
How do I know if I have electrical problem?
If you can find an electrical problem early, you may be able to save money on repairs. Some of the warning signs that may indicate you have an issue are if you notice:
Your lights flickering on and off
Wiring that is visibly frayed or damaged
Repeated tripping of circuit breakers
Fuses which need to be replaced more often than normal
When your breaker panel becomes hot to the touch
When you notice a humming noise coming out of your breaker panel
When a plug falls out of an outlet without your touching it
If you notice any of these warning signs, contact an electrician to determine the best next steps.
How can I prevent electrical problems?
Although a DIY approach often doesn't usually work for most homeowners for electrical repairs, there are things we can all do to avoid common electrical issues.
To keep everything electrical operating properly in your home, you can:
Shut off lights and any other devices which run on electricity, including your television, fans and speakers, once you leave the room.
Maintain all your appliances and keep track of your purchases so you have all the information you need about your appliances handy (including when you purchased them) in case you have a problem.
Label all the fuses on your electrical panel clearly so that you better understand which circuits are powering the different rooms in your house.
Try not to plug multiple appliances into one outlet or circuit.
Install a programmable thermostat, if you don't already have one, to allow your air conditioner to more efficiently heat and cool your home.
Turn your home's temperature down a few degrees in the winter and up a little in the summer to reduce the amount of work your unit needs to do.
Set your outdoor lighting on a timer so that they are only on when you need them.
Get Started
We offer a full range of electrical services.
What Our Customers Are Saying
"Ed was awesome and professional! He removed all the bird nest material and replaced the vent to insure the birds could not return next season. He also treated the area for bird mites. I would absolutely recommend them to anyone. It was affordable and efficient."
"Ricky is servicing my pool. He is very professional, reliable and on time. He cleans the pool, baskets and checks for chemicals needed for correct water balance. He is friendly and polite and explains any questions I have in reference to the pool/water. I would recommend him to anyone."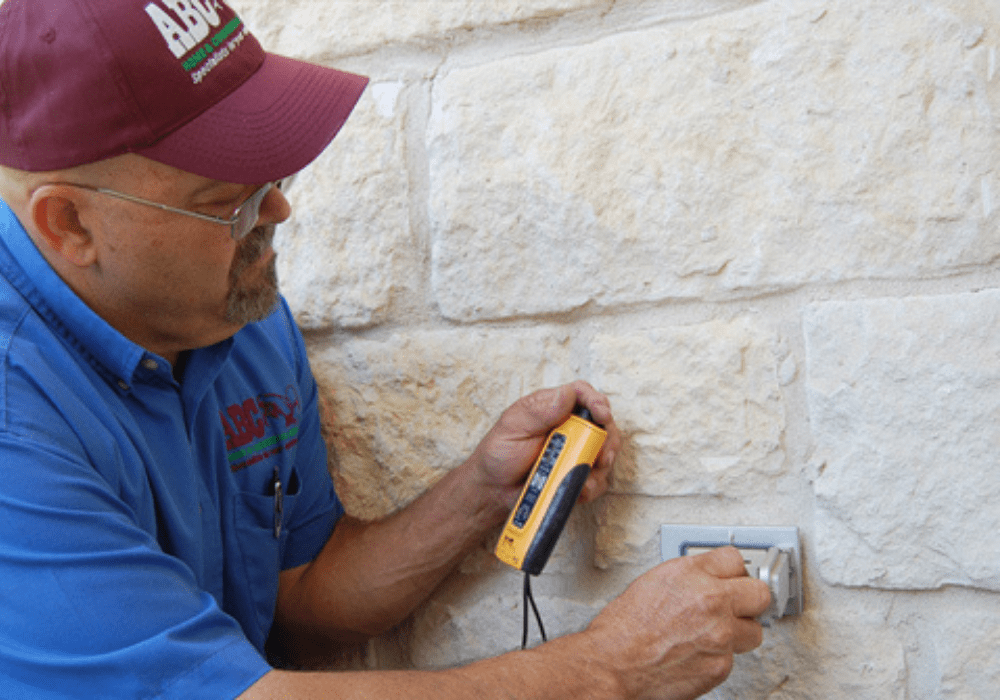 Need Electrical Services For Your Business?
Having electricity problems can slow business down or even bring it to a screeching halt. We can get you up and running again.