Holiday Lighting & Christmas Lights Installation in San Antonio, TX
Homeowners love the idea of having a beautifully decorated home for the holidays, but finding time to set up lights and outdoor decorations is hard when you take into account the holiday parties, local events and gatherings with family and friends. When looking for help with holiday lighting and Christmas lights installation in San Antonio, homeowners call on ABC Home & Commercial Services. Our pros can free up your time and do the hard work.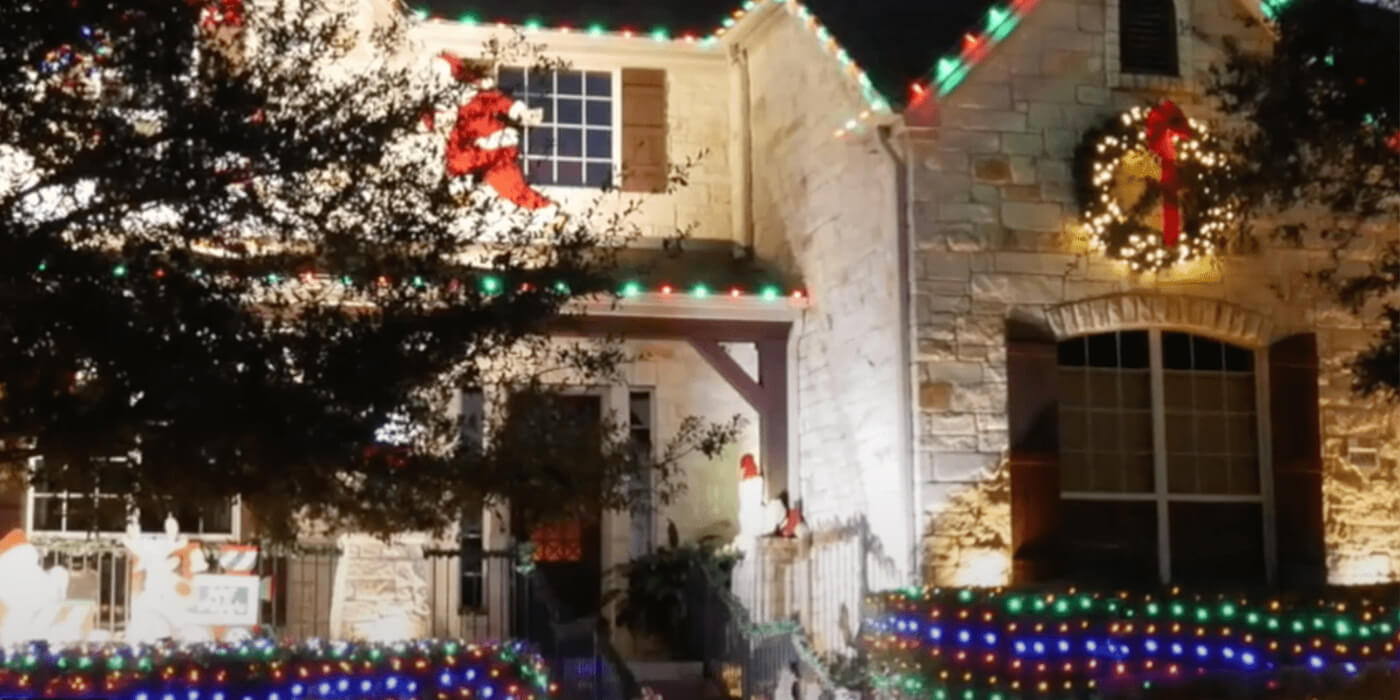 Download Transcript
Our lighting pros can take any vision you have for brightening your outdoor spaces and turn it into a reality.
Some of the event and holiday lighting San Antonio homeowners rely on ABC to take care of include:
Installing Christmas lights on your eaves, along your driveway and pathways, and in your trees and on your shrubs.
Highlighting your property's fascia, windows, doors and archways through lighting.
Illuminating your mailbox with a warm glow.
Brightening the areas where you entertain guests, such as in and around your outdoor living areas.
Guiding your guests safely towards your event entrances through carefully-placed lighting.
Creating a custom outdoor lighting display design, based on your budget and priorities.
One of the benefits of having ABC install your holiday lighting is that you can purchase many of the elements directly from us. We can supply virtually any color of LED lighting for your property: white, blue, red, green, yellow and orange. You can complement your lighting with bows, lighted garlands and wreaths. All of our items are high-quality, so you can expect them to look great in the future.
Installing your lights display is not all ABC can do to help make your life easier. Once your event or the holiday season is over, our technicians will make a return visit to take down your displays and safely pack everything back up so that it will be ready for you for the next time you need it.
When you are ready for us to come back and take down your lights once the holiday season is over, we will get you on the schedule for an appointment. During that service call, we will pack up your decorations and lights carefully in storage boxes and put them away in a spot you can easily access for the following holiday season. By choosing ABC for your holiday lights installation, you can benefit from reduced costs in the following year, since you have already invested in your display. If you want to add onto your display in subsequent years, you can talk to your technician about how to best incorporate bows, garlands, wreaths and additional lighting in your display.
The ABC Process
1. Contact ABC
When you contact us, we'll ask questions to get an idea of what you're looking for. For example, we may ask about color schemes or design preferences.
2. Get An Estimate
We'll provide you with an estimate for all needed services.
3. Perform Service
We will work quickly to hang your lights and perform any other agreed-upon services.
4. Pack Up Your Lights
When the holiday season ends, we'll return to your home to take down all the decorations. We put everything in boxes so you are ready for next year.
Don't want to deal with a huge pile of tangled lights? Not sure what works and what doesn't? We understand. That's why we allow our customers to purchase a full line of lighting supplies directly from ABC, from lights to extension cords and everything in between. Choose from a variety of safe, energy-efficient products that will last you, year after year.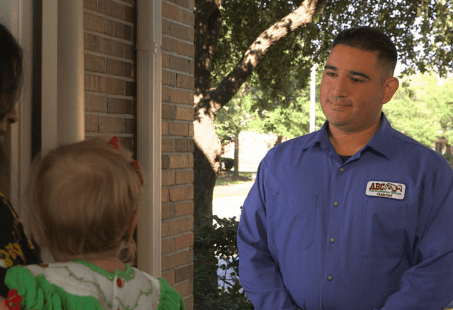 Get Started
We can get your home ready for the holidays.
Homeowners in San Antonio have been trusting ABC for home services for decades. In addition, our customers can feel safe about having ABC lighting professionals on their property, knowing that our technicians work under the supervision of a licensed electrician. ABC performs extensive background checks on all its employees, as well as drug testing, so that you can feel comfortable knowing our staff treat your home as they would their own.
Frequently Asked Questions
Do you offer free estimates?
Not sure exactly what you want to be done? Take advantage of our free, no-obligation estimate to get recommendations from our experts on how to transform your property through outdoor lighting.
Once you approve our estimate, we will schedule a return visit so that our technicians can install all your equipment. In many cases, once you have approved a design and decided on the equipment you need, we can install your displays while you are away at work.
When is the earliest you can get my lights up?
Like to plan ahead? We get it! We can get your lights up in early October so that's one less thing you have to worry about this holiday season. Scheduling your appointment early will also make your life easier, as our slots tend to fill up quickly as the holiday approach.
What if my timer goes out, or I experience another issue after the installation?
Many of us have had the experience of putting up lights, only to hit a snag when things aren't working as they should later on in the season. Even worse, this always seems to happen at the most inconvenient time when holiday stresses have hit their peak. That's why many ABC customers appreciate that our technicians will return for any needed maintenance so that any needed adjustments can be made quickly. Whether it's a bulb that needs to be replaced or a timer that is off, you can have peace of mind knowing that you can reach out to us and we will send someone back out, at no additional cost to you.
How do your technicians attach lights to a home?
We take every precaution to avoid damage to any of your exterior when we hang your decorations. Our technicians use universal clips to install your lights. When we return to your home to take down your display, these clips allow us to easily and quickly remove your lights.
For a metal roof, we use magnetic clips, which also makes installation and removal fast and efficient. All of the equipment we use is professional-grade, from our clips to our ladders to your lights.
When do I need to contact you about my event and holiday lighting needs?
The holidays are a busy time for homeowners, so ABC is ready to help get you ready for what can be the most stressful few months of the year. That said, ABC has a limited number of appointments each holiday season for event and holiday lighting, so we encourage you to book as early as possible so that you don't miss out.
We encourage homeowners to give us a call in early November to reserve your spot and beat the holiday rush.
ABC also offers event lighting services on a year-round basis. We encourage you to reach out eight weeks before your event so that we have adequate time to meet with you to go over your needs, present you with options and install exactly the lights display that will make your gathering a night to remember.
What happens if my lights stop working?
Our lighting pros perform multiple checks on all the equipment we install to make sure everything is working before we complete our installation visit. In the unlikely event of inclement weather or any other type of problem that might cause some type of electrical problem which could impact your display, we will return to make any needed repairs.
What else can you do to help me get ready for the holidays?
One of the benefits of choosing ABC for your event or holiday lighting needs is that we offer a wide range of home services. We can help get your home ready for the holidays by:
Put away that ladder and avoid the hassle of taking care of all these little things that can add up to a lot of time. Trust ABC to take care of all your holiday preparations.
Get Started
We can get your home ready for the holidays.
What Our Customers Are Saying
"Mario is our service professional. He does an excellent job of informing us of what he is doing. On top of being very meticulous. His standards are high. We had an issue at our home. He saw it and didn't hesitate to fix it. This reminds me of what service use to be. Thanks Mario for excellent customer service !"
"Darrell Schaper was very friendly and professional."
Half of My Christmas Lights Aren't Working
Decking the halls for the Christmas season fills many people with excitement for the coming celebrations. A huge part of the decorating ritual every year includes festive lights on the exterior of you...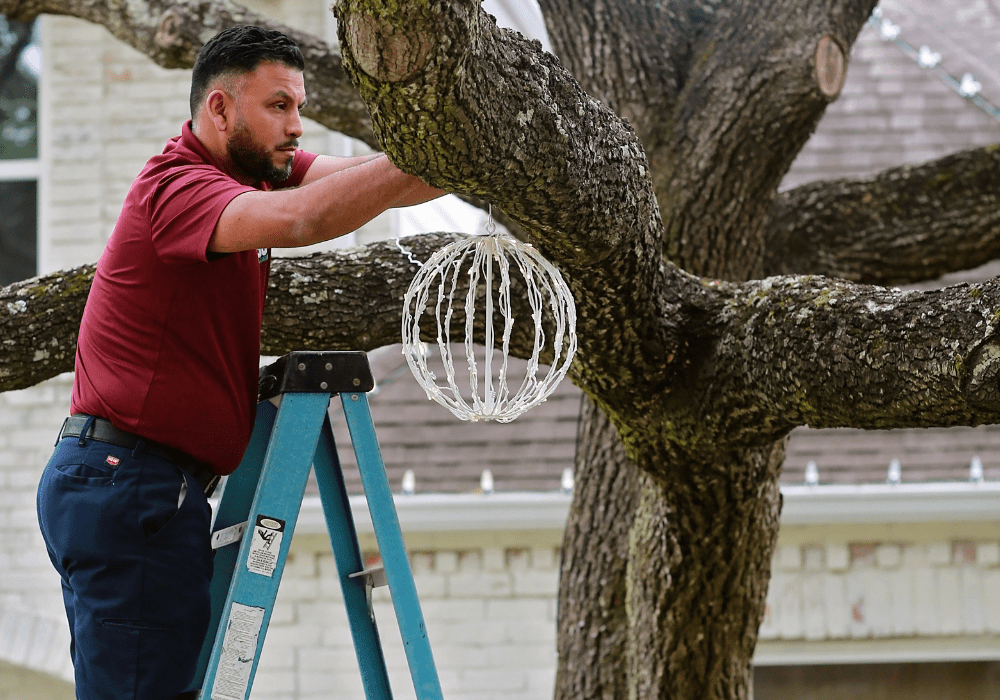 Need Holiday Lighting Services For Your Business?
Spread holiday joy to your customers. We can get your business beautifully decorated for the holiday season!
ABC's Complete List of Home Services in San Antonio
Why deal with multiple service providers when ABC can do it all?