Power Washing in San Antonio, TX
Dust, dirt, mildew and pollen can build up over time. Let this happen for too long, and it can make your entire property look dull and dingy. What's the answer? Power washing. It's one of the most effective–and least expensive–ways to give your property a facelift. When it comes to power washing, San Antonio residents trust the experienced professionals at ABC Home & Commercial Services to get the job done right.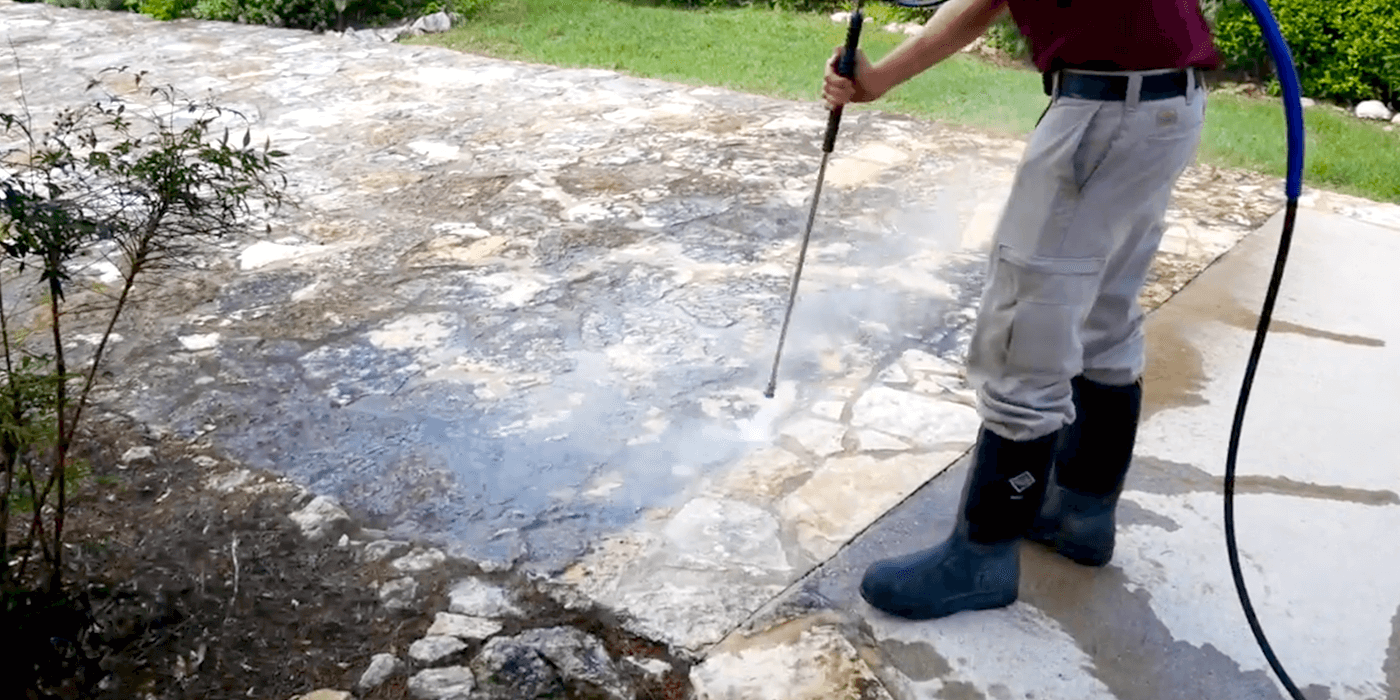 Download Transcript
We understand that many of our neighbors here in San Antonio have chosen the DIY route for power washing in the past. However, the kinds of power washers that you can rent from home improvement stores don't always have the power or functionality you need to deal with really troublesome problems. Then there's the issue of the time, mess and fatigue associated with power washing your home's exterior, or all your walkways. Once you see the results, you'll want to power wash your entire property!
The power washing equipment ABC uses is commercially-designed, which means they can handle all types and levels of problems. From stubborn stains and debris to thick build-up and troublesome mildew, we can take care of anything.
The ABC Process
1. Contact ABC
When you contact us, we will learn more about what you'd like done and your property.
2. Get An Estimate
We'll provide you with an estimate for power washing. We can usually give this to you over the phone.
3. Perform Services
Our pros will get your surfaces sparkling clean.
4. Follow-Up
After each visit, we will update you on the work we performed and provide any helpful follow-up instructions or other guidance.
Homeowners regularly ask us when they should have power washing done. With the warm weather here in San Antonio, there's never really a bad time to do power washing. The only time we really won't be able to complete the service is if there's lightning. We have to keep our technicians safe!
Some people like to wash right before the holidays, so everything's clean and fresh for family and visitors. Others like to do it at different times of the year, based on any seasonal allergies they may have. It's really up to you.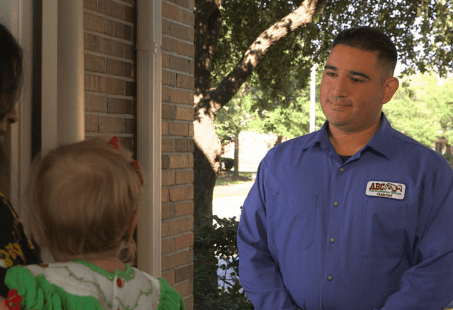 Get Started
We offer a full range of exterior cleaning services.
ABC Home & Commercial Services is a name that's been trusted throughout Texas and much of the south for decades for the high-quality work we do. Homeowners know that our employees are the best in the business, and that all of them undergo drug and background tests for your peace of mind.
Whether you have AC problems, lawn care needs, pest control issues or require other services, ABC will do the job right–and treat you right.
Frequently Asked Questions
How much does power washing cost?
The price to have power washing done varies, depending on exactly what you need us to do. In order to determine this, the first thing we do after you contact us is schedule time for an inspector to come to your home. He or she will then put together a free, no obligation quote for you. As soon as you approve it, your appointment to have the power washing done can be set.
Does power washing really make a difference?
We could provide you with an answer, but how about we just show you instead. This is the difference using professional equipment can make:
Before
After

Imagine heading out to a nice lunch or to run errands and coming home to this. Better yet, you won't have to lift a finger.
When do I need to power wash my house?
There's no one perfect answer to this other question than to say, "When dirt and residue really start to build up." The general recommendation is to get your home power washed every two years, but in certain circumstances, you may want to do it more often.
For example, if you're in one of the many areas of our fair city that's growing fast and dealing with a lot of construction, you may notice your home needing power washing sooner rather than later. Or after you experience severe weather. Another common scenario that might necessitate more frequent power washing is if you have a lot of trees nearby that cover your house in pollen every spring. Lastly, if your home's exterior is on the lighter side, dirt, debris and mildew are more likely to show up sooner than if you have a darker exterior.
Won't my plants be damaged by power washing?
Plants, siding, wood and other surfaces and materials can potentially be harmed by power washing. The good news is that this doesn't happen if you rely on ABC's trained and knowledgeable technicians.
ABC knows how to work with (and around) all kinds of potentially sensitive materials and surfaces, such as aluminum, brick, concrete, siding, vinyl and wood. Based on the amount and type of dirt and grime, as well as the surrounding materials, they will vary the products and technique they use to be effective while keeping your property safe from damage.
Moreover, our inspector will be on the lookout for vulnerable areas when they visit your house, and they'll take notes on anything you mention as requiring more care or attention.
Bottom line: we know how to power wash with care to minimize any negative impact.
Does ABC use environmentally-friendly power washing products?
Our power washers may be commercially-designed, but our products have all been made for residential use. That means we always balance the safety and well-being of people, pets and the environment with product effectiveness. If you have any specific product concerns, talk to us about them and we will do all we can to answer questions you may have and address your concerns.
Will you power wash my home when I'm not there?
Want to experience the relief and surprise of going out for a few errands and coming back to a clean and shiny home? It is totally fine for you not to be at your home while we are power washing—at least in most cases. In fact, a lot of our customers like to schedule service while they're away at work.
If you don't want to be there while we're working, here's what you need to do:
Give us instructions on how to access your yard.
Make sure pets are inside.
Seal doors and windows tightly, so no moisture can get inside.
How well does power washing clean oil stains from driveways and garages?
While some oil stains might be removed by power washing, there are better, more effective ways to clean them. The best way we've found is dip a brush with firm bristles into soapy water and just scrub until the discoloration disappears.
Get Started
We offer a full range of exterior cleaning services.
More Exterior Cleaning Services in San Antonio
What Our Customers Are Saying
"I use ABC for pest control, AC maintenance and Irrigation system repairs. What a great company! They are precise at scheduling and always arrive on time. This week we tackled a big job with a troubled Irrigation system and they sent Denim. His real name. He is polite and courteous and highly professional. He takes the time to address all your concerns and explains the process fully. Tremendous service!!!"
"My service technician Isaac is always on time. He texts and/or calls to let me know when he is on the way to my home. During a time were good customer service appears to be a rarity he is Always very polite and well-mannered. He asks me if there are any specific areas he need to pay a little bit more attention to. But this has been my experience with ABC Home & Commercial Services for over the last 3 years. I am very pleased with my services with them! I recommend ABC Home & Commercial Services to anyone looking for a respectful and dependable pest control company!"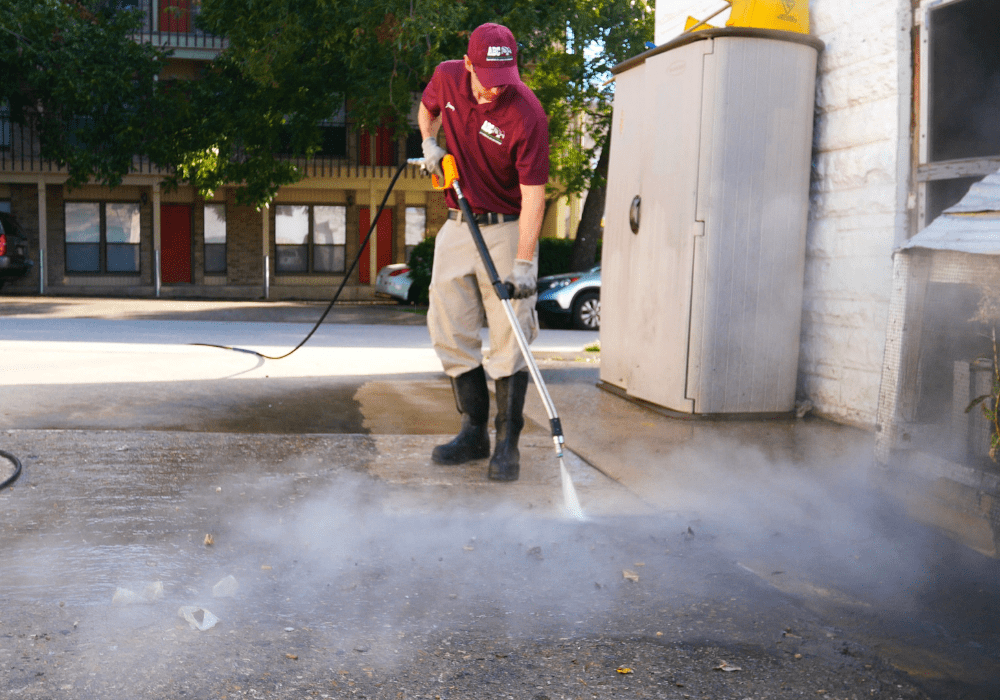 Need Exterior Cleaning For Your Business?
We understand that businesses have different needs than residences. That's why we have specially trained technicians who can service your business.
ABC's Complete List of Home Services in San Antonio
Why deal with multiple service providers when ABC can do it all?