Lawn Services & Lawn Mowing in San Antonio, TX
A healthy and well-cared-for yard can improve curb appeal, increase property value and encourage you to spend more time outdoors. While lawn care is typically on our long list of home maintenance tasks, many of us don't have the time, tools or expertise to keep up with yard maintenance. When it comes to lawn services, San Antonio homeowners trust the experts at ABC Home & Commercial Services to keep outdoor spaces looking great, all year long.
Download Transcript
Comprehensive Lawn & Landscaping Services
In addition to extensive in-house training, ABC's lawn care professionals include ISA-certified arborists, experienced landscapers, licensed sprinkler repair technicians and lawn service crews with experience caring for a variety of types of grass.
The growing season here in San Antonio is virtually year-round and our plants need different care during different times of year. Our experts can work with you on a lawn care schedule to suit your landscape, budget and needs so that your outdoor spaces are healthy and green.
The ABC Process
1. Contact ABC
We'll learn what you need over the phone or during an in-person meeting at your home. Usually, we can schedule an appointment in a few business days.
2. Get An Estimate
We'll provide you with an estimate based on your goals and our recommended set of services. Once we get your approval, we will get you on the schedule.
3. Service
Our trained specialists perform all agreed-upon services. When we're done, we will clean up any debris to keep your yard neat and looking great.
4. Follow-Up
Depending on what services we performed on your property, we'll provide you with an update or recommend additional follow-up or ongoing services.
One of the benefits of choosing ABC for your lawn care is that we offer so much more to make homeowners' lives easier.
In addition to our comprehensive lawn services, ABC can:
Handle any outdoor pest, including lawn bugs, fire ants, mosquitoes, rodents and other larger wildlife, including squirrels, raccoons, opossums and armadillos.
Wash your windows or power wash your driveway, walkways and decks and patios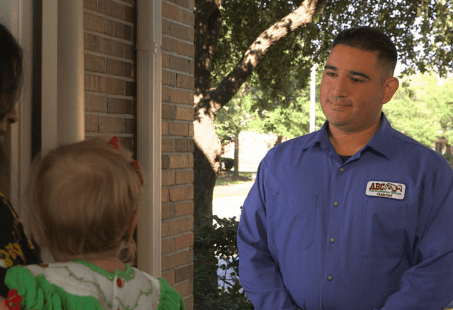 Get Started
We offer a full range of lawn services.
We want our customers to feel completely safe having our crews on their property. That's why ABC conducts thorough background checks and drug testing on all our employees. Not only are our lawn care experts highly skilled, but also they receive extensive in-house training so that they can provide the best lawn care in San Antonio. Most importantly, our technicians provide reliable service and treat your property as they would their own.
Frequently Asked Questions
What lawn care services does ABC provide?
With in-house arborists, landscape designers and entomologists, ABC is equipped to provide you with high-quality, full-service lawn care.
San Antonio homeowners count on ABC's lawn experts for:
Lawn Mowing
Mowing your lawn seems like such an easy job, until you realize you have to battle the San Antonio heat and mosquitoes or when you discover you have a problem with your mower. ABC can work with you to come up with a regular mowing schedule so that you can spend more of your free time on activities you enjoy.
Our lawn experts do much more than just cut your grass. ABC's lawn service includes edging, weed-eating and removing grass clippings from your driveway and walkways. You can also add services seasonally to keep your entire yard thriving.
Lawn Fertilization
Texas soils lack some of the key nutrients your grass and plants need to survive in our hot, dry climate. Although plants benefit from fertilizers, applying too much or at the wrong time can lead to other problems.
That's why ABC has developed a year-round fertilization program to provide your trees, shrubs, flowers and grass with just the right mix of supplements, when they need them.
Landscaping & Landscape Design
Landscaping can completely transform your yard. Whether it's adding some color with plants in an existing flower bed, putting in shrubs to create height and depth to your yard or creating an entirely new design, ABC's landscaping professionals can turn your dream into a reality.
With the knowledge about what plants grow best in San Antonio, ABC can help you improve your yard's look and function.
Sprinkler Repair & Irrigation Systems
The lack of rainfall here in San Antonio makes it hard to grow many types of plants. Many homes have automatic sprinkler systems to help provide needed moisture. But what happens when your sprinklers stop working, or you need another type of repair?
If you need a problem with your sprinklers fixed or want to adjust or expand your coverage, ABC's irrigation team can help. Our technicians can quickly diagnose problems and get your system up and running again before your lawn suffers the impact of irregular watering.
Tree Care & Trimming
Beautiful and majestic, trees provide many benefits to homeowners. However, due to their size, trees require special care and attention.
Trees benefit from regular pruning to help circulate air and sunlight throughout the canopy. In addition, trimming helps remove dead, diseased or damaged limbs or branches that might otherwise fall, with the potential for injury to you, a loved one or even a pet. In some cases, trees need to be removed, which is a time and labor-intensive process. Leave the care of this important part of your landscape to the certified arborists at ABC.
Tree Removal
In certain situations, it makes sense to remove trees from residential properties. When disease takes over, when a tree has died, after a storm or prior to a remodel, homeowners may need to make the difficult decision to have a tree removed from their yard. Particularly if a tree has reached maturity, this can become a time and labor-intensive process which is best left to the professionals.
ABC's certified arborists can give you honest advice on whether you need to remove a tree and safely and quickly get the job done. Our experienced tree specialists will remove your tree and reduce the risk that a dead or diseased tree falls on your property, which can cause significant damage and pose health dangers to your family.
Tree Air Excavation
Soil compaction is one of the primary reasons that trees stop growing, because roots cannot access oxygen and moisture. ABC's arborists can inspect your root system to assess your trees' health. Based on their findings, our specialists can make adjustments to correct girdling, de-compact your soil and perform vertical mulching to get nutrients back into the root zone.
Composting
Composting involves regular applications of organic material directly onto your lawn. This works to improve the overall health of the turf. We typically recommend aeration with compost, twice a year — typically in the Fall and Spring.
How frequently do you mow your customers' yards?
We are happy to work with our customers to come up with a lawn mowing schedule that best meets both your budget and your needs. The type of grass you have, how quickly it grows and how high you like to keep your lawn are factors we take into consideration when determining your mowing frequency. During peak growing season, we may suggest that we cut your grass once a week to keep your lawn healthy.
Will I need to plan to be at home when ABC is working on my yard?
In a majority of situations, we can perform your lawn care services while you are away. You'll just need to provide us with any special instructions on how to access your outdoor areas if you have any gates or locks. We also ask that you plan to keep your pets and children indoors while we are scheduled to do our work, out of concern for their safety and so that our crews can work most efficiently.
What is the impact of your lawn products on my family, pets and the environment?
ABC's top priority is your family's well-being. That's why we have carefully selected products that are effective and designed for residential use. We thoughtfully apply all our products in low concentrations. Our technicians can address any concerns you might have and share the Material Data Safety Sheets for any of the products which our technicians use on your property.
What materials and equipment will you use on my lawn?
One of the benefits of using ABC for your lawn service is that our pros will bring along everything they need for the task at hand. That means that you won't need to worry about whether your equipment is in working condition. Our professional-grade tools and equipment produce consistent, high-quality results, every time.
Get Started
We offer a full range of lawn services.
Additional Lawn Service Areas in San Antonio
ABC services many surrounding communities, including, but not limited to:
What Our Customers Are Saying
"Mario is our service professional. He does an excellent job of informing us of what he is doing. On top of being very meticulous. His standards are high. We had an issue at our home. He saw it and didn't hesitate to fix it. This reminds me of what service use to be. Thanks Mario for excellent customer service !"
"Darrell Schaper was very friendly and professional."
Half of My Christmas Lights Aren't Working
Decking the halls for the Christmas season fills many people with excitement for the coming celebrations. A huge part of the decorating ritual every year includes festive lights on the exterior of you...
Need Lawn Services For Your Business?
Our lawn care specialists will ensure you make a good first impression on your customers by keeping your facility's exterior looking nice and tidy.
ABC's Complete List of Home Services in San Antonio
Why deal with multiple service providers when ABC can do it all?