Scorpion Control in San Antonio, TX
It can be quite alarming when you find a scorpion when working in your yard or pulling a box out of storage. If these creatures feel threatened by you, they will sting, which can be quite painful. If you are concerned about the scorpions residing on your property, contact ABC Home & Commercial Services. We know exactly where these pests like to hide and can implement effective scorpion control in San Antonio to you can gain peace of mind.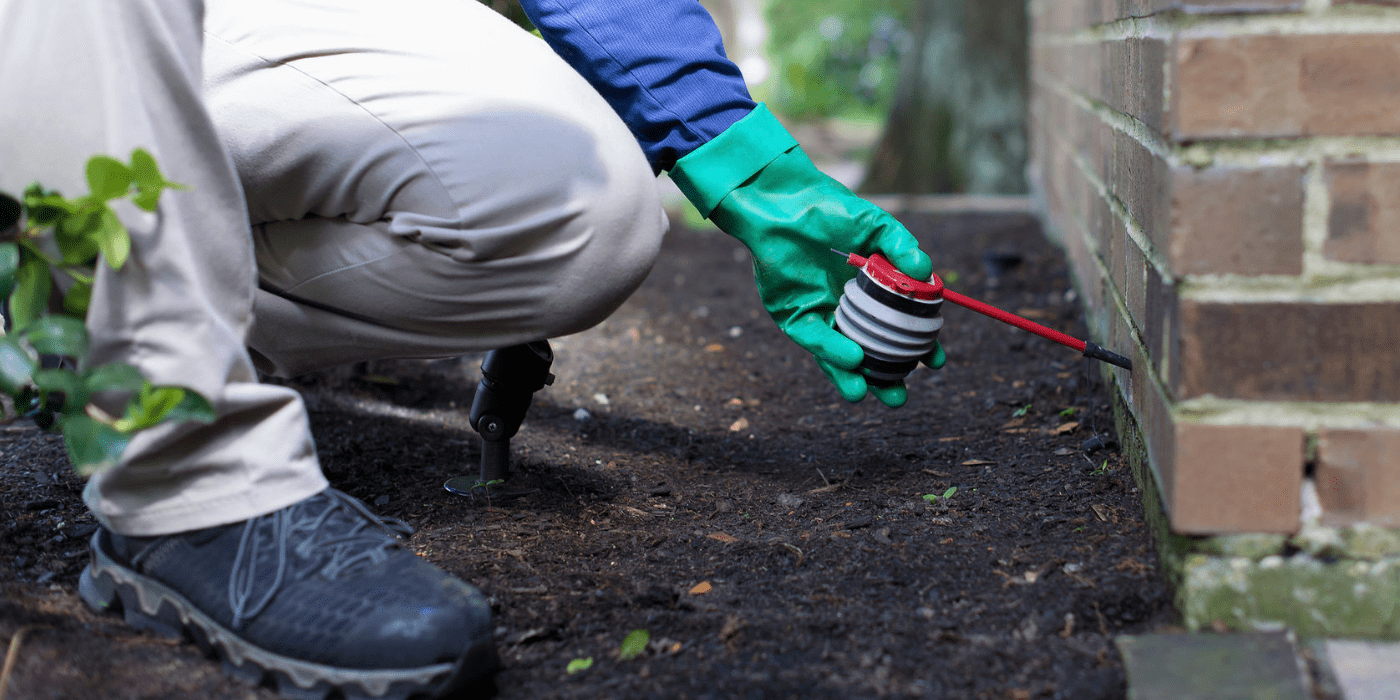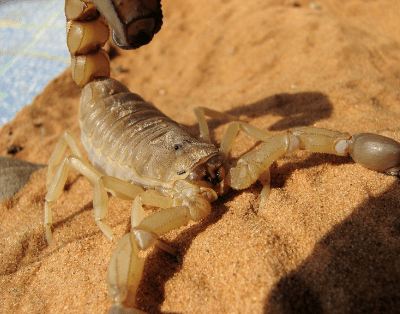 ABC takes a full-property approach to treating for scorpions. Scorpions can be difficult to control with pesticides alone, as these creatures typically hide in piles of rocks or logs outdoors or behind clutter in homes and attics. Our typical treatment plan starts with your ABC technician recommending minor changes you can make to your property to make it difficult for scorpions to hide or to make your surroundings less attractive to these creatures. Then, your pest professional will apply treatments in corners of your home and in other areas where these creatures commonly hide, such as in your attic. We will also usually apply a repellent around the exterior of your home and treat any potential entry points around doors, windows, eaves and any other small cracks.
Because this type of treatment is very involved and the product that we use needs to fully dry to take effect, you can expect our treatment call to take a few hours. For the best results, we ask that you and your family members be elsewhere while the product is being applied and drying.
The ABC Process
1. Contact ABC
When you contact us, we will schedule an inspection to get an understanding of the problem. In some cases, we can give you a quote over the phone.
2. Get An Estimate
If you have an inspection, we will send you a custom treatment plan and estimate afterward. Once we get your approval, we will schedule your treatment.
3. Treatment
We will come to your property and treat for pests in common hiding and nesting areas. Over time, you will start seeing less and less pest activity.
4. Prevention
Customers with our ongoing pest management services will receive periodic retreatments to prevent the return of the most common pests in our area.
Throughout Texas, the most common species of scorpion is the striped bark scorpion. As many of us know, if this creature feels it is in danger, it will attempt to protect itself by using its best defense: its stinger. Although most people will only have a moderate reaction to a striped bark scorpion sting, the impact can vary greatly, depending on both the scorpion and the person.
Some scorpions produce a higher concentration of neurotoxins in comparison to other scorpions, which can result in a more painful, swollen sting site. Additionally, some people are more allergic to these neurotoxins than others, so they may have a more significant reaction to these stings. Even if you have a moderate reaction to a striped bark scorpion sting, it's still an unpleasant experience.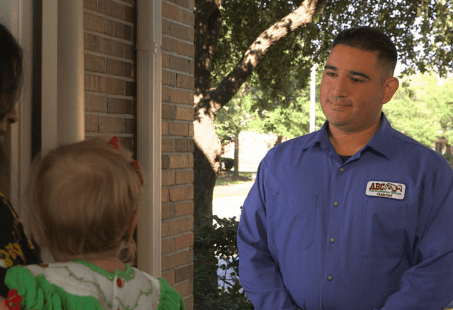 Get Started
We offer a full range of pest control services.
Homeowners across Texas have been relying on ABC for pest control services since 1949. Through our decades of experience, we have developed effective pest control protocols based on what we have learned first hand about pest behavior. Additionally, as a business that is family-owned and operated, we understand that you want to feel comfortable when a technician arrives at your home. This is why we have a thorough hiring process in place. As a part of that process, ABC requires that all candidates must pass a drug test and background check before joining our team. Before conducting service calls, all specialists go through an extensive training program to learn about pests that are local to the area and how to create effective, customized pest control plans. Finally, one of our values is that we will always treat your home as if it was our own. That means that our technicians will take special care about your home and belongings, and leave your property in better condition than we found it.
Frequently Asked Questions
How soon can you get started?
We understand that finding a scorpion on your property can be very frightening. When you reach out to us about a scorpion problem, we will send a specialist to your home as quickly as possible to provide you with an initial assessment and an estimate for our services. Occasionally, we can even offer you a quote over the phone.
What happens after I contact ABC?
If an inspection makes the most sense, we will schedule an in-person meeting at the earliest available opportunity. During this appointment, you can expect your pest control professional to:
Ask you about where you've been seeing scorpions
Inspect your property to locate any other areas where these pests are hiding
Take note of any structural issues, environmental factors or unique conditions that make your surroundings appealing to scorpions
Answer your questions about our findings
At the end of our inspection, we will present you with a treatment plan that is tailored to your situation. Once we have received your approval, we will put your first service call on our calendar.
How can I prevent scorpions from coming on to my property?
The best way to minimize the number of scorpions on your property is to remove any potential shelter and food sources. Typically, we recommend to our customers that they:
Keep firewood and other vegetation away from the exterior of the home
Trim any trees and shrubs that are touching the home
Replace weatherstripping around windows and doors
Pick up clutter around the home and yard
Seal any cracks, crevices or other potential pest entry points
Replace broken window and door screens
After we conduct our initial inspection, we will be able to provide you with customized tips. Many customers tell us that they are grateful that they signed up for our routine pest treatment service, as these preventative treatments target scorpions, as well as other common pests in the area, so there is an overall decrease in all crawling pests.
What impact do the products you use have on my kids and the environment?
ABC is a family-owned business, and our top priority is your family. When it comes to selecting the products we use, our customers tell us that they appreciate that we have a thorough research process in place. As part of that process, we only consider treatment solutions that are specially formulated for residential use. In addition, we only choose products we would feel comfortable using in our own homes and yards. In addition, our specialists are trained to use the lowest concentrations of chemicals possible to be low impact while also being effective. If you have any further questions or concerns about the products we use, your specialist would be happy to address them.
Get Started
We can create a treatment plan that targets these pests, so you can have peace of mind.
More Pest Control Solutions in San Antonio
What Our Customers Are Saying
"I use ABC for pest control, AC maintenance and Irrigation system repairs. What a great company! They are precise at scheduling and always arrive on time. This week we tackled a big job with a troubled Irrigation system and they sent Denim. His real name. He is polite and courteous and highly professional. He takes the time to address all your concerns and explains the process fully. Tremendous service!!!"
"My service technician Isaac is always on time. He texts and/or calls to let me know when he is on the way to my home. During a time were good customer service appears to be a rarity he is Always very polite and well-mannered. He asks me if there are any specific areas he need to pay a little bit more attention to. But this has been my experience with ABC Home & Commercial Services for over the last 3 years. I am very pleased with my services with them! I recommend ABC Home & Commercial Services to anyone looking for a respectful and dependable pest control company!"
Need Pest Control For Your Business?
We understand that businesses have different needs than residences. That's why we have specially trained technicians who can service your business.
ABC's Complete List of Home Services in San Antonio
Why deal with multiple service providers when ABC can do it all?