Window Cleaning in San Antonio, TX
The windows in our home provide natural light, fresh air and an invitation to spend quality time outdoors. However, keeping our windows crystal-clear requires the time many of us would rather spend doing other things. When it comes to window cleaning, San Antonio homeowners count on ABC Home & Commercial Services to use professional-grade equipment and techniques to remove mineral build-up, grime and dirt to let the light in.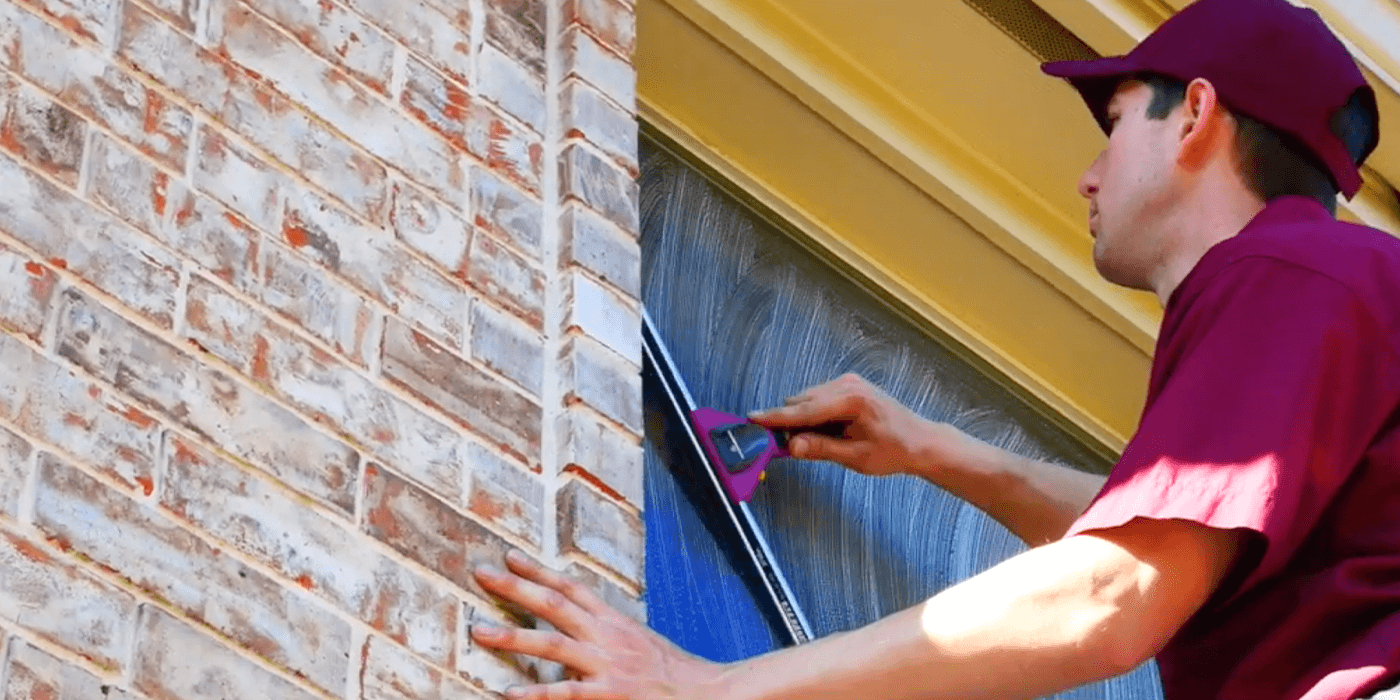 Download Transcript
ABC can provide you with full-service window cleaning, whether you live in a multi-story home or on one floor.
ABC is able to provide far superior window cleaning than you can achieve at home, thanks to a special water filtration process which helps to remove as much as 99.9% of the mineral build-up which is typically left behind when you use a regular glass cleaner. ABC's experienced window cleaners use this special equipment to remove anything that might be caked on your surfaces, including spiderwebs, bird droppings, dust, dirt, pollen and dead insects.
When we arrive at your home, we will carefully wash the inside surfaces of your windows, paying special attention to not leave a mess. We may move furniture, window coverings and other belongings away from your windows, but we will make sure to put everything back when we are finished. While we are cleaning your windows, we will also wash your window sills, tracks and frames.
In addition, your ABC window cleaner will remove any debris from your window screens with a brush. If you'd like, during the same visit we can add a special solution which dissolves dust and restores the luster to your screens, at an additional cost.
You won't have to worry about supplying ABC with ladders and other equipment, since we'll bring along everything we need for the job. When the exterior of your windows are being washed, our technicians will pay special attention to your siding, flowers and landscaping to make sure they aren't harmed while work is being done. We can even remove any stubborn residue on your sliding door with our power washing equipment, if you desire.
The ABC Process
1. Contact ABC
When you contact us, we will learn more about what you'd like done and your property.
2. Get An Estimate
We'll provide you with an estimate for window cleaning. We can usually give this to you over the phone.
3. Perform Services
Our pros will get your windows sparkling clean.
4. Follow-Up
After each visit, we will update you on the work we performed and provide any helpful follow-up instructions or other guidance.
You can have your windows cleaned any time of year. What we typically hear from our customers is that once they have the service done, they wish they would have gotten around to scheduling it sooner.
Our window washers can work in all types of weather—even when it's sprinkling outside.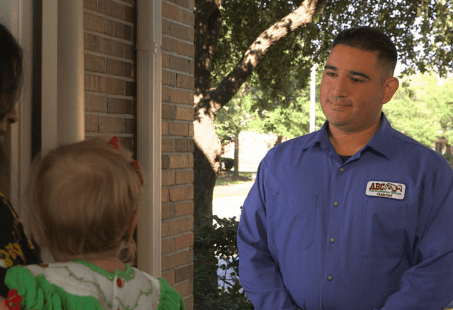 Get Started
We offer a full range of exterior cleaning services.
We're grateful to our customers for recognizing our commitment to hiring only the best employees and providing them with extensive, in-house training so they can provide the best home services in San Antonio. Our technicians treat your home as they would their own. You can feel comfortable knowing one of our employees is at home when you aren't because we conduct extensive background checks and drug testing on all our employees.
Frequently Asked Questions
Do you provide free estimates?
Yes, ABC will provide you with a free, no-obligation estimate for window cleaning services. Once you contact us, we will arrange for a time for an inspector to visit your home at a time that's convenient for you. Your ABC inspector will take a closer look at exactly what you would like us to do and present you with a set of recommendations on how to keep your windows sparkling clean throughout the year.
Your estimate will be based on a number of factors, including how many windows you need cleaned and what type of windows they are. As part of our window cleaning service, ABC will wash both surfaces of your windows, inside and out. When you decide when and how often to have the work done, we can schedule your first service call.
Do I need to be home when you wash my windows?
We ask that homeowners schedule our window cleaning service at a time when they can be at home so that we can wash the interior windows. Once that work is complete, we can wash the exterior surfaces at a time when you are away, as long as you have provided instructions to our technicians to access your side and backyard. For safety purposes, we do request that pets and children stay inside while our window cleaners are at work.
Typically, the exterior surfaces get dirty more quickly than the interior, so return visits may only be to clean outside, in which case work can be done when you are away at work.
Do your products ever damage your customers' flooring, wood or furniture?
The products we use for your window cleaning are carefully selected to be low-impact on your home and your belongings. We do ask homeowners to let us know if there are any items in particular of sentimental value so we can help relocate these away from where we will be working.
My gutters are full of leaves - can you clean those?
Yes. ABC has specialized gutter cleaning equipment that can quickly and efficiently clean all the gutters on your home. Our gutter cleaning equipment is essentially a vacuum and that helps prevent the debris from falling from the gutters during cleaning. Plus, our equipment and personnel are able to reach gutters on the second floor, so you will have ALL the gutters on your house clean and flowing properly with one visit from our ABC professionals.
Get Started
We offer a full range of exterior cleaning services.
More Exterior Cleaning Services In San Antonio
What Our Customers Are Saying
"My service technician Isaac is always on time. He texts and/or calls to let me know when he is on the way to my home. During a time were good customer service appears to be a rarity he is Always very polite and well-mannered. He asks me if there are any specific areas he need to pay a little bit more attention to. But this has been my experience with ABC Home & Commercial Services for over the last 3 years. I am very pleased with my services with them! I recommend ABC Home & Commercial Services to anyone looking for a respectful and dependable pest control company!"
Jeffrey Crenshaw
1/25/2021
"After noticing damage to a recently completed stone tree border in my yard I concluded it was most likely a lawn mower, as there was what appeared to be a tire mark near the damage. ABC does my lawn and when I brought it their attention they scheduled Joel to inspect the damage. Joel and I discussed the damage and we both agreed it was more than likely caused by a lawn mower. Joel assured me ABC would take responsibility for the damage. I contacted the contractor that installed the border to provide an estimate but they were slow to respond. ABC informed me they have craftsmen who could repair the border and I agreed to allow them to do the work. I wasn't home when they showed up to do the work but my wife was impressed when they showed up as scheduled, informed her why they were there and notified her when the job was done. They were very courteous. I inspected the work when I got home and was very impressed with the repair. ABC handled the situation from my notification to their repair in a professional manner. I was left thinking I hired the wrong company to do the initial border installation. ABC's quality of work exceeded that of the contractor and their professionalism was top-notch! I recommend ABC to anyone seeking work within the purview of their craftsmen."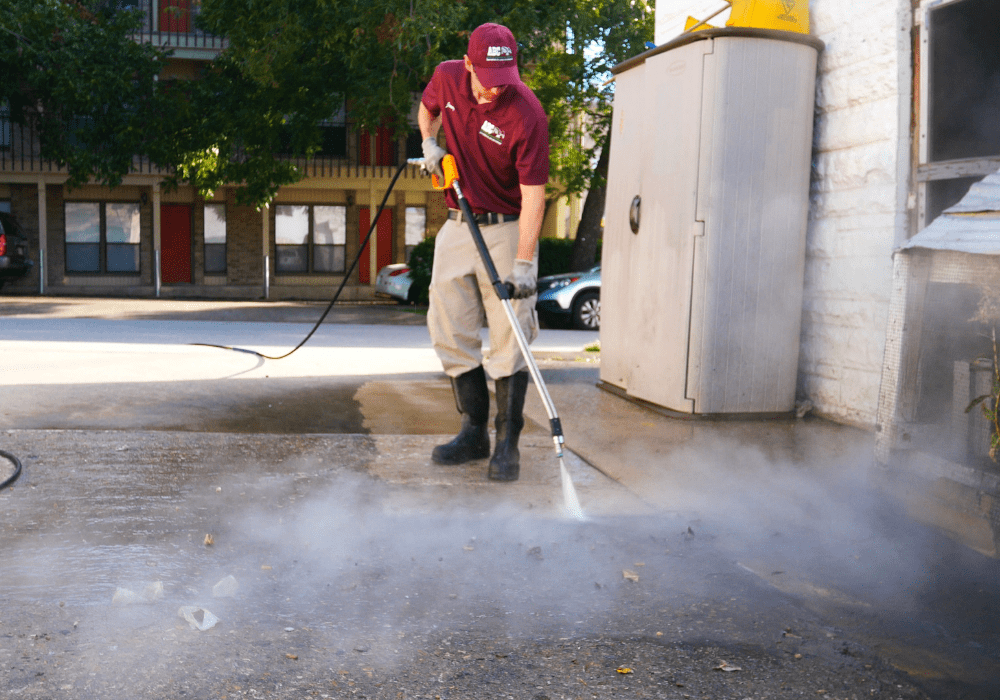 Need Exterior Cleaning Services For Your Business?
We understand that businesses have different needs than residences. That's why we have specially trained technicians who can service your business.
ABC's Complete List of Home Services in San Antonio
Why deal with multiple service providers when ABC can do it all?