Sprinkler Repair in San Antonio, TX
Many of us rely on our sprinkler systems to nourish our landscape, but a "set it and forget it" mindset can lead to water waste, increased utility bills and other issues if you have a problem. When it comes to sprinkler repair, San Antonio homeowners count on ABC Home & Commercial Services. Our pros can resolve issues with malfunctioning or missing parts and perform routine maintenance so your plants stay well-hydrated in our dry and hot climate.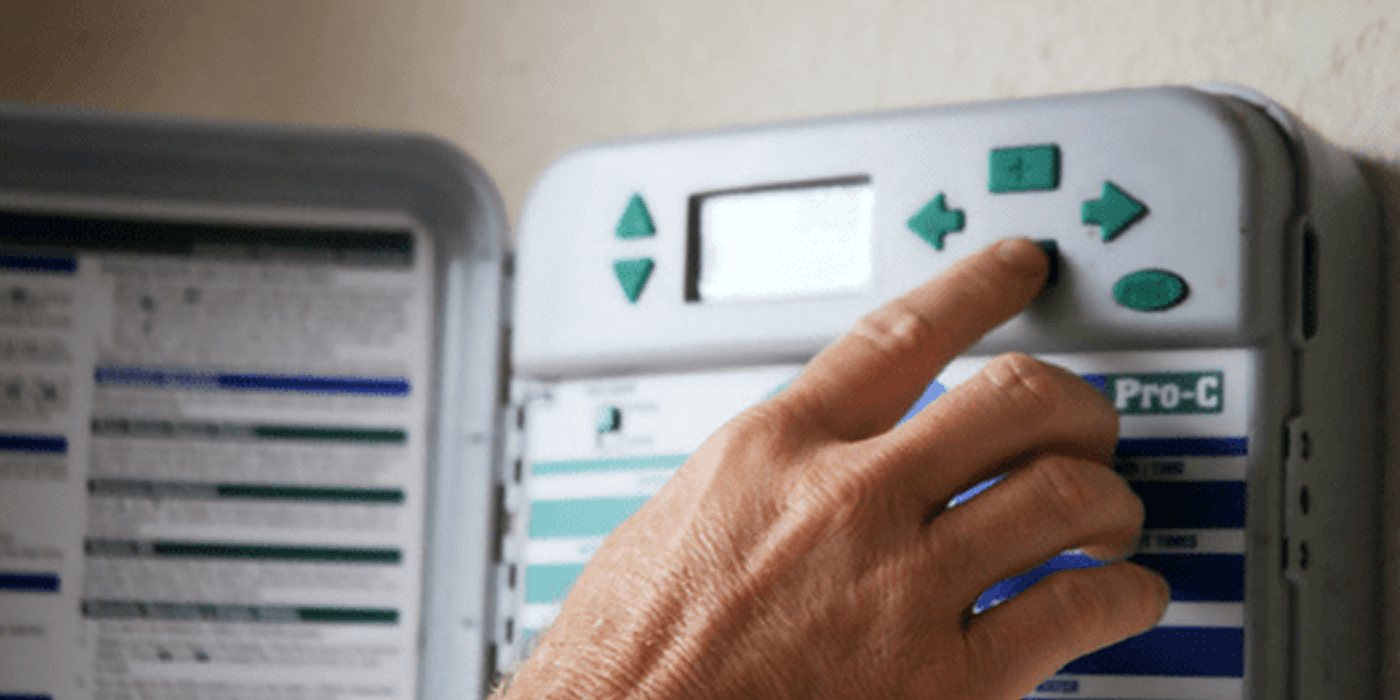 Download Transcript
ABC's irrigation pros can take care of any issues you might be having with your sprinklers, including performing routine maintenance.
San Antonio homeowners routinely call upon our experts to help with:
Water leaks
Blocked, tilted, broken, sunken or missing sprinkler heads
Failing valves
Irregular spray patterns
High pressure spray
Inadequate spray
Improper head spacing
Obstructed nozzles
Missing check valves
Split main or lateral line
Broken controller
We can also advise you on how you can adjust your watering schedule during each season to better provide your plants with the moisture they need, when they need it.
The ABC Process
1. Contact ABC
We'll learn what you need over the phone or during an in-person meeting at your home. Usually, we can schedule an appointment in a few business days.
2. Get An Estimate
We'll provide you with an estimate based on your goals and our recommended set of services. Once we get your approval, we will get you on the schedule.
3. Service
Our trained specialists perform all agreed-upon services. When we're done, we will clean up any debris to keep your yard neat and looking great.
4. Follow-Up
Depending on what services we performed on your property, we'll provide you with an update or recommend additional follow-up or ongoing services.
ABC's irrigation experts can maintain and repair almost every brand of sprinkler system on the market, as well as irrigation drip systems. Our lawn care professionals can handle any problems you may be having with your controllers, in addition to reworking planting beds, assisting you in converting to a drip irrigation system, performing routine maintenance and making emergency repairs.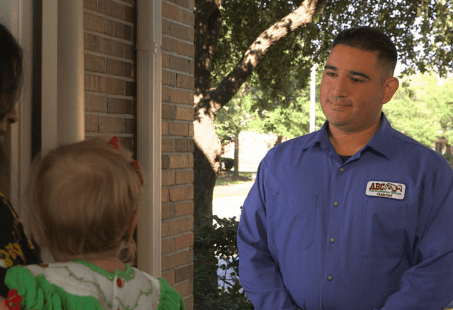 Get Started
We can turn your vision for your yard into reality.
Homeowners in San Antonio choose ABC for sprinkler repair for the same reasons they choose us for their other home services. In addition to having licensed, experienced sprinkler repair professionals on staff, ABC makes sure you can feel safe having our technicians on your property by conducting extensive background checks and drug testing on all our employees. Perhaps most importantly, ABC treats your yard as we would our own.
Frequently Asked Questions
How would I know I have a problem with my sprinkler system?
The best part about having a sprinkler system is that, when it's working, you shouldn't have to do anything to keep your lawn healthy. If you are wondering whether you have a problem, here are a few warning signs to look for:
An unusual spike in your monthly water bill (particularly if you know you don't have leaks elsewhere)
Parts of your yard that always seem to be yellow, dry or dead
Consistently wet or muddy spots
An unexpected number of plants which show signs of stress in a short period of time (wilted, yellow leaves or little or no growth, for example)
Sprinkler heads which remain stuck in the downward position or are producing an uneven or irregular spray
Low water pressure
If you notice any of these signs, it's time to schedule a time for an irrigation professional to come to your property to take a look at what might be going on.
Does ABC install new sprinkler systems?
While ABC's sprinkler repair technicians can install new sections and pieces of an irrigation system if they stop working, we do not install entire irrigation systems. Our landscape designers have the ability to incorporate a new watering system into any plans they create for you, if desired.
What are the benefits of a drip irrigation system?
Some homeowners elect to water their lawn with a drip irrigation system instead of a traditional sprinkler system. Some of the advantages of using drip irrigation is that these systems:
Require less water, which means lower utility bills and water waste
Lower your risk of overspraying and evaporation which can occur with above-ground sprinkler heads
Directly connect to the outdoor faucet you already have, eliminating the need to cut into your home's water line
Allow you to more easily expand your system as your plants mature
Target specific areas in your yard that need more water than others
Avoid weed growth and the potential for fungal growth from overwatering in other parts of your lawn
Provide more gentle watering, which can help prevent erosion
You may be eligible for a rebate from your water provider if you invest in a more water-efficient irrigation system. Some drip systems are exempt from watering restrictions since they typically use less water than traditional sprinkler systems. ABC's irrigation experts can switch your existing system to drip irrigation or make any needed repairs to your existing drip system.
When should I set my sprinkler system to run?
Your plants are most efficient at absorbing water in the early morning hours, so this is the best time to run your sprinkler system. If you water at night, more moisture accumulates, which increases your risk of developing yard fungus. In addition, watering restrictions in our area dictate that you should run your sprinklers before the heat of the day, since more water can be lost to evaporation.
Can you help me save water?
One of the reasons our sprinkler systems are so often the reason we are wasting water is that we often set our systems to run during the hours of the day when we aren't outside to spot a problem. By performing routine maintenance, you can help prevent issues that can lead to costly repairs. ABC's sprinkler repair experts can adjust and check your sprinkler heads, fix any leaks and ensure that your sprinklers are properly distributing water where you need it in your yard.
If water usage is a particular concern for you, ABC can make recommendations to adjust the frequency and amount of water going into your lawn.
When's the best time of day to set my sprinklers to run?
The best time of day to water your lawn is in the early morning. Your plants are more able to absorb moisture at that time. When you water at night, less moisture is absorbed, putting your plants at greater risk of fungal growth. Local governments that have watering restrictions require homeowners to water before midday to avoid water being lost to evaporation.
Why does my lawn have dry spots?
Your yard can have dry spots, even with a working sprinkler system. One reason is that you will need to significantly adjust the amount of water your grass receives during the hot, dry months of the year. Without making these adjustments, your grass will show signs of stress, which may appear as wilted or yellow leaves or stunted plant growth.
Dry patches can also signal a malfunctioning sprinkler system. If you have a clogged sprinkler head or a malfunctioning valve, parts of your yard might not be getting the moisture they need. ABC's lawn care experts can diagnose your issue and make the necessary changes to provide these problem spots with the nourishment they need.
Do I need to winterize my sprinkler system?
In some areas, homeowners go through an annual process to get sprinkler systems ready for winter. In San Antonio, winterizing your irrigation system is largely unnecessary since we rarely, if ever, experience prolonged periods of freezing temperatures. When we do have a cold spell, it's a good idea to turn off your system and wrap any exposed metal components with insulation.
You can avoid having brittle or cracked heads and valves by running your system once a month during the winter. In the late fall, ABC offers our customers winter sprinkler system inspections to make slight adjustments that will ensure that your sprinkler system makes it through the colder months of the year without any damage.
Get Started
We can turn your vision for your yard into reality.
Additional Sprinkler Repair Service Areas in Greater San Antonio
ABC services many surrounding communities, including, but not limited to:
What Our Customers Are Saying
"I use ABC for pest control, AC maintenance and Irrigation system repairs. What a great company! They are precise at scheduling and always arrive on time. This week we tackled a big job with a troubled Irrigation system and they sent Denim. His real name. He is polite and courteous and highly professional. He takes the time to address all your concerns and explains the process fully. Tremendous service!!!"
"My service technician Isaac is always on time. He texts and/or calls to let me know when he is on the way to my home. During a time were good customer service appears to be a rarity he is Always very polite and well-mannered. He asks me if there are any specific areas he need to pay a little bit more attention to. But this has been my experience with ABC Home & Commercial Services for over the last 3 years. I am very pleased with my services with them! I recommend ABC Home & Commercial Services to anyone looking for a respectful and dependable pest control company!"
More Tree and Lawn Service Solutions in San Antonio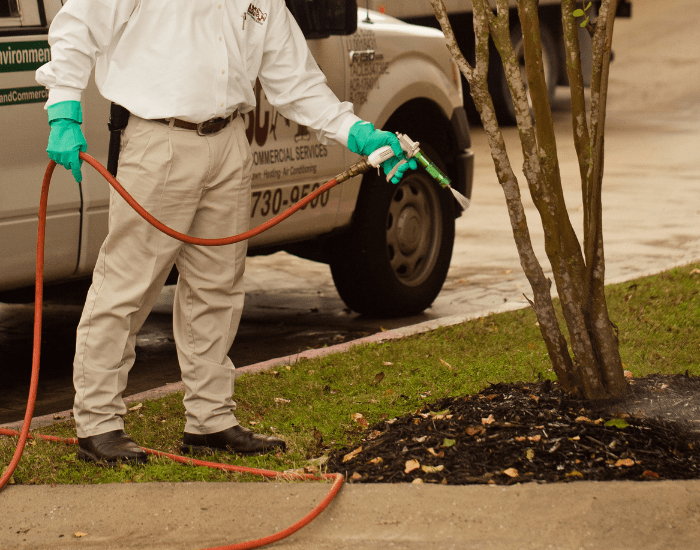 Need Landscaping Services For Your Business?
Our lawn care specialists will ensure you make a good first impression on your customers by keeping your facility's exterior looking nice and tidy.
ABC's Complete List of Home Services in San Antonio
Why deal with multiple service providers when ABC can do it all?