Tree Services & Tree Trimming in San Antonio, TX
Trees can add curb appeal, increase security and provide shade from the hot Texas sun. Due to the size of trees and their roots, they often require specialized care and attention to avoid disease and falling. When it comes to tree services, San Antonio homeowners rely on the certified arborists at ABC Home & Commercial Services. We can provide you with tree care as well as any tree removal services you need to keep your trees beautiful and safe.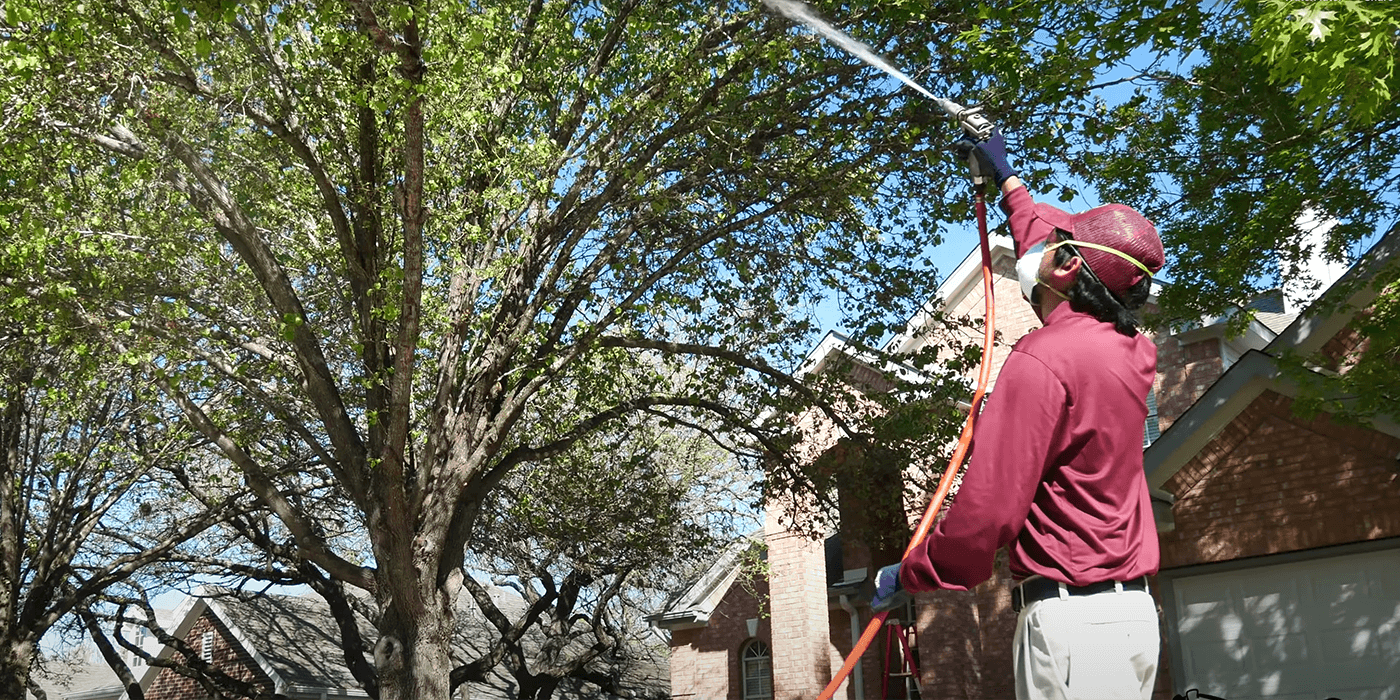 Download Transcript
ABC provides full-service tree care in San Antonio and the surrounding communities with certified arborists and experienced, reliable crews.
Trees require specialized care that is typically best performed by certified arborists. These professionals have a deep understanding of how local conditions can affect tree growth and health. The certified arborists at ABC can assess the health of your trees and suggest a plan to address a variety of problems, including:
Disease Remediation
Without proper expertise, it can be difficult to determine exactly what is wrong with your trees. However, the key to making your trees healthy again is properly diagnosing the disease. Depending on the severity of the issue, we may suggest foliar sprays, trunk injections or other treatment methods.
Some of the more common tree problems we see in the greater San Antonio area include:
oak wilt,
hypoylon canker,
root rot,
bacterial leaf scorch,
pest infestations,
blight and
drought damage.
Our certified arborists can help get your trees back to optimal health.
Insect and Pest Removal
We understand that it can be concerning when you notice that insects are nesting in your trees, especially if you believe these creatures could be having a negative impact. Your ABC arborist can evaluate the situation to determine if treatment is necessary. Depending on the pest, we may recommend insecticide sprays or injections.
Tree Fertilization
Giving your trees additional nutrients can help promote root development and can even help protect your trees against disease. Our certified arborists can determine if your trees will benefit from fertilization. Then, we can create a tree care schedule that will keep your trees healthy, all year long.
Tree Trimming
There are a number of reasons why a homeowner may want or need to have their trees pruned. Some of the most common reasons homeowners contact us for tree trimming include:
to remove branches that are damaged or diseased;
to take off any branches that are at risk of falling and potentially causing harm to family members, guests or the property;
to allow for enough clearance between the roof and the tree to prevent pests from easily getting to the home and
to allow more sunlight into the canopy of the tree.
Tree trimming is no easy task, especially if you have a towering oak tree with thick branches.
ABC's certified arborists can safely trim back tree branches in a way that keeps your trees healthy. Also, we can remove any unsightly deadwood or moss balls, and clear branches or twigs that may have fallen on your roof during a storm. In the case of extreme storms, we can even recommend and make repairs.
Tree Removal
As time goes on, trees that were once beautiful and healthy can become diseased or start to die. There are also situations where an otherwise healthy tree is growing too close to your home's foundation or growing too close to utility lines. Or, if you're looking to remodel your home or add on to your home, an existing tree can prevent you from moving forward with your plans. No matter your reasoning for wanting to have a tree removed, it's always best to leave tree removal to a certified arborist. Our specialists will be able to remove the tree or trees in a way that is safe and takes into account any unique factors or features on your property.
Tree Air Excavation
As we walk around our trees, the surrounding soil can become tightly packed. This compacted soil can make it difficult for our trees to get the proper water and nutrients. With ABC's tree air excavation service, we will loosen up compacted soil to ensure that your trees are getting everything they need to grow strong.
The ABC Process
1. Contact ABC
We'll learn what you need over the phone or during an in-person meeting at your home. Usually, we can schedule an appointment in a few business days.
2. Get An Estimate
We'll provide you with an estimate based on your goals and our recommended set of services. Once we get your approval, we will get you on the schedule.
3. Service
Our trained specialists perform all agreed-upon services. When we're done, we will clean up any debris to keep your yard neat and looking great.
4. Follow-Up
Depending on what services we performed on your property, we'll provide you with an update or recommend additional follow-up or ongoing services.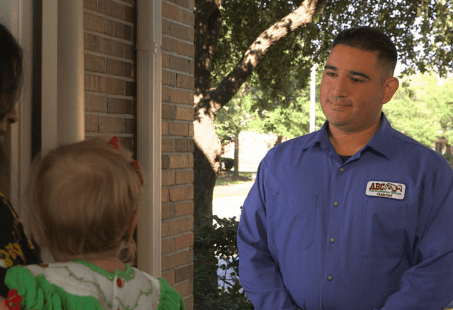 Get Started
We can turn your vision for your yard into reality.
San Antonio homeowners have relied on ABC to take care of their homes for decades. In addition to having certified arborists working on your trees, ABC customers appreciate that all employees undergo rigorous background checks and drug testing. Above all, ABC's highly skilled, reliable employees treat your home as they would their own.
Frequently Asked Questions
Do you offer free estimates?
ABC provides no-obligation, complimentary estimates for tree service here in San Antonio. Once you reach out to us, ABC will send an inspector to your property to get more information about what you would like to have done and to make an initial assessment of the tree in question.
Our inspector will answer any questions you might have and deliver a set of recommendations and an estimate. After you approve the recommendations, ABC will schedule a service visit to get the work done. In many cases, after the initial appointment, tree service can be scheduled at a time that you are away from work, provided that you can provide us with information on how a technician can access your yard.
How can I protect my trees?
Homeowners value their trees, but are often unsure what they can do on their own to protect this important part of their landscape.
A few things you can do to care for your trees is to:
Avoid planting trees right next to your home's foundation. Homeowners are often unable to predict how a tree's root structure will develop over time, and tree roots too close to your living structure can penetrate your foundation or cause instability.
Remove dead trees close to your house. Over time, a dead tree will shed smaller twigs and then larger branches. Eventually, the trunk can fall unless it is removed.
Protect root systems from damage by preventing soil compaction. Tree roots provide stability and nourishment. Roots can be cut while you are digging and aerating in your lawn, and the pressure from cars and even heavy foot traffic can harm your trees.
What does tree care look like at my home?
How can I tell if my trees are unhealthy?
Most homeowners miss signs that a tree is unhealthy. If you are concerned about one of your trees, here are some signs that might indicate a problem:
Wilted, brown or discolored leaves
Holes, growths or spots on leaves
Dead limbs
Slower-than-normal growth or size
Extensive or sudden loss of leaves
Appearance of decay or rotting
Signs of pest damage or an infestation
What tree diseases are common in San Antonio?
Arborists can easily diagnose a number of conditions which could be impacting your trees. Some of the more common issues we see here in San Antonio include:
Oak wilt
Hypoxylon canker
Root rot
Bacterial leaf scorch
Pest infestations
Blight
Drought damage
Homeowners may recognize signs of stress, but may not know exactly what to do about it. That's when to call in the experts to help suggest ways to get your trees back to being healthy again.
What does oak wilt service look like?
Can mulch help my trees? If so, how should I apply it?
Mulch is a valuable addition to your tree care regimen. Applying mulch can help your tree by:
Providing a buffer for your tree from extreme hot and cold temperatures
Keeping your roots moist by retaining water
Reducing any potential damage caused when you mow your yard
Preventing weeds which rob your tree of water and nutrients
Discouraging erosion so that water can sink into tree roots rather than washing away
To ensure your tree gets the biggest benefit from mulching, consider:
Removing grass within a three to ten-foot radius of your tree, depending on the tree's size
Adding a two to four-inch layer of mulch made out of natural materials, such as bark chips or pieces of wood
Spreading mulch carefully so you avoid accidentally cutting or damaging your tree's root system.
Get Started
We offer a full range of lawn services.
More Tree and Lawn Service Solutions in San Antonio
What Our Customers Are Saying
"I use ABC for pest control, AC maintenance and Irrigation system repairs. What a great company! They are precise at scheduling and always arrive on time. This week we tackled a big job with a troubled Irrigation system and they sent Denim. His real name. He is polite and courteous and highly professional. He takes the time to address all your concerns and explains the process fully. Tremendous service!!!"
"My service technician Isaac is always on time. He texts and/or calls to let me know when he is on the way to my home. During a time were good customer service appears to be a rarity he is Always very polite and well-mannered. He asks me if there are any specific areas he need to pay a little bit more attention to. But this has been my experience with ABC Home & Commercial Services for over the last 3 years. I am very pleased with my services with them! I recommend ABC Home & Commercial Services to anyone looking for a respectful and dependable pest control company!"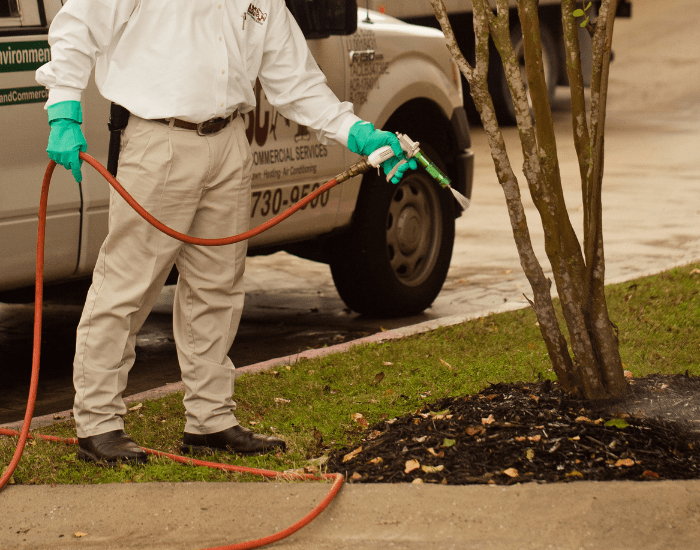 Need Lawn Services For Your Business?
Our lawn care specialists will ensure you make a good first impression on your customers by keeping your facility's exterior looking nice and tidy.
ABC's Complete List of Home Services in San Antonio
Why deal with multiple service providers when ABC can do it all?