Slab Leak Detection in San Antonio, TX
After a significant spike in your water bill, you're likely wondering what could be the cause—is it a running toilet, or is it something more serious? When you find water pooling around your foundation and your home smells moldy, you probably become even more concerned. If you need a professional to investigate the issue further, you can rely on the licensed plumbers at ABC Home & Commercial Services. Our pros provide slab leak detection in San Antonio and can advise you on how to move forward.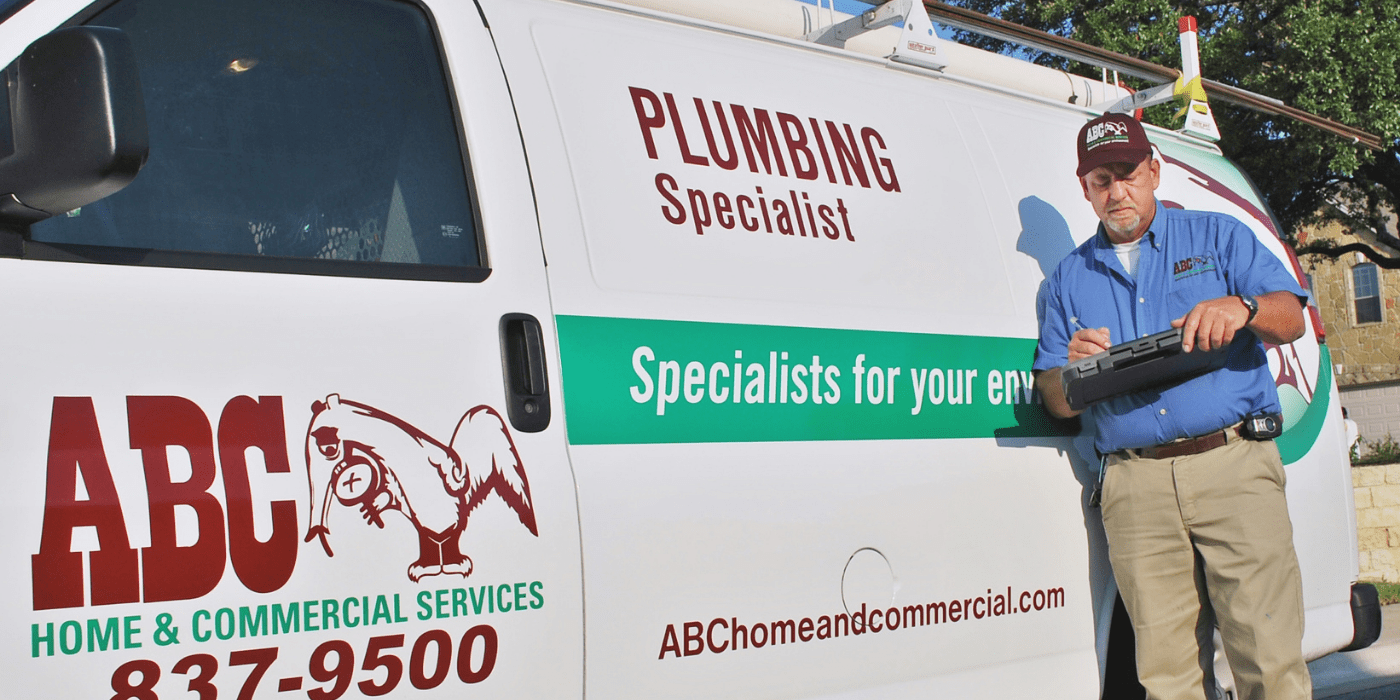 Our licensed plumbers use a variety of specialized tools to perform a diagnostic on your plumbing system and determine if your problem is related to a slab leak. After gathering more information from you about what you've seen or experienced, we will get started with our inspection. Our professionals utilize ground microphones and acoustic discs to hear through the concrete slab to pinpoint the exact location of the leak. Your ABC plumber may confirm the presence of a slab leak by locating the water manifolds within your wall, isolating each water supply line and determining which line is leaking within your slab. Depending on your situation and circumstances, we may use one or a combination of these tools to inform our diagnosis.
The ABC Process
1. Contact ABC
When you contact us, we will schedule a service call to evaluate the problem. For emergencies, we will send a pro to your home as soon as possible.
2. Get An Estimate
We'll provide you with an estimate for all needed services. Once we get your approval, our pros will get right to work.
3. Perform Services
We will work quickly to perform the desired services. At the end of your service call, we'll update you on what we did and any other needed follow-up.
4. Comfort Guarantee
If you are unhappy with our work, let us know and we will send someone back to your home to make things right at no additional cost.
Early detection is important when it comes to a slab leak, as problems can become more and more destructive and costly to fix as the leak becomes bigger.
If you're experiencing one or more of the following, it's a good idea to bring in a professional to see if you have a slab leak:
A sudden, large spike in your water bill
Water pooling around the foundation of your home
Damp carpet or wood flooring
Either the presence or the smell of mold or mildew
Abnormally low water pressure throughout the home
Cracks in your sheetrock or in your ceiling
Doors or windows that aren't closing properly
If you experience any of these signs, contact us and we'd be happy to come take a look. We can send a licensed plumber to your property promptly to conduct an inspection and document our findings. If a slab leak is not the cause of your problem, we can present you with a set of recommendations for any other needed repairs and then get started to resolve the problem. If you do have a slab leak, we can advise you on the best course of action and make any needed repairs.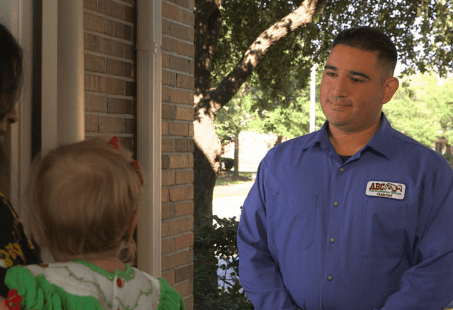 Get Started
We offer a full range of plumbing services.
ABC has been providing homeowners with a variety of home services since 1949. As a family-run business, we understand that you want to have peace of mind whenever a specialist arrives at your home. This is why, in addition to being fully licensed, we require that all of our plumbers are drug tested and background checked. Additionally, one of our values is that we always treat your home as if it was our own, so you can count on our team members to be courteous to you, your family and your property.
Frequently Asked Questions
How soon can you come out?
We understand that if suspect you may have a slab leak, you want some quick answers. Give us a call at (210) 599-9500 or schedule an appointment online and we will send a specialist to your home promptly.
Why and how do slab leaks occur?
Typically, slab leaks occur over time when copper pipes become corroded. The problem begins when pipes develop pinhole leaks which expand. In some cases, a slab leak can also develop if pipes are not installed correctly and they start to leak. Another reason you might have a slab leak is if the water in your area is particularly hard, which corrodes your pipes at a faster rate. If a slab leak is left unattended, the soil under your home can become saturated, leading to water damage, mold growth and even pest issues.
Can you repair my slab leak?
If we discover a slab leak during our inspection, we can present you with an estimate to make all needed plumbing repairs. If your foundation needs to be re-leveled, we can refer you to a reputable foundation repair company.
Why are slab leaks dangerous?
Slab leaks are a serious and potentially very costly problem, due to the damage your home and belongings can sustain, as well as the cost of repairs. Over time, this introduction of moisture and subsequent drying out causes your foundation to move. Since this settling is often uneven, your foundation can become damaged. Since these issues take place underground, your first signal of a slab leak may be cracks in your sheetrock or in your ceiling or your doors or windows not closing properly.
If these issues aren't addressed, you may notice an increase in your water bill which just keeps getting more and more costly. As a slab leak gets bigger, excess water will pool up underneath and around your home which can lead to floor damage, mold growth and pest problems, such as termite infestations. In some cases, a home's foundation buckles under this ongoing pressure.
If you suspect you have a slab leak, your best option will always be to contact a professional. The longer that you wait to get an inspection, the more damage can be done to your biggest investment.
Get Started
We offer a full range of plumbing services.
More Plumbing Solutions in San Antonio
What Our Customers Are Saying
"One of the few times that I felt like a company had my best interest. After realizing that I was going to need a new water heater, Santiago told me "I'll go pick it up for you if you want to buy your own to save money". Which I thought was great, Santiago told me he had other jobs for the day, but promised to come back that day so my family had hot water. This process started at around 9 AM, Santiago, true to his word made it back around 5:30 and finished around 8 that night. ABC and Santiago will be my new go to company for plumbing."
Monica Castillo
9/30/2021
"We have had ABC Pest Control for 20 years. We decided to try their plumbing service to replace our water heater. They were so fast to send someone out to the house within a couple of hours. Santiago did a great job. He was very professional, worked all day to remove our old water heater and worked very hard to get everything just right. He answered all of our questions and truly exceeded our expectations. We highly recommend ABC's plumbing service and their pest control is excellent too."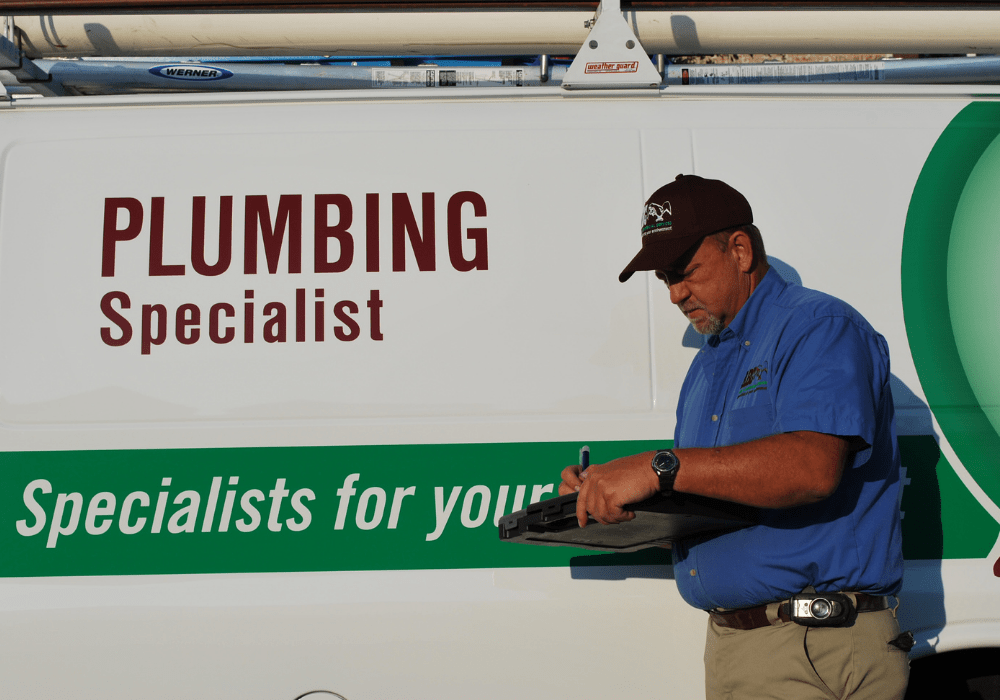 Need Plumbing Services For Your Business?
Don't let a plumbing problem slow your business down. We offer plumbing repair, replacement and installation services for commercial properties.
ABC's Complete List of Home Services in San Antonio
Why deal with multiple service providers when ABC can do it all?