Leak Detection in New Braunfels, TX
Your water bill arrived, and your jaw nearly hit the floor. Then, you noticed some discoloration on your ceiling. And you wonder if that strange odor has always been there. If you suspect there is a leak somewhere on your property, contact ABC Home & Commercial Services. Our licensed plumbers provide leak detection in New Braunfels. After we find the source of the issue, we'll quickly resolve the problem.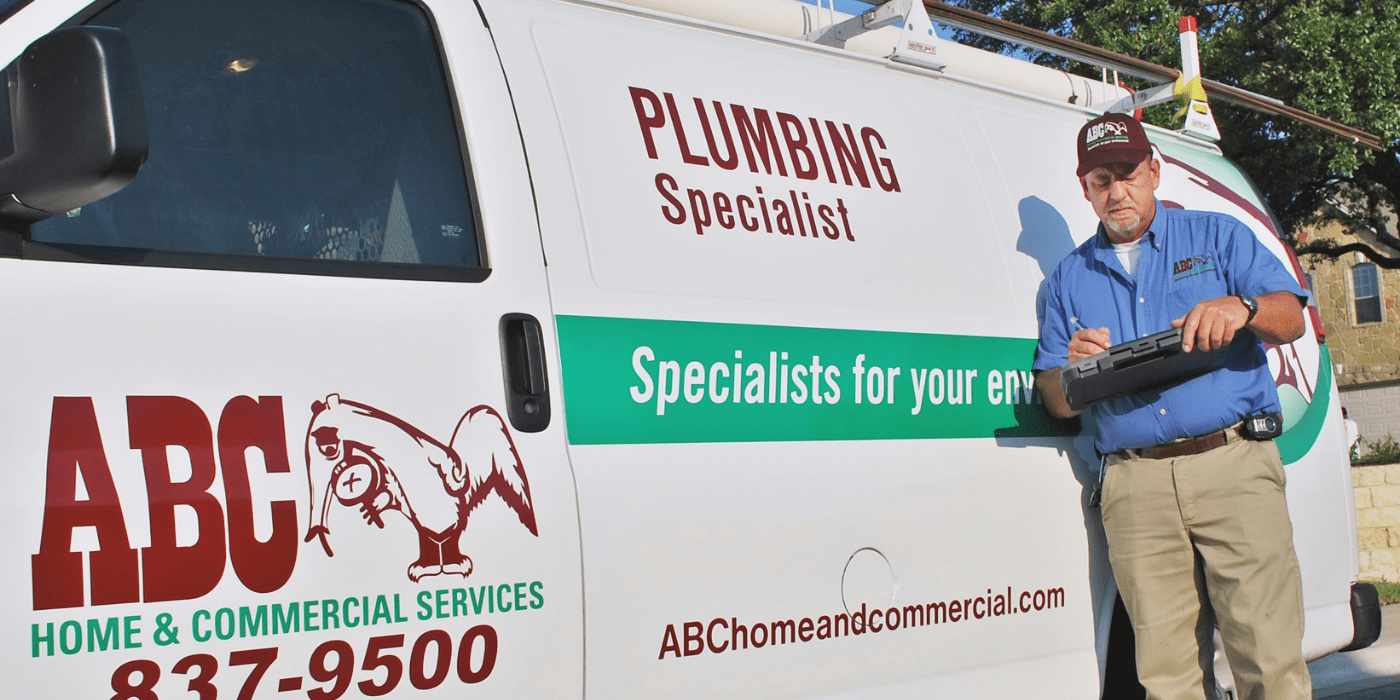 Expert & Reliable Plumbing Services
ABC's professionals are able to get to the bottom of your plumbing issue using a variety of different tools. After we have gathered all of the needed information from you, we will get started by pinpointing the location of the leak. Your specialist will start by assessing fixtures, sinks, irrigation systems and pool systems to rule out any leaks from those sources.
Then, your ABC plumber may evaluate the water manifolds within your wall, carefully checking each water supply line to determine whether there is a leak coming from one of these lines. Your plumbing specialist may also use ground microphones and acoustic discs to help hear through the concrete slab. These tools will help us determine whether you have a slab leak if we can't detect a problem elsewhere. When you rely on ABC for leak detection in New Braunfels, you can feel confident that you are in good hands.
The ABC Process
1. Contact ABC
When you contact us, we will schedule a service call to evaluate the problem. For emergencies, we will send a pro to your home as soon as possible.
2. Get An Estimate
We'll provide you with an estimate for all needed services. Once we get your approval, our pros will get right to work.
3. Perform Services
We will work quickly to perform the desired services. At the end of your service call, we'll update you on what we did and any other needed follow-up.
4. Comfort Guarantee
If you are unhappy with our work, let us know and we will send someone back to your home to make things right at no additional cost.
Leaks can be tricky because we typically don't notice the signs until it has become significant. To make matters worse, it can be difficult to determine where the leak is if you don't have the proper tools.
Signs you may have a leak somewhere on your property include:
Unexplained increases on your home's water bill
Discolored patches on your ceilings or walls
Walls or wallpaper that are peeling, blistered or bubbled
Mold or mildew growth
The sound of running water, even when you aren't using your plumbing
Damp or soggy areas on your floor, carpet or in your yard
A musty or moldy odor
If you're experiencing one or more of these signs, reach out to ABC. Our licensed professionals routinely perform leak detection in New Braunfels and the surrounding areas. Once our pros discover where the problem is, they can start making repairs.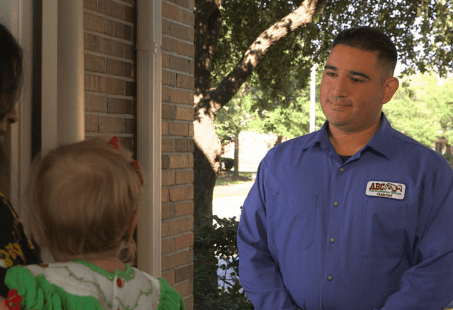 Get Started
We offer a full range of plumbing services.
ABC started as a pest control company in San Antonio in 1949 and has been providing high-quality services to homeowners and business owners ever since. Since then, we have expanded our services to include heating and cooling services, pool services and plumbing services, and we now serve customers across Texas, Oklahoma and Florida.
We have been able to grow as a company thanks to our courteous specialists. At ABC, we strive to hire the best of the best, and our intensive hiring process includes a drug test and a criminal background check. Before conducting service calls, our technicians go through in-house training to supplement their licensing. Also, as a family-run business, one of our values is that we treat our customers' homes as if they were our own. When you contact ABC for leak detection in New Braunfels, you can expect your technician to be courteous, knowledgable and friendly.
Frequently Asked Questions
How soon can you come out?
We understand that if you believe you have a leak somewhere on your property, you want to have it addressed quickly. We will do our best to send a licensed specialist to your home as soon as possible. We also understand that these issues can sometimes come up at the least convenient times, so you can rest assured that we also provide service outside of normal business hours for those plumbing emergencies.
Where might I have a water leak?
When you think about all of the water-consuming appliances on your property, you realize there are quite a few places where water could be leaking, including:
Water supply lines
Toilets
Faucets and hose spigots
Showers and tubs
Washing machines
Dishwashers
If your leak is in a water supply line or in a connection that is out of sight, it can be extremely difficult to identify the source of the problem without contacting a professional. The specialists at ABC have specialized tools that allow us to troubleshoot your plumbing issue and advise you on the best next steps.
What is a slab leak, and why do they occur?
In most cases, a slab leak occurs after copper pipes have slowly corroded over time. This problem typically starts as a pinhole leak which becomes bigger and bigger. Another reason a slab leak might develop is if the water in your area is particularly hard. The harder your water is, the faster your pipes can corrode. If a slab leak is ignored, the soil around your home can become saturated with water, which can result in water damage, mold growth and even pest problems.
Signs you have a slab leak include:
A large spike in your water bill
Water pooling around the foundation of your home
Damp floors
Cracks developing in your sheetrock or ceiling
Abnormally low water pressure
Difficulty closing windows and doors properly
If you are experiencing one or more of these signs, contact a professional. Because this is a serious plumbing problem, this is something you should get resolved promptly so you can avoid further damage.
Can you also repair my leak once you find it?
Yes, we can! Our highly-trained specialists can take the necessary steps to fix nearly any leak or plumbing issue on your property. We can fix leaking toilets, sinks and other plumbing equipment. We are even equipped to repair slab leaks. If you have a leak, we will present you with a quote for all needed repairs before we begin on the recommended fixes. If we find that you have a serious slab leak and your foundation needs to be re-leveled, we will refer you to a reputable foundation repair company.
Get Started
We offer a full range of plumbing services.
Additional Plumbing Service Areas in San Antonio
ABC serves many surrounding communities, including, but not limited to:
What Our Customers Are Saying
"One of the few times that I felt like a company had my best interest. After realizing that I was going to need a new water heater, Santiago told me "I'll go pick it up for you if you want to buy your own to save money". Which I thought was great, Santiago told me he had other jobs for the day, but promised to come back that day so my family had hot water. This process started at around 9 AM, Santiago, true to his word made it back around 5:30 and finished around 8 that night. ABC and Santiago will be my new go to company for plumbing."
Monica Castillo
9/30/2021
"We have had ABC Pest Control for 20 years. We decided to try their plumbing service to replace our water heater. They were so fast to send someone out to the house within a couple of hours. Santiago did a great job. He was very professional, worked all day to remove our old water heater and worked very hard to get everything just right. He answered all of our questions and truly exceeded our expectations. We highly recommend ABC's plumbing service and their pest control is excellent too."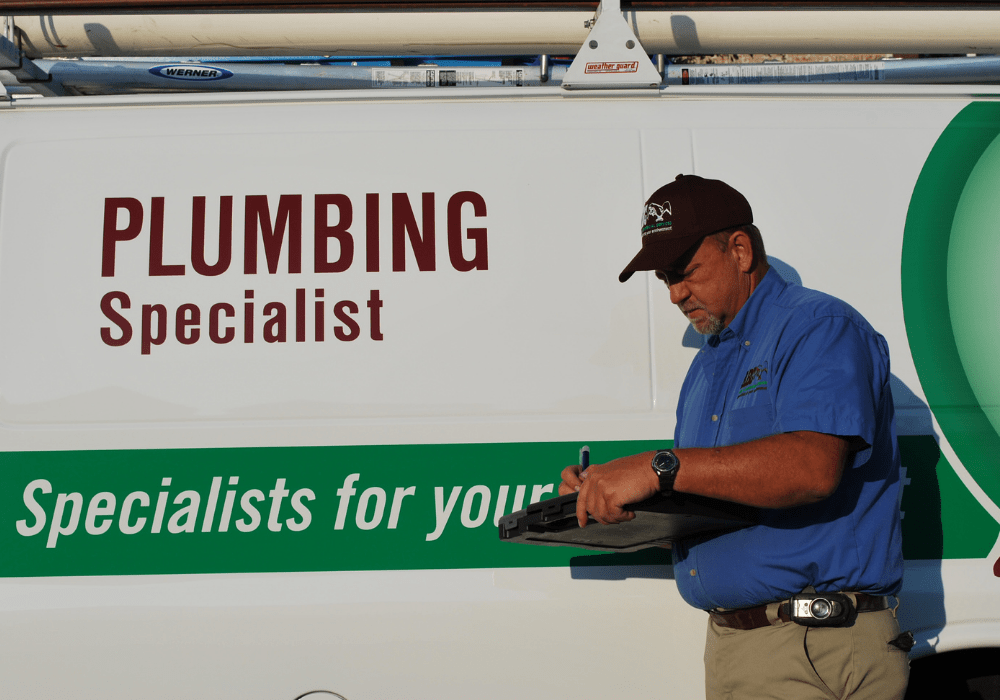 Need Plumbing Services For Your Business?
We understand that businesses have different needs than residences. That's why we have specially trained technicians who can service your business.
ABC's Complete List of Home Services In San Antonio
Why deal with multiple service providers when ABC can do it all?