Termite Control in San Antonio, TX
Termites are double trouble. Not only are they almost impossible to detect, because they arrive on your property via underground tunnels, but also they pose the most costly threat to your home when compared to any other pest. When choosing a company for termite control, San Antonio homeowners choose the independently-owned and operated business that has been providing reliable, effective solutions for decades: ABC Home & Commercial Services.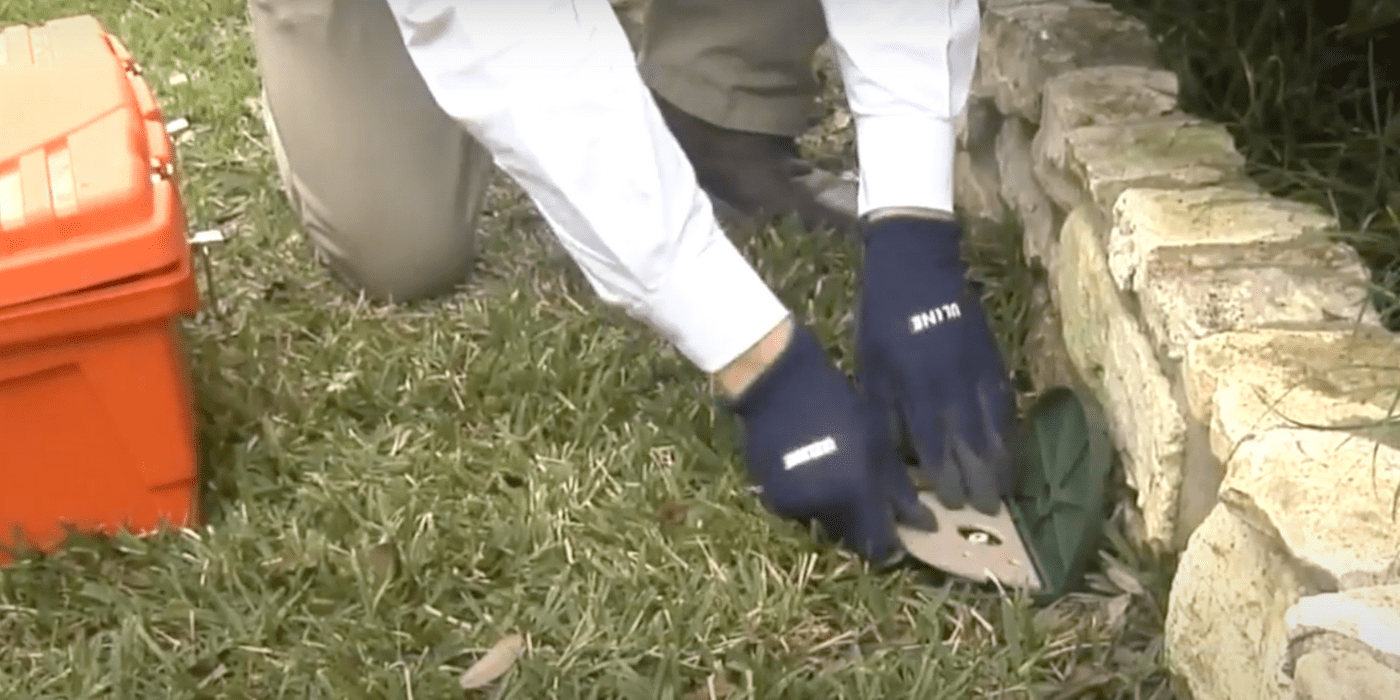 Download Transcript
Our work begins with your free, no-obligation inspection.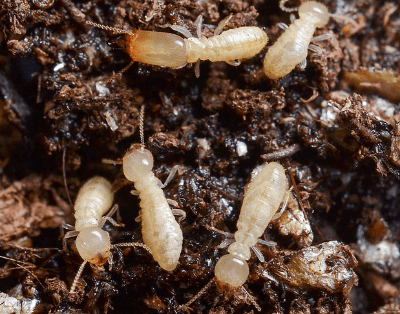 After we confirm the presence of termites and inspect your property for damage, we'll recommend one of the following techniques to get rid of these dangerous pests:
Termidor
Termidor is an extremely effective treatment that is specially designed to target subterranean termites, drywood termites and dampwood termites, which are the types which inflict the most damage on homes. By trenching, our specialists will create a liquid barrier between the walls of your foundation and the most common ways these pests attack our homes—through our yards. Termidor is proven to eliminate termites within three months of application to residential and commercial structures as termites bring this termiticide back to the nest, causing 100% of the colony to die. Although this method is found to be effective for over 15 years, follow-up inspections will ensure your treatment zone is intact.
Fumigation
To eradicate certain types of termites, your only option may be tenting, otherwise known as fumigation. This method involves totally covering your entire structure with heavy tarps and then introducing a gas for several hours, and in some cases, overnight. No residue nor odors will remain after the treatment. Fumigation kills all types of insects within the sealed area, including termites.
Termimesh
If you are building a new residence, your best protection against termites is Termimesh, an environmentally-friendly barrier which is made from stainless steel mesh. Termites are unable to eat through this material, nor can they squeeze through the holes. Termimesh is 100% effective at preventing termite infestations as long as you are in your home.
The ABC Process
1. Contact ABC
When you contact us, we will schedule an inspection to get an understanding of the problem. In some cases, we can give you a quote over the phone.
2. Get An Estimate
If you have an inspection, we will send you a custom treatment plan and estimate afterward. Once we get your approval, we will schedule your treatment.
3. Treatment
We will come to your property and treat for pests in common hiding and nesting areas. Over time, you will start seeing less and less pest activity.
4. Prevention
Customers with our ongoing pest management services will receive periodic retreatments to prevent the return of the most common pests in our area.
If you think you might have termites, we completely understand that you want someone working to remedy the problem as soon as possible. That's why we work to get an inspector to meet you at your home at your earliest convenience.
Since all pest problems are slightly different, this inspector will use the free inspection as the opportunity to:
Confirm that it is termites that have infested your home
Determine how exactly they arrived on your property
Discover whether there is anything that is unique to your home that might make it more vulnerable to a pest problem
Collect any other needed information from you about the extent and severity of the problem
Provide you with any answers to your questions about our techniques and the process
All of the information we collect during the free inspection helps inform your personalized treatment plan. This no-obligation estimate is provided to you free of charge. Once you authorize us to move forward, treatments can begin.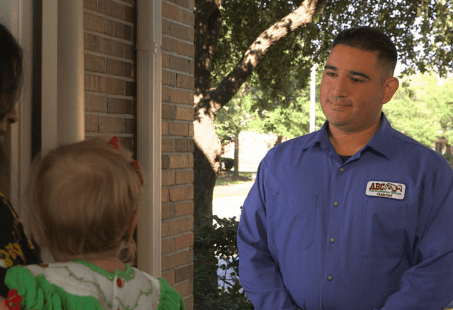 Get Started
We offer a full range of pest control services.
We are grateful to our loyal customers and hardworking employees who have helped us grow to serve the major metropolitan areas in Texas. Homeowners in San Antonio tell us that they chose ABC for termite control because they only wanted the most experienced pest professionals protecting their biggest investment. In addition, they appreciate the peace of mind that comes with knowing that ABC conducts thorough background checks and drug testing on all its employees, and that our technicians treat every customer's home as they would their own.
Frequently Asked Questions
What can you tell me about how kid and pet-friendly your treatments are?
We select our projects with the utmost concern for the well-being of your family (including your furbabies). We seek a balance so that treatments are as low-impact as possible while being effective. Our technicians are happy to address any concerns you might have about the products we are using in and around your home.
What are some things I can do on my own to protect my property from termite damage?
Since termites reach your home's foundation through underground tunnels, often going undetected until damage is quite extensive, the best tactic when it comes to termites is prevention.
Here are a few ways you can help make your home less vulnerable to an infestation:
Remove any firewood, leaf litter, lumber and other wood so that these materials which can attract termites to your property aren't present. If you do need to have some wood around your property, store it as far away from your home as possible, and try to elevate these materials so they are harder to access by these pesky pests.
Identify and seal any holes or cracks in your home's foundation.
Prevent the accumulation of standing water and fix leaking outdoor faucets, since these can both help a termite colony survive.
Conduct annual termite inspections yourself along the exterior of your home. Look for warning signs you have termites, including mud tubes, piles of termite wings around windows and paint or drywall that is bubbling or brittle. Also look for damaged wood. You can test the strength by tapping a flat-headed screwdriver along any wood that sounds suspicious. Hollow noises are a sign that there is damage underneath. Pay particular attention to crawl spaces, decks and porches, window frames, steps, expansion joints in bricks or concrete and tree stumps.
If you are building a home, you can completely protect your structure from damage by using the Termimesh system around pipes and service wiring to block termite invasions.
Can you perform inspections for Wood Destroying Insects (WDIs)?
ABC's technicians have the training and experience to conduct a thorough investigation of your property for wood destroying insects. We can also provide you with documentation that this work has been completed.
What is the normal duration for termite treatments?
Every termite problem is slightly different, so we can't provide you with an accurate estimate of how long your treatments will last until we visit your home to do our inspection. After that time, you will have a better idea of what will be involved to get your property termite-free.
What should I do if I see a termite during the course of my treatments?
Although we wish we could tell you that you will never see a pest during the course of treatment, the truth is that it's not unusual for our customers to see a temporary spike in activity, especially during the initial phases of treatment, as these creatures are driven out of normal hiding spots.
Over time, pest activity will decrease until all the colony members are eliminated.
Get Started
We can create a treatment plan that targets these pests, so you can have peace of mind.
More Pest Control Solutions in San Antonio
What Our Customers Are Saying
"Darrell Schaper was very friendly and professional."
"I use ABC for pest control, AC maintenance and Irrigation system repairs. What a great company! They are precise at scheduling and always arrive on time. This week we tackled a big job with a troubled Irrigation system and they sent Denim. His real name. He is polite and courteous and highly professional. He takes the time to address all your concerns and explains the process fully. Tremendous service!!!"
Need Pest Control For Your Business?
We understand that businesses have different needs than residences. That's why we have specially trained technicians who can service your business.
ABC's Complete List of Home Services in San Antonio
Why deal with multiple service providers when ABC can do it all?