AC Repair in New Braunfels, TX
New Braunfels gets more than its share of hot, humid days. Our climate often makes our air conditioners among the most valuable appliances in our home. However, frequently using our air conditioners can lead to them becoming overtaxed and breaking down. When it comes to AC repair, New Braunfels homeowners know ABC Home & Commercial Services can provide quick relief. Our pros can once again make your home a cool retreat from a hot Texas day.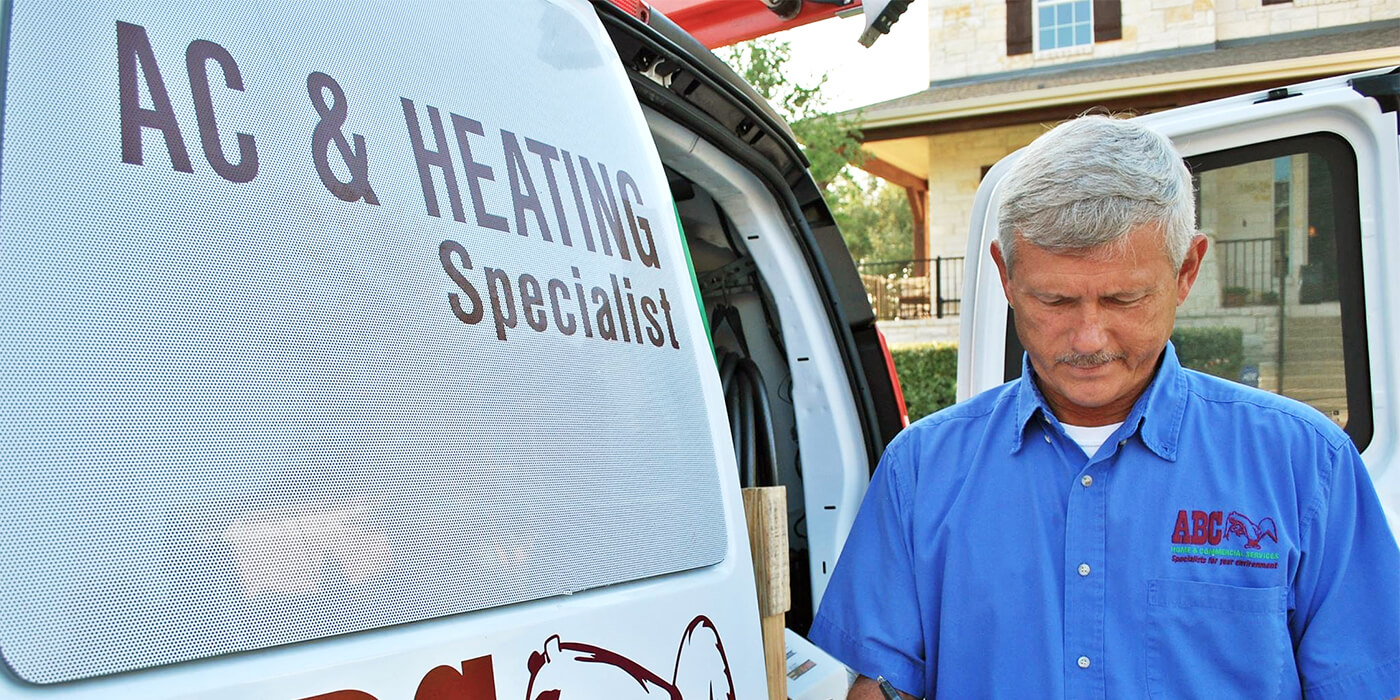 Comprehensive Air Conditioning & Heating Services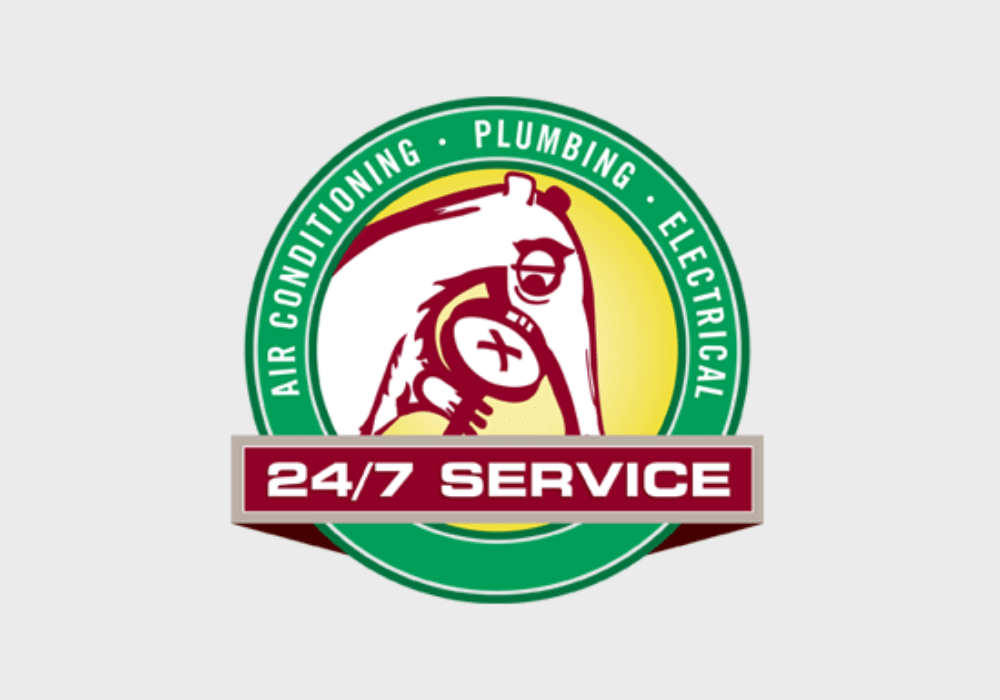 24/7 Emergency Service Available
Few things are worse than when your AC stops working. We understand how miserable that can be, which is why we offer emergency air conditioning service so we can start on your repairs as quickly as possible.
For those issues that aren't as urgent, we do our best to schedule your service call within a day of your reaching out to us.
So give us a call at (210) 599-9500 and we can get started.
The ABC Process
1. Contact ABC
When you contact us, we will schedule a service call to evaluate the problem. For emergencies, we will send a pro to your home as soon as possible.
2. Get An Estimate
We'll provide you with an estimate for all needed services. Once we get your approval, our pros will get right to work.
3. Perform Services
We will work quickly to perform the desired services. At the end of your service call, we'll update you on what we did and any other needed follow-up.
4. Ongoing Maintenance
Customers who sign up for our Advantage Maintenance Plan receive two tune-ups a year and peace of mind that their system is working as it should.
Just like your car benefits from regular oil changes, your air conditioner will work better and last longer if you have routine maintenance done. These check-ups also help you avoid any unwelcome (and often expensive) repairs.
ABC can get our knowledgeable professionals up to carefully check every part of your system at regular internals. By running performance tests, we can make sure all your components are operating optimally.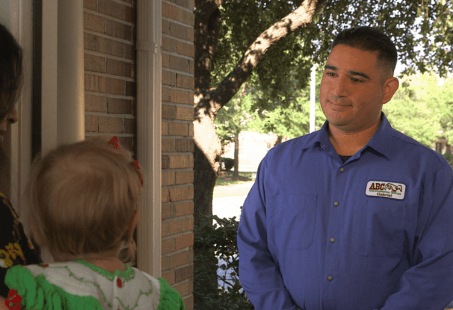 Get Started
We offer a full range of AC & heating services.
We couldn't stay in the business if we didn't provide superior service. ABC provides top-notch AC services, thanks to our hardworking employees who undergo background checks and drug testing, so you can feel comfortable having ABC in your home. Last, but certainly not least, we treat your home as we would our own.
Frequently Asked Questions
Which kinds of AC repairs do your technicians perform here in New Braunfels?
With decades in the business, ABC technicians have experience with any kind of air conditioning issues homeowners in Central Texas might face.
Our team of skilled technicians is frequently called to New Braunfels homes to handle:
AC Repair
We can make repairs on all types of AC and heater units, no matter the make, model or brand.
Our specialists work quickly to diagnose any problem you are experiencing. We can also give you honest advice on whether a replacement is a better option than making expensive repairs to an inefficient or older unit.
More specifically, some of the problems we see with air conditioners include:
Refrigerant Leaks
If your air conditioner is no longer keeping your home cool, this could be a sign that your refrigerant is no longer at the manufacturer-recommended level. An underperforming system may also indicate a frozen evaporator coil.
Since inhaling refrigerant leak is dangerous and can lead to potential respiratory issues, the best way to get things working again and to protect your family from any potential health dangers is to call on the knowledgeable technicians at ABC. Our team can work with you to locate the source of the leak, if there is one, fix it and get the refrigerant in the unit back to the correct level.
Electrical Issues
An obvious reason your system may not be working is that your power source has been disrupted or there is some kind of malfunction with an electrical component. Whether you are dealing with a breaker issue or wires that are corroded, frayed or otherwise faulty, this type of problem is best left to the professionals. ABC's experts can troubleshoot and address these types of problems, so you don't have to deal with the potential risks associated with working with electricity..
Malfunctioning Thermostat Sensors
If the sensors on your thermostat get out of position, the temperatures it displays will be incorrect, causing your whole system to heat or cool your house incorrectly. ABC's experts can realign any of the parts in your thermostat, as needed, so that your home will stay at your desired temperature.
Drainage Problems
Moisture build-up often leads to rusty parts, which can lead to your unit not working as it should and your condensate drain clogging. Typically these issues stem from improper unit installation, which is something that ABC's experts can easily resolve.
Filter Delivery
We know we need to change out our AC filters on a regular basis, but how many of us actually do? You can make the entire process easier by using FilterFetch, which delivers the correct filter to your doorstep on a regular schedule at a reasonable price.
Energy Improvements
You can lower your utility bills by adding insulation to your attic, ensuring your ductwork is installed and sized correctly, applying a solar film to your windows and improving your indoor air quality. ABC's team of specialized technicians are more than happy to identify rebates and other incentives you might qualify for to lower your initial costs.
What happens when you come to give me an estimate for a new AC & heating system?
When a customer requests an estimate, ABC arranges a convenient time for one of our Comfort Advisors to take a look at your current system. These specialists will also learn more about which features and options you prefer. We'll also ask about your budget and how much you are currently spending to cool and heat your home.
We then explore any opportunities to save you money through local and federal rebates or incentives. We can also suggest other ways to become more energy efficiency and to lower your utility bills, whether that means adding weatherization, insulation or taking other measures.
Can ABC technicians in New Braunfels also fix heaters?
Sure! While ABC has built a reputation for the high-quality repairs and installation we do for air conditioning customers, our technicians are equally well-versed in how to provide routine maintenance and tune-ups for heaters.
How do I know when it's time to get a new air conditioner?
Of course, this answer can vary, for a number of reasons, the rule of thumb is that it's time for an upgrade once the cost of maintaining your system has gotten close to the value of investing in a new one. Basically, if you find yourself making repairs several times a year for at least a year or two in a row, you probably will begin shopping around for the best system for your home.
Another factor to consider when weighing the pros and cons of getting a new system is energy efficiency. Updated models can end up saving you close to 40% on the cost of cooling your house. These savings definitely add up over time.
ABC's heating and cooling professionals are happy to sit down with you to talk through all your options, as well as to discuss what rebates or financing might be available. Ultimately, we understand that this is a big investment. To make your decision a little bit easier, ABC does offer a one-year guarantee to anyone who uses our installation service to ensure you're completely satisfied with the services we provided.
What does this mean, exactly? If anything goes wrong within the first year of having your AC installed, we'll cover the cost of repairs. If you decide you're not happy with the system, we'll issue you a refund.
Get Started
We offer a full range of AC & heating services.
Additional AC & Heating Service Areas in San Antonio
ABC serves many surrounding communities, including, but not limited to:
What Our Customers Are Saying
"Mario is our service professional. He does an excellent job of informing us of what he is doing. On top of being very meticulous. His standards are high. We had an issue at our home. He saw it and didn't hesitate to fix it. This reminds me of what service use to be. Thanks Mario for excellent customer service !"
"Darrell Schaper was very friendly and professional."
Half of My Christmas Lights Aren't Working
Decking the halls for the Christmas season fills many people with excitement for the coming celebrations. A huge part of the decorating ritual every year includes festive lights on the exterior of you...
ABC's Complete List of Home Services In San Antonio
Why deal with multiple service providers when ABC can do it all?