Ant Control
While ants are beneficial in their natural habitat, these insects can become a nuisance when they invade our homes and create unsightly mounds in our yards. One of the challenges of managing an ant infestation is that there are nearly 300 species of ant that call Texas home, and controlling a population is dependent on locating and eliminating the nests or colonies. Instead of spending your free time researching effective ant control in Houston, let the experts at ABC Home & Commercial Services take care of the problem.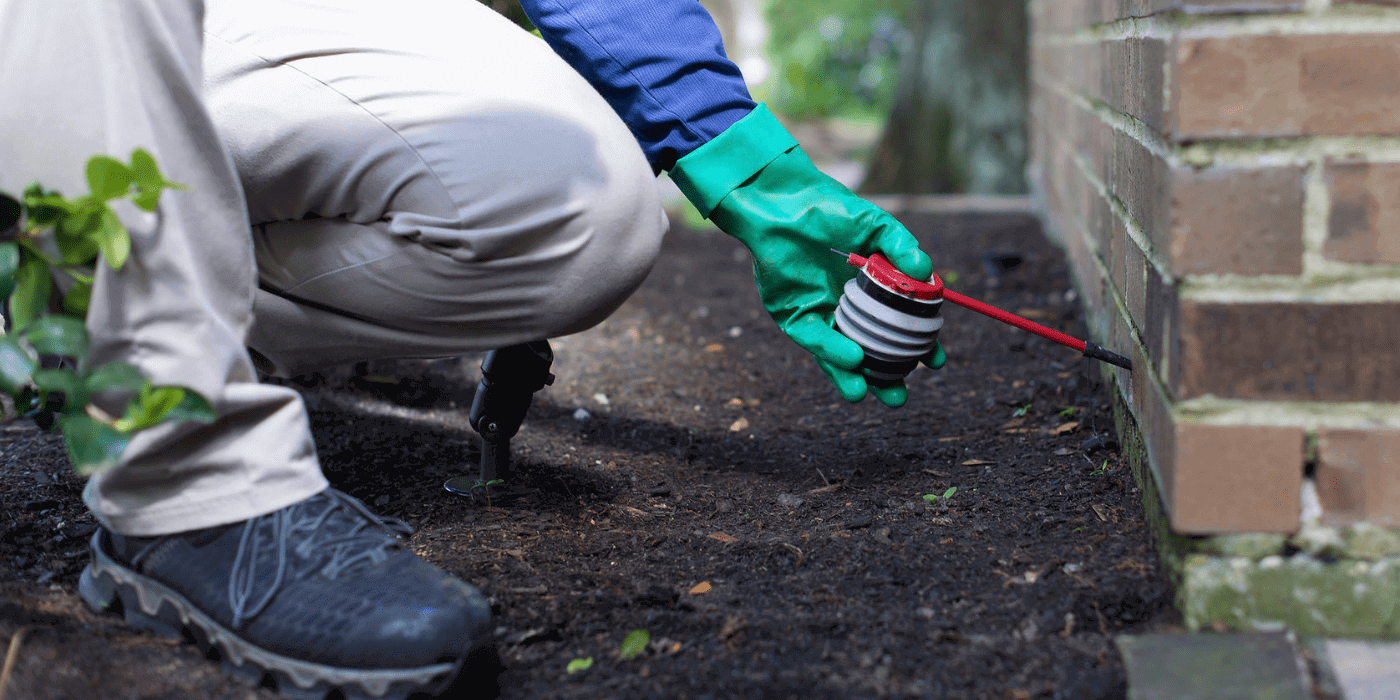 Types of Ants in Texas 
Here in Houston, we have many different species of ants, including rover ants, acrobat ants, pharaoh ants and leaf-cutting ants. There are even cases where termites are mistaken for ants, and vice versa, which makes getting the help of an expert even more important. 
While we can help you with any type of ant or pest control you may need, we most commonly get calls regarding the following types of ants:
Crazy Ants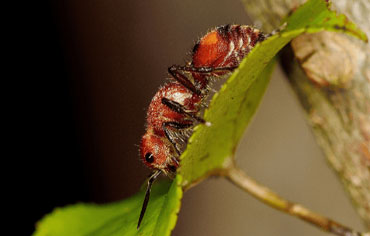 Crazy ants (also known as Raspberry crazy ants or Tawny crazy ants) love sugar and have become a more prevalent pest issue in Houston. These ants can be identified by their hairy bodies and reddish-brown color. As their name implies, these insects don't move in a straight line—but more of a frantic zig-zag pattern. Because crazy ants prefer warm environments, they are more commonly found in switch boxes and near sources of electricity, which can cause short circuits and other electrical problems. There aren't any products available to the general public that  can effectively manage a crazy ant infestation, so your best bet is to contact a professional to handle the problem.
Fire Ants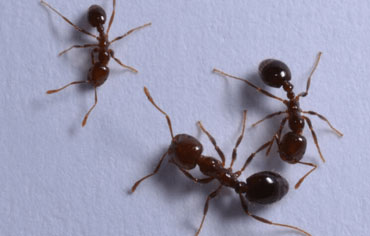 These ants are reddish-brown and are known for their painful sting. Fire ants build large mounds outdoors that are usually fairly obvious. However, it is still very common for a child, adult or a pet to unknowingly disturb a mound, leading to a very painful situation. ABC technicians typically recommend the application of baits and treatment products applied to individual mounds to get the best results. Professional fire ant control is often the desired option for homeowners who do not want to risk getting stung by these creatures.
Carpenter Ants
Carpenter ants are generally large and can be solid black, brown or a combination of black and red-orange. These insects are nocturnal and can bite. Carpenter ants don't consume wood, as termites do. Instead, these destructive pests chew through wood to create large nests inside of our homes. Since the signs of a carpenter ant infestation and a termite infestation are very similar, it is best to contact a professional.
Odorous House Ants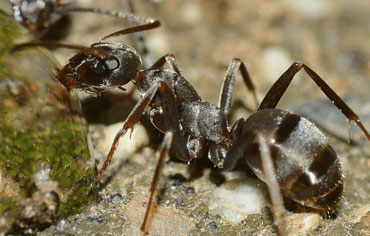 Odorous house ants are smooth-bodied with relatively few hairs. These insects get their name because when they are squished, they produce a distinctive, licorice-like smell. Odorous house ants prefer sweet foods and most commonly nest outdoors. However, these common ants will also nest in wall voids and other interior locations. Due to their tiny size, it can be difficult to stop these ants from getting into your food, making controlling an infestation extremely difficult. Successfully resolving an odorous house ant problem can take a few weeks. Typically, our technicians will use specialized baits to get these populations under control.
Prevent Future Ant Infestations
While it can be a challenge to completely eliminate ants from your environment, the best strategy is to seal up entry points and remove available food sources. Your ABC pest control professional can provide you with customized tips to keep ants away. 
In general, we recommend that homeowners:
Promptly clean up any spills

Store food in tightly sealed containers

Clean out trash bins both indoors and outdoors

Empty pet food and water bowls when not in use

Regularly inspect potted plants for ant activity

Caulk any gaps near windows and doors

Move vegetation, such as mulch and compost piles, away from the exterior of your home

Fix leaky pipes and make sure water is draining away from your home

Keep shrubs and trees trimmed so they are not touching the exterior of your home

Kill any scouter ants you find, then wipe down the area where they were traveling
It can be frustrating to try and get rid of an ant infestation on your own. Contact ABC Home & Commercial to get started with a free consultation and ask about getting on a regular treatment plan.
The ABC Process
Step 1: Contact ABC
When you contact us, we will schedule an inspection to get an understanding of the problem. In some cases, we can give you a quote over the phone.
Step 2: Get An Estimate
If you have an inspection, we will send you a custom treatment plan and estimate afterward. Once we get your approval, we will schedule your treatment.
Step 3: Treatment
We will come to your property and treat for pests in common hiding and nesting areas. Over time, you will start seeing less and less pest activity.
Step 4: Prevention
Customers with our ongoing pest management services will receive periodic retreatments to prevent the return of the most common pests in our area.
We ask that our customers avoid using strong cleaners near any bait stations, as these odors can interfere with an ant's ability to follow pheromone trails. This is important because these pathways signal to the rest of the colony that there's a food source nearby. Depending on the extent of your infestation, we may recommend applying a separate treatment product to the nest as well.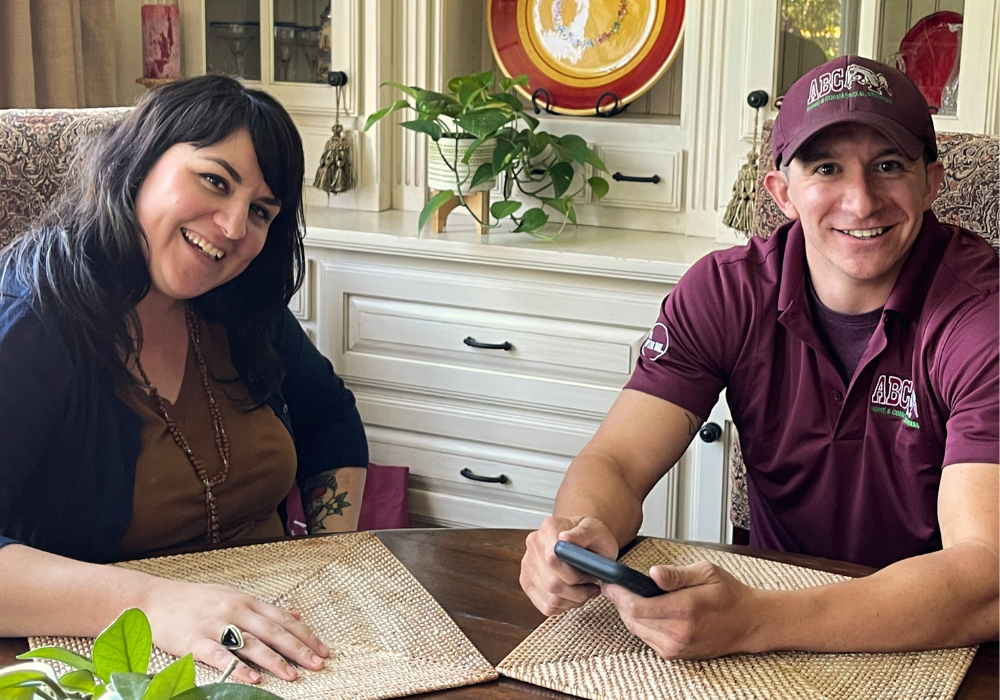 Get Started
We offer a full range of pest control services.
ABC has been providing reliable ant control service across Texas, Oklahoma and Florida for generations. Before performing service calls, all ABC specialists go through an in-house training program so they are able to provide you with effective and knowledgeable ant control services. Lastly, as a family-run business, one of our values is that we will always treat your home as if it was our own. That means our technicians go through an extensive background check to ensure we have the most trusted technicians entering your  home during our service calls.
Frequently Asked Questions
How soon can you get started?
At ABC, we understand that having an ant problem can be frustrating. Whether you're tired of seeing these pests in your pantry or you're on the receiving end of painful bites, our experts can help with your ant problem. Just give us a call or schedule an appointment online and we will put you on our schedule as soon as possible.
What happens after I contact ABC?
When you reach out to ABC, we will either schedule an inspection or provide you with a free estimate over the phone. Normally, we prefer to meet you on your property to assess the problem and create the most effective treatment plan. When our pest control specialists arrive for your appointment, you can expect them to:
Ask you questions about where you've been seeing ant activity

Examine your home for ant nests as well as locate any entry points these pests may have used to gain access to your property

If necessary, identify which species of ant is on your property

Address any of your questions regarding our pest control protocols
As we finish up the inspection, you will receive an estimate along with our recommended next steps. Upon your approval, we will schedule your first treatment call.
Can't I just get rid of ants on my own?
While there are sprays and other products available to control ant populations, these treatment products often just kill the ants that you see. To effectively manage ant populations, you need to target the nests, which are most commonly built outdoors with extensive underground tunnels.
Controlling ant populations can be extremely difficult, as some ant queens lay hundreds or even thousands of eggs in a single day. Also, many of the baited products you can buy at home improvement stores are only effective with ants that like sugar. Since many species of ants prefer protein or salty foods, these products often do not work effectively to treat them.
What impact do your products have on my family and the environment?
ABC is a family-owned business, and our top priority is our customers and their families (including your pets). When we research which products to use, we take great care to only select solutions we would use on our own property. In addition, we only use products that are specially formulated for residential use. Your ABC pest control professional will take great care to use the lowest concentration of chemicals while still maintaining an  effective treatment for your ant problem. 
Get Started
We offer a full range of pest control services.
More Pest Control Solutions in Houston
What Our Customers Are Saying
"I would definitely recommend ABC!! They were professional, courteous, and did a great job. During the treatment my blinds had to be removed, and they graciously put them back up before they left. Blair came three weeks later to do a follow-up check and was extremely friendly and helpful. He gave me more information and suggestions in regards to staying bed bug free. He even carried my large Amazon package into the garage for me. I would definitely recommend them for all your pest control needs. ⭐️⭐️⭐️⭐️⭐️"
"Do your research, but this is the company to choose for your pest and rodent control. A new townhouse community is being developed in an adjacent wooded field, so all these woodland creatures started relocating to our established neighborhood. I get it, this land was theirs before it was ours, but after 20 years, they had no right to move into my house rent free. The cute hares/ rabbits were ok at first. They would flop around, and the worst they would do is leave small chocolate eggs in the yard. But when we heard scurrying in the attic, our anxiety levels started to rise. We were already overwhelmed by a pipe bursting in the garage in February due to a flash freeze. Then we noticed droppings as the restoration company came and cleared out the garage. But we really didn't connect all the dots because simultaneously we were caring for my 85 year old grandmother who was on hospice care from terminal breast cancer. So our hands were a little full at the time. But when we saw evidence that there was probably a mouse or something, we had to make it a priority. I called 3 or 4 local companies for quotes. 2 came to the house and 2 acted like they could care less about actually securing my business but were willing to quote hundreds of dollars for the service. One thing that stood out was the other companies said they would plug the holes leading into the house, but 2 said they don't go into the attic. Well that's where we heard them and so it didn't make sense to not go in the attic to hunt them down. Then Kirby from ABC came out. He did a thorough inspection and designed a plan to attack the problem. They definitely weren't the cheapest company, but they provided the best proposal with the strongest warranty. So we pulled the trigger. The crew was very professional and plugged holes and set traps. And the we waited. But there were no dead mice for weeks. So they came back out and found more holes to plug. Then the rodents got more desperate. One was bold enough to entire the kitchen at night. I was ready to burn down the entire house. Frustration was level 10. By this point my grandmother had passed away. Grief plus phobia and a general sense of absolute exhaustion had settled in. All the techs that came out were nice, friendly, professional and courteous, BUT we were sick of the rats running our house. I was also frustrated by what seemed to be a long wait between reporting sightings and an available appointment time. Mark Rodriguez came out and did a good job observing the situation and he realized that a supervisor was needed for a solution. Enter Kenneth! He was absolutely amazing. Between crawling through the attic and discovering new holes to tracking down a food source (a case of mac snd cheese boxes) in the garage that my grandmother left months before her passing (she was always prepared for when her great-grandchildren came over), Kenneth understands the mind of a mouse and the rationale of a rat. He made it his mission to eliminate these evils. And one by one, he did. Kenneth is a hero in our household. He will be receiving a Christmas card this year. My grandmother's dying wish was to rid the house of these invaders, and Kenneth and his team were able to accomplish that. It was worth ever penny for the complete customer care and warranty on the work. If you are looking for a quality solution, you've found it. Be patient, because rodents can be tricky and hard to eradicate, but ABC is committed to the long haul."
Where To See the Best Holiday Lights in Houston
Wondering where to see the best holiday lights in Houston this year? Houston has a ton of sights and experiences to offer both locals and visitors year-round, and the holiday season is no exception. W...
Need Pest Control For Your Business?
We understand that businesses have different needs than residences. That's why we have specially trained technicians who can service your business.