Termite Control in Houston, TX
Termites cause billions of dollars in damage each year and we know this can be scary. Trust ABC to install and inspect the best termite elimination using the Sentricon Always Active baiting system. This system leaves an active barrier around your home to consistently target possible termite colonies. ABC will install these stations and inspect them twice a year during your regular maintenance service. We guarantee our work and results when fighting termites. That's why we offer to repair any damage in your home caused by termites on eligible residential homes.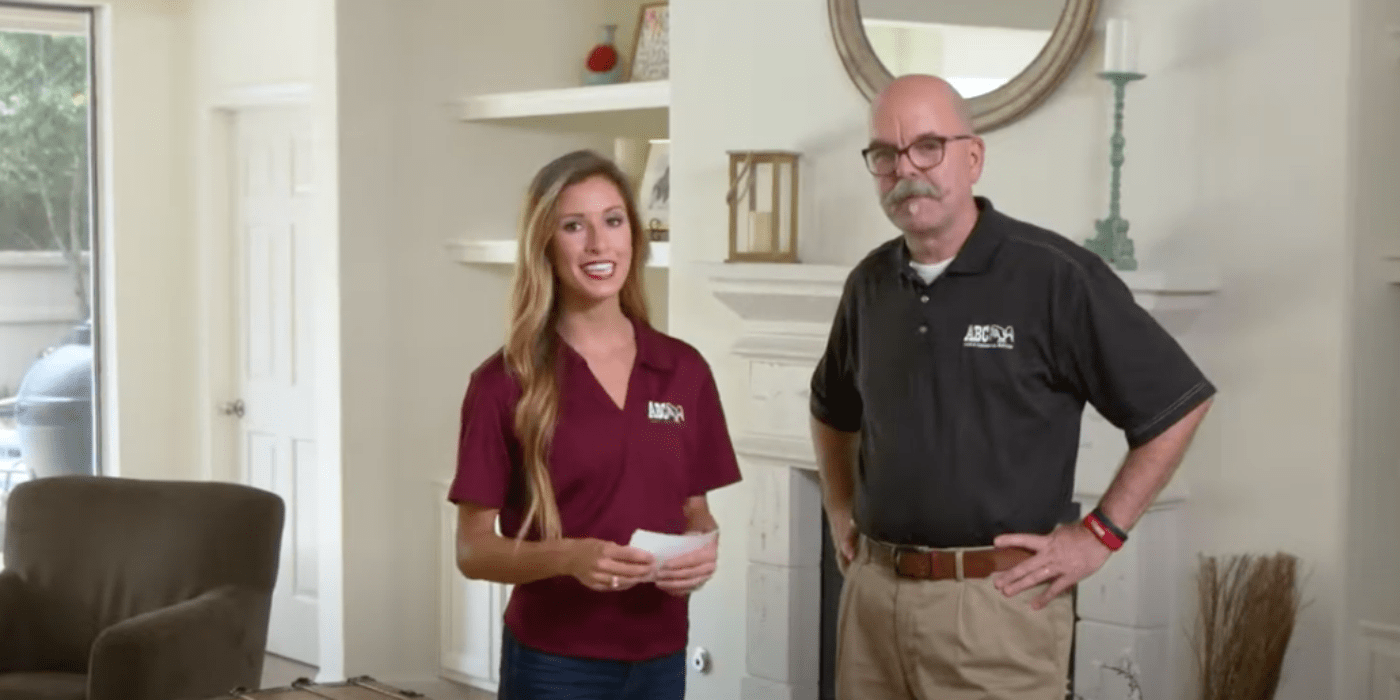 Download Transcript
ABC's Signature Service gives homeowners peace of mind when it comes to termites. After our technicians perform the initial inspection and recommend a course of action, we immediately apply treatments to the affected areas to eliminate existing colonies and prevent further damage.
The main product ABC uses for termite control is Sentricon, which is a bait system installed in stations placed in the ground around your home's perimeter. Since termites constantly forage to nourish the colony, Sentricon's cellulose-based bait offers a tastier alternative to the wood in your home. If you want to protect your home from termite activity, these stations will act as a highly-effective preventative barrier against these highly destructive pests.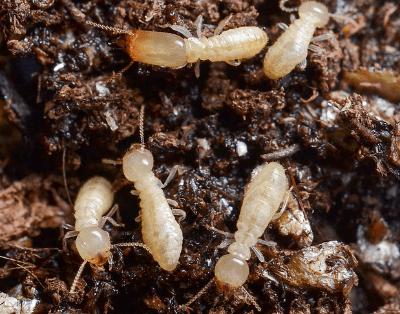 The pheromone tracks that termites lay encourage other members of the colony to visit the bait stations. Termites return to the colony to share the bait with the other members, including the queen. The active ingredient in Sentricon, Noviflumuron, stops the insect's molting process. Since termites need to molt periodically to survive, the termite will live long enough to share the bait with the other members of the colony before dying. The colony is eliminated once worker termites are unable to sustain the colony and when the queen ingests the bait, which prevents eggs from hatching.
This scientifically-proven solution is used to protect many of our national treasures, including the Alamo, the Statue of Liberty and White House and the U.S. Capitol. Homeowners do not need to be worried about using Sentricon, as the product was awarded the President's Green Chemistry Award for environmental safety.
ABC offers a termite warranty on your home once the Sentricon system is installed with a yearly maintenance agreement.
The ABC Process
1. Contact ABC
When you contact us, we will schedule an inspection to get an understanding of the problem. In some cases, we can give you a quote over the phone.
2. Get An Estimate
If you have an inspection, we will send you a custom treatment plan and estimate afterward. Once we get your approval, we will schedule your treatment.
3. Treatment
We will come to your property and treat for pests in common hiding and nesting areas. Over time, you will start seeing less and less pest activity.
4. Prevention
Customers with our ongoing pest management services will receive periodic retreatments to prevent the return of the most common pests in our area.
It is not unusual to see an increase in termites as we apply treatments which drive these insects out of their normal hiding spots. The good news is that the termites will carry Sentricon back to their nests, which will poison any insects who did not originally ingest the solution.
As part of our Signature Service, ABC commits to quarterly inspections of your property to review monitoring stations and to assure that no termites are on your property. If new colonies appear, ABC technicians will come back to apply treatments.
Homeowners can set up an automatic renewal of our Signature Service, and the service can be transferred to a new homeowner.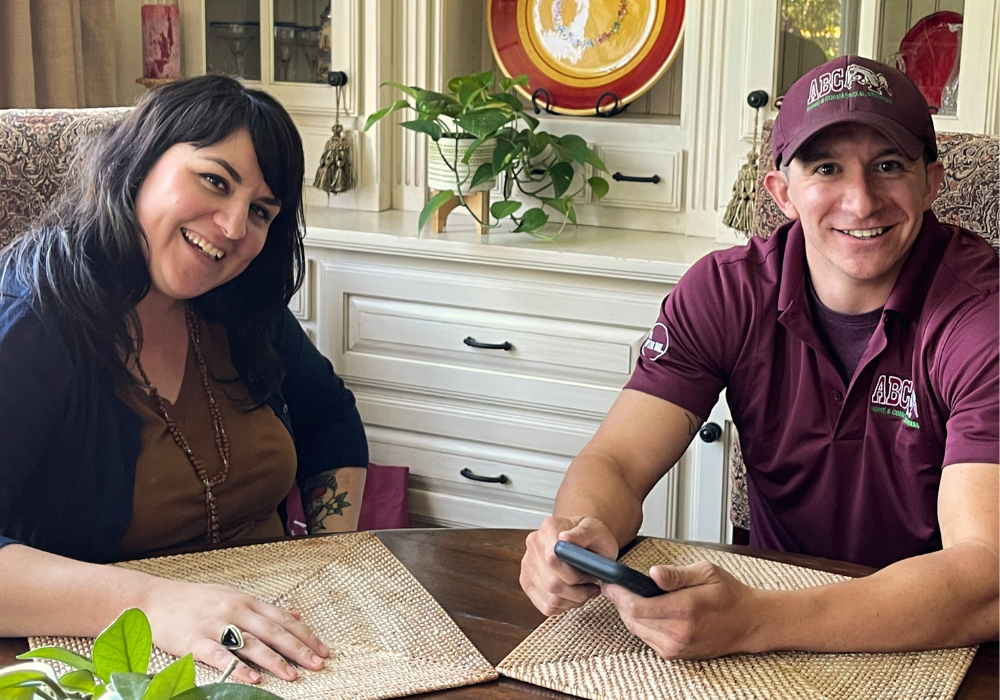 Get Started
We offer a full range of pest control services.
After extensive research, ABC selected Sentricon because it has been formulated to only impact termites and is not toxic to mammals. The active ingredient, Noviflumuron, is approved for use on homes which have a well or a cistern on the property, and even in coastal areas where houses are up on stilts.
Another preventative measure is called Termimesh, which is a product which is commonly installed during new home construction. Termimesh is a completely non-toxic metal screen which is 100% effective.
Your family's well-being is our top priority at ABC Home & Commercial Services. We work with our customers to develop effective treatments which minimize the use of chemicals, and our specialists apply treatments with the utmost concern for the safety of you, your children, and your pets. Customers can also request Material Safety Data Sheets on all the products we use. These documents provide detailed information about any potential risks.
Frequently Asked Questions
How soon can you come out?
We understand that once you see evidence of termites on your property, you want to act, and act quickly. Give us a call and we will send a pest control expert to your home as soon as possible to inspect your property for termites and recommend a course of action.
What happens during the free inspection?
Our inspectors will arrive at your home and will conduct a thorough inspection of your property. Our highly trained and knowledgeable technicians will assess the current damage, look for entry points around the exterior of your structures, and develop a treatment plan that is customized to meet your needs.
We will then provide you with a free estimate with a list of recommendations to address your termite problem. After a homeowner approves our recommendations, we will come up with a service plan that fits your schedule.
How often do you service my property?
The frequency of service depends on both the treatment plan that's been customized to meet your needs and the extent of your termite problem.
What can I do to prevent termites?
When building a new home, we recommend installing Termimesh, which is a metal screen found to be 100% effective in preventing termites. By using this protective barrier around service wires and pipes, homeowners can remove the most common entry point for these insects. Using treated lumber for new construction and remodeling also helps prevent termites from causing damage to your property.
On existing property, we suggest keeping any kind of wood or lumber piles away from the exterior of the home, and if possible raising stacks of wood off the bare ground with pallets or other support structures. Removing brush and undergrowth around your home is useful to rid your property of a possible food source for termites.
Another way to prevent a termite infestation is to minimize any water sources. Leaky spigots and standing water can be attractive to termite colonies. Also, we suggest our customers keep homes properly ventilated to prevent moisture buildup in the home, which can attract these hungry pests.
Sealing cracks or holes in the foundation is another way to prevent easy termite access. Our highly knowledgeable termite control experts can suggest other areas these insects might enter your property and other conditions which may attract these bothersome pests.
Do you service commercial facilities?
Yes. We provide effective long and short-term termite control services for our commercial clients. ABC is recognized as a leader in providing a full range of commercial services to businesses in a variety of industries.
Get Started
We offer a full range of pest control services.
More Pest Control Solutions in Houston
What Our Customers Are Saying
"Very friendly and helpful staff. On time and great service. They helped me trap and remove the mice that got into my house. The biggest part of their service is preventing them from coming in again. Every one of the people I dealt with either in the field or at the office were super nice! Highly recommend them. Very happy with my service."
"Professional staff, easy to schedule, and great communication. From the very first visit technician was efficient and pointed out a few areas to be aware of. Overall very impressed with quality of service. We have used ABC from the fall 2019 and still very satisfied. Our tech is amazing and does a great job addressing problem spots! We added the mosquito supression service and it has given us our outdoor space back! We love ABC and all techs are highly qualified and trustworthy!"
Need Pest Control For Your Business?
We understand that businesses have different needs than residences. That's why we have specially trained technicians who can service your business.
ABC's Complete List of Home Services in Houston
Why deal with multiple service providers when ABC can do it all?