Wildlife & Rodent Control
For most homeowners, finding a rodent or any other type of wild animal on your property is alarming. These larger pests are often responsible for a long list of problems, as they can knock over trash cans, spread diseases and even cause fires by chewing through electrical wiring. If you've spotted these unwanted guests around your home or have seen signs of wildlife activity, you should know you can rely on ABC Home & Commercial Services for wildlife removal and rodent control in Houston.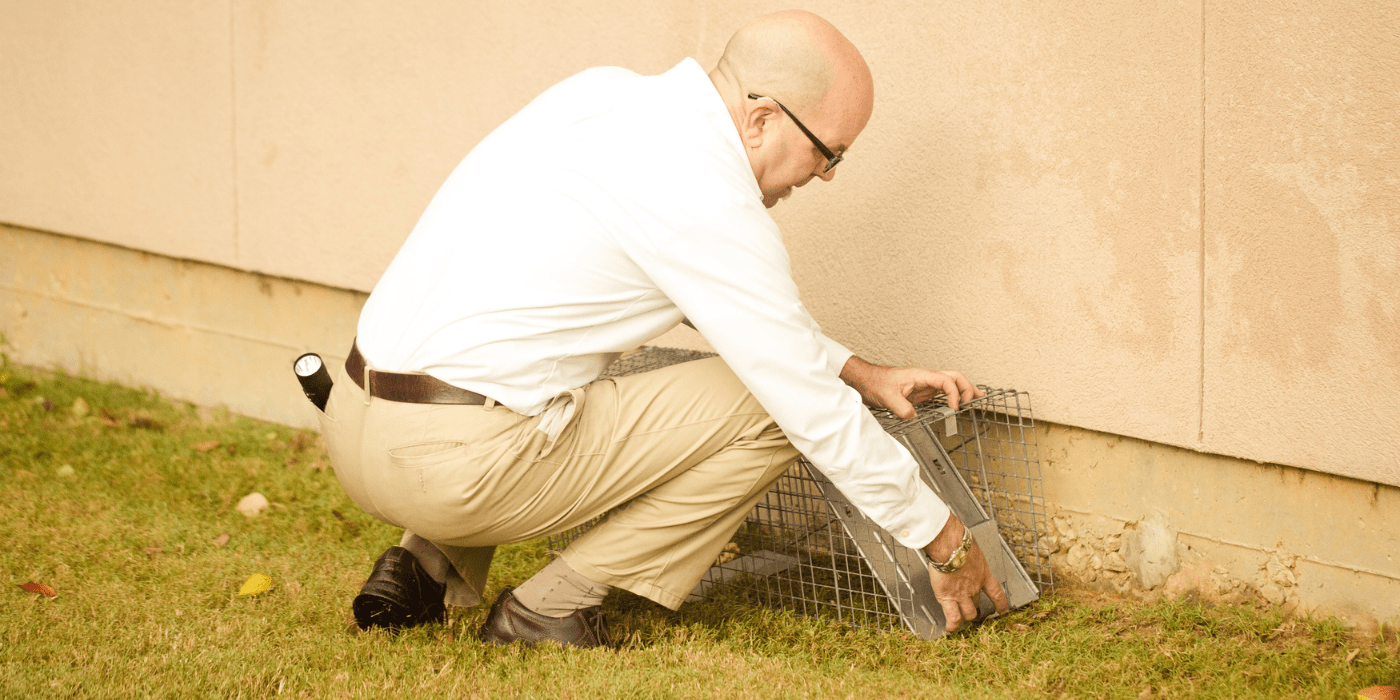 Wildlife Removal Experts You Can Trust
ABC is happy to help homeowners with any type of problem with rodents or other animals on residential properties. Our wildlife control specialists know exactly where these animals like to hide and can come up with a comprehensive plan to remove these animals from your property, and prevent them from gaining future entry into your home.
We are most commonly called for issues concerning:
Opossums

Squirrels

Skunks

Birds
An ABC specialist will determine where these creatures are living and nesting, then set traps to remove them from your property. When all these creatures are out of your attic, crawl spaces, garage, sheds and living spaces, we will seal off entry points that wildlife could use to gain entry to your home in the future and set up barriers in areas that can not be sealed off, including vents and chimneys. 
Signs of larger pests in and around your home
The thought of a large creature greeting you at your trash cans is scary, but the thought that these uninvited guests may have entered your home is more than enough to seek wildlife control services. 
There are several signs you may have been visited by a rodent or other large pest:
Droppings, which can vary in size from a grain of rice to a much larger size.

Burrows or nesting sites, which could be in the dirt in and around your home providing shelter for rodents.

Gnaw marks on wood, wires and other household items.

Noises coming from your attic, chimney,

within your walls

or from under your deck or patio.

Overturned trash cans or damage to pet food or bird seed containers.
Wildlife removal technicians can advise you on how to make your property less attractive to animals. Advice may include bringing pet food and water bowls inside at night, removing food and moisture sources in your outdoor spaces and cutting back vegetation around the perimeter of your home which can provide a refuge for any unwelcome visitors. If any of these signs seem familiar, contact us today for a free consultation.
The ABC Process
Step 1: Contact ABC
When you contact us, we will schedule an inspection to get an understanding of the problem. In some cases, we can give you a quote over the phone.
Step 2: Get An Estimate
If you have an inspection, we will send you a custom treatment plan and estimate afterward. Once we get your approval, we will schedule your treatment.
Step 3: Treatment
We will come to your property and treat for pests in common hiding and nesting areas. Over time, you will start seeing less and less pest activity.
Step 4: Prevention
Customers with our ongoing pest management services will receive periodic retreatments to prevent the return of the most common pests in our area.
If you have any type of pest control problem, get started on the path to a solution by contacting us for your  free inspection. During the inspection, an ABC pest control expert will come to your property, learn more about your problem and conduct a thorough evaluation of your home and its surroundings.
After gathering information, along with having a better understanding of any needed repairs, they will present you with a no-obligation treatment plan. As soon as you approve the treatment plan, we can schedule your first appointment. We will work quickly to remove any pests, make any necessary repairs and get you back to enjoying your home, inside and out.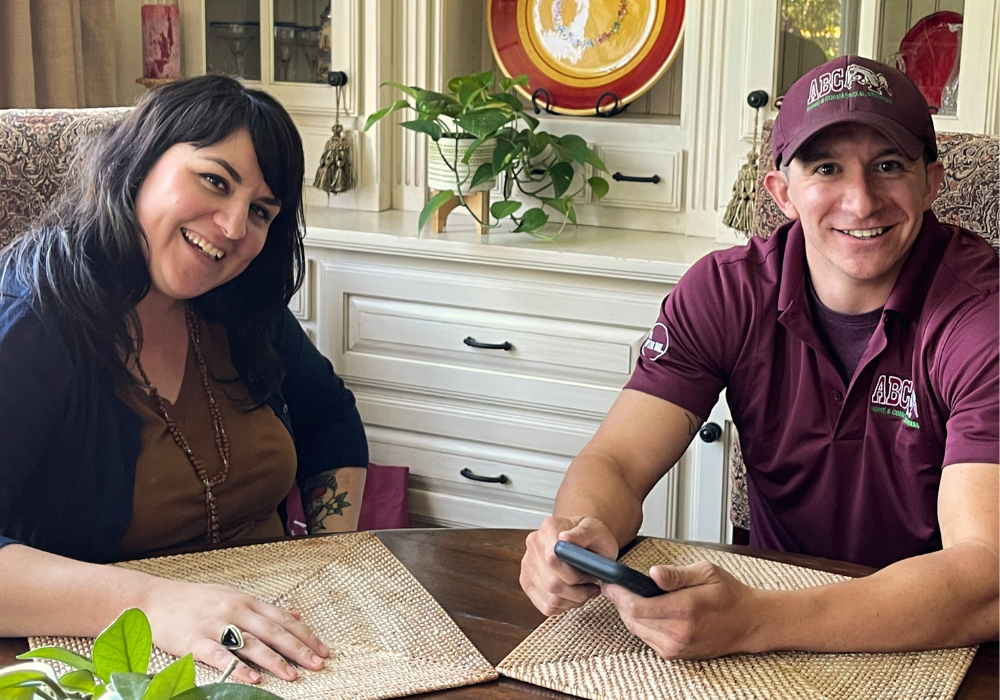 Get Started
We offer a full range of pest control services.
At ABC Home & Commercial Services, the well-being of your family and pets is our top priority. We work with our customers to develop effective treatments which minimize the use of chemicals, and our specialists apply treatments with the utmost concern for the safety of you, your children, and your pets. Customers can also request Material Safety Data Sheets on all the products we use. These documents provide detailed information about any potential risks.
Frequently Asked Questions
How soon can you come out?
We understand that once you see signs a mouse, rat or another pest has been on your property, you want to find a solution—fast. Give us a call and we will send a pest control expert to your home as soon as possible to inspect your property and recommend a course of action.
What does your rodent exclusion warranty cover?
ABC customers who sign up for our Rodent Exclusion service gain peace of mind knowing that our technicians will come back regularly to check traps. If you see a rat or mouse between these service calls, let us know. We will return to your property in between scheduled visits, at no additional cost to you.
Unfortunately, some properties are more susceptible to rodent re-infestations than others. For example, spaces between Spanish tiles make it easy for rodents to nest and find their way inside. Likewise, pier and beam structures are vulnerable to rodent activity because they have large crawl spaces underneath that can't be completely sealed off. Since we cannot guarantee results in these cases, our traditional warranty does not extend to these types of properties. When we have our initial conversation with you about your rodent problem, we will go over the treatment plan we'd recommend to best meet your needs, given the unique characteristics of your property and your particular infestation.
How can I prevent a rodent or another type of wildlife from making my property its home?
It's much easier to prevent rodents and other pests from entering your property than to deal with them once they are there. Homeowners can take the following preventative measures to help guard against these pests:
Seal cracks, gaps and holes along your home's exterior.

Although it's unlikely you have any spaces for raccoons to enter your home, keep in mind that mice can squeeze through holes the size of a nickel, while rats can find their way inside through gaps the size of a half dollar.

Remove potential food sources.

Make sure you seal pet or birdseed tightly and that your trash cans are closed securely. Inside your home, clean up spills quickly, keep your food stored in containers with lids and put your dishes in the dishwasher after you conclude your meals.
Make your yard less hospitable for pests. Keep your outdoor spaces neat and tidy by keeping up with mowing, pruning and trimming, so there are fewer places for these animals to hide. Keep wood piles away from your home and remove possible nesting sites, like old tires.
Get Started
We offer a full range of pest control services.
More Pest Control Solutions in Houston
What Our Customers Are Saying
"I would definitely recommend ABC!! They were professional, courteous, and did a great job. During the treatment my blinds had to be removed, and they graciously put them back up before they left. Blair came three weeks later to do a follow-up check and was extremely friendly and helpful. He gave me more information and suggestions in regards to staying bed bug free. He even carried my large Amazon package into the garage for me. I would definitely recommend them for all your pest control needs. ⭐️⭐️⭐️⭐️⭐️"
"Do your research, but this is the company to choose for your pest and rodent control. A new townhouse community is being developed in an adjacent wooded field, so all these woodland creatures started relocating to our established neighborhood. I get it, this land was theirs before it was ours, but after 20 years, they had no right to move into my house rent free. The cute hares/ rabbits were ok at first. They would flop around, and the worst they would do is leave small chocolate eggs in the yard. But when we heard scurrying in the attic, our anxiety levels started to rise. We were already overwhelmed by a pipe bursting in the garage in February due to a flash freeze. Then we noticed droppings as the restoration company came and cleared out the garage. But we really didn't connect all the dots because simultaneously we were caring for my 85 year old grandmother who was on hospice care from terminal breast cancer. So our hands were a little full at the time. But when we saw evidence that there was probably a mouse or something, we had to make it a priority. I called 3 or 4 local companies for quotes. 2 came to the house and 2 acted like they could care less about actually securing my business but were willing to quote hundreds of dollars for the service. One thing that stood out was the other companies said they would plug the holes leading into the house, but 2 said they don't go into the attic. Well that's where we heard them and so it didn't make sense to not go in the attic to hunt them down. Then Kirby from ABC came out. He did a thorough inspection and designed a plan to attack the problem. They definitely weren't the cheapest company, but they provided the best proposal with the strongest warranty. So we pulled the trigger. The crew was very professional and plugged holes and set traps. And the we waited. But there were no dead mice for weeks. So they came back out and found more holes to plug. Then the rodents got more desperate. One was bold enough to entire the kitchen at night. I was ready to burn down the entire house. Frustration was level 10. By this point my grandmother had passed away. Grief plus phobia and a general sense of absolute exhaustion had settled in. All the techs that came out were nice, friendly, professional and courteous, BUT we were sick of the rats running our house. I was also frustrated by what seemed to be a long wait between reporting sightings and an available appointment time. Mark Rodriguez came out and did a good job observing the situation and he realized that a supervisor was needed for a solution. Enter Kenneth! He was absolutely amazing. Between crawling through the attic and discovering new holes to tracking down a food source (a case of mac snd cheese boxes) in the garage that my grandmother left months before her passing (she was always prepared for when her great-grandchildren came over), Kenneth understands the mind of a mouse and the rationale of a rat. He made it his mission to eliminate these evils. And one by one, he did. Kenneth is a hero in our household. He will be receiving a Christmas card this year. My grandmother's dying wish was to rid the house of these invaders, and Kenneth and his team were able to accomplish that. It was worth ever penny for the complete customer care and warranty on the work. If you are looking for a quality solution, you've found it. Be patient, because rodents can be tricky and hard to eradicate, but ABC is committed to the long haul."
Where To See the Best Holiday Lights in Houston
Wondering where to see the best holiday lights in Houston this year? Houston has a ton of sights and experiences to offer both locals and visitors year-round, and the holiday season is no exception. W...
Need Pest Control For Your Business?
We understand that businesses have different needs than residences. That's why we have specially trained technicians who can service your business.