AC Repair in Round Rock, TX
Months of high temperatures in Central Texas make our air conditioners one of the most beloved objects in our home. Unfortunately, this dependence often leads to these hardworking appliances becoming overtaxed and eventually breaking down. When it comes to AC repair, Round Rock, TX homeowners know that ABC Home & Commercial Services will solve your problem—and get your system back up and running quickly.
Comprehensive Air Conditioning & Heating Services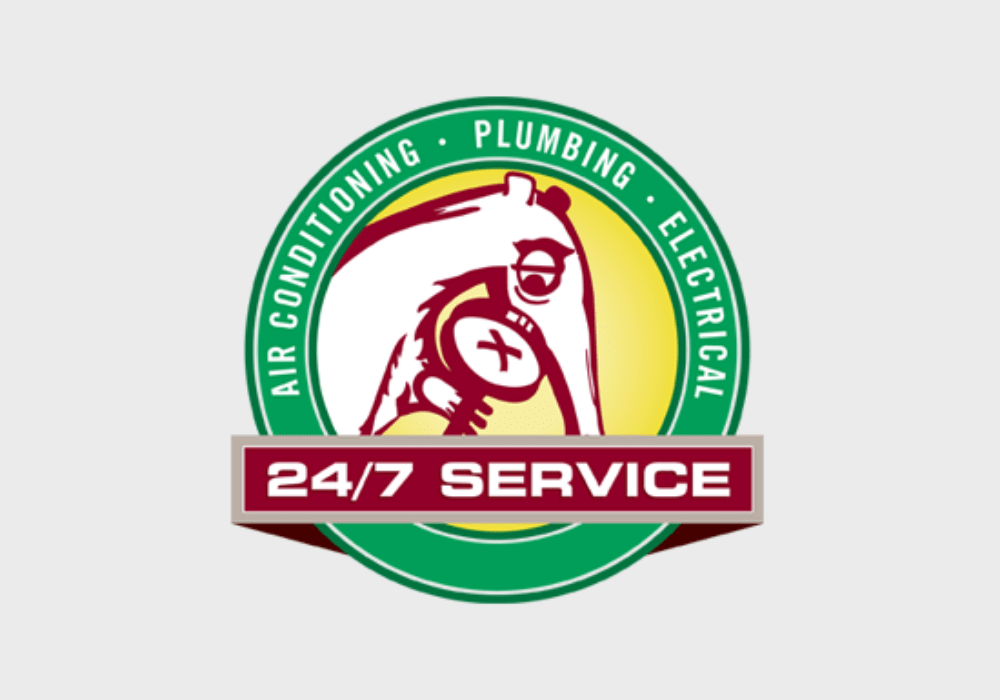 24/7 Emergency Service Available
We understand how unpleasant it can be when your air conditioner underperforms, or stops working completely, which is why we work hard to respond to service requests as quickly as possible.
Our experienced technicians can get to your house, diagnose your issue and start working on a solution, usually within a business day of your giving us a call.
The best way to get the ball rolling is to contact us at (512) 837-9500.
The ABC Process
1. Contact ABC
When you contact us, we will schedule a service call to evaluate the problem. For emergencies, we will send a pro to your home as soon as possible.
2. Get An Estimate
We'll provide you with an estimate for all needed services. Once we get your approval, our pros will get right to work.
3. Perform Services
We will work quickly to perform the desired services. At the end of your service call, we'll update you on what we did and any other needed follow-up.
4. Ongoing Maintenance
Customers who sign up for our Advantage Maintenance Plan receive two tune-ups a year and peace of mind that their system is working as it should.
ABC customers can take advantage of our Advantage Maintenance Plan (AMP) so that they don't have to worry about keeping up with routine tasks that can help their system be more efficient and have a longer service life. Also, our technicians are able to spot any potential issues and make needed repairs so that you don't have a bigger problem on your hands down the line. ABC's AMP customers can rest easy, knowing that a technician will come twice a year to perform diagnostic tests and make everything is running at peak efficiency. These service calls are scheduled prior to heating and cooling season so you can feel confident your system won't experience issues right when you need it the most. Better yet, at the end of each tune-up you'll get a written report detailing what we did and giving you any helpful information about how to keep your AC and heater working its best in between visits.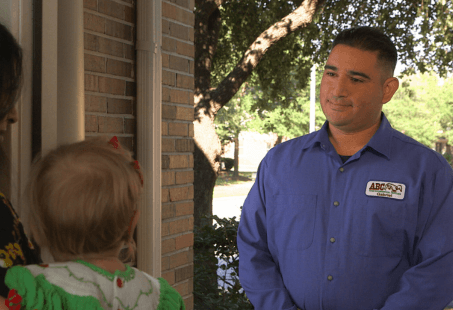 Get Started
We offer a full range of AC & heating services.
Our licensed and skilled technicians genuinely care about the well-being of your home and are available 24 hours a day to handle your heating or cooling emergencies. We understand the vital role air conditioners play in Texans homes, meaning you'll need these machines working as soon as possible. Our background-checked, drug-tested employees are chosen with great care, so that you can feel safe having an ABC employee in your home. Perhaps most importantly, we treat your home as we would our own.
Frequently Asked Questions
What kind of AC repairs do your technicians perform here in Round Rock?
ABC skilled technicians have experience addressing all kinds of air conditioning issues, no matter the make or model.
Our team of skilled technicians are frequently called to Round Rock homes.
The common AC problems they handle include:
Refrigerant Leaks
When your refrigerant is not at manufacturer-recommended levels, you may notice your AC having a harder time cooling your indoor air. Since your system should not lose refrigerant over time, these problems are usually associated with a leak or not having the right amount in your unit when your AC was installed. Inhaling refrigerant is extremely dangerous and can lead to potential respiratory issues, so the best way to troubleshoot a refrigerant problem is calling in a qualified HVAC professional. ABC's qualified technicians can locate the source of your leak, make any needed repairs and get your refrigerant back to the right level.
Frozen Evaporator Coil
Your evaporator coil is the part of your AC system that brings your air to the desired temperature. If airflow is compromised, usually because of a dirty filter, this component can freeze. ABC's experts can pinpoint the source of the problem and resolve any issues that could be compromising the proper functioning of this important part of your AC.
Lack Of Regular Maintenance
Proactive maintenance measures help your unit last longer and work more efficiently. Frequent check-ups also help you avoid those unwelcome and often expensive repairs. While you can change our your filter frequently, most of the diagnostic checks that will keep your unit running at peak performance are best performed by an AC professional. ABC's knowledgeable technicians can carefully check every part of your system on a regular basis and test your unit's performance to ensure everything is operating smoothly.
Electrical Issues
While there are ultimately a number of reasons your air conditioning unit could have stopped working, electrical problems can be one of the possible culprits. Whether you are dealing with a breaker issue or wires that are corroded, frayed or otherwise faulty, ABC can address any problem you may be having that disrupts the electrical flow from your AC and keeps it from working.
Malfunctioning Thermostat Sensors
When the sensors that direct the operation of your AC system get out of position, the temperatures it displays will be incorrect, causing your unit to heat or cool your house incorrectly. ABC's experts can handle this problem quickly so that your system once again gets your living spaces to the desired temperature.
Energy Inefficiencies
You may be able to get better performance out of your current system by adding insulation to your attic, ensuring your ductwork is installed and sized correctly, applying a solar film to your windows and improving your indoor air quality. ABC's team of specialized technicians can also assist you in identifying rebates and other incentives you might qualify for to lower your up-front costs.
Drainage Problems
Moisture build-up often leads to rusty parts, which lead to both your system underperforming and your condensate drain becoming clogged. Typically, these problems stem from improper unit installation, which is something our technicians can quickly identify and correct.
What other services does ABC provide for air conditioners?
Our qualified technicians can replace your entire system, perform preventative maintenance, suggest energy improvements and make your life easier by helping schedule regular filter deliveries.
Can ABC technicians in Round Rock also fix heaters?
We sure can! While ABC is known for our reliable and expert AC service and installation, our skilled technicians are also qualified to handle routine maintenance for heaters, as well as taking care of any needed repairs.
How do I know when I should begin the search for a new air conditioner?
The answer varies from case to case, but generally, it's best to start considering an upgrade once the cost of maintaining your system has gotten close to the cost of purchasing a newer model. Basically, if you find yourself making repairs several times a year for at least a year or two in a row, you should probably begin looking into making this investment.
Another factor to consider when doing your research is energy efficiency. Updated models can end up saving you close to 40% on the cost of cooling your house. These savings add up tremendously over time.
Need to talk? ABC's heating and cooling professionals are happy to sit down with you to provide answers to any questions you might have about purchasing and installing a new unit. We can help you weigh the pros and cons for different units, and also provide you with information on what rebates or financing might be available. Ultimately, we understand what an investment a new air conditioning system will be, and how important a working AC is for those of us who live here in central Texas. To give our customers and added peace of mind, we offer a one-year guarantee to anyone who takes advantage of our installation services to ensure you're completely satisfied with your purchase.
What does this guarantee mean? If anything goes wrong during the first year, we'll cover the cost of repairs. If you decide you're not happy with your new system, we'll issue you a refund.
Get Started
We offer a full range of AC & heating services.
Additional AC & Heating Service Areas in Greater Austin
ABC serves many surrounding communities, including, but not limited to:
Bastrop
Bee Cave
Brushy Creek
Buda
Cedar Park
Dripping Springs
Elgin
Georgetown
Hutto
Kyle
Lago Vista
Lakeway
Leander
Liberty Hill
Lockhart
Manor
Pflugerville
Rollingwood/West Lake Hills
Round Rock
San Marcos
Shady Hollow
Smithville
Spicewood
Sunset Valley
Taylor
Wimberley
What Our Customers Are Saying
"I hired the handyman service from ABC to take care of miscellaneous stuff around my house that has been long overdo! They sent Robert (Bob) who was terrific! He came over with a smiling face on a Monday morning!! I found him very knowledgeable and proficient about his trade. He has a "can do" attitude which was truly appreciated. I would highly recommend him! A really nice guy!"
"First time using ABC and have been very pleased so far. They are very professional, their specialties and technicians are very well informed and trained in their departments. We have spoken to the rodent control and the AC department. Everything was relayed to me about the process and the follow up was very through from start to finish with emails, phone calls and detailed reports. Very impressed with their whole process. Great job ABC!!!"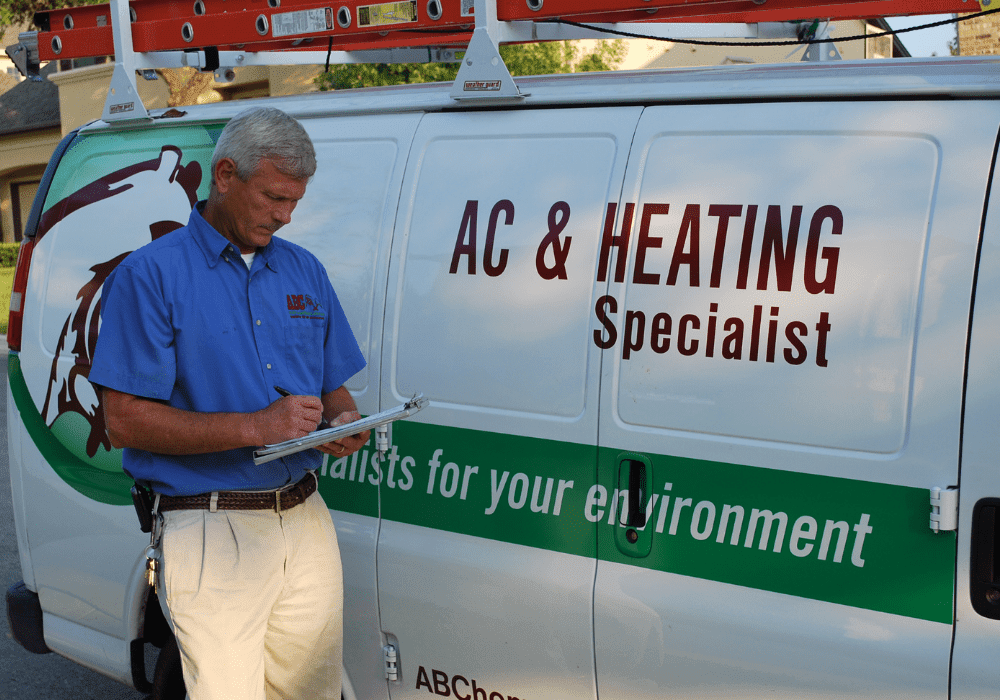 Need Heating & Cooling Services For Your Business?
We understand that businesses have different needs than residences. That's why we have specially trained technicians who can service your business.
ABC's Complete List of Home Services In Austin
ABC serves many surrounding communities, including, but not limited to: