Austin Holiday Lighting
Festive lighting can get you into the spirit of the season. But, installing and removing these decorations can be time-consuming and dangerous, since this work involves ladders and electricity. When it comes to Christmas lights installation in Austin and holiday lighting, Austin homeowners trust ABC Home & Commercial Services. We can get the job done safely and on time so you can spend more time with family and friends.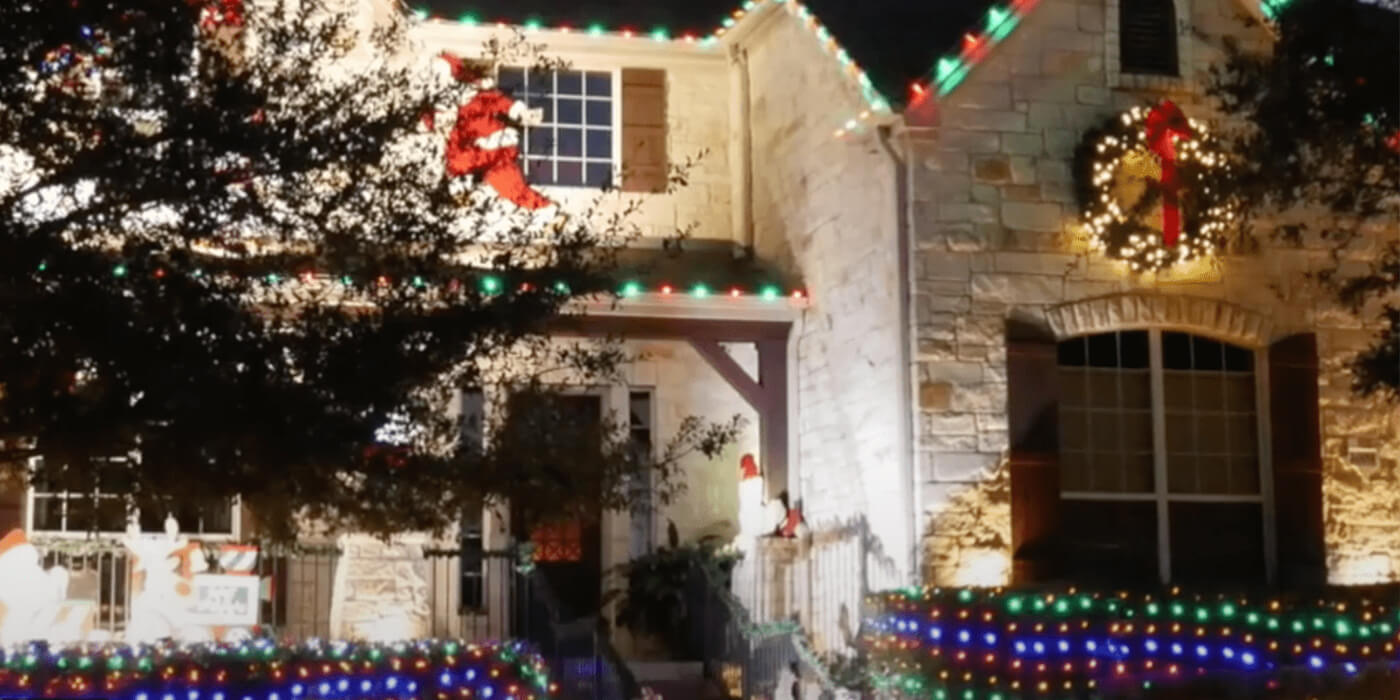 Download Transcript
Professional Christmas Lights Installation
Our skilled and professional staff can take on any outdoor lighting project, large or small. A sample of the event and holiday lighting Austin homeowners regularly rely on ABC for includes:
Installation of festive lights along your eaves, driveway and walkways and in your shrubs and trees.
Drawing attention to your windows, doors, archways and fascia with decorative lighting.
Highlighting your mailbox with Christmas lights.
Illuminating your outdoor living spaces where you host special gatherings with attractive and soft lighting.
Designing a custom event or holiday lighting display based on your style and budget.
Using thoughtful, low-profile lighting to direct your guests toward event entryways.
ABC can provide you with nearly any color of LED holiday lighting, including clear, white, red, green, yellow, orange and blue lights. Even better, we can also provide you with wreaths, lighted garland and bows. Every decoration that ABC provides is high-quality to make the best impression on your guests and visitors.
After an event or the holidays, the last thing you want to do is to take down all those decorations. ABC wants to make your life easier, so as a part of our Event and Holiday Lighting services, our technicians will return to your home and take down your lights, even taking the extra time to pack them away safely.
Taking the time and effort to correctly store your decorations will help ensure that you can have everything you need—in full working order—for your next event or the following holiday season.
The ABC Process
Step 1: Contact ABC
When you contact us, we'll ask questions to get an idea of what you're looking for. For example, we may ask about color schemes or design preferences.
Step 2: Get An Estimate
We'll provide you with an estimate for all needed services.
Step 3: Perform Service
We will work quickly to hang your lights and perform any other agreed-upon services.
Step 4: Pack Up Your Lights
When the holiday season ends, we'll return to your home to take down all the decorations. We put everything in boxes so you are ready for next year.
Don't feel like dealing with all those boxes in your attic? Don't even want to think about that massive tangled pile of lights from last year? No problem!
ABC supplies you with everything you need to turn your vision into a reality. From lights to cords, you can purchase everything you need for your outdoor lighting project directly from us. Take advantage of most energy-efficient options now available so you can save on your utility bills and get the holiday display you've always wanted.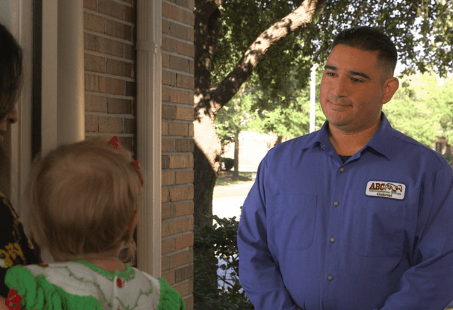 Get Started
We can get your home ready for the holidays.
ABC is the leading home services company in the greater Austin area. Homeowners trust us on their property because we take the time to hire only the best employees, we conduct thorough background checks and drug testing on all our hires and we give our technicians the training and tools they need to exceed our customers' expectations consistently. We treat your home as we would our own so you can make the most of your free time.v
Frequently Asked Questions
How far in advance do I need to reserve my event and holiday lights installation services?
ABC is here to help make homeowners' lives easier all year long. We understand that during the holidays and before events you host, this assistance is even more important.
We recommend homeowners contact us in early November to reserve your spot for Holiday Lighting.
For year-round event lighting services, 8-weeks prior is recommended so that we can create a plan and install on time for a successful event.
The holidays are a busy time for homeowners, so ABC is ready to help get you ready for what can be the most stressful few months of the year. That said, ABC has a limited number of appointments each holiday season for event and holiday lighting, so we encourage you to book as early as possible so that you don't miss out.
How early can we have our lights installed?
We can install your Christmas lights in early October so that you don't have to worry about getting this done later in the season when things get more busy. We recommend contacting us as early as possible, as our schedule tends to fill up quickly.
What if I have a problem with my display after installation?
ABC has been installing outdoor lighting in the Austin area for years. As part of our process, your lighting pros will do extensive checks to make sure everything is working before leaving your property. In the rare case where bad weather or another electrical problem causes some problem, ABC will return to make sure your lights display is up and running again.
What if my lights need maintenance? For example, what happens when a timer goes out?
ABC holiday lighting customers can have peace of mind knowing that if your lights require any maintenance, we will come out and fix the problem for you. Whether a timer goes out or a bulb needs replacing, just reach out. We will send someone back to your home to make everything right, at no additional cost to you.
How will you attach the lights to my house?
ABC's trained technicians use universal clips to attach your lights to your home. This approach protects your property from the damage from using tools like screws or nails. These clips also allow our installers to quickly remove the lights from your home when the holiday season is over.
Where are the lights stored after you take them down?
When the holiday season comes to a close, we will take down your holiday lighting and decorations and place them carefully in storage boxes so that you can easily access them next season. When you choose ABC for your holiday lighting the following year, your costs will decrease significantly, as you have already invested in high-quality decorations. Of course, if you decide you want to add on additional lighting, wreaths, garlands or bows, we can always help you enhance your display from year to year.
What other services does ABC provide that can help me get ready for my event or the holiday season?
One of the benefits of selecting ABC for your outdoor lighting is that we also provide a wide range of other home services. Count on ABC to help you get your home ready by taking advantage of these other services:
All of these "little" tasks can add up to a lot of time when you are getting ready for your event or the holidays. Trust ABC to take care of all these to dos so that your home can look its best and you can enjoy these special occasions.
Get Started
We can get your home ready for the holidays.
What Our Customers Are Saying
"My house backs up to a lot of vegetation and I was getting a ton of spiders and bugs in my house. I started using ABC Pest Control about 5 years ago. (They spray 6 times a year). They do an awesome job and I'll continue to use them. Maybe once or twice in 5 years, I've asked them to come out off their usual schedule to spray for the Chupacabra-scorpion and they are happy to accommodate my request."
"Positive experience from the initial contact! My dogs alerted me to something in my attic. I scheduled the first available date for service and when an earlier date became available ABC contacted me immediately. I moved up my appointment and they came out the very next day. The service representative was extremely friendly, informative, accommodating and thorough. He went above and beyond the call of duty with extreme patience to address to my concerns, respond to all issues and thoroughly explain what was being done. I could not have hoped for a better experience!"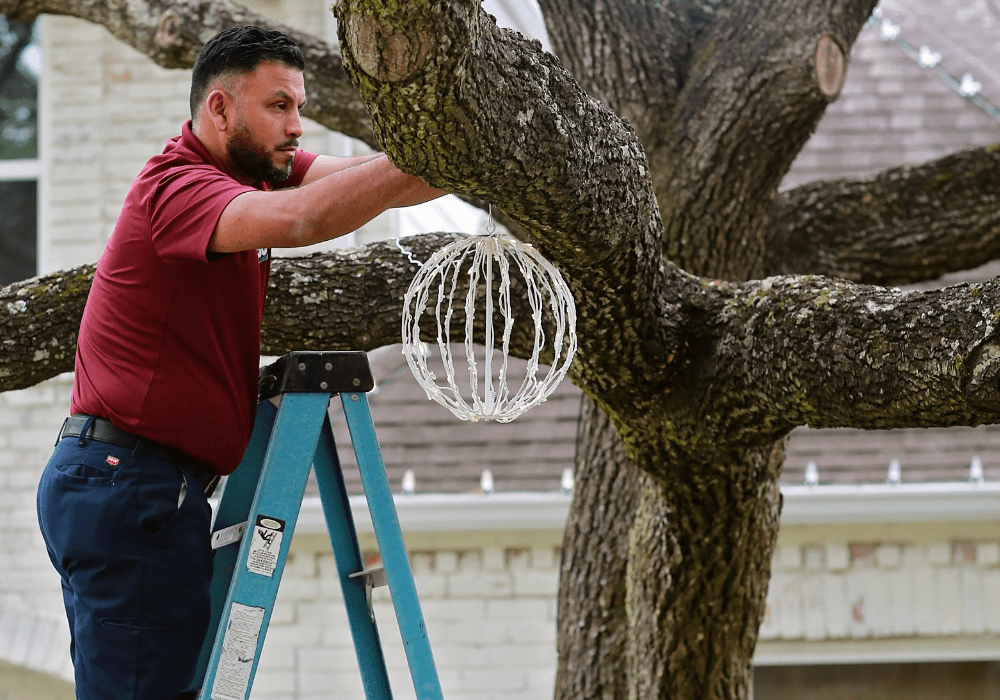 Need Holiday Lighting Services For Your Business?
Spread holiday joy to your customers. We can get your business beautifully decorated for the holiday season!
ABC's Complete List of Home Services in Austin
Why deal with multiple service providers when ABC can do it all?