Pre-Construction Termite Control in Austin, TX
The warm, humid climate in Central Texas makes our area a hotbed for pest activity, including termites. The most effective way to protect your biggest investment from these destructive pests is by installing Termimesh during construction. The experts at ABC Home & Commercial Services can work with you to ensure this proven, non-chemical solution serves as an effective physical barrier to keep termites away from your home.
The EPA reports that steel mesh barriers "have been shown to perform effectively as physical barriers" for termites. Termimesh takes that basic principle and improves on it with a unique, woven mesh of non-corrosive stainless steel that termites simply can't penetrate.
Termites can't eat through it, crawl through it, break through it or get around it. And to ensure proper installation and high quality, Termimesh only allows accredited and licensed installers—such as ABC Home & Commercial Services in Austin—to perform installations.
The ABC Process
1. Contact ABC
When you contact us, we will schedule an inspection to get an understanding of the problem. In some cases, we can give you a quote over the phone.
2. Get An Estimate
If you have an inspection, we will send you a custom treatment plan and estimate afterward. Once we get your approval, we will schedule your treatment.
3. Treatment
We will come to your property and treat for pests in common hiding and nesting areas. Over time, you will start seeing less and less pest activity.
4. Prevention
Customers with our ongoing pest management services will receive periodic retreatments to prevent the return of the most common pests in our area.
Keeping termites out with Termimesh means zeroing in on the areas where termites will try to get in. For that reason, Termimesh is a non-chemical, permanent barrier, that is used in very specific places in the home's slab.  It's essentially a stainless steel barrier to keep termites out.
For example, even before your builder pours the concrete for your slab, we encase all of the pipes that come through the slab for your plumbing system, with Termimesh, leaving no gap for termites to slip through.
In short, if there's a way termites will try to get in, we block it with Termimesh.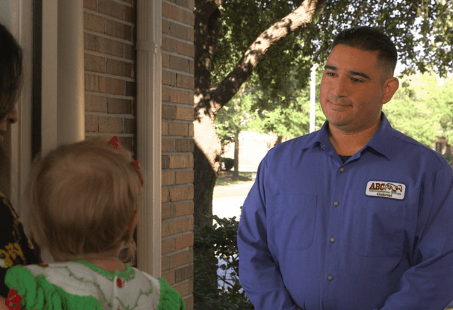 Get Started
We offer a full range of pest control services.
You can rest easy with ABC's friendly and experienced service team at your home. Not only do all employees undergo a thorough criminal history check and drug screening, but ABC carries all required licenses and certifications for services.
Frequently Asked Questions
Is Termimesh a reputable and established solution?
In a word: yes! Termimesh has been around for more than two decades and Termimesh technology protect hundreds of thousands of homes.
Leading architects and builders recognize the value that Termimesh delivers. Homeowners appreciate the fact that Termimesh is an environmentally friendly, non-chemical solution that lets you avoid the use of chemicals.
When do I choose Termimesh and when do I choose a different termite treatment?
There are a number of effective ways to address termite problems. However, Termimesh can only be installed as part of a new construction. We are experienced at working with architects and home builders to ensure proper installation of your Termimesh barrier.
We offer other effective termite treatment options for existing constructions.
Get Started
We can create a treatment plan that targets these pests, so you can have peace of mind.
More Pest Control Solutions
What Our Customers Are Saying
"I hired the handyman service from ABC to take care of miscellaneous stuff around my house that has been long overdo! They sent Robert (Bob) who was terrific! He came over with a smiling face on a Monday morning!! I found him very knowledgeable and proficient about his trade. He has a "can do" attitude which was truly appreciated. I would highly recommend him! A really nice guy!"
"First time using ABC and have been very pleased so far. They are very professional, their specialties and technicians are very well informed and trained in their departments. We have spoken to the rodent control and the AC department. Everything was relayed to me about the process and the follow up was very through from start to finish with emails, phone calls and detailed reports. Very impressed with their whole process. Great job ABC!!!"
Need Pest Control For Your Business?
We understand that businesses have different needs than residences. That's why we have specially trained technicians who can service your business.
ABC's Complete List of Home Services In Austin
Why deal with multiple service providers when ABC can do it all?