Sprinkler Repair in Austin, TX
Here in Austin, a working sprinkler system can mean the difference between a thriving, green lawn and a wilting eyesore. If your lawn is starting to suffer, despite your best efforts, your irrigation system may be the culprit. When in need of sprinkler repair, Austin homeowners count on ABC Home & Commercial Services. Our pros can diagnose and fix any issues you may be having, so your lawn and yard will flourish.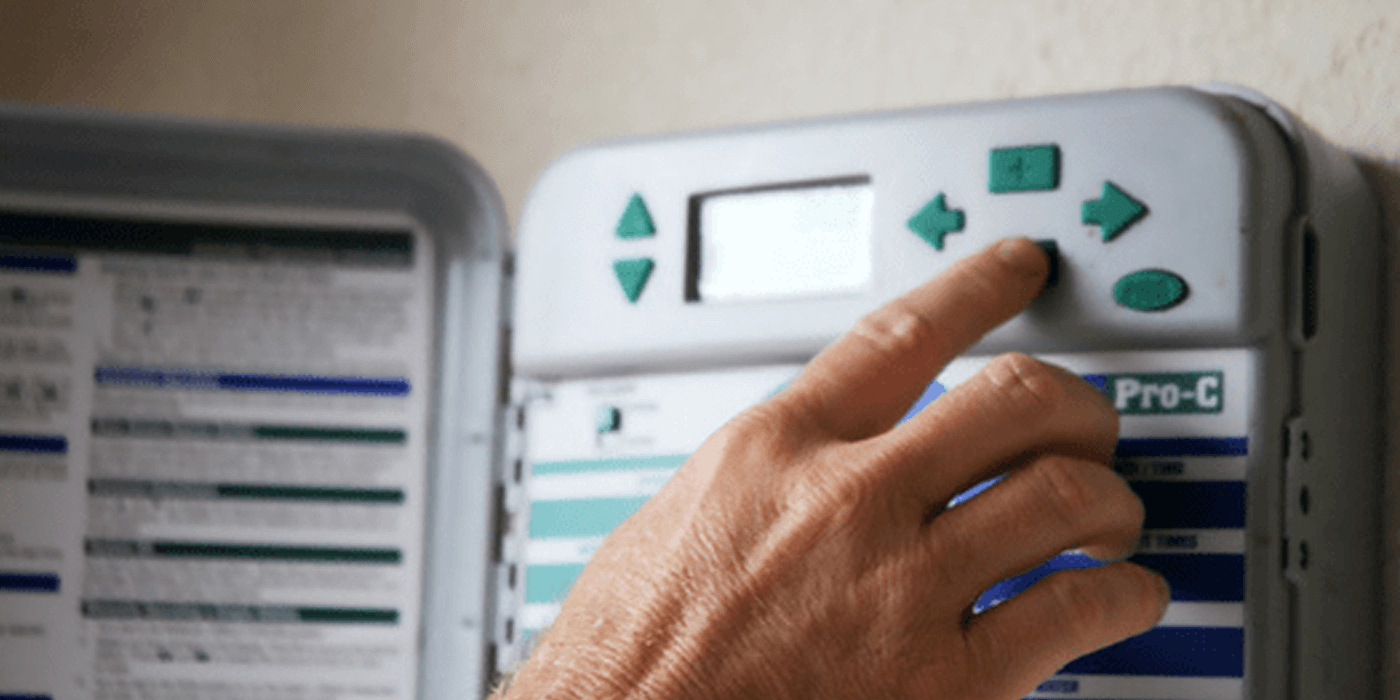 Download Transcript
ABC's experienced irrigation technicians can handle any problems you may be facing with your sprinklers, including routine maintenance.
Our pros routinely help Austin homeowners with the following types of sprinkler repairs:
Leaks
Broken, tilted, sunken, blocked or missing sprinkler heads
Malfunctioning valves
Improper spray patterns
Excessive pressure
Low pressure
Overspray
Poor spacing between heads
Clogged nozzles
Missing check valves
Split lateral or main lines
Faulty controllers
We can also work with you to modify your watering schedule over the course of the year to better suit your landscape.
The ABC Process
1. Contact ABC
We'll learn what you need over the phone or during an in-person meeting at your home. Usually, we can schedule an appointment in a few business days.
2. Get An Estimate
We'll provide you with an estimate based on your goals and our recommended set of services. Once we get your approval, we will get you on the schedule.
3. Service
Our trained specialists perform all agreed-upon services. When we're done, we will clean up any debris to keep your yard neat and looking great.
4. Follow-Up
Depending on what services we performed on your property, we'll provide you with an update or recommend additional follow-up or ongoing services.
ABC can help repair and maintain virtually every type of sprinkler system on the market, including irrigation drip systems. Our skilled technicians can assist you with your controllers, help rework planting beds, assist with drip conversion, perform maintenance and handle emergency repairs.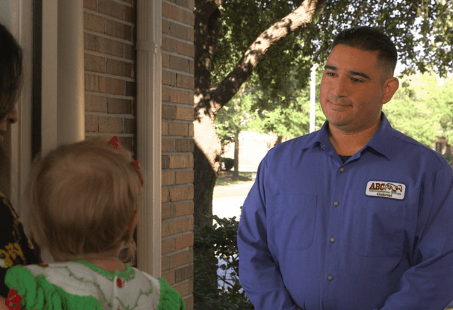 Get Started
We can turn your vision for your yard into reality.
Our customers tell us that they choose ABC for their sprinkler repair for the same reasons they choose us for their other home services. In addition to hiring highly qualified technicians who undergo extensive training and licensing, ABC conducts extensive background checks and drug testing so that you can feel safe with one of our specialists on your property. Lastly, our employees treat your yard as they would their own.
Frequently Asked Questions
What are some warning signs that might indicate that I have a problem with my sprinklers?
If you notice any of the following happening in your yard, you probably want to get an expert out to recommend next steps:
Sudden increases in your water bill (especially if you have ruled out other sources of water leaks)
Areas of your yard being consistently too wet
Areas of your yard being consistently too dry
Plants or grass looking less healthy than usual
Sprinkler heads that are stuck in the downward position or aren't spraying as they should
Low water pressure
Can you install a new sprinkler system?
While ABC does not put in new irrigation systems, we can and do install new sections or pieces, as needed, if your watering needs have changed or if an existing part of your system is no longer working. All new landscaping plans developed by our designers for our customers have the ability to incorporate new automated watering systems.
Should I get a drip irrigation system?
Some homeowners prefer to use drip irrigation rather than traditional sprinkler systems. A few of the benefits of a drip irrigation system are that they:
Use less water, which translates into lower utility bills and less water waste
Minimize the risk of overspray and evaporation that can happen with above-ground sprinkler heads
Connect directly to your existing outdoor faucet, so you don't need to cut into your home's water line
Provide flexibility, so that you can expand your system as your plants grow
Offer precision, so that water goes exactly where you want it and not where it might promote weed growth
Prevent excessive moisture that can lead to yard fungus
Allow for more gentle watering, which can protect you from erosion
Some local governments offer incentives for homeowners to switch to drip irrigation systems. Since these systems use less water, they are usually exempt from watering restrictions. ABC can help you convert from a sprinkler system to a drip irrigation system or make repairs or adjustments to your drip system.
Can ABC help me save water?
Since we aren't often outside when our sprinklers are running to spot any potential problems, these systems are the most likely culprit for water waste on our property. Keeping your sprinklers well-maintained will help prevent unwelcome surprises before they become a big headache. By performing routine maintenance, including checking and adjusting your sprinkler heads, you can repair leaks so that your sprinklers are distributing water effectively across your yard.
If you are concerned about your water usage, ABC's sprinkler system specialists can make recommendations so that you can be more water wise.
When should I set my sprinkler system to run?
Your plants are most efficient at absorbing water in the early morning hours, so this is the best time to run your sprinkler system. If you water at night, more moisture accumulates, which increases your risk of developing yard fungus. In addition, watering restrictions in our area dictate that you should run your sprinklers before the heat of the day, since more water can be lost to evaporation.
Why do I have dry spots on my lawn?
One thing to keep in mind with sprinkler systems is that they need to be adjusted each season. You should expect to significantly increase your watering during extended periods of extreme heat. If you don't, you'll usually notice the telltale signs that your grass is stressed, which are dry areas.
In some cases, this could indicate that your sprinkler heads are clogged, your watering schedule needs to be adjusted or your valves malfunctioning. Other factors, including less nutrient-rich soil, can also contribute to some parts of your yard faring better than others. ABC's yard pros can diagnose your problem and make adjustments to better nourish these problem spots in your yard.
What should I do to winterize my sprinkler system?
In some parts of the country, homeowners need to undertake a process each year to prepare their sprinkler systems for winter. In Austin, however, winterizing your sprinkler system is less important since we rarely, if ever, experience long stretches with freezing temperatures. If temperatures do dip below freezing, we recommend that you turn your system off and wrap any exposed metal parts with insulation.
Run your system once a month during the winter to prevent your valves and heads from becoming cracked and brittle. In the late fall, ABC offers winter system inspection to make any adjustments that might be needed to avoid any potential freeze damage.
Get Started
We can turn your vision for your yard into reality.
More Lawn Service Solutions In Austin
What Our Customers Are Saying
"I hired the handyman service from ABC to take care of miscellaneous stuff around my house that has been long overdo! They sent Robert (Bob) who was terrific! He came over with a smiling face on a Monday morning!! I found him very knowledgeable and proficient about his trade. He has a "can do" attitude which was truly appreciated. I would highly recommend him! A really nice guy!"
Charlene Albers
9/27/2021
"The care the technician takes while treating where an elderly gentleman lives is amazing! His knowledge of his job is spot on! The extra care he shows in explaining and reassuring my elderly boss is rare these days! Cheers to ABC for providing first class service! Thank you Jason for all the years of care. As usual ABC is always first quality! Simply to see ABC always protecting thee!!!!"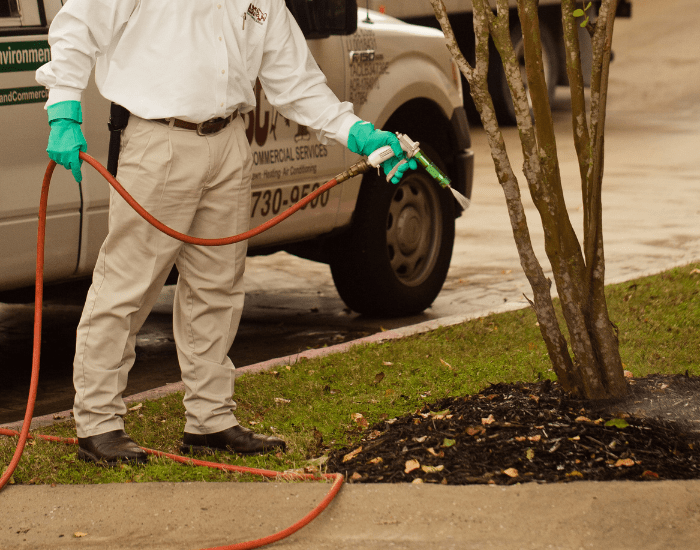 Need Lawn Services For Your Business?
Our lawn care specialists will ensure you make a good first impression on your customers by keeping your facility's exterior looking nice and tidy.
ABC's Complete List of Home Services in Austin
Why deal with multiple service providers when ABC can do it all?