Scorpion Control in Austin, TX
Having a close encounter with a scorpion in your home or yard can be quite frightening. When threatened, these creatures can sting, which may be quite painful if you are a victim. If you are concerned about the scorpions on your property, contact ABC Home & Commercial Services. Our pros take a full-property approach to scorpion control in Austin, so you can minimize your exposure to these unwelcome visitors.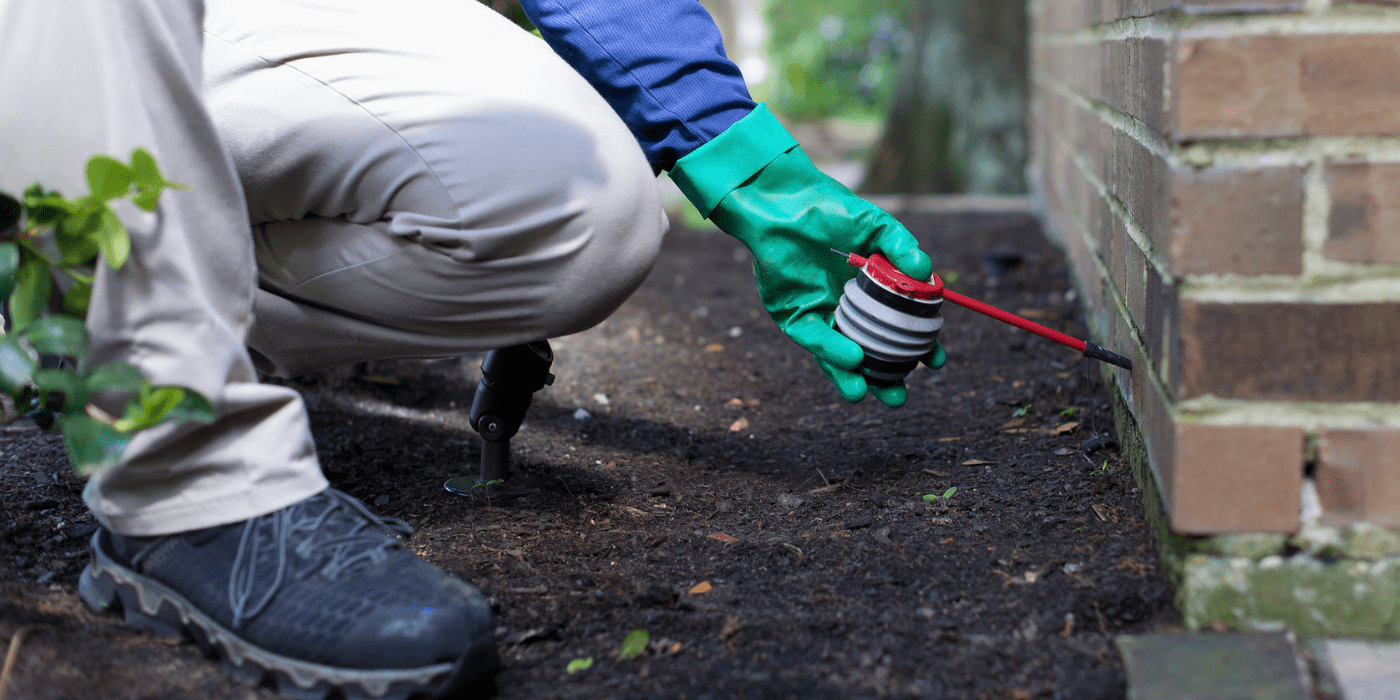 When it comes to scorpion control, ABC takes a full property approach. Scorpions are typically difficult to control with pesticides alone, as these creatures often hide in piles of rocks or logs outdoors or behind clutter in a home. Our first step is to recommend small changes on your property to make it more difficult for these pests to hide.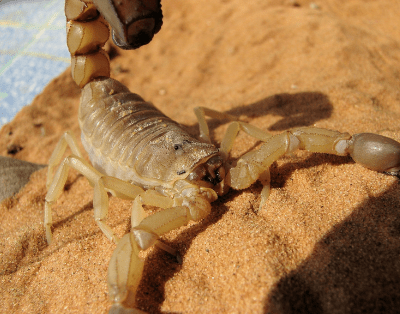 Then, we will apply treatments in the corners of your home and in other common spots where scorpions are typically found, such as in your attic. Next, we apply a repellent to the exterior of your home and then treat potential entry points around doors, windows, eaves and any other cracks.
Because our treatment requires us to treat out of the way areas on your property and the product needs to fully dry to take effect, you can expect that your ABC pest control specialist may need us a few hours to complete this service. During this time, we may ask that you remain off the premises for optimal results.
The ABC Process
1. Contact ABC
When you contact us, we will schedule an inspection to get an understanding of the problem. In some cases, we can give you a quote over the phone.
2. Get An Estimate
If you have an inspection, we will send you a custom treatment plan and estimate afterward. Once we get your approval, we will schedule your treatment.
3. Treatment
We will come to your property and treat for pests in common hiding and nesting areas. Over time, you will start seeing less and less pest activity.
4. Prevention
Customers with our ongoing pest management services will receive periodic retreatments to prevent the return of the most common pests in our area.
The most common species of scorpion throughout Texas is the striped bark scorpion. When one of these creatures feels it is in danger, it will sting in an attempt to protect itself. While most people only have moderate reactions to a striped bark scorpion sting, the impact of a sting can vary greatly. Some scorpions produce higher concentrations of neurotoxins, resulting in a more painful, swollen welt. Additionally, some people are more allergic to these neurotoxins than others and may have a more serious reaction to these stings. Even if you only have a moderate reaction to a scorpion sting, it's still not a pleasant experience.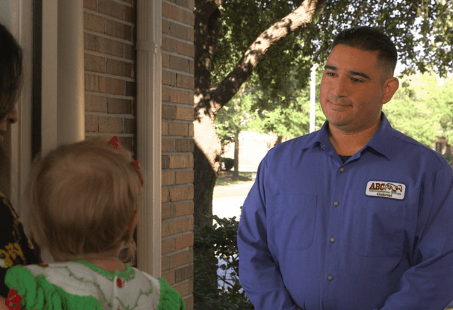 Get Started
We offer a full range of pest control services.
ABC has been providing pest control services for homeowners since 1949. With our decades of experience in the pest control industry, we have a deep understanding of pest behaviors, as well as how local conditions and weather affect pest activity. As a family-run business, we understand that you want to feel comfortable when a specialist arrives at your home, which is why we have a thorough process in place for hiring and training our specialists. All job applicants go through a stringent hiring process, and all candidates are required to pass a drug test and background check before joining our team. After that, all pest specialists go through an extensive in-house training program to learn about local pests and our standards for customer service. Finally, one of our values is that we will always treat your home as if it was our own, so you can expect our technicians to leave your home in better condition than how they found it.
Frequently Asked Questions
How soon can you get started?
We understand how terrifying it can be when you find a scorpion—or even worse—multiple scorpions on your property. After you contact us by chat, online form or phone, we will send a specialist to your home as soon as possible to provide you with a preliminary inspection and an estimate. On some occasions, we can even offer an estimate over the phone.
How can I prevent scorpions from coming on to my property?
The best way to reduce your scorpion population is to eliminate potential shelter and food sources for these creatures. Generally, we recommend that our customers:
Keep debris and firewood away from the exterior of your home

Cut back any trees or shrubs that are touching your home
Replace weather stripping around doors and windows
Reduce clutter around your home and yard
Seal cracks, crevices and other potential pest entry points
Replace any broken window and door screens
Sign up for ongoing preventative pest control services
After our preliminary inspection, we will be able to provide you with customized tips. Additionally, ABC offers a routine treatment service that targets many of the common pests in the area, including scorpions.
What impact do the products you use have on my kids and the environment?
As a family-run business, ABC has a thorough research process in place when it comes to selecting products. When we consider possible solutions for your home, we only choose those that are specifically formulated for residential use. Our technicians are trained to use the lowest concentrations of chemicals possible that will allow the product to be effective in treating your problem all while being low impact. Also, we only select products that we would feel comfortable using in and around our own homes. If you have any concerns about the products we use, we encourage you to ask your specialist, who would be happy to address them.
Get Started
We can create a treatment plan that targets these pests, so you can have peace of mind.
More Pest Control Solutions
What Our Customers Are Saying
Julie Harrington
10/19/2021
"I love having ABC! They are always well groomed, nice appearance, knowledgeable, courteous on time. AND most importantly, I feel SAFE when one of their employees come. Okay I know a lot of men customers do not have to worry about these situations, however, sadly, us women, do. It is my perspective that men have no concept how very important that is to us women, it is Very IMPORTANT! Over these past 25 years our family has lived in Austin, ABC has reflected the highest of standards and work ethic. I wish every company and/or business reflected the professionalism, courtesy and quality service that ABC and Bobby Jenkins has shown to us all these years. 👍🏼👏🏼👏🏼"
"I hired the handyman service from ABC to take care of miscellaneous stuff around my house that has been long overdo! They sent Robert (Bob) who was terrific! He came over with a smiling face on a Monday morning!! I found him very knowledgeable and proficient about his trade. He has a "can do" attitude which was truly appreciated. I would highly recommend him! A really nice guy!"
Need Pest Control For Your Business?
We understand that businesses have different needs than residences. That's why we have specially trained technicians who can service your business.
ABC's Complete List of Home Services In Austin
Why deal with multiple service providers when ABC can do it all?