Mosquito Control in Austin, TX
During the summer months, it would be easy to mistake the Live Music Capital of the World for the Mosquito Capital of the World. While it can be extremely irritating to get multiple bites in just a few minutes outside, the real danger of mosquitoes is the diseases they can transmit, including the Zika and West Nile viruses. When it comes to mosquito control, Austin residents know who to count on to handle the problem and protect their loved ones—ABC Home & Commercial Services.
ABC is proud to have served Austin-area homeowners for generations. Our trained, expert technicians routinely provide these different interventions to help control mosquitoes:
Targeting Mosquito Breeding Areas 
Although you probably know to dump any standing water that can accumulate throughout your yard, you may not realize how little water a mosquito needs to lay eggs. Moisture that amounts only a teaspoon can provide ample breeding ground for a single female to lay up to 300 eggs. Since mosquito eggs can hatch in only 2 days, that means it's a full-time job to keep an eye on these problem areas.
Our highly skilled technicians know exactly where this moisture can cause you problems, so we can make recommendations to your yard less of a haven for this pesky pests. We may tell you to place mosquito dunks in your birdbath, repair that leaking outdoor faucet or trim back vegetation to make your outdoor spaces less hospitable for egg-laying mosquitoes.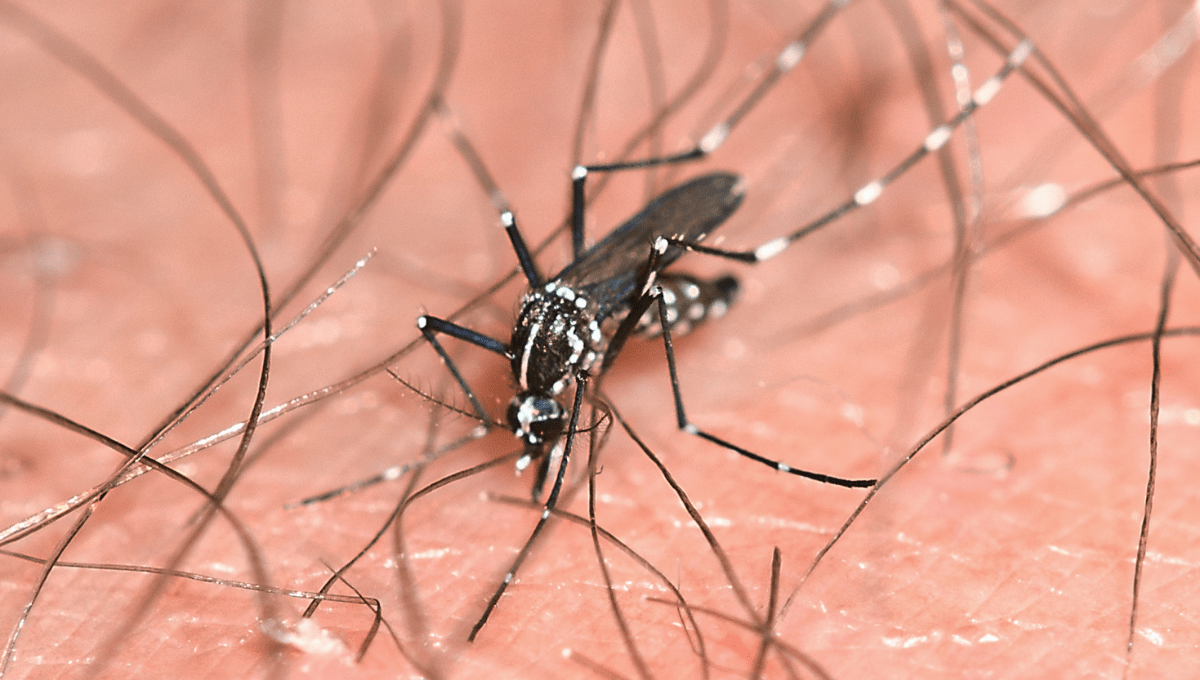 Applying Localized Treatments With Mobile Misting Backpacks 
While controlling mosquitoes from laying eggs on your property is important, you also want to target immature and adult mosquitoes who spend most of the day resting in your vegetation. ABC's pros can apply specially-formulated mosquito control solutions right to the areas where you need it the most, whether it's deep within your Asian jasmine or near your hedges. Regular applications of this mosquito-repelling fog will significantly reduce your mosquito population in the short term.
Providing Effective, Long-Term Relief Through Misting Stations
Since mosquito treatments become less effective over time, it's important to schedule additional applications to keep your yard's mosquito population under control. ABC's experienced technicians can install misting stations strategically around the perimeter of your home to deliver automated treatments at the times of day mosquitoes are most active. You can also manually activate the misters through a remote-controlled device.
The ABC Process
1. Contact ABC
When you contact us, we will schedule an inspection to get an understanding of the problem. In some cases, we can give you a quote over the phone.
2. Get An Estimate
If you have an inspection, we will send you a custom treatment plan and estimate afterward. Once we get your approval, we will schedule your treatment.
3. Treatment
We will come to your property and treat for pests in common hiding and nesting areas. Over time, you will start seeing less and less pest activity.
4. Prevention
Customers with our ongoing pest management services will receive periodic retreatments to prevent the return of the most common pests in our area.
Feel like you've tried a number of DIY approaches, and none of them have worked to reduce your mosquito population? There are a few reasons that homeowners have trouble managing this pesky pest. First of all, we've already mentioned how little moisture mosquito eggs need to hatch. It's almost impossible to eliminate every potential source of standing water from your yard. Second, these biting insects lay many eggs which can hatch in very little time. Those are just a few reasons many Austin homeowners call in the pros to help get your mosquito problem under control.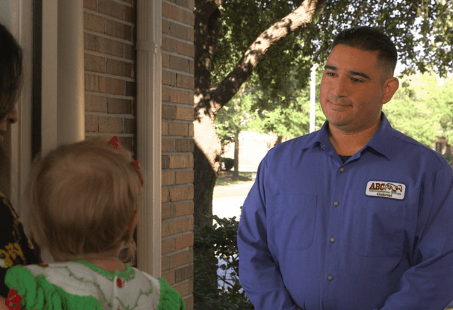 Get Started
We offer a full range of pest control services.
There are many reasons that our loyal Austin customers come to us for mosquito control solutions. First of all, we have earned a reputation for our long-term results. Second, we require each employee to undergo extensive background checks and drug testing so that our customers can feel safe with our technicians on your property. Last, and certainly not least, we take the time to treat your property as we would our own, leaving it in the same or better condition than when we found it.
Frequently Asked Questions
How soon can you get here and start working on my mosquito problem?
When you hear the latest news about the number of reported Zika cases in Travis County, it's understandable that you want a mosquito control solution implemented sooner rather than later. That's why we do all that we can do get you on the schedule as soon as possible to begin to implement a plan of action.
For some of our most popular services—mosquito, spider, scorpion and ant control—we can give you an estimate over the phone based on the size of the area you want to be treated. What we prefer and recommend, however, is to schedule a time to meet you at your home to do a full inspection to determine the extent and severity of your problem. After that visit, we can present you with a plan of action that we can begin to implement upon your approval.
Can you give me a free estimate for mosquito control services?
Absolutely. While we prefer to visit you at your home to learn all that we can about your mosquito problem, we can also give you an estimate over the phone for treatment, based on the area that you would like to have treated.
If you opt for an in-person appointment, a trained inspector will meet with you to:
Ask you questions to learn more about your mosquito problem

Conduct a preliminary survey to determine both the severity and the extent of your mosquito population

Look for areas where mosquitoes are breeding and resting on your property

Provide you with an opportunity to ask us any questions you might have about our services and what to expect as a customer
Once this visit is complete, we'll send you a list of recommended next steps to approve. Once you have had a chance to review and approve our free, no-obligation estimate, we can schedule your first service appointment.
What's the usual length of mosquito control treatments, and how frequently are your service calls?
While we wish we could provide you with an answer to that question, the truth is that it's a little more complicated than that. No two pest problems are exactly the same, so treatment will vary, based on your mosquito population and how it responds to treatment.
Since effectively treating for mosquitoes requires targeting these pests at various stages in their life cycle, treatment is generally not accomplished in one visit. Your customized treatment plan will give you a better idea of how many visits you'll need to get your problem under control and when you should expect to get some relief.
Are your technicians able to come to provide mosquito treatment services while I'm not at home?
We completely understand that it's hard to take off work or be home every time a technician is scheduled to come out. That's why we developed a convenient "outside only" pest control option which protects you from a number of outdoor pests. You won't have to be home for a treatment to occur, and you can arrive back home to a treated yard, which means pests are less likely to find a way inside.
Will I still see mosquitoes after a service call?
While we wish we could tell you that mosquitoes will immediately be off your property, the truth is that you will probably see an uptick in mosquito activity after the initial treatments. Seeing more mosquitoes at first is actually a sign our methods are working because we will be evicting these unwelcome guests from their normal resting and breeding grounds. After our treatments start to work, you'll see a dropoff in activity until your problem is eliminated.
How worried should I be about the impact of the mosquito control products on my kids and pets?
We place the well-being of our customers as our highest priority, which means that we carefully select products that are effective while being low impact on your pets and kids. We take the time to make sure our technicians understand exactly how to apply these low-concentration, residentially designed products in the smallest possible amounts. We are also happy to talk to you further about any concerns you might have about the products we use for mosquito control on your property and address any concerns you might have.
Get Started
We can create a treatment plan that targets these pests, so you can have peace of mind.
More Pest Control Solutions
What Our Customers Are Saying
"I hired the handyman service from ABC to take care of miscellaneous stuff around my house that has been long overdo! They sent Robert (Bob) who was terrific! He came over with a smiling face on a Monday morning!! I found him very knowledgeable and proficient about his trade. He has a "can do" attitude which was truly appreciated. I would highly recommend him! A really nice guy!"
"First time using ABC and have been very pleased so far. They are very professional, their specialties and technicians are very well informed and trained in their departments. We have spoken to the rodent control and the AC department. Everything was relayed to me about the process and the follow up was very through from start to finish with emails, phone calls and detailed reports. Very impressed with their whole process. Great job ABC!!!"
Need Pest Control For Your Business?
We understand that businesses have different needs than residences. That's why we have specially trained technicians who can service your business.
ABC's Complete List of Home Services In Austin
Why deal with multiple service providers when ABC can do it all?