Roach Exterminator in Austin, TX
After one too many run-ins with a cockroach in your home, you're probably ready to get rid of these pests. Unfortunately, roaches are extremely resilient creatures and are highly adapted to living among humans, making eliminating them a near-impossible task without professional help. When choosing an effective cockroach exterminator in Austin, homeowners turn to ABC Home & Commercial Services for long-lasting results.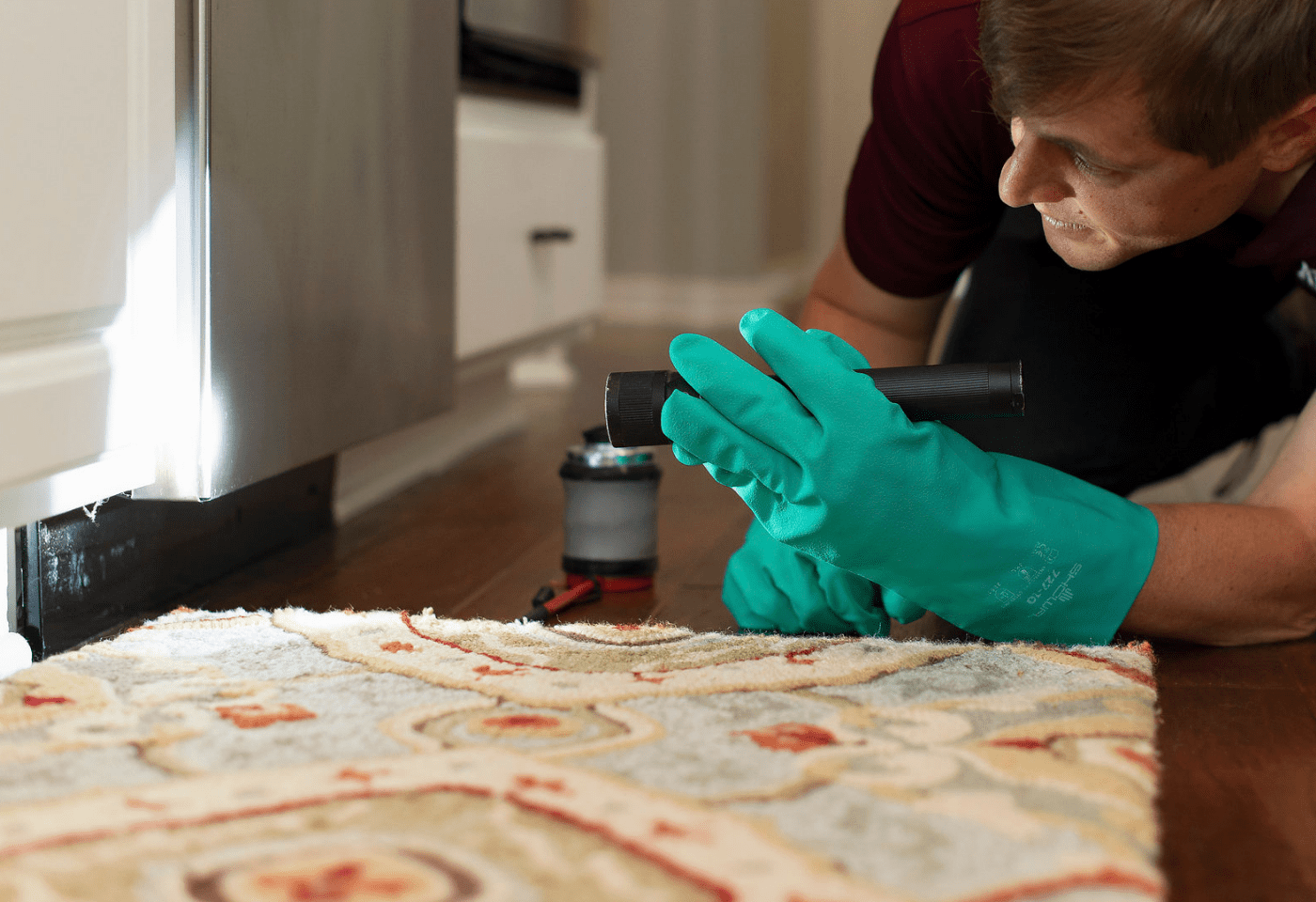 In the greater Austin area, we most commonly come across two species of roaches in and around our homes: German cockroaches and American cockroaches. Our experienced technicians will first confirm the species of cockroach on your property, as each type requires different approaches for long-term success.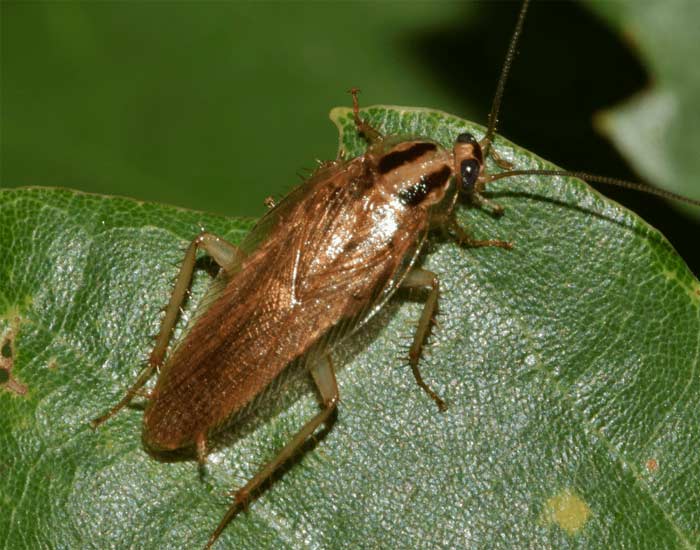 German Cockroach Control
German cockroaches are the smaller of the two species and they are also the most common to invade homes. ABC uses a two-fold approach to eliminate these pests. First, our trained technicians apply a non-repellant pesticide product in areas where these pests commonly travel which halts the reproductive cycle. When German roaches travel through the pesticide, they unknowingly bring the product back to the nest and spread it to other roaches. To eliminate adult roaches, our technicians place bait stations in common problem areas.
In order for the bait to be effective, German cockroaches can't have access to any other food source. This means homeowners must be diligent about cleaning during the course of treatment. We ask customers to seal all food in airtight containers, regularly empty the trash into bins outdoors, mop floors when needed, wipe down counters, put dirty dishes in the dishwasher shortly after use and clear away any clutter. With German cockroaches, multiple treatments are usually recommended because these pests are prolific breeders and, like other roaches, are capable of surviving off nearly any organic matter. In between treatments, homeowners should stay on top of their cleaning schedule for optimal results.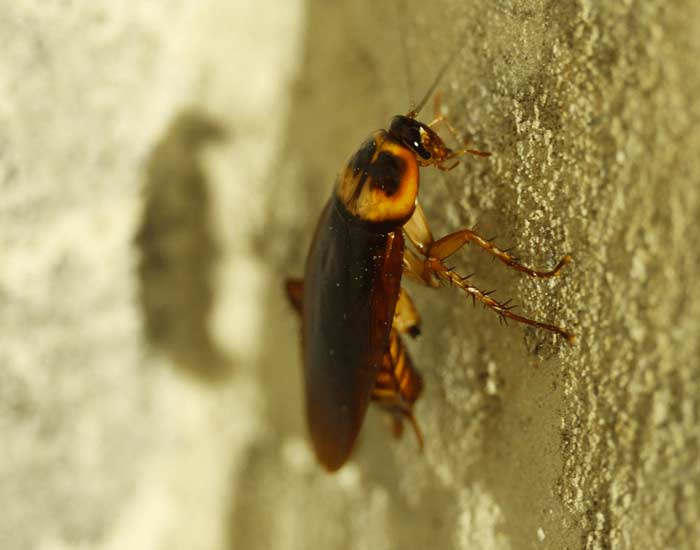 American Cockroach Control
American cockroaches are much bigger than their German counterparts, which is one reason discovering them in your home can be an unwelcome surprise. Unlike German roaches, American roaches are less likely to invade your home and are more commonly found around your home's perimeter. That said, American roaches can accidentally find their way inside of our homes through doors or small cracks and crevices.
Prevention is going to be key to keep American roaches in their natural habitat. Your ABC technician can use a repellant to keep these creatures outside. To avoid having these pests enter your home, we will seal off entry points, replace weather stripping and put in other preventative measures based on our initial findings and why your home might be more susceptible to a problem.
With either species of roach, you'll want to eliminate excess moisture around your home and yard and maintain a clean home to provide fewer spots for these pests to live and nest. ABC recommends ongoing treatments and monitoring to keep roach populations down, as well as to keep many other common pests from invading your living spaces.
The ABC Process
1. Contact ABC
When you contact us, we will schedule an inspection to get an understanding of the problem. In some cases, we can give you a quote over the phone.
2. Get An Estimate
If you have an inspection, we will send you a custom treatment plan and estimate afterward. Once we get your approval, we will schedule your treatment.
3. Treatment
We will come to your property and treat for pests in common hiding and nesting areas. Over time, you will start seeing less and less pest activity.
4. Prevention
Customers with our ongoing pest management services will receive periodic retreatments to prevent the return of the most common pests in our area.
At ABC, we understand that most homeowners want a professional treating their home quickly after discovering a roach problem. If you have recently spotted a roach or suspect you might have an infestation, reach out to us by scheduling an appointment online or contacting us by phone or chat and we will do everything we can to get your services started as quickly as possible.
When you contact us, we may be able to give you a free estimate right away. However, we may recommend scheduling a free inspection of your property so we can get a better understanding of your particular problem. During this in-person visit, one of our highly trained pest control professionals will:
Ask you questions about the areas in which you've noticed roach activity
Inspect your home for roach breeding and nesting grounds, as well as locate entry points cockroaches may have used to get into your home
Determine what species of roach is on your property
Let you ask us any questions you might have regarding your pest problem and our treatment plans
At the end of the inspection, we will create a customized treatment plan for your property that is tailored to your specific infestation and any factors that make you more vulnerable to a pest problem. Upon your approval of our estimate, we will schedule your first service call.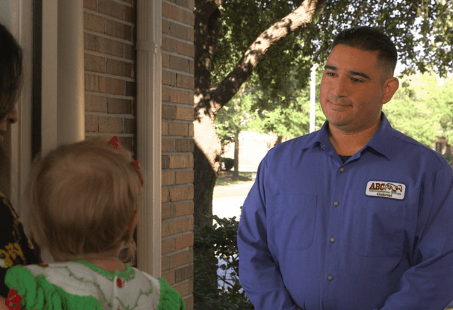 Get Started
We offer a full range of pest control services.
As a family-run business, ABC's top priority is your family. Our trained and highly-skilled technicians have been delivering effective, reliable pest control across Texas, Oklahoma and Florida for over 60 years. With decades of experience and certified entomologists on staff, ABC has developed an effective protocol for targeting, treating and preventing pest infestations on both residential and commercial properties.
Part of the reason our customers choose us is that they can feel safe with our technicians on their property, as they are all drug tested and checked for criminal history prior to joining ABC. In addition, all of our employees go through an extensive in-house training program to learn everything they need to know about these pests, their life cycles and their habits so we can provide you with the best service possible. Finally, one of our values is treating your home as if it was our own, so you can always expect our technicians to be courteous, thorough and respectful of your property and your belongings.
Frequently Asked Questions
What are some warning signs that might indicate I have a roach infestation?
While spotting a cockroach is the most common sign of an infestation, these pests are nocturnal and prefer to avoid human interaction so you may notice signs of a roach problem before actually seeing one of these creatures.
Several other signs of an infestation in your home include:
An unusual, musty smell
Cockroach droppings that look like coffee grounds
Smear marks along walls, floor junctions or other places where roaches commonly travel
Shed cockroach skins that are about the size and shape of an adult roach
Cockroach egg casings, which will be long, cylindrical and yellow
When looking for signs of cockroaches, keep in mind that these pests prefer warmth and moisture. Focus on bathrooms, kitchens, laundry rooms, drains and any other areas of your home that are in close proximity to water when you are looking for signs of a pest issue.
Why can't I get rid of cockroaches myself?
While there are a variety of cockroach treatment products you can buy at the store, many of our customers find these products ineffective and that handling an infestation can easily become a time-consuming, seemingly never-ending task. Cockroaches are resilient and prolific breeders, with some females laying 10,000 eggs in a single year. In addition, roaches have been around for millions of years and they have adapted to survive off nearly any organic matter, which means that attempting to eliminate food sources is practically impossible. To entirely eliminate a roach population requires consistency and effective treatment methods. Contacting a pest control professional is often the quickest and most effective way to eradicate these pests.
How often will you treat my property?
Unfortunately, there is no one-size-fits-all answer to this question, as every infestation and every property is unique. When we create your tailored treatment plan, we will consider the extent of the infestation, the species of cockroach and any other unique factors to your property that may make it more vulnerable to a roach problem.
The most effective way to handle cockroaches is through preventative treatments. When you take advantage of ABC's ongoing pest control programs, our specialists will apply proven treatments and report back to you on any signs of new pest activity.
What impact do the products you use have on my family and the environment?
One of ABC's core values is that we treat your home as if it was our own. This means that we only apply products that are specially formulated for residential use. We hand select all of the products we use with your family in mind. Our technicians are trained to apply these solutions in the lowest concentration of chemicals possible. If you have questions regarding our treatment plans, our specialists would be happy to address them.
What if I still see roaches after a treatment?
Despite your initial reaction, seeing some roaches after your first treatment is a sign your treatments are working. What this means is that cockroach nesting grounds are now inhospitable and these pests are looking for a new place to live. These creatures will then bring the bait with them to whatever new breeding and nesting grounds they establish, which will eventually cause the roach population to dwindle.
If you are still noticing significant pest activity 7 to 10 days after your initial service call, contact us so that we can send a technician back to your home. Any visits that take place after this time and within 30 days of your first service call will incur no additional charges.
What can I do on my own to prevent cockroaches?
While your ABC pest control specialist will provide you tailored advice to prevent roaches and these creatures can invade any home, there are some steps you can take to make your property less attractive to these pests.
We recommend that homeowners:
Keep counters, stovetops, floors and tables clean and wiped down after meals and food preparation
Clean all kitchen and bathroom surfaces regularly
Wash off dishes and put them in the dishwasher promptly after use
Empty pet food and water bowls at night and keep food and birdseed in sealed containers
Take out the garbage regularly
Seal off potential entry points around drains, windows and doors
Move firewood, compost piles and other vegetation away from the perimeter of your home
After your initial inspection, your ABC specialist will provide you with additional guidance on how to avoid future infestations on your property. We often recommend to homeowners that they take advantage of our ongoing monitoring visits to protect you from roaches and a number of other common household pests.
Get Started
We can create a treatment plan that targets these pests, so you can have peace of mind.
More Pest Control Solutions
What Our Customers Are Saying
"I hired the handyman service from ABC to take care of miscellaneous stuff around my house that has been long overdo! They sent Robert (Bob) who was terrific! He came over with a smiling face on a Monday morning!! I found him very knowledgeable and proficient about his trade. He has a "can do" attitude which was truly appreciated. I would highly recommend him! A really nice guy!"
"First time using ABC and have been very pleased so far. They are very professional, their specialties and technicians are very well informed and trained in their departments. We have spoken to the rodent control and the AC department. Everything was relayed to me about the process and the follow up was very through from start to finish with emails, phone calls and detailed reports. Very impressed with their whole process. Great job ABC!!!"
Need Pest Control For Your Business?
We understand that businesses have different needs than residences. That's why we have specially trained technicians who can service your business.
ABC's Complete List of Home Services in Austin
Why deal with multiple service providers when ABC can do it all?