Power Washing in Austin, TX
Over time, a layer of unsightly mildew, dust, dirt and pollen builds up on our home's exterior, as well as our driveways, patios, decks, fencing and walkways. While using a power washer can be an easy and inexpensive way to enhance your curb appeal, many homeowners don't have the equipment or time to do the job. When it comes to power washing, Austin homeowners trust the pros at ABC Home & Commercial Services to showcase a home's best features.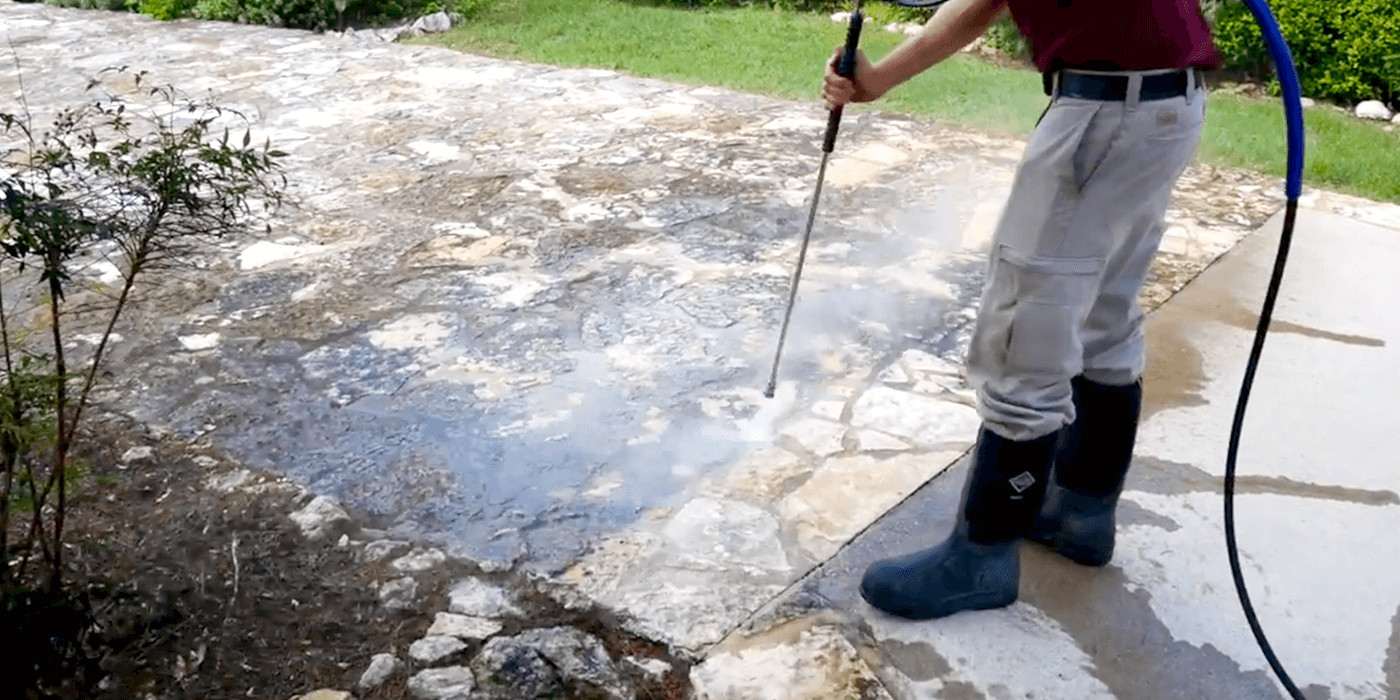 Download Transcript
Some homeowners choose to power wash their own home. In most cases, the power washers they rent from home improvement stores are designed for residential purposes. ABC's power washing customers benefit from the use of commercially-designed power washers, which are more powerful to remove mildew and other stubborn debris. These devices also offer more functionality, such as the ability to use both hot and cold water to address different types and degrees of build-up and stains.
The most gratifying thing about having your property power washed is the difference it makes! Take a look at these before and after photos to see the results you can experience in using professional equipment.
Before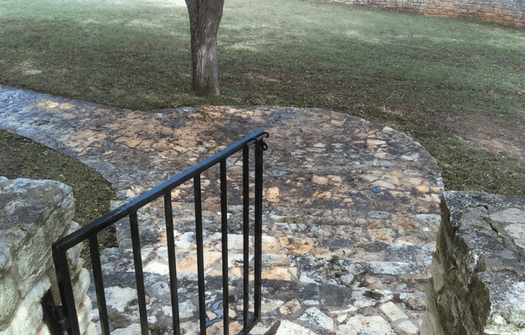 After
The ABC Process
1. Contact ABC
When you contact us, we will learn more about what you'd like done and your property.
2. Get An Estimate
We'll provide you with an estimate for power washing. We can usually give this to you over the phone.
3. Perform Services
Our pros will get your surfaces sparkling clean.
4. Follow-Up
After each visit, we will update you on the work we performed and provide any helpful follow-up instructions or other guidance.
One benefit of our warm climate here in Austin is that you can benefit from power washing any time of year. Many homeowners choose to schedule the service after oak leaves fall in the spring, but others opt to power wash before the holidays, before hosting a special event or at the new year to give their home a fresh new start. ABC can perform power washing during the rain, as long as lightning isn't present, so that we can keep our employees out of harm's way.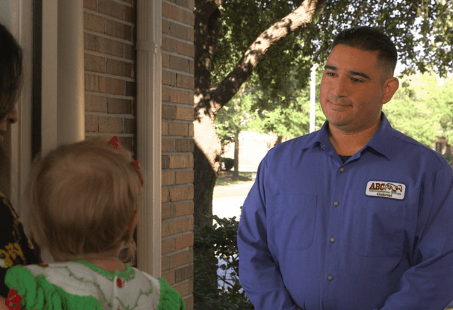 Get Started
We offer a full range of exterior cleaning services.
Austin homeowners have trusted ABC for their pest control, lawn care, AC needs and a variety of other services for decades. Our customers tell us that in addition to providing the highest-quality home services in the business, they appreciate that we conduct thorough background checks on all our employees, as well as drug testing. You can be at ease knowing that the job will get done right and that our employees will treat your home as they would their own.
Frequently Asked Questions
Do you offer free estimates?
Yes! When you contact ABC for power washing services, we will send an inspector to your home to find out more about what exactly you'd like to have done. Then, ABC will send you a free, no-obligation quote. Once you approve the estimate, we can schedule a convenient time for you to have the power washing done.
How often should I have my house power washed?
Here in Austin, homeowners generally benefit from power washing once every two years. The interval between power washing appointments can vary, depending on a number of factors. Our oak trees deposit a significant amount of pollen and leaves each spring, so if you have a dense tree canopy on your property, discoloration may occur more quickly on your surfaces.
Nearby construction, winds and severe weather can also cause more discoloration, which can show up on your pathways and concrete surfaces. Homes with lighter exteriors can benefit from an annual power washing service to remove mildew and other residue.
Will power washing damage my siding, wood or plants?
When the ABC inspector visits your home to gather the information needed for an estimate, he or she will assess the condition of your home's exterior and make notes about any areas that might be vulnerable to problems associated with high pressure. Our technicians have experience working with any type of surface, including siding, brick, vinyl, wood, concrete, stone and aluminum will vary the technique and products used based on material and the level of grime and dirt.
In addition, homeowners can point out any areas that might require special attention or care. ABC's power washing technicians will perform the service carefully to minimize any impact on your landscaping and grounds.
Are the products that ABC uses for power washing environmentally-friendly?
All of the products ABC technicians will use on your property are designed for residential purposes. Decades of experience working here in Austin has enabled us to select only products which balance effectiveness with a concern for the well-being of your family, pets and the environment. We are happy to address any concerns homeowners might have about the power washing products we use.
Do I need to be at home while my home is being power washed?
In most cases, our power washing technicians can perform power washing while you are away at work. We just ask that you provide us with instructions on how to access your yard, if needed, and to keep pets indoors. We also recommend that homeowners double check doors and windows so that they are tightly sealed and don't allow any moisture indoors.
Will power washing help remove oil stains on my driveway or in my garage?
We recommend that homeowners attempt to clean these types of stains on their own, using soapy water and a firm bristle brush.This method is generally more effective than having a surface power washed, although some stains may respond to the combination of high pressure and heat.
Get Started
We offer a full range of exterior cleaning services.
More Exterior Solutions in Austin
What Our Customers Are Saying
"I hired the handyman service from ABC to take care of miscellaneous stuff around my house that has been long overdo! They sent Robert (Bob) who was terrific! He came over with a smiling face on a Monday morning!! I found him very knowledgeable and proficient about his trade. He has a "can do" attitude which was truly appreciated. I would highly recommend him! A really nice guy!"
Charlene Albers
9/27/2021
"The care the technician takes while treating where an elderly gentleman lives is amazing! His knowledge of his job is spot on! The extra care he shows in explaining and reassuring my elderly boss is rare these days! Cheers to ABC for providing first class service! Thank you Jason for all the years of care. As usual ABC is always first quality! Simply to see ABC always protecting thee!!!!"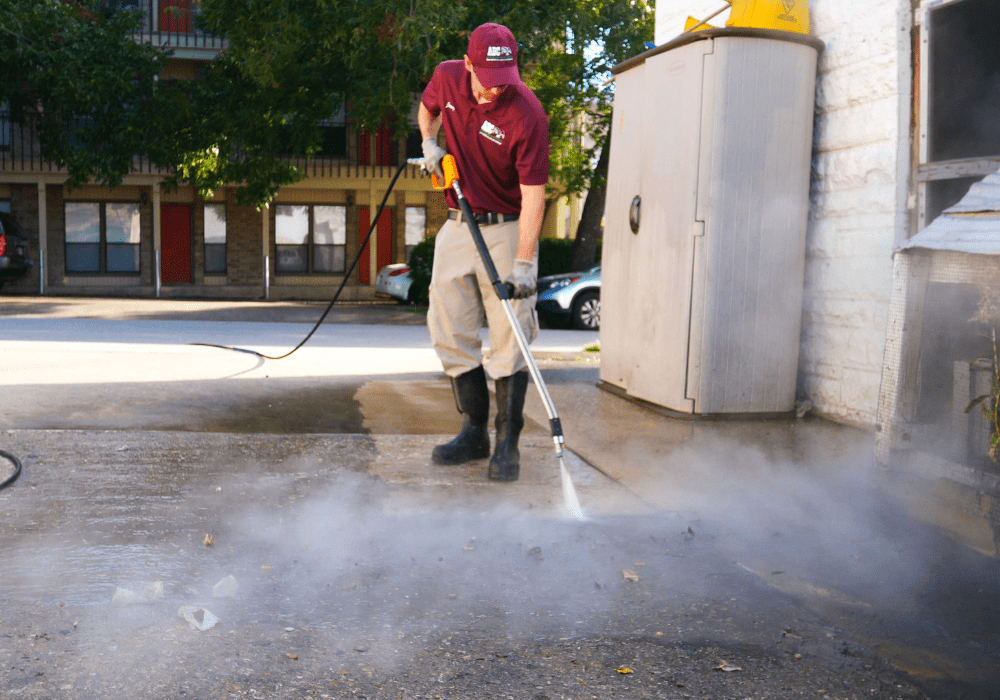 Need Exterior Cleaning Services For Your Business?
Make a good first impression on your customers with a clean storefront. We offer gutter cleaning, window washing and pressure washing for businesses.
ABC's Complete List of Home Services in Austin
Why deal with multiple service providers when ABC can do it all?