AC & Heating Maintenance in Austin, TX
Preventative maintenance can help you get the most out of your heating and cooling system and extend its service life. Non-maintained systems work harder, use more energy and fail sooner than properly maintained systems. Not to mention, regular maintenance is a requirement by manufacturers for most equipment warranties. Homeowners looking for AC maintenance in Austin know they can count on ABC Home & Commercial Services. Our reliable, friendly technicians can address small issues before they turn into big headaches.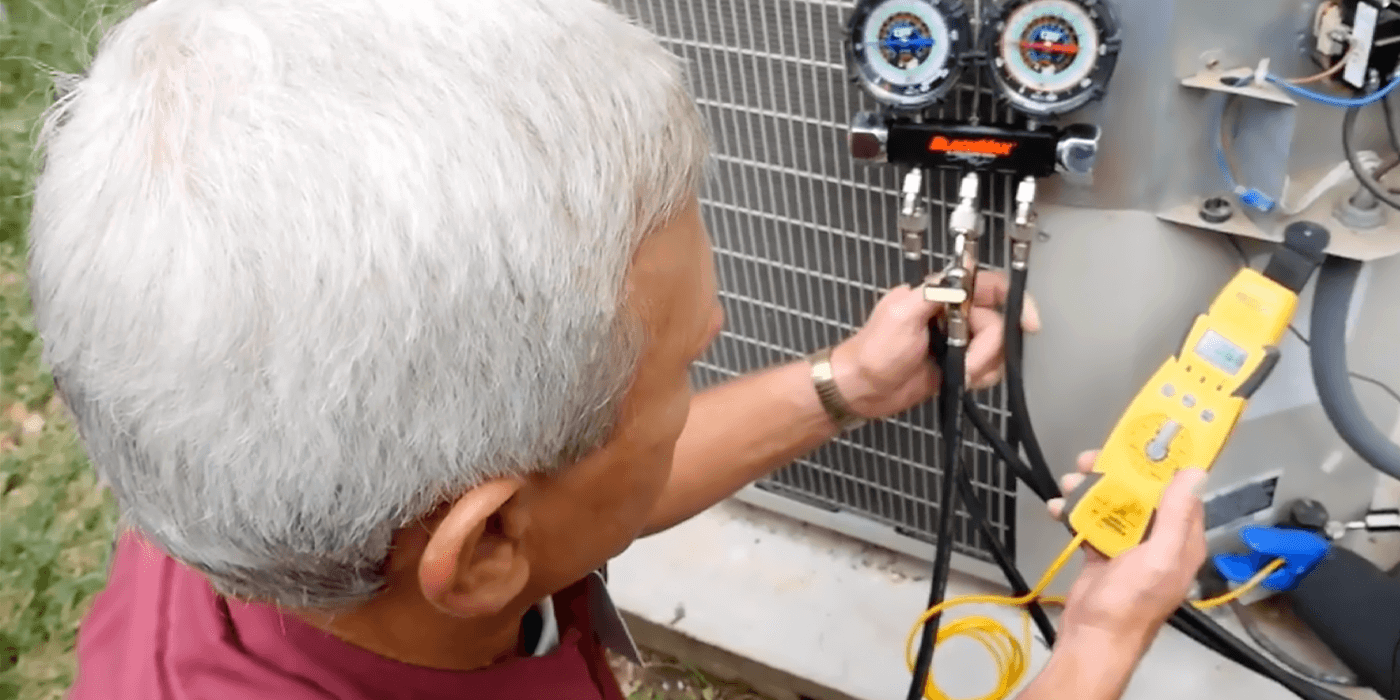 Download Transcript
ABC's proactive maintenance plan is called our Advantage Maintenance Plan 500, or AMP500, for short. To get the most lifespan and efficiency out of your system, our AMP 500 will entitle you to 2 precision tune-ups per year. One is a 'summer-focused' tune-up, which is done to help ensure your air conditioning system is fully prepared for the high summer temperatures. The second is a 'winter-focused' tune-up, which is performed to ensure your heating system is working properly before the temperatures drop.
Other major advantages of the AMP500 include:
Priority Scheduling
You receive priority status for all service calls. When your home has an issue, you want it to be addressed as soon as possible. Jump in front of all non-AMP customers in the queue for service.
Replacement Credit Advantage*
Each year, half of your annual AMP subscription cost will be credited to a reserve account to be applied toward your next full AC system replacement. ABC will also contribute an additional $500 to your reserve account upon your first AMP renewal. Your reserve credit is even fully transferable if you sell your home!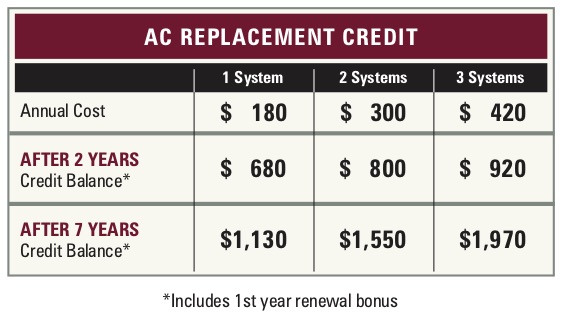 Discount on Repairs
All AMP customers get 10% off the cost of all AC, Electrical, Plumbing, and Appliance Repair service work (maximum discount of $50.00).
10% "Easy Pay" Discount
A 10% discount is offered on your AMP500 subscription when you choose monthly billing.
*If you cancel your Advantage Maintenance Program agreement, any accrued AMP replacement reserve credit will be forfeited.
The ABC Process
1. Contact ABC
When you contact us, we will schedule a service call to conduct a diagnostic on your heating and cooling system.
2. Perform Maintenance
We'll go over a checklist of items to make sure all parts of your heating and cooling system are working properly.
3. Follow-Up
We will update you on the work we performed and let you know of any recommended follow-up services.
4. Schedule Next Tune-Up
We'll make sure routine maintenance is performed at manufacturer-recommended intervals by scheduling your next appointment.
80% of air-conditioning service repairs occur on non-maintained equipment. To proactively avoid costly repairs and inconvenient breakdowns, regular preventative maintenance is needed to keep your air conditioning system running at peak performance.
AC & heating systems operate an average of 3,000 to 4,000 hours a year in Texas. To put this into perspective, a vehicle driven for 3,500 miles at 65MPH would travel over 225,000 miles. Similar to your family vehicle, servicing your air conditioning system regularly helps keep it functioning properly and efficiently.
You wouldn't tell someone to avoid changing the oil in their car, would you? Well, the same goes for your AC system!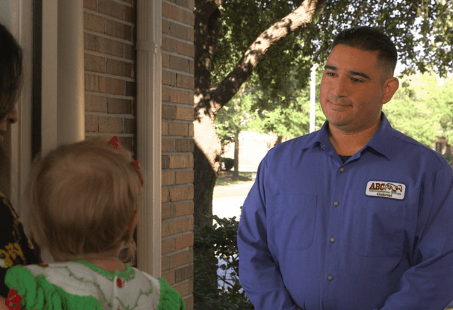 Get Started
We offer a full range of air conditioning & heating services.
You can feel good about ABC's team on your property. All employees undergo a criminal history check and drug screening and carry licenses for any service it's required for. Rest easy, and leave the work to our experienced, trained, and friendly service team.
Frequently Asked Questions
What are the AMP500 highlights, one more time?
With our Advantage Maintenance Plan, you'll get:
Priority Scheduling
50% of your AMP cost credited back as a reserve amount for future system replacement
$500 system replacement bonus
10% off all AC, Plumbing, Electrical, and Appliance service repairs
2 annual tune-ups — both the heating & cooling systems are checked on every visit
Fully transferable plan
What services do the inspections provide?
During your maintenance check, we:
Evaluate System Efficiency
Clean & Adjust Burner Assembly
Measure Refrigerant Pressure
Test Safety Controls
Check for Gas Leaks
Test for Carbon Monoxide
Inspect Blower Components
Tighten Electrical Connections
Wash Condenser Coil
Inspect Ignition Assembly
Check Heat Exchanger/Elements
Inspect Flue Draft if Applicable
Check or Replace Customer-provided Filters
Check/Adjust Blower Speed
Measure Volts/Amps
Clean & Test Condensate Drains
Measure Temperature Differential
Check Thermostat Operation
Inspect Ductwork
Inspect Attic Insulation
What does an AC system tune-up entail?
Why should I consider a proactive tune-up to my heating system?
Get Started
We offer a full range of air conditioning & heating services.
More AC & Heating Solutions in Austin
What Our Customers Are Saying
"I hired the handyman service from ABC to take care of miscellaneous stuff around my house that has been long overdo! They sent Robert (Bob) who was terrific! He came over with a smiling face on a Monday morning!! I found him very knowledgeable and proficient about his trade. He has a "can do" attitude which was truly appreciated. I would highly recommend him! A really nice guy!"
"First time using ABC and have been very pleased so far. They are very professional, their specialties and technicians are very well informed and trained in their departments. We have spoken to the rodent control and the AC department. Everything was relayed to me about the process and the follow up was very through from start to finish with emails, phone calls and detailed reports. Very impressed with their whole process. Great job ABC!!!"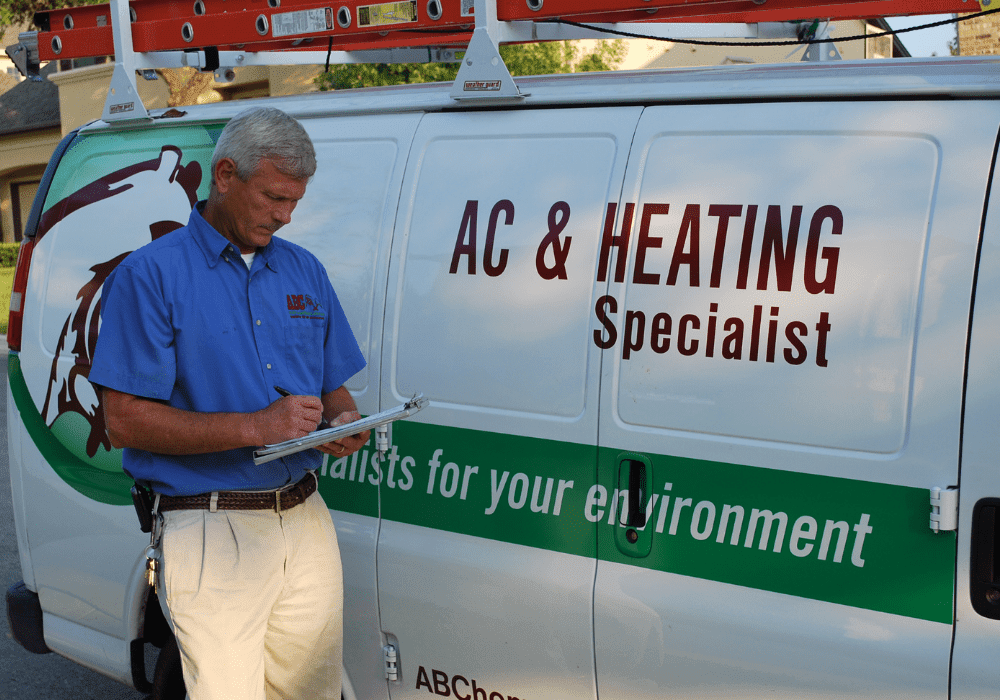 Need Heating & Cooling Services For Your Business?
We understand that businesses have different needs than residences. That's why we have specially trained technicians who can service your business.
ABC's Complete List of Home Services In Austin
Why deal with multiple service providers when ABC can do it all?