Termite Control in Austin, TX
Termites cost homeowners in the U.S. billions of dollars in damage each year because we usually don't discover these destructive pests until a colony is well established. If you have seen signs of termite activity, contact ABC Home & Commercial Services. With decades of experience providing termite control in Austin, our pros can pinpoint the source of a problem and use proven solutions so that your biggest investment is protected.
Download Transcript
We follow a structured approach to stopping termites that has proven highly effective over time. At the same time, we recognize that every termite infestation is slightly different, and we tailor the details of our treatment to fit each home.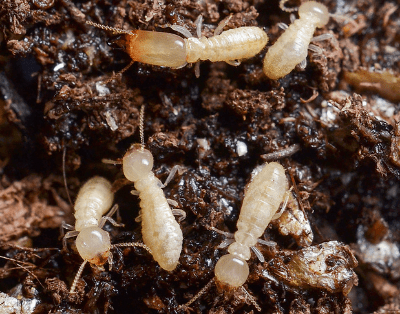 We start by identifying the type of termite responsible for the damage. Then, we look for all the points where termites are attacking the home, including any you have found. For example, we will look for mud tubes coming up from the ground, dead termites around windows or live ones in areas where wood appears to be rotting. Next, we will recommend treatment, specifically designed for the type of termite attacking the structure.
In the case of Subterranean termites, we normally apply a liquid treatment everywhere that we find the termites. We use materials that termites eat and take back to their nests. In the case of Drywood termites, we'll likely recommend fumigation as the best way to eradicate the problem. However, every case is evaluated upon its on unique needs and homeowners are able to help decide the best solution for their home.
Post-treatment, we perform regular inspections of the treated structure to confirm that the termite problem is under control.
The ABC Process
1. Contact ABC
When you contact us, we will schedule an inspection to get an understanding of the problem. In some cases, we can give you a quote over the phone.
2. Get An Estimate
If you have an inspection, we will send you a custom treatment plan and estimate afterward. Once we get your approval, we will schedule your treatment.
3. Treatment
We will come to your property and treat for pests in common hiding and nesting areas. Over time, you will start seeing less and less pest activity.
4. Prevention
Customers with our ongoing pest management services will receive periodic retreatments to prevent the return of the most common pests in our area.
We stand behind our work 100%. We perform a thorough and professional treatment to your home. If termites come back, we will treat your home again.
Depending on the level of protection that you choose at the time of the first treatment, we can also offer coverage to repair any damage that results from termite re-infestation. Our warranties are renewable for the life of your home and transferable if you sell your home.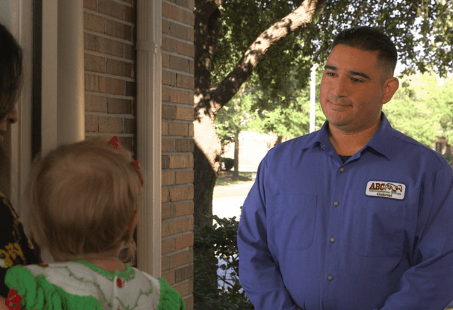 Get Started
We offer a full range of pest control services.
You can feel good about ABC's team on your property. Not only do all employees undergo a criminal history check and drug screening, but with any service that requires licensure for work for to be performed, you can bet that ABC is on top of it and completely certified. Rest easy, and leave the work to our experienced, trained, and friendly service team.
Frequently Asked Questions
What leads to termite infestations and how do termites damage my home?
Any pest in your home is a problem, but termites are more than just a nuisance. Termites actually eat the wood that frames your home, potentially reducing your home's structural integrity. In fact, termites will consume almost any kind of cellulose. Wood, paper, burlap, cotton and cardboard are all likely to be in and around your house, and are all tasty treats for termites.
Since most termites require sources of water, a leaky spigot or garden hose, water that collects around your air conditioning condenser or even leaky plumbing can get their attention and further growth of the infestation. Unfortunately, termites can and often do infest any home, regardless of preventive measures a homeowner takes.
Termites cause billions of dollars in damage every year, and while damage may take some time to occur they absolutely must be taken care of by a pest care professional.
Get Started
We can create a treatment plan that targets these pests, so you can have peace of mind.
More Pest Control Solutions
What Our Customers Are Saying
"I hired the handyman service from ABC to take care of miscellaneous stuff around my house that has been long overdo! They sent Robert (Bob) who was terrific! He came over with a smiling face on a Monday morning!! I found him very knowledgeable and proficient about his trade. He has a "can do" attitude which was truly appreciated. I would highly recommend him! A really nice guy!"
Charlene Albers
9/27/2021
"The care the technician takes while treating where an elderly gentleman lives is amazing! His knowledge of his job is spot on! The extra care he shows in explaining and reassuring my elderly boss is rare these days! Cheers to ABC for providing first class service! Thank you Jason for all the years of care. As usual ABC is always first quality! Simply to see ABC always protecting thee!!!!"
Need Pest Control For Your Business?
We understand that businesses have different needs than residences. That's why we have specially trained technicians who can service your business.
ABC's Complete List of Home Services in Austin
Why deal with multiple service providers when ABC can do it all?