Gutter Cleaning in Bryan-College Station, TX
Clogged gutters aren't just ugly. Debris in your gutters can lead to water collecting around your home's foundation. This can cause structural damage and even pest problems. While cleaning your gutters isn't an impossible task, it's probably not how you want to spend your time. Instead of dealing with this on your own, contact ABC Home & Commercial Services. We offer gutter cleaning in Bryan-College Station and get the job done right.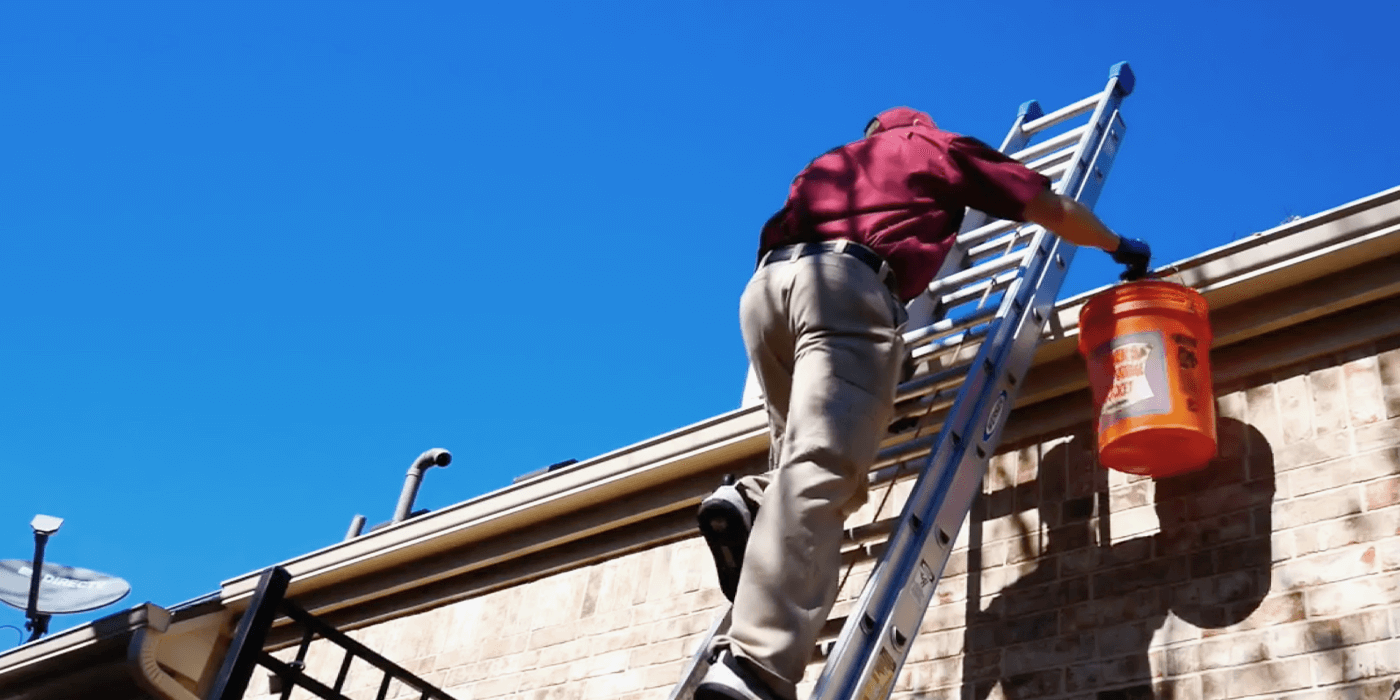 Download Transcript
Our gutter cleaning technicians use a specially-designed pole to move leaves, sticks and other debris across the length of your gutters to one side. Check out these before and after shots:
Before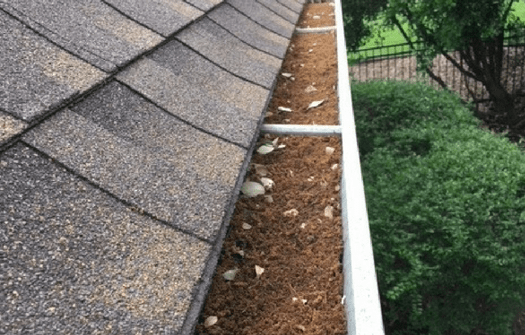 After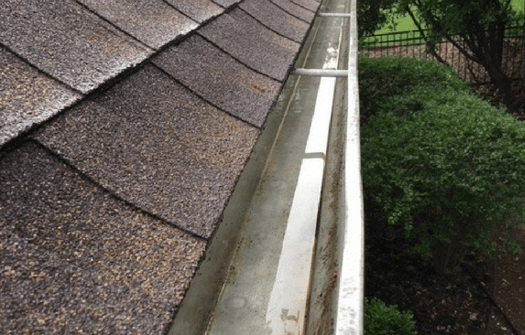 Debris will be removed by hand so that it does not fall onto your driveway, walkway or flower beds. Our technicians will then check your downspouts for any blockages. Depending on the extent of a clog, we will either use a leaf blower to remove the obstruction or disassemble your downspout to move the source of the problem.
Once gutter cleaning is complete, our crews will take away the waste materials collected from your gutters and make sure your property is in pristine condition.
The ABC Process
1. Contact ABC
When you contact us, we will learn more about what you'd like done and your property.
2. Get An Estimate
We'll provide you with an estimate for gutter cleaning. We can usually give this to you over the phone.
3. Perform Services
Our pros will get your gutters clear of debris and functioning correctly.
4. Follow-Up
After each visit, we will update you on the work we performed and provide any helpful follow-up instructions or other guidance.
Since many of us need a ladder to inspect our gutters up close, we can often miss signs of accumulated debris. Some of the most common warning signs that indicate gutter cleaning is overdue include:
Water overflowing out of the top of your gutters instead of coming out of downspouts
Seeds which have sprouted in your gutters
Clumps of dirt
Rodent or bird nests
Pest infestations
If enough materials collect in your gutters, the added weight can cause your gutters to deteriorate, which can result in your gutters leaking and eventually pulling away from your home.
Can you remove those black lines from my gutters?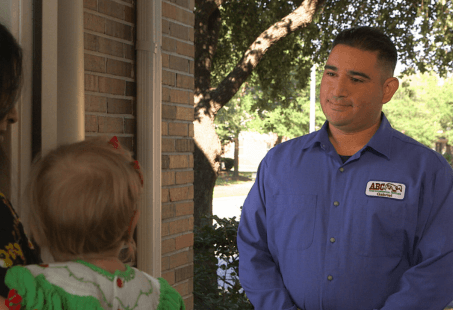 Get Started
We offer a full range of exterior cleaning services.
With ABC's help, you will save yourself precious free time. Most importantly, you will be safe from dangers associated with getting up on a ladder, a risk which is linked to over 160,000 annual visits to our country's emergency rooms. ABC's equipment will do the job quicker, safer and better than you could do with a hose and a bucket.
When you choose ABC for your gutter cleaning, you are selecting a company which has provided a range of top-quality home services in the Austin community for generations. Our customers say they select ABC because they know that we conduct thorough background checks on all our employees and because our technicians are also subject to drug testing. All our staff receives extensive in-house training and treat your property as they would their own.
Frequently Asked Questions
Can you remove those black lines from my gutters?
Homeowners can notice ugly black lines or streaks which form along gutters. These are called "tiger stripes" and form as a result of electrostatic bonding of debris to your aluminum gutters.
ABC can use power washing equipment and special cleaners on your gutters to disrupt this chemical bond and remove this unsightly residue.
How often should I have my gutters cleaned?
The frequency of your gutter cleaning will depend largely on the number of trees situated over your roof. Many of our customers choose to have their gutters cleaned twice a year to avoid any potential damage from clogged gutters. Gutters positioned next to roofs with a steeper angle may require more frequent cleaning.
With ABC, you can opt to have gutter cleaning set up as a recurring service to make sure this important home maintenance task gets done on a regular basis.
Do I need to be at home when my gutters are cleaned?
In most cases, our gutter cleaning crews can perform their work when you are away at work. If you choose this option, we simply ask homeowners for means to access the perimeter of your home for our work and that pets and children remain indoors during your gutter cleaning service.
What qualifications do ABC employees have to work at my home?
You can feel good about ABC's team on your property. Not only do all employees undergo a criminal history check and drug screening, but with any service that requires licensure for work for to be performed, you can bet that ABC is on top of it and completely certified. Rest easy, and leave the work to our experienced, trained, and friendly service team.
Get Started
We offer a full range of exterior cleaning services.
More Exterior Cleaning Services In Bryan-College Station
What Our Customers Are Saying
"Our technician, Dustin Vyoral and his crew take care of our property and do an amazing job. They always call to let us know when there coming and are always on time. Not only do they maintain the yard, they go the extra mile by cleaning the debris out of our pool. Would highly recommend ABC to anyone in the Brazos Valley."
Lynnette Palomo
12/3/2021
"Robert came out to explain ABC and what they had to offer…..everything from pest control to lawn service to handyman. He was friendly and professional. Elisabeth came out the next day for my first service. She was also friendly and professional and very efficient! Thank you for fitting me into the schedule so quickly!"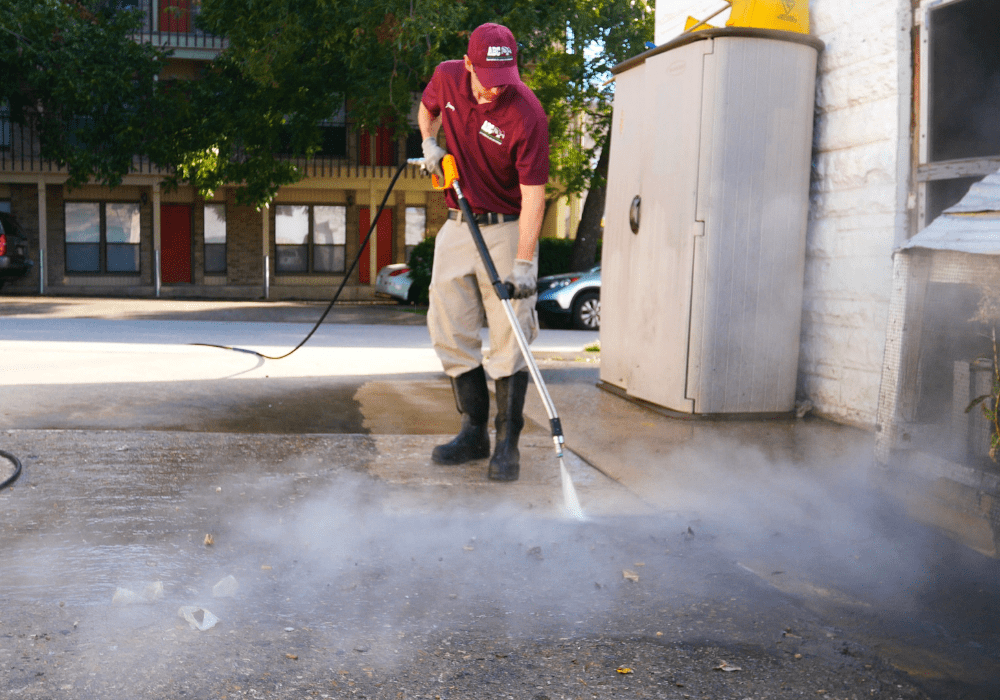 Need Exterior Cleaning Services For Your Business?
Make a good first impression on your customers with a clean storefront. We offer gutter cleaning, window washing and pressure washing for businesses.
ABC's Complete List of Home Services in Bryan-College Station
Why deal with multiple service providers when ABC can do it all?