Roach Exterminator in Bryan-College Station, TX
Much to your dismay, when you woke up one morning and turned on the lights in the kitchen, you came face to face with a cockroach. Then, the same thing keeps happening around the house. If you've reached your wit's end after these unwanted close encounters, contact ABC Home & Commercial Services. Our highly-trained roach exterminators in Bryan-College Station can implement a customized treatment plan that will get rid of these bothersome pests.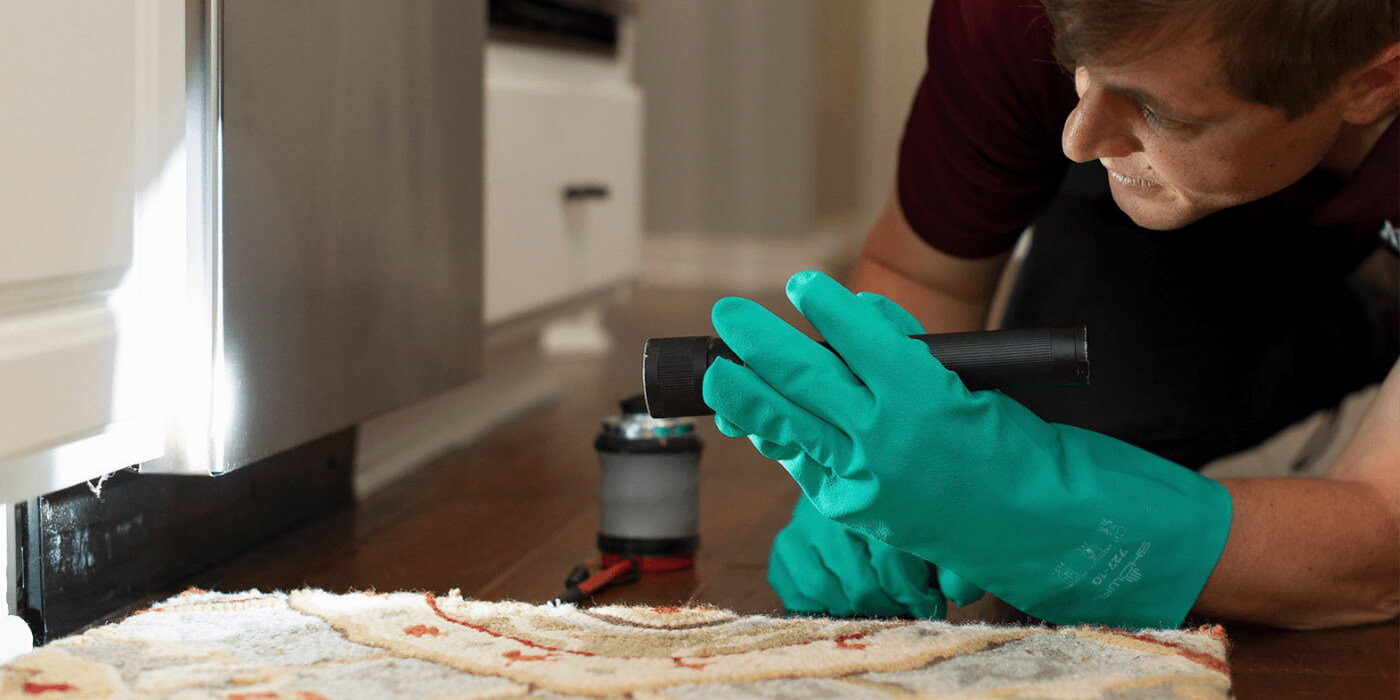 In the greater Brazos Valley area, the two most common species of cockroach that a homeowner may find on their property are the American cockroach and the German cockroach. As part of your inspection, your specialist will first determine which species is residing on your property and then create a treatment plan to treat the specific species of roach.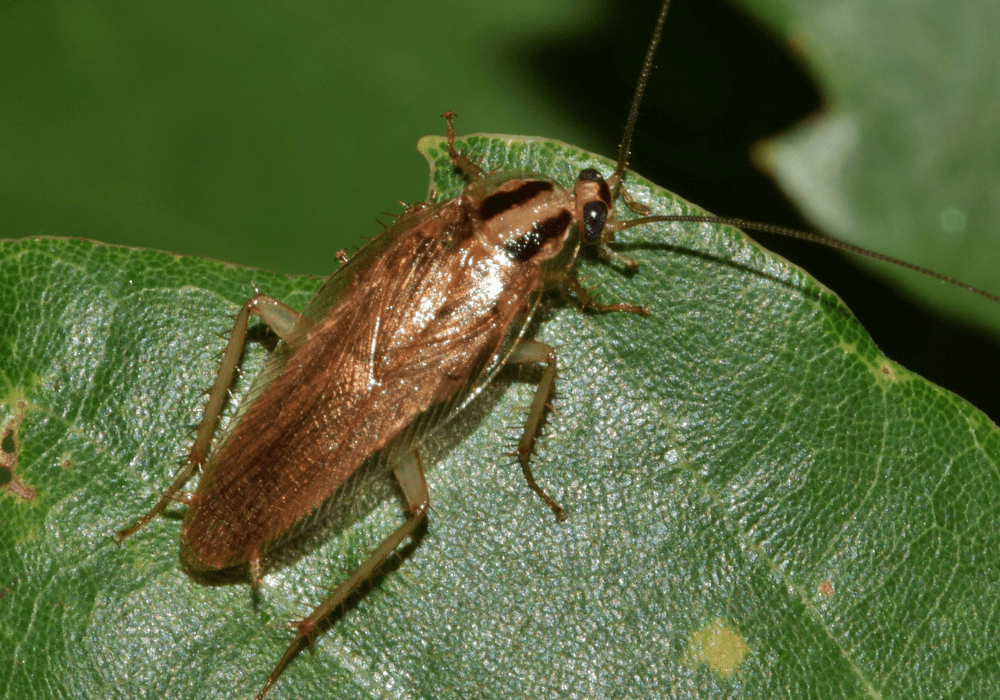 German Cockroach Control
In the greater Brazos Valley area, the two most common species of cockroach that a homeowner may find on their property are the American cockroach and the German cockroach. As part of your inspection, your specialist will first determine which species is residing on your property and then create a treatment plan to treat the specific species of roach.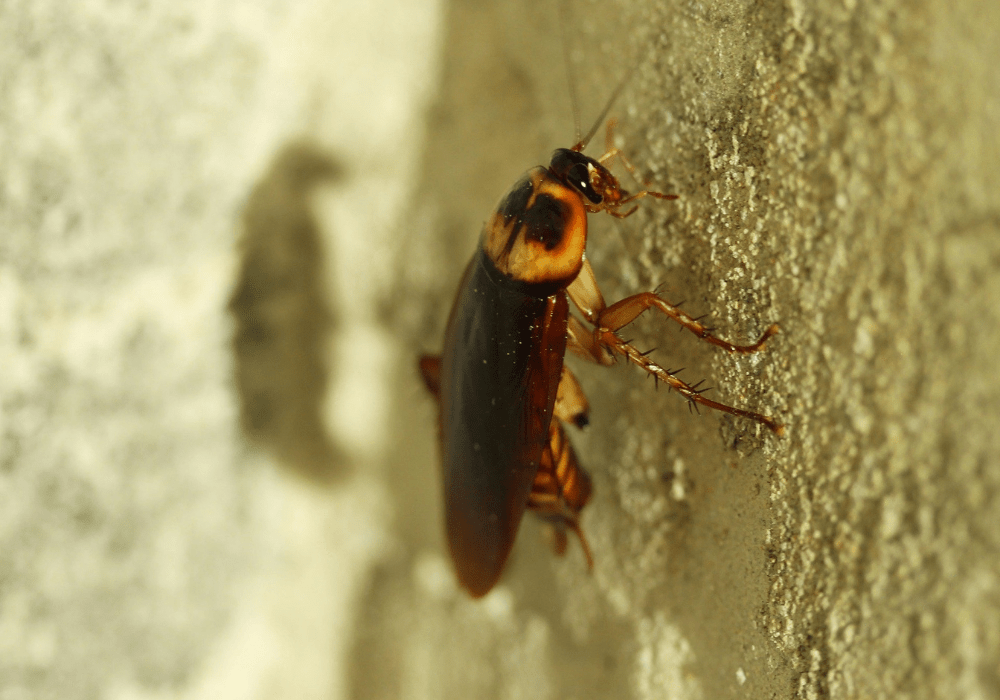 American Cockroach Control
Discovering an American cockroach on your property can be alarming, as these pests are much larger than their German counterparts. However, American cockroaches are less likely to invade our homes and prefer to stay outdoors, so you usually find them around your home's perimeter. That said, American roaches can make their way inside of your home through doors or small cracks and crevices.
With American cockroaches, prevention is key to keeping these pests out. Your ABC technician can apply a repellent to keep these pests outside. To avoid having these pests gain entry to your home, we may seal off potential entry points, suggest you replace weather stripping or make other recommendations based on our initial findings.
With both American and German cockroaches, you want to eliminate sources of excess moisture around your home and yard and maintain a clean home to provide fewer nesting areas for these pests. ABC recommends routinely scheduled treatments and monitoring to keep roach populations down, as well as to prevent other common pests from invading your living spaces.
The ABC Process
1. Contact ABC
When you contact us, we will schedule an inspection to get an understanding of the problem. In some cases, we can give you a quote over the phone.
2. Get An Estimate
If you have an inspection, we will send you a custom treatment plan and estimate afterward. Once we get your approval, we will schedule your treatment.
3. Treatment
We will come to your property and treat for pests in common hiding and nesting areas. Over time, you will start seeing less and less pest activity.
4. Prevention
Customers with our ongoing pest management services will receive periodic retreatments to prevent the return of the most common pests in our area.
At ABC, we understand that when you're frustrated about a roach problem, you want to get relief as quickly as possible. Get in touch with us and we will schedule an inspection as soon as possible. In some cases, we can even provide you with an estimate over the phone.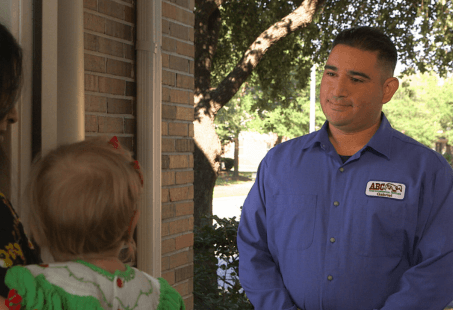 Get Started
We offer a full range of pest control services.
ABC has been helping residents of Bryan-College Station with a variety of home services for generations. We have developed a good reputation in the community, due to our courteous technicians who implement effective pest control treatment plans. Additionally, our customers feel peace of mind whenever our specialists arrive at their home, as all job applicants are drug tested and background checked before joining our team. Before performing service calls, all technicians go through an extensive in-house training program so that they are fully equipped to handle any pest problem you may have. Lastly, as a family-run business, one of our values is that we treat our customers' homes as if they were our own.
Frequently Asked Questions
What happens after I contact ABC?
In some cases, when you contact us, we are able to give you an estimate over the phone. However, in many cases, we prefer to get a first-hand understanding of your roach problem so we can create the most effective treatment plan possible. If an inspection makes the most sense, we will get you on our schedule as soon as possible. During your in-person visit, you can expect one of our pest control specialists to:
Ask you questions about where you've been noticing signs of roaches or seeing the roaches themselves
Assess your property for roach nesting and breeding areas, as well as locate potential pest entry points
Determine the species of roach on your property
Answer any of your questions regarding your pest problem or our treatment protocols
At the end of the inspection, we will present you with an estimate for our recommended next steps. When we receive your approval, we will put your first treatment call on the schedule.
What are some warning signs that might indicate I have a roach infestation?
Although spotting a cockroach is the most obvious indication that you may have a roach problem, these pests are nocturnal and prefer to avoid human interaction, so if you see one, there could be many more lurking out of sight. Therefore, if you suspect you may have a problem, you may want to also look for other signs of a roach infestation, including:
A musty smell
Cockroach droppings, which look like coffee grounds
Smear marks where roaches commonly travel, such as along walls and floor junctions
Shed cockroach skins which are about the same size and shape as an adult cockroach
Long, yellow casings which will contain cockroach eggs
When looking for signs of a roach problem, check in areas that are warm and humid, as this is the preferred environment for these creatures. We recommend looking in and around bathrooms, kitchens, laundry rooms, drains and any other areas of your home that are near a water source.
Why can't I get rid of cockroaches myself?
While there are a variety of cockroach treatment products you can purchase at the store, many of our customers in Bryan-College Station find that these interventions have limited results at best, and that handling an infestation can easily turn into a time-consuming, seemingly never-ending task. Cockroaches are both resilient and prolific breeders, with some females laying up to 10,000 eggs in a single year. Additionally, roaches have been around for millions of years and have adapted to survive off nearly any organic matter, so just keeping your home clean may not be enough to control an infestation. To properly reduce your roach population requires consistent applications of effective products. In most cases, contacting a cockroach exterminator is the quickest and most effective way to rid your property of roaches.
How often will you treat my property?
While many of our customers are hopeful that their roach problem will be resolved in just one or two visits, it could take multiple treatments for us to effectively tackle a roach issue. When we create your custom treatment plan, we will take into account the severity and extent of the infestation, the species of cockroach and any other unique factors. Typically, the larger the infestation, the more treatments we will have to perform. One of the many benefits of contacting ABC for cockroach control is that we will come out as many times as needed to get your problem under control.
The most effective way to treat a roach problem is to prevent it in the first place. When you take advantage of ABC's routine pest control services, you can have peace of mind that our highly-trained technicians will regularly come out to apply preventative treatments and notify you of any signs of pest activity before a full-blown infestation develops.
What impact do the products you use have on my family and the environment?
As a family-owned and operated business, our top priority at ABC is the well-being of our customers, their families and the environment. When we select the products that we use for residential pest control, we only select those that are created for residential use. Additionally, we only select solutions that we would feel comfortable using in our own homes and yards. As a part of your initial inspection, your cockroach exterminator will calculate the lowest concentration of chemicals to use to be both low-impact and effective. If you have any other questions regarding the products that we use, your technician would be happy to answer them.
What if I still see roaches after a treatment?
Some homeowners may be surprised to learn that it's actually normal to see a short uptick in roach activity after a service call, particularly towards the start of your treatment program. This is because we have made current nesting areas inhospitable and these pests are searching for a new place to live. However, as the roaches travel throughout your home, they will unknowingly be bringing the product with them which will eventually lead to a reduction in the population of roaches. Pest activity anywhere from 7 to 10 days after your initial treatment is considered normal.
However, if you're still seeing quite a bit of roach activity between 7 to 30 days after your initial treatment, reach out to us. We would be happy to send a specialist back to your home to investigate, at no additional cost.
What can I do on my own to prevent roaches?
As part of your custom treatment plan, your ABC specialist will provide you with advice on how to prevent roaches, based on any environmental factors or unique issues that make your home more attractive to these pests. However, there are some things all homeowners can do that can make their property less appealing to roaches.
In general, we recommend:
Wiping down counters, tables, stovetops and other surfaces after using them
Regularly sweeping and mopping floors
Keeping surfaces in bathrooms and kitchens clean
Clearing dishes and putting them in the dishwasher shortly after use
Emptying pet food and water bowls before going to bed
Putting food, including pet food, in tightly sealed containers
Regularly emptying trash into outdoor bins
Sealing off potential entry points around drains, windows and doors
Moving vegetation, such as firewood and compost piles, away from the foundation of your home
Unfortunately, the climate and conditions in Bryan-College Station are favorable for high roach activity and roaches are capable of invading even the cleanest of homes.
After your initial inspection, your specialist will provide you with advice to help with your particular problem. Additionally, we may recommend that you sign up for our ongoing treatment program to protect against future cockroach infestations.
Get Started
We can create a treatment plan that targets these pests, so you can have peace of mind.
More Pest Control Solutions in Bryan-College Station
What Our Customers Are Saying
"ABC Home & Commercial Services did an outstanding job of redesigning, replacing and trimming many of the trees and shrubs on our residential property. They also mulched all of our flower beds, added all new bed border around the trees/beds and then added grass sod in several areas that needed it. Brandon and Michael were always very cordial and professional in handing their day to day business. My wife and I were pleased with the quality of their work. We couldn't have expected more we were pleased with the overall quality of their work. Overall they represented their company in a very positive manner."
"I have had ABC for more than a year now. Definitely glad i switched. All issues I have get handled. I use to stress about pest control as a property manager but, not anymore. A shout out to Jeremy, our technician. Does a great job. Courteous, well informed, professional, and he cares. Thanks for taking care of my tenants."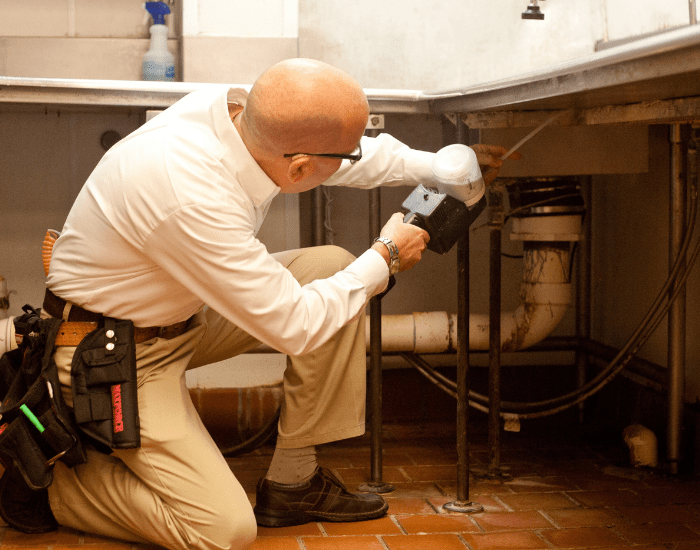 Need Pest Control For Your Business?
We understand that businesses have different needs than residences. That's why we have specially trained technicians who can service your business.
ABC's Complete List of Home Services in Bryan-College Station
Why deal with multiple service providers when ABC can do it all?