Window Cleaning in Bryan-College Station, TX
Who doesn't love the natural light that comes in through windows? Plus, opening the windows on a beautiful day can let in some fresh air. When our windows are dusty or dirty, it can take away from these simple pleasures. But, cleaning your windows can turn into a big task. Let ABC Home & Commercial Services handle this chore. We use special techniques for window cleaning in Bryan-College Station to keep your view beautiful and streak-free.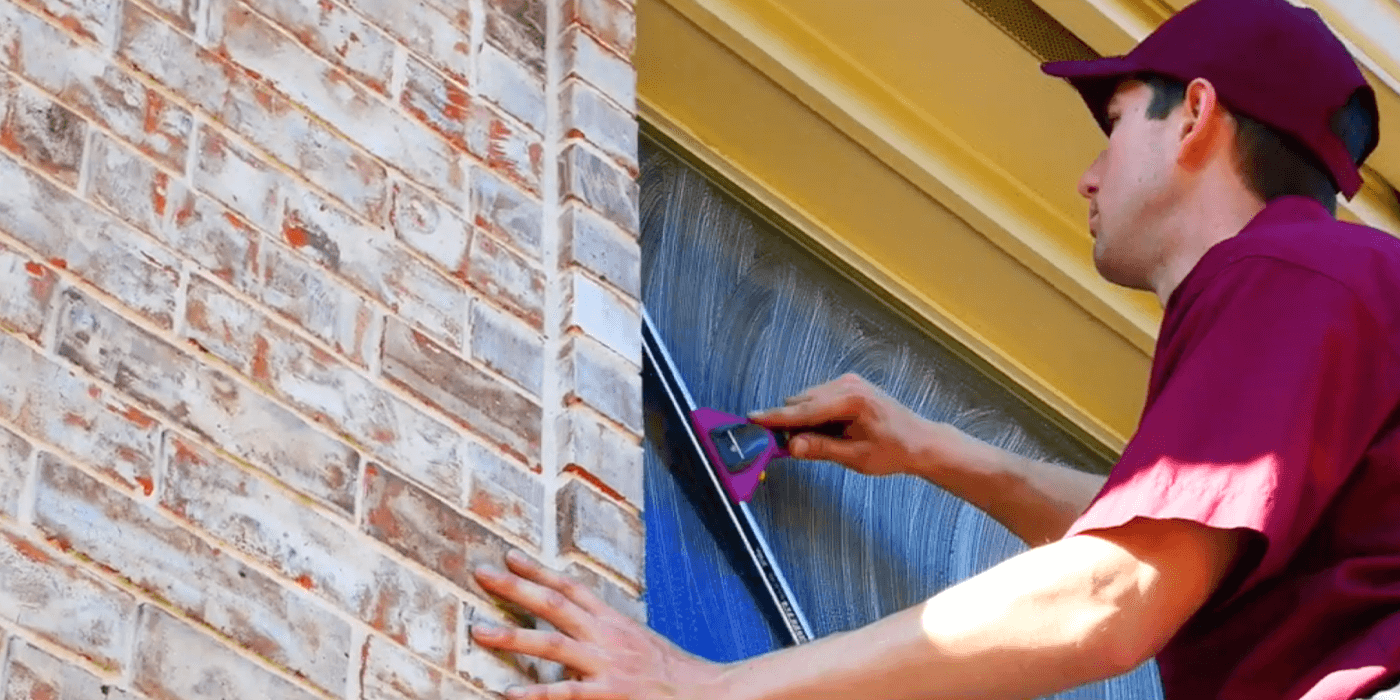 Download Transcript
ABC provides full-service window cleaning, whether you live in a one story cottage or a three story home.
Our window washing pros use a special water filtration system which removes up to 99.9% of the typical mineral build-up which remains when we use a glass cleaner. Our technicians use this process to remove dirt, dust, spiderwebs, bird droppings, pollen and dead insects from your windows.
On our first visit, we will carefully clean the interior surface of your windows, making sure to leave no mess for you to have to worry about later. If we need to move any furniture or window treatments to do our work, we will make sure to move everything back to its original spot when we are done. We also clean your window sills, frames and tracks.
As part of our window cleaning service, our technicians brush off your window screens to remove any caked-on debris. For an additional charge, we can also apply a special solution to dissolve dust and restore the luster to your window screens.
We will bring extension ladders and all the equipment needed for the job, so you won't have to lift a finger. Our technicians take extra care to make sure they don't harm your landscaping, siding and flowerbeds. If needed, we can power wash your sliding doors to remove any residue.
The ABC Process
1. Contact ABC
When you contact us, we will learn more about what you'd like done and your property.
2. Get An Estimate
We'll provide you with an estimate for window cleaning. We can usually give this to you over the phone.
3. Perform Services
Our pros will get your windows sparkling clean.
4. Follow-Up
After each visit, we will update you on the work we performed and provide any helpful follow-up instructions or other guidance.
Any time of year is a good time to have your windows washed. Our customers tell us that they waited and waited to find the best time to schedule the service. Once they see their crystal-clear windows, they tell us that they wished that they done it sooner.
Our technicians can wash your windows in warm weather, when it's cold out and even during a light rainfall.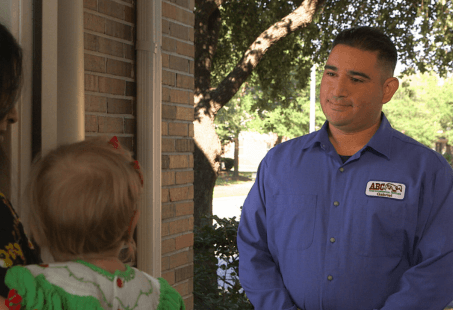 Get Started
We offer a full range of exterior cleaning services.
People choose ABC for window cleaning because we provide a broad range of high-quality home services. Our technicians arrive when they say they will and treat your home and yard as they would their own. In addition, ABC performs extensive background checks and drug testing on all our employees, so you can feel safe having us at your home, whether you are there or away at work.
Frequently Asked Questions
Do you offer free estimates?
ABC offers free estimates on all home services. When you give us a call, we'll schedule a time that works for you to have an inspector meet you at your home. Our inspector will take a closer look at your property and present you with several options for keeping your windows sparkling clean, all year long.
The cost usually depends on how many windows you would like to have cleaned and what type of windows you have. We wash the surfaces on your home's exterior and he interior. Once you decide what schedule works for you, we will arrange for a convenient time for the work to be done.
How often should I have my windows cleaned?
Debris build up on your windows depends on several factors, including the amount of tree cover you have, what types of trees are in your yard and how vulnerable your home is to sediment carried by the wind from construction work and nearby highways.
Our customers usually choose to have their windows cleaned twice a year. In some cases, homeowners prefer to have our pros visit more often to transform their windows from dirty to sparkling clean.
Can you clean my windows when I'm not at home?
We usually recommend that homeowners have the interior surfaces of their windows cleaned first. In those cases, we schedule the initial cleaning at a time when you can be home. You don't need to be home when we are washing your exterior surfaces, provided that you give us instructions on how to access your front and back yards. We ask that you keep pets and children inside while we are working outside, for their safety.
Since the outside of your windows will get dirty more quickly than the interior, most return visits will allow us to clean the exterior surface, so these appointments also don't require you to be at home.
Will your products damage my furniture, flooring or wood?
We carefully select low-impact products that won't do damage to your home and property. We recommend our customers move any furniture or belongings which has sentimental or significant value prior to having your windows cleaned.
If you need help, you can point out these items to your technician so that he or she can carefully place them in a different location until the service is complete.
Get Started
We offer a full range of exterior cleaning services.
More Exterior Cleaning Services In Bryan-College Station
What Our Customers Are Saying
"ABC Home & Commercial Services did an outstanding job of redesigning, replacing and trimming many of the trees and shrubs on our residential property. They also mulched all of our flower beds, added all new bed border around the trees/beds and then added grass sod in several areas that needed it. Brandon and Michael were always very cordial and professional in handing their day to day business. My wife and I were pleased with the quality of their work. We couldn't have expected more we were pleased with the overall quality of their work. Overall they represented their company in a very positive manner."
"I have had ABC for more than a year now. Definitely glad i switched. All issues I have get handled. I use to stress about pest control as a property manager but, not anymore. A shout out to Jeremy, our technician. Does a great job. Courteous, well informed, professional, and he cares. Thanks for taking care of my tenants."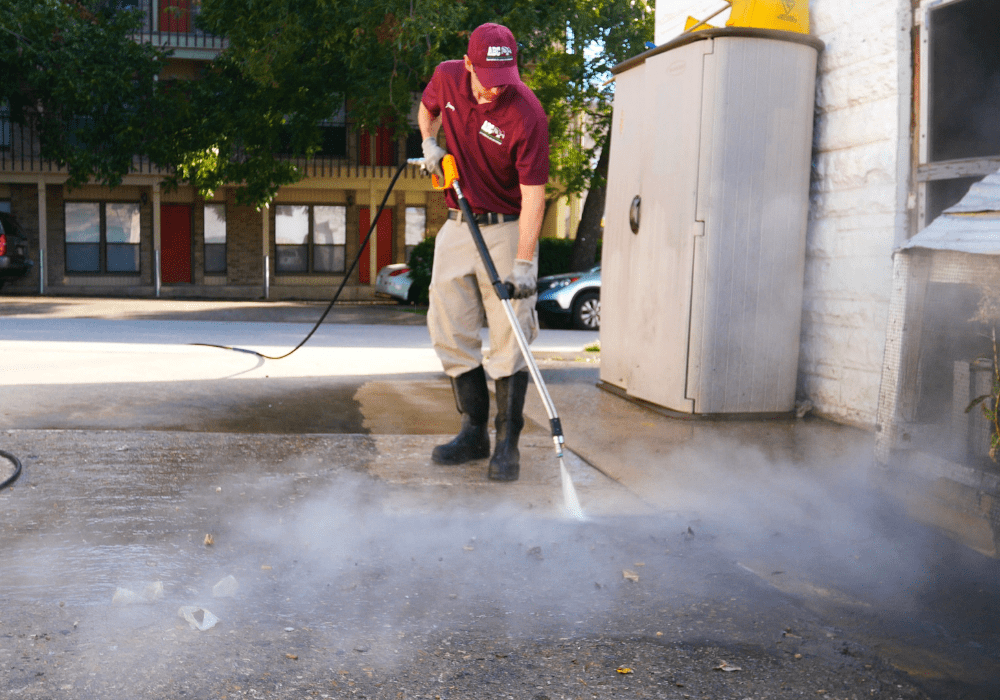 Need Exterior Cleaning Services For Your Business?
Make a good first impression on your customers with a clean storefront. We offer gutter cleaning, window washing and pressure washing for businesses.
ABC's Complete List of Home Services in Bryan-College Station
Why deal with multiple service providers when ABC can do it all?