Landscaping & Landscape Design in Bryan-College Station, TX
There are many ways to update your yard and reasons you might consider small or large projects. Landscaping can add to your curb appeal and improve your quality of life. But, these ideas often turn into hard work in the hot sun. If you need help with landscaping in Bryan-College Station, contact ABC Home & Commercial Services. Our pros can turn your dreams for your outdoor spaces into reality.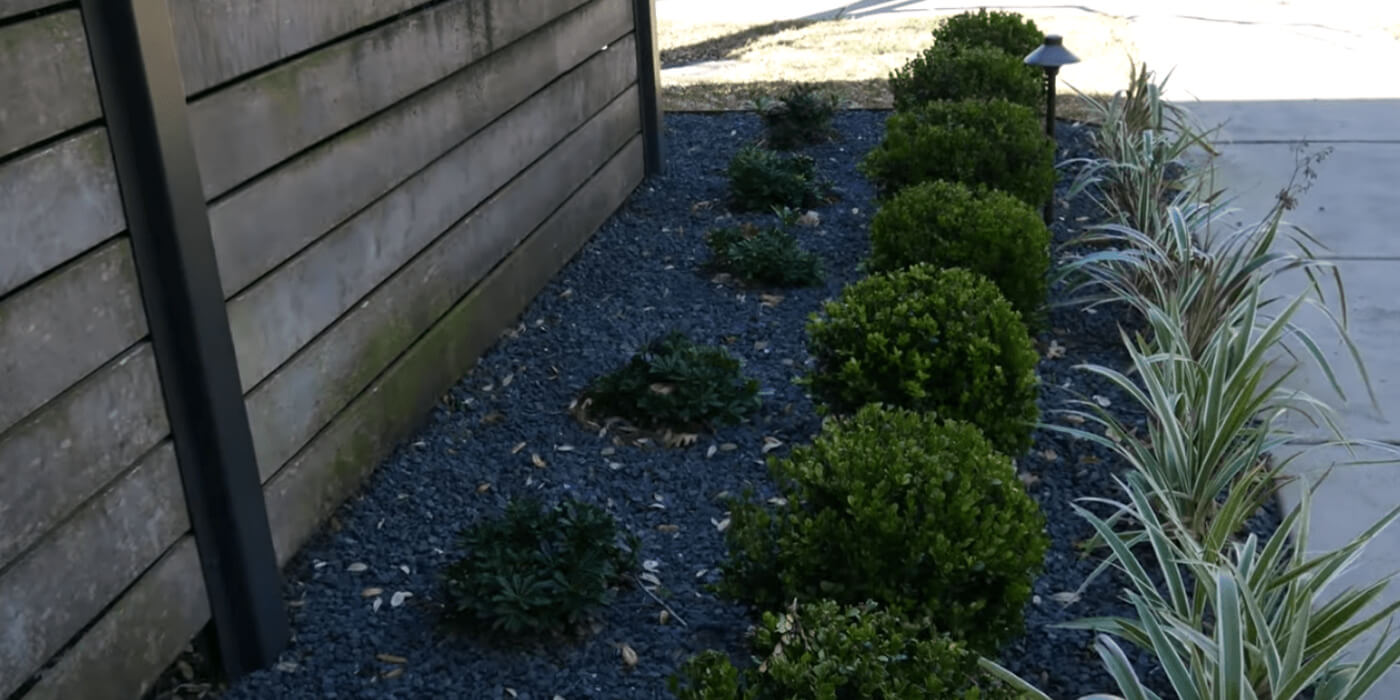 Download Transcript
ABC's talented and experienced team can turn your vision for your outdoor areas into a reality.
Our designers here in College Station take on any landscaping project, which could include:
Adding native, edible or ornamental plants
Completing masonry jobs, including adding or enhancing patios, an outdoor kitchen, walkways, firepits and fireplaces
Providing depth to your lawn by altering the existing terrain to include terraces, raised beds, shrubs and trees
Showcasing your home be adding landscaping and security lighting
Separating your yard by function by adding decks, water features, fencing and other structures
Repair and modify your sprinkler systems so your plants get the moisture they need to thrive in our hot climate
Creating an entirely new landscape design to turn your yard into a place you want to spend more time
Swapping out water-hungry plants for native, lower maintenance varieties which can attract butterflies and birds
Installing landscape features to dull outdoor noise
Sprucing up your beds and flowers seasonally to replace dead or dying plants
Converting thirsty or dying grass to crushed pathways, stepping stones and patios
Resolving ongoing drainage issues in your yard
Installing natural elements to create more shade in sunny yards
The ABC Process
1. Contact ABC
We'll learn what you need over the phone or during an in-person meeting at your home. Usually, we can schedule an appointment in a few business days.
2. Get An Estimate
We'll provide you with an estimate based on your goals and our recommended set of services. Once we get your approval, we will get you on the schedule.
3. Service
Our trained specialists perform all agreed-upon services. When we're done, we will clean up any debris to keep your yard neat and looking great.
4. Follow-Up
Depending on what services we performed on your property, we'll provide you with an update or recommend additional follow-up or ongoing services.
Our ultimate goal is to give you the outdoor spaces that fit your personal taste. If you aren't sure exactly what would work best for your home, our experienced designers can create a Mediterranean look if that would go well with your home's exterior. Or perhaps a Japanese style might be more up your alley if you want a peaceful retreat from your busy days. Some homeowners ask us to recreate a cottage style ambiance, complete with an herb garden.
Still other customers have asked us to look for inspiration in the American Southwest, with cactus and other heat-tolerant species. Travels inspire some homeowners to request tropical foliage with bright colors and large leaves. Of course, we can also create a more traditional, formal garden if you so desire. If a low-maintenance yard is your priority, we may suggest xeriscaping to help you reduce water usage and save on utility bills.
Our designers will learn more from you about your personal style and use that information, along with their knowledge about what plants do best in our Brazos Valley climate, to help inform our recommendations for your landscape.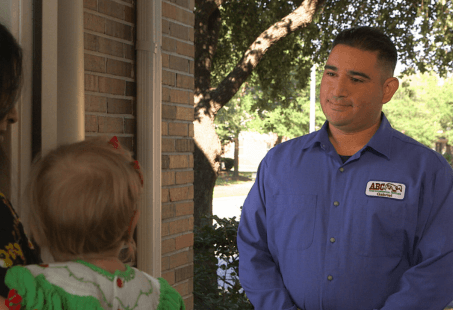 Get Started
We can turn your vision for your yard into reality.
Our customers here in the Bryan-College Station area tell us that they chose us for their landscaping project for the same reasons they wanted us to help with their pest control and holiday lighting. First and foremost, our technicians have the skills and experience to do the job right, the first time. Knowing that all our employees undergo extensive background checks and drug testing gives you the peace of mind that you can trust an ABC landscape technician on your property. Lastly, and perhaps most importantly, we treat your yard as we would our own.
Frequently Asked Questions
Does ABC offer free landscaping consultations?
Absolutely! We realize that landscaping projects are as unique as the homeowner, so we listen closely to what you want to create a free, no obligation estimate and scope of work for your project. Here's how it works: when you reach out to ABC, we'll find a time that works for you for one of our designers to meet you at your property. The designer will have the chance to learn more about your desires and budget and see your outdoor spaces.
You'll have the chance to ask us any questions you might have about the process. Once you approve the estimate, we can get you on the schedule so that your landscaping project can begin. A designer will supervise the work of your landscaping team, from start to finish.
Can you incorporate drought resistant and water-wise plants in my design?
While our designers will do everything we can to transform your yard into the oasis you want, we also recognize that some plants will do better than others in our climate. That's why we try to integrate sound environmental practices into our landscaping work. We can suggest drought-resistant plants and alternatives, including stone, rock and even artificial turf, if you would like to lower your water usage and spend less time on your yard.
Can you break down my landscape design into smaller parts so I can spread out my costs over time?
Although we all want a beautifully landscaped yard, sometimes our budgets don't allow us to get everything we want at the same time. Our design team is happy to work with you to break your project into smaller parts so that your investment is broken up over time.
Can you do my landscaping while I'm not at home?
Our customers are busy, and they appreciate that we can often start on a project when they are away at work. After your in-person consultation, we can schedule work to be done when it's convenient for your schedule. All we ask is that you give us any special instructions to access your yard and that you keep pets and children indoors while we work, for their safety.
Get Started
We can turn your vision for your yard into reality.
More Tree and Lawn Service Solutions in Bryan-College Station
What Our Customers Are Saying
"Jeremy and his crew did a wonderful job of trimming up all of our trees. They were polite, professional, and on time. Our trees are now nicely shaped, all of the dead branches are gone and the curb appeal is much improved. All of the tree trimmings were removed and all of the sidewalks were swept so the yard looks neat."
"I called ABC and was able to get an appointment earlier than a couple other companies. Service call prices was very comparable with others too so thought I would give them a try. James the technician was very knowledgeable and eager to help solve a leaking sprinkler. He provided me with an estimated cost of what repairs might be needed before he began service. He quickly found the leak and repaired it. He even looked for a non functioning zone while he had a few extra minutes. But that's an appointment for another time. I would definitely use ABC again."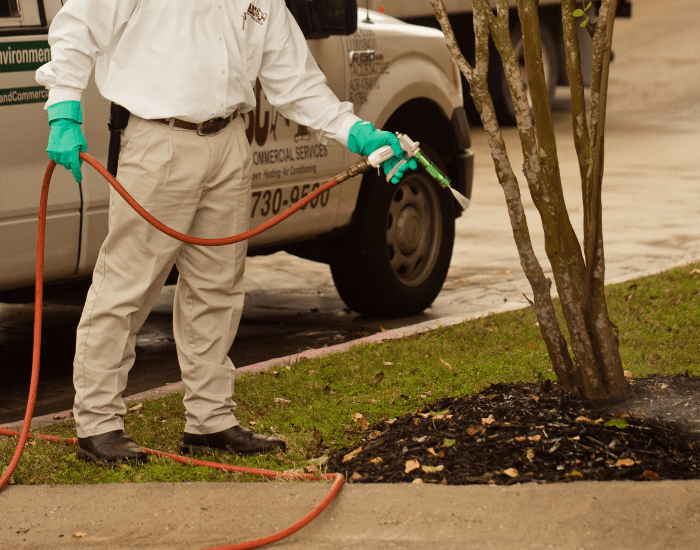 Need Landscaping Services For Your Business?
Our landscaping pros can make seasonal updates or perform a complete transformation so you make a good first impression on your customers.
ABC's Complete List of Home Services in Bryan-College Station
Why deal with multiple service providers when ABC can do it all?