Tree Services & Tree Trimming in Bryan-College Station, TX
Here in Brazos County, oaks and other trees provide us with welcome shade. Trees can also help lower our utility bills and add to our curb appeal. But, tree care requires knowledge, tools and time that many of us don't have. When it comes to tree service in Bryan-College Station, homeowners count on ABC Home & Commercial Services. Our pros can handle all aspects of tree care, including tree removal, trimming and fertilization.
Download Transcript
ABC's experienced team can handle any type of problem or question you have about your trees.
Trees require specialized care that is often best performed by highly-trained professionals who have a thorough understanding of how local conditions and weather can impact tree health. ABC's tree care specialists can assess your trees and suggest a plan to treat a variety of issues. Some of the most common tree care services we provide include:
Disease Remediation
There are a number of different conditions that can affect your trees and the best plan of action begins with accurately diagnosing the problem. Depending on the nature and severity of the problem, we may recommend trunk injections, foliar sprays or another treatment method.
Some of the more common tree diseases we see in the area include:
oak wilt,
hypoylon canker,
root rot,
bacterial leaf scorch,
pest infestations,
blight and
drought damage.
With the help of our tree care professionals, we can help get your trees back to optimal health.
Insect and Pest Removal
You may be worried when you notice insects on your trees and the potential negative impact these creatures may have on your tree health. Your ABC specialist can conduct an assessment to determine what type of intervention may be necessary, which can include trunk injections or insecticide sprays.
Tree Fertilization
Providing your trees with additional nutrients can help with healthy root development and can help protect your trees against disease. Our technicians can inspect your trees to determine if your trees would benefit from fertilization. If this is the case, we can recommend a schedule of visits to keep your trees healthy throughout the year.
Tree Trimming
There are a number of reasons why homeowners may need to have tree branches pruned, including:
to remove diseased or damaged branches;
to minimize the risk of limbs falling and damaging your property and belongings, or putting your family at risk;
to allow for adequate clearance between your roof and tree to prevent pests from having an easy pathway to your home and
to allow for more sunlight to reach the canopy of the tree.
Unfortunately, tree trimming can be a difficult task, especially if you have large oak trees with dense branches.
ABC's tree care professionals can trim back these tree branches safely and in a way that keeps your trees healthy. Furthermore, we can remove unsightly growths such as deadwood or moss balls, and we can clear any branches or twigs that may have fallen on your roof during a storm. You can even rely on our specialists to recommend and then make repairs on your property if damage from the storm was extensive.
Over time, the trees on your property may die or become diseased. Or, there are situations in which a homeowner may have to make the difficult decision to remove a healthy tree because its growing too close to the home's foundation or utility lines. Or, you need to make room for a home remodel. In any of these situations, tree removal is best handled by a professional. ABC's tree care professionals can advise you on whether tree removal is your best option. If it is, we can safely remove the tree for you.
As we walk around our trees, the soil surrounding our trees can become compacted. As time goes on, this tightly packed soil makes it difficult for our trees to get adequate water and nutrients. With our tree air excavation services, we loosen up compacted soil to ensure that your trees are getting all of the necessary nutrients to grow healthy and strong.
The ABC Process
1. Contact ABC
We'll learn what you need over the phone or during an in-person meeting at your home. Usually, we can schedule an appointment in a few business days.
2. Get An Estimate
We'll provide you with an estimate based on your goals and our recommended set of services. Once we get your approval, we will get you on the schedule.
3. Service
Our trained specialists perform all agreed-upon services. When we're done, we will clean up any debris to keep your yard neat and looking great.
4. Follow-Up
Depending on what services we performed on your property, we'll provide you with an update or recommend additional follow-up or ongoing services.
In addition to receiving extensive in-house training, ABC's tree care team members hold the following professional accreditations:
Choosing a company with such extensive experience helps ensure that your trees will be cared for by individuals with the most up-to-date and accurate information on both native and non-native species. In addition to these accreditations, ABC is a proud member of both the International Society of Arboriculture (ISA) and the Tree Care Industry Association (TCIA).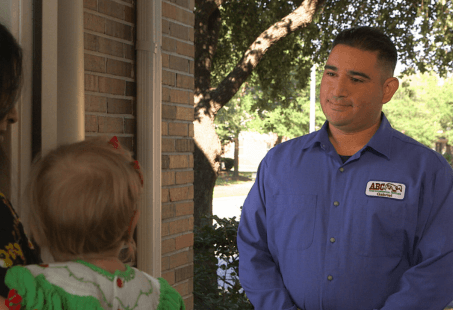 Get Started
We can turn your vision for your yard into reality.
Homeowners in Bryan-College Station have trusted their trees to ABC for decades. Our customers tell us that they appreciate that our tree care experts treat their property as they would their own. In addition to performing in-house training and having experienced tree care pros on staff, ABC conducts extensive background checks and drug testing so that our customers can feel safe having ABC care for their trees.
Frequently Asked Questions
What are some warning signs that might indicate a problem with my trees?
Unfortunately, long-term damage may have already occurred by the time most homeowners suspect something might be wrong with their trees. If you are concerned about a tree on your property, don't put off contacting a trusted tree care expert to help advise you on the best next steps.
Warning signs of an unhealthy tree include:
Brown, wilted or discolored leaves
Spots or holes on growths or leaves
Dead branches
Slowed growth
Sudden or excessive leaf loss
Rotting and decay
Pest infestations and related damage
What should I do to protect my trees?
Homeowners value their trees, but are often unsure what they can do on their own to protect this important part of their landscape.
A few things you can do to care for your trees is to:
Avoid planting trees right next to your home's foundation. Homeowners are often unable to predict how a tree's root structure will develop over time, and tree roots too close to your living structure can penetrate your foundation or cause instability.
Remove dead trees close to your house. Over time, a dead tree will shed smaller twigs and then larger branches. Eventually, the trunk can fall unless it is removed.
Protect root systems from damage by preventing soil compaction. Tree roots provide stability and nourishment. Roots can be cut while you are digging and aerating in your lawn, and the pressure from cars and even heavy foot traffic can harm your trees.
Can mulch help my trees?
Mulch can be beneficial to your tree's health by:
Providing a buffer against extreme temperatures
Retaining water to keep roots nourished
Discouraging weeds, which drain needed moisture and nutrients from your soil
Preventing soil compaction
Reducing damage to roots that might occur when mowing your lawn
To get the most benefit from mulch:
Remove grass in a three to ten-foot radius of your tree, depending on the size of your tree
Add a two to four-inch layer of natural mulch, such as wood chips or pieces of bark
Carefully spread mulch so that you don't accidentally cut or damage any roots.
What happens during the free consultation?
When you contact ABC for tree service, we will schedule a time that works for you for an inspector to meet you at your home. At that time, our inspector will:
Ask you questions to learn more about what you would like done and your budget
Take a closer look at your trees and yard
Make recommendations on how to best care for your trees
Answer any questions you might have
After that meeting, ABC will send you a FREE, no-obligation estimate. Once you approve the estimate, we can schedule a time for the work to begin. In most cases, our tree specialists can perform tree service when you are away at work.
What does oak wilt service look like?
Get Started
We offer a full range of lawn services.
More Lawn Care Solutions In Bryan-College Station
What Our Customers Are Saying
"Our technician, Dustin Vyoral and his crew take care of our property and do an amazing job. They always call to let us know when there coming and are always on time. Not only do they maintain the yard, they go the extra mile by cleaning the debris out of our pool. Would highly recommend ABC to anyone in the Brazos Valley."
Lynnette Palomo
12/3/2021
"Robert came out to explain ABC and what they had to offer…..everything from pest control to lawn service to handyman. He was friendly and professional. Elisabeth came out the next day for my first service. She was also friendly and professional and very efficient! Thank you for fitting me into the schedule so quickly!"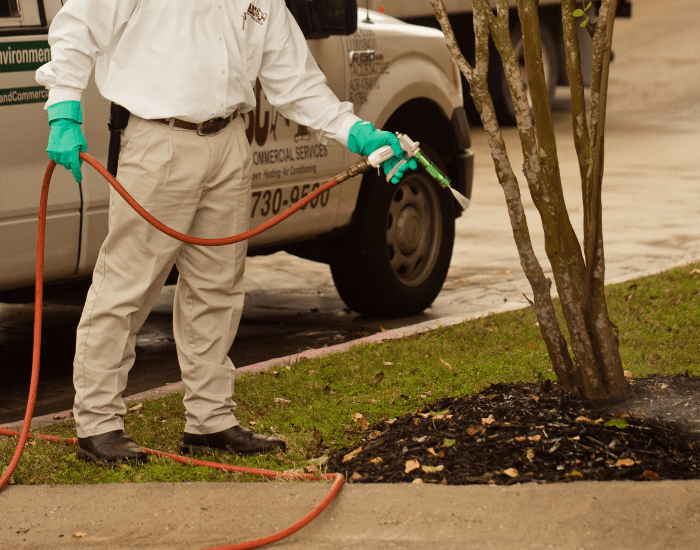 Need Lawn Services For Your Business?
Our lawn care specialists will ensure you make a good first impression on your customers by keeping your facility's exterior looking nice and tidy.
ABC's Complete List of Home Services in Bryan-College Station
Why deal with multiple service providers when ABC can do it all?