Holiday Lighting & Christmas Lights Installation in Bryan-College Station, TX
The holidays are a special time of year. You can make the most of this festive season by making your house one of the best and brightest on the block. When it comes to holiday lighting, Bryan-College Station homeowners count on ABC Home & Commercial Services. Our pros can hang your lights and take them down too. We'll free up some of your time, so you can spend it with family and friends.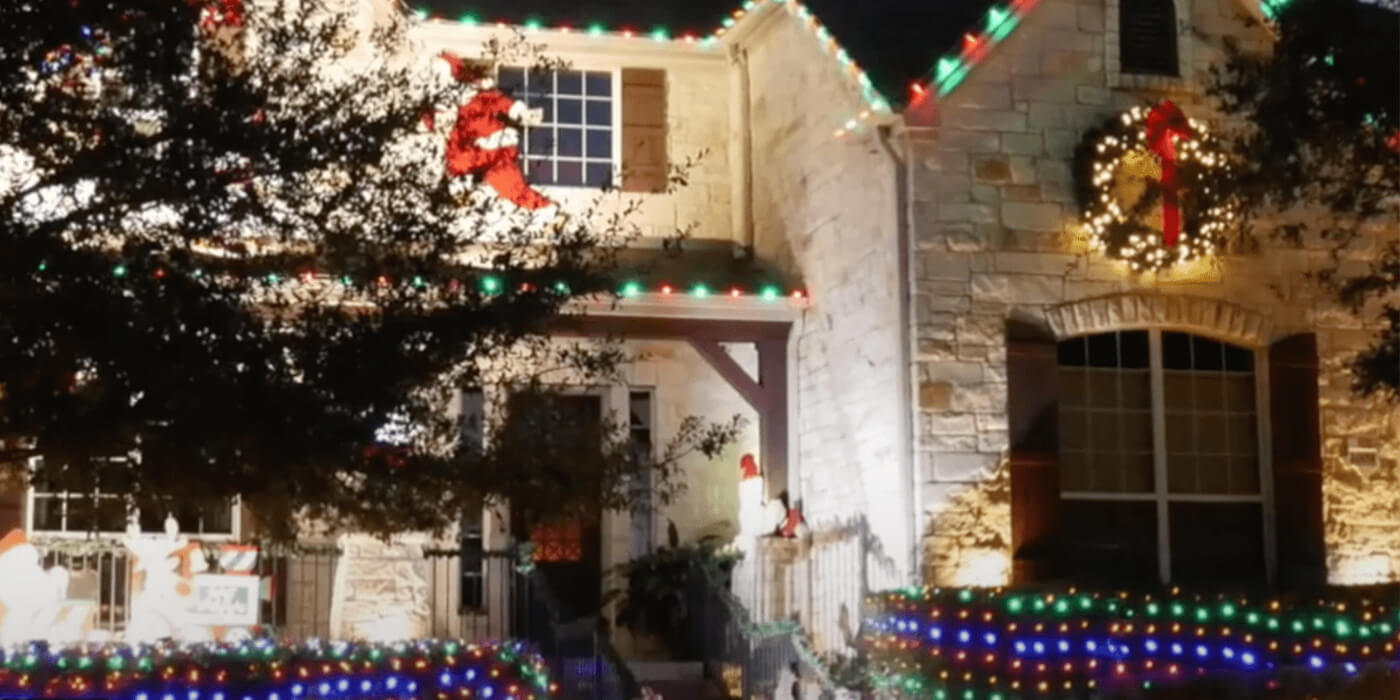 Our skilled lighting pros can take on any outdoor lighting project, large or small. Some examples of the holiday lighting for Bryan-College Station homeowners regularly rely on ABC for includes:
Installing festive lights on your eaves, along your driveway and pathways, and in your trees and on your shrubs.
Highlighting your property's fascia, windows, doors and archways through lighting.
Illuminating your mailbox with a warm glow.
Creating a custom outdoor lighting display design, based on your budget and priorities.
Brightening the areas where you entertain guests, such as in and around your outdoor living areas.
Guiding your guests safely towards your event entrances through carefully-placed lighting.
ABC uses top-of-the-line lighting displays to spruce up your property for the season. Depending on the location and your design preference, our lights include large C-9, or small mini Christmas lights (LED or incandescent). Our technicians can string your lights along the roof, chimney, windows, fascia, doors or archways, and we even have all-in-one gutter and shingle clips. We power them with heavy-duty 15 amp outdoor timers. We'll also do lighting for your yard with C-9 lights mounted on durable plastic yard stakes.
The ABC Process
1. Contact ABC
When you contact us, we'll ask questions to get an idea of what you're looking for. For example, we may ask about color schemes or design preferences.
2. Get An Estimate
We'll provide you with an estimate for all needed services.
3. Perform Service
We will work quickly to hang your lights and perform any other agreed-upon services.
4. Pack Up Your Lights
When the holiday season ends, we'll return to your home to take down all the decorations. We put everything in boxes so you are ready for next year.
ABC is here to help make homeowners' lives easier all year long. We understand that during the holidays and before events you host, this assistance is even more important.
That's why we make our staff available during these busy times of year. As more and more homeowners rely upon ABC for our event and holiday lighting services, we are seeing that our limited number of appointments are filling up early in the year. That's why we recommend homeowners contact us in early November to reserve your spot.
For those of you who would like to take advantage of our event lighting services year-round, we recommend reaching out about eight weeks before your event to book your consultation. We understand that planning an event takes time, and we want to make sure there is adequate time to meet with you, present you with a suggested outdoor lighting plan and install your lights and equipment so that you can focus on a successful event.
The holidays are a busy time for homeowners, so ABC is ready to help get you ready for what can be the most stressful few months of the year. That said, ABC has a limited number of appointments each holiday season for event and holiday lighting, so we encourage you to book as early as possible so that you don't miss out.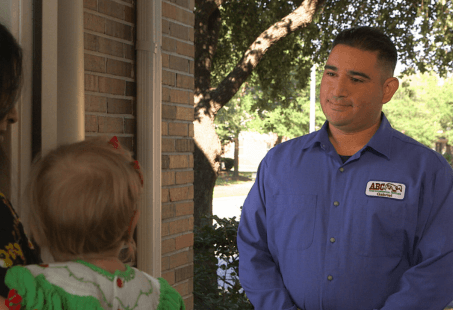 Get Started
We can get your home ready for the holidays.
Frequently Asked Questions
Do I need to have lights already?
No, ABC supplies everything you need! In fact, the light strings are custom cut to just the proper lengths and that guarantees there are no "gaps" and no bundles of lights hidden behind something. The strings are all commercial grade and chosen for their reliability and value.
How soon ahead of time do I need to schedule holiday lighting?
We work down to the wire! If you need lighting, give us a call and we'll give you an estimate and come out as soon as possible to install. We can also schedule installation ahead of time if you're not ready for installation. Keep in mind that the closer we get to the season, the busier we are, but we will always do everything we can to spruce up your exteriors with holiday lighting.
What happens if the lights go out or fail to work properly?
Give us a call us! We'll come back at no charge to fix any issues with the system we've installed. If a timer goes out or a bulb needs replaced, don't hesitate to contact us. We will send someone back to your home at no additional cost to you.
What types of events can you help me with?
Professional lighting isn't just for Christmas time! ABC Home & Commercial can help you with special lighting for all sorts of events including weddings, birthday parties, and business events. If you've got a special event in the works, call us for a free quote. We'll design a display to meet your needs and your budget.
Where are lights stored after removal?
Whether for the holidays or an event, when the time is up, ABC will carefully place your lights in storage boxes so you can easily access them again when needed. If you choose ABC for your holiday lighting the following year, your costs will decrease significantly, as you have already invested in high-quality decorations that are maintained and stored properly for repeated use. If you want to add anything on to the previous year's display, we can help you with that too!
Get Started
We can get your home ready for the holidays.
Additional Christmas Lights Installation Service Areas in Greater Bryan-College Station
ABC serves many surrounding communities, including, but not limited to:
What Our Customers Are Saying
Lynnette Palomo
12/3/2021
"Robert came out to explain ABC and what they had to offer…..everything from pest control to lawn service to handyman. He was friendly and professional. Elisabeth came out the next day for my first service. She was also friendly and professional and very efficient! Thank you for fitting me into the schedule so quickly!"
"Elizabeth was very informative She did a very thorough job. She addressed all my concerns. I'm a satisfied customer."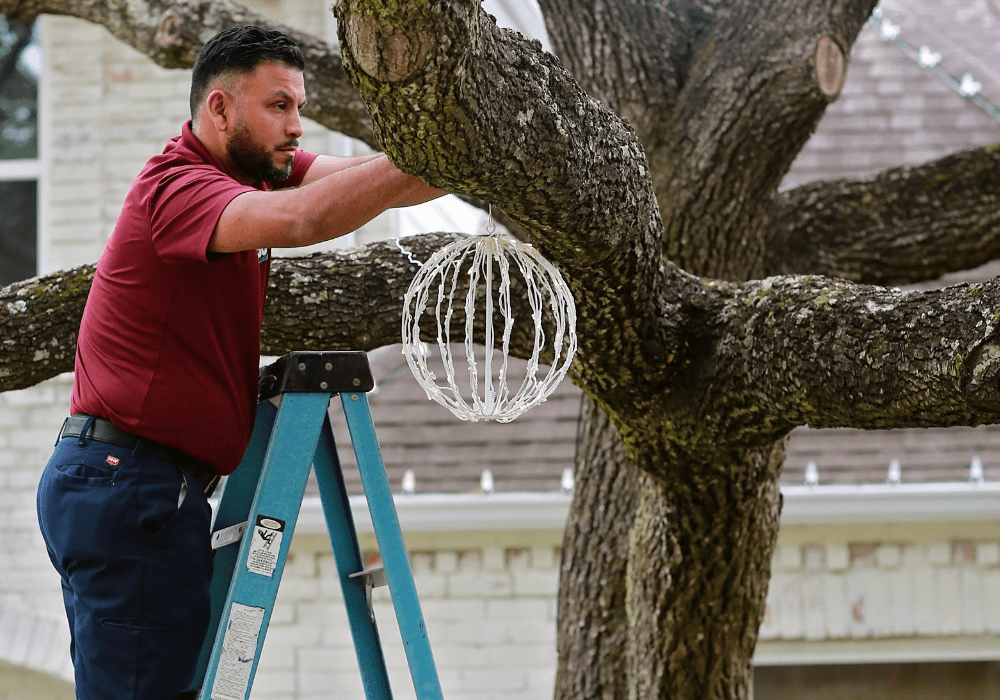 Need Holiday Lighting Services For Your Business?
Spread holiday joy to your customers. We can get your business beautifully decorated for the holiday season!
ABC's Complete List of Home Services in Bryan-College Station
Why deal with multiple service providers when ABC can do it all?