Lawn Services & Lawn Mowing in Bryan-College Station, TX
When faced with a list of to-dos, it's no surprise that lawn care tasks often get put off. That said, there's nothing quite like a green, healthy yard. If you want that healthy grass and lush landscaping without putting in the hard work, ABC Home & Commercial Services can help. We have a team of experienced specialists that has earned a reputation for providing superior lawn care in Bryan-College Station, Caldwell, Hearne and surrounding areas.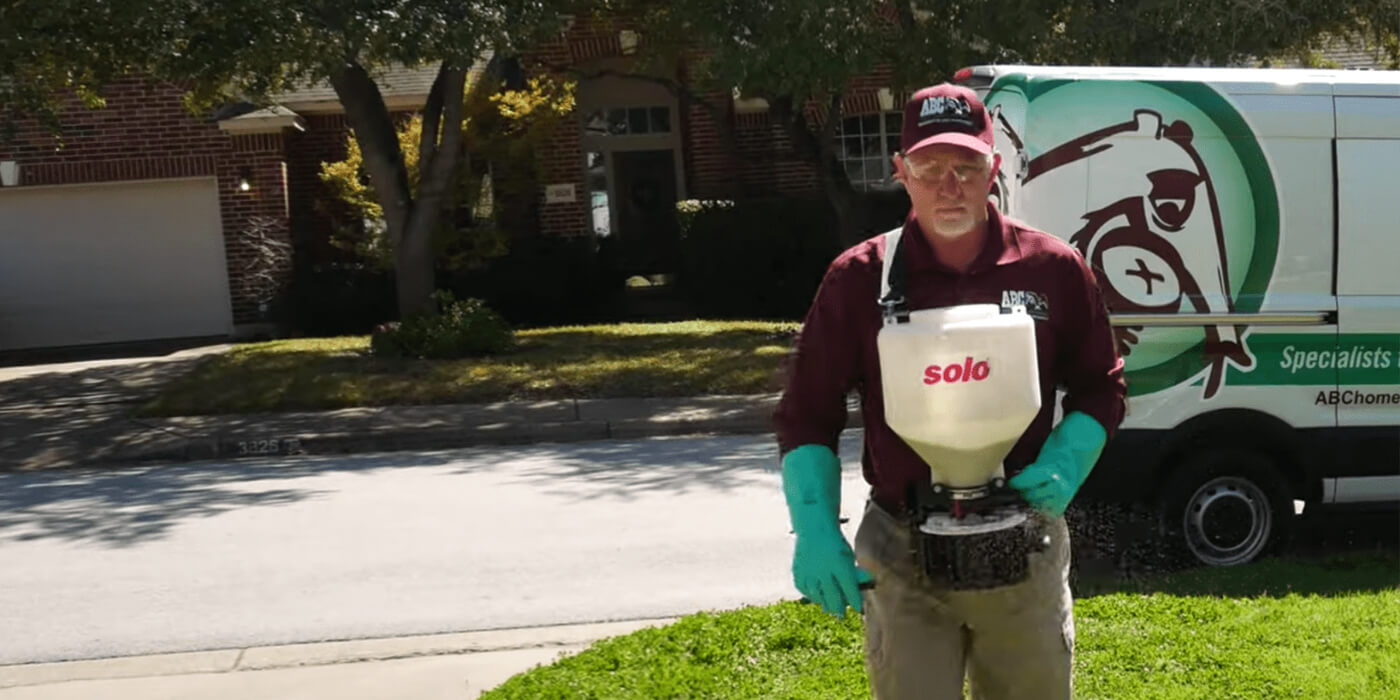 Download Transcript
Comprehensive Lawn & Landscaping Services
ABC has the knowledge and the experience to provide you with consistently high-quality, full service lawn services.
Homeowners in Bryan-College Station count on ABC's lawn experts for:
Lawn Mowing
Keeping your lawn mowed on a regular basis is much easier said than done. The buzzing of mosquitoes, consistently hot weather and the hassle of keeping lawn equipment maintained can prove quite a challenge to keeping your grass nicely trimmed. ABC's lawn care experts can work with you on a schedule to keep your yard looking great, based on the type of grass you have, how fast it grows and your budget.
In addition to providing reliable mowing services, ABC will edge and weed-eat around your walkways and driveway and remove clippings from these areas as a part of your lawn service.
Our soils here in Texas lack some of the key nutrients your lawn's plants and grass need to thrive in our dry, hot climate. Add too much fertilizer, or at the wrong time, however, and your yard will suffer.
Armed with a thorough understanding of turf and soil science, ABC's lawn care experts created a fertilization program to provide year-round supplements to provide your flowers, shrubs and trees with exactly what they need at the times of year that your plants can benefit most.
Having healthy, green grass is nice, but adding colorful flower beds, attractive shrubs and pathways and patios can transform your outdoor spaces from drab to delightful. Whatever your vision, ABC's landscaping pros can turn your vision into reality.
Our landscaping experts apply their knowledge of what grows best in Brazos Valley to advise you on what plants to add to your improve both your yard's aesthetics and function.
Towering, majestic trees can add value to your home, reduce cooling and heating costs and add to your curb appeal. The size and care of these large plants requires specialized care that is beyond the expertise of most homeowners.
To promote healthy growth, trees should be pruned to improve air circulation and the amount of sunlight which penetrates the canopy. Trimming also prevents damaged limbs and branches from falling, which can pose a danger to your family, neighbors and visitors. Drought conditions weakened many trees in our area, and in some cases extensive damage may mean a tree needs to be removed, which is a big and difficult task. ABC's tree experts can provide all of these services to protect this important part of your landscape.
You can have the best landscaping in the neighborhood, but if your sprinklers aren't working properly and your plants die, your investment will be wasted. Automatic irrigation systems provide our lawns with the needed moisture that we don't often get here in Bryan and College Station. When sprinklers are broken or you have another problem with your system, who do you turn to?
ABC's irrigation experts can handle any type of repair to your sprinklers, in addition to installing new systems and expanding existing systems. Our technicians can inspect your current system, diagnose the problem and recommend how to get your system working again.
Composting
Composting involves regular applications of organic material directly onto your lawn. This works to improve the overall health of the turf. We typically recommend aeration with compost, twice a year — typically in the Fall and Spring.
The ABC Process
1. Contact ABC
We'll learn what you need over the phone or during an in-person meeting at your home. Usually, we can schedule an appointment in a few business days.
2. Get An Estimate
We'll provide you with an estimate based on your goals and our recommended set of services. Once we get your approval, we will get you on the schedule.
3. Service
Our trained specialists perform all agreed-upon services. When we're done, we will clean up any debris to keep your yard neat and looking great.
4. Follow-Up
Depending on what services we performed on your property, we'll provide you with an update or recommend additional follow-up or ongoing services.
Here in the Bryan-College Station area, the growing season is practically year-round, although plants tend to need different kinds of care, depending on the season. ABC's lawn care experts can develop a schedule customized for you that meets your needs while working within your budget so that your yard looks great all year long.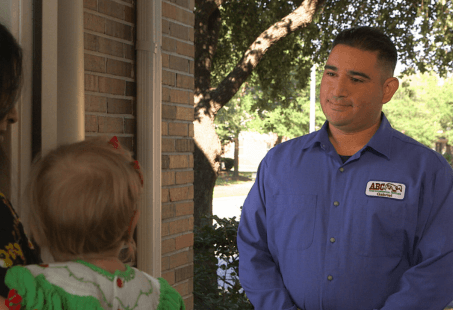 Get Started
We offer a full range of lawn services.
We understand you have a lot of choices when it comes to lawn services. Here in Bryan-College Station, we hear from our customers that they appreciate that ABC conducts thorough background checks and drug testing on all our employees. We want you to feel completely at ease when our technicians are on your property, so we provide extensive in-house training. In addition to providing the most reliable, high-quality lawn services in this area, we treat your yard as we would our own.
Frequently Asked Questions
What is the impact of your lawn products on my family, pets and the environment?
As a company, ABC cares about the communities we serve, and that extends to the choices we make about the products we use. Our technicians work with you to address any concerns you might have about our work. Any treatments we use are developed for residential use and are applied very carefully, in low concentrations.
Get Started
We offer a full range of lawn services.
Additional Lawn Service Areas in Greater Bryan-College Station, TX
What Our Customers Are Saying
"ABC Home & Commercial Services did an outstanding job of redesigning, replacing and trimming many of the trees and shrubs on our residential property. They also mulched all of our flower beds, added all new bed border around the trees/beds and then added grass sod in several areas that needed it. Brandon and Michael were always very cordial and professional in handing their day to day business. My wife and I were pleased with the quality of their work. We couldn't have expected more we were pleased with the overall quality of their work. Overall they represented their company in a very positive manner."
"I have had ABC for more than a year now. Definitely glad i switched. All issues I have get handled. I use to stress about pest control as a property manager but, not anymore. A shout out to Jeremy, our technician. Does a great job. Courteous, well informed, professional, and he cares. Thanks for taking care of my tenants."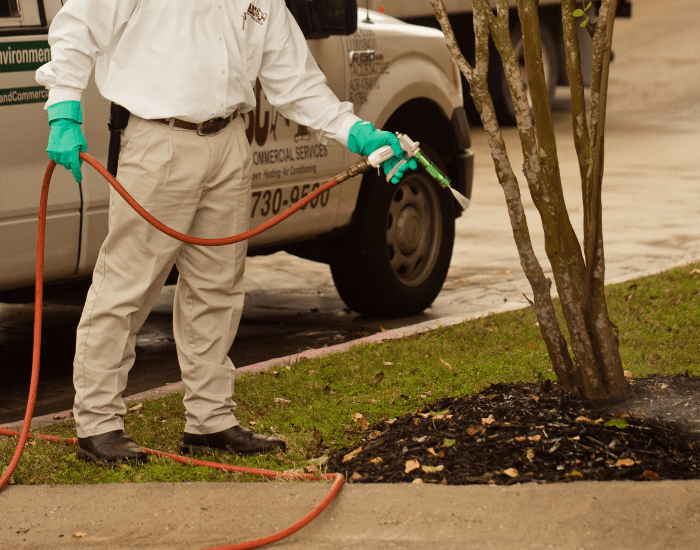 Need Lawn Services For Your Business?
Our lawn care specialists will ensure you make a good first impression on your customers by keeping your facility's exterior looking nice and tidy.
ABC's Complete List of Home Services in Bryan-College Station
Why deal with multiple service providers when ABC can do it all?