House Painters in Bryan-College Station, TX
One of the least expensive ways to make a big impact on your property is to paint. You can freshen up a room by applying a new coat or change the color. Or, add curb appeal by painting your home's exterior. Hiring a pro will guarantee the job gets done right without the hassle. That's why homeowners contact ABC Home & Commercial Services for all their painting projects. Our house painters in Bryan-College Station will get your home looking great.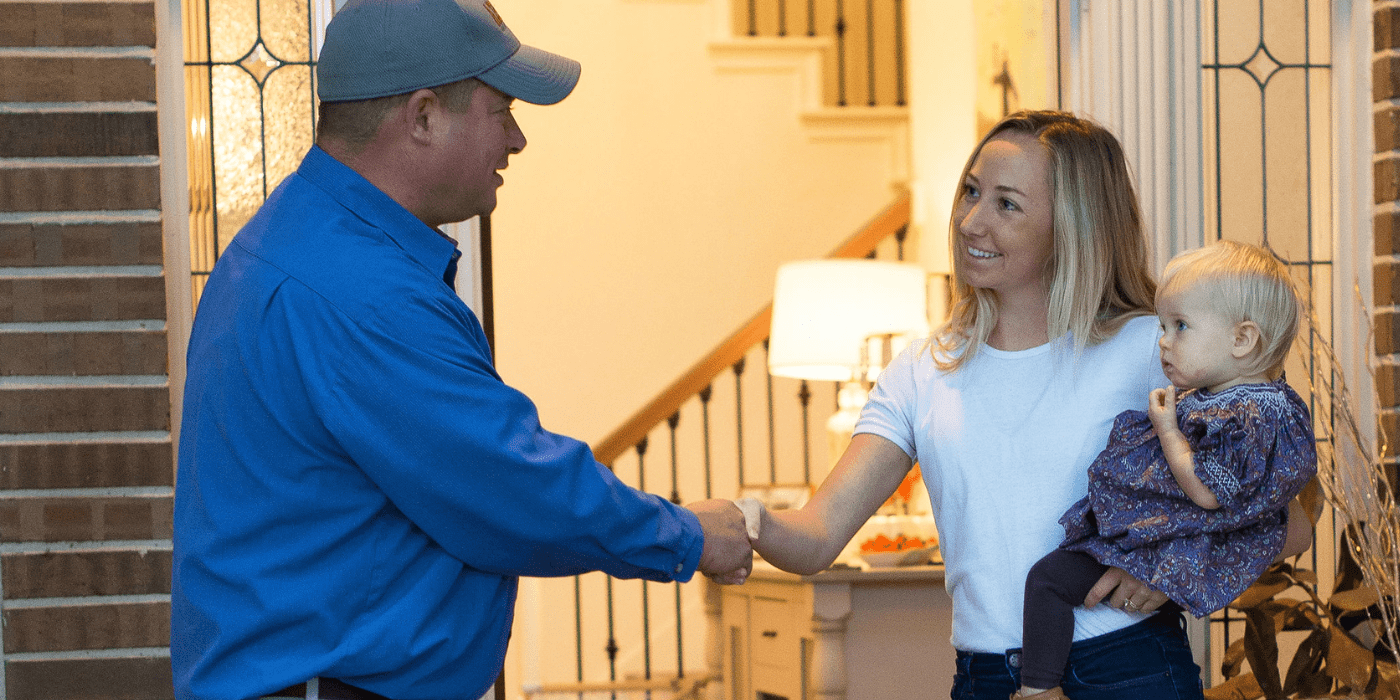 Our painters most commonly use Sherwin-Williams paint, but we are happy to discuss alternatives if you have another preferred brand. When possible, we recommend low- or zero-VOC paints for our projects which produce less odor and are less toxic.
The ABC Process
1. Contact ABC
When you contact us, we will ask questions to get an understanding of what you need done. For larger jobs, we'll schedule a brief meeting at your home.
2. Get An Estimate
We'll provide you with an estimate for all needed services. Once we get your approval, we'll schedule a time to get the work done.
3. Perform Services
Your ABC painter will work quickly to perform the desired services. We'll make sure to clean up when we are done.
4. Follow-Up
We will update you on the work we performed and provide any helpful follow-up instructions or other guidance.
Choosing ABC for your painting projects means you'll have a professional in charge who's following a proven process.
Interior Painting Projects
For painting inside your home, the first thing we will do is to move any of your furniture and other belongings to the center of your room. Then, we'll cover everything to ensure they remain paint-free during the project. ABC's painting pros will then mask and tape your floors and other surfaces with plastic to make sure paint doesn't appear in places you'd rather it not and put down drop cloths so no paint gets onto your floors.
After we have covered the areas you don't want to be painted, we will prepare all the surfaces for painting. This involves filling and caulking any holes we find, sanding down rough spots and applying primer. Once all of the desired surfaces are fully painted, our painters will carefully clean up so that you can start enjoying your newly painted area!
Exterior Painting Projects
Just as we would inside of your home, when we apply paint to your home's exterior, we begin by covering up plants, walkways or any outdoor decorations that you wouldn't want ruined by drops of paint. Then, our painters will use the appropriate primer to prepare your exterior surface for paint. When we begin to paint, we pay special attention to your doors, windows and trim. When the painting is complete, we remove all coverings and any project debris. Once we are done, you can admire your freshly-painted home!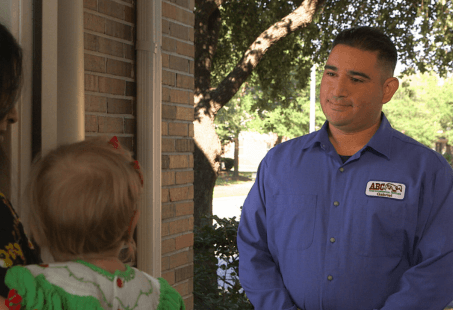 Get Started
We offer a full range of handyman services.
Bryan-College Station area homeowners choose ABC for painting projects for the same reasons they choose ABC for lawn care, pest control, and much more. Our customers tell us that they appreciate that we take the time to perform extensive background checks and drug testing on all our employees so that you can feel safe with ABC on your property. We provide friendly and superior service, every time, and help you with your home so you can spend your precious free time on the things you enjoy.
Frequently Asked Questions
How do you create estimates for painting projects?
When you contact us for an estimate, we'll connect you with one of our senior estimators to learn more about your project. For smaller jobs — like painting a door, doing touch ups or even painting a bedroom — we can give you a free, no-obligation quote over the phone. For larger projects, your conversation with the senior estimator will be followed by a brief meeting at your home.
At that meeting, we'll gather the information we need to provide you with an estimate. Our inspector will:
Take a look at the area you'd like to be painted
Ask you about your desired colors and finishes
Find out what your budget is
Answer any questions you might have
The factors which impact the cost of your project are the size of the area you want painted, whether the job is multi-story and requires scaffolding and other specialized equipment, and how long it will take for the project to be complete, particularly if there are any unique challenges in the space.
Once you approve the estimate, we can schedule the work to begin.
What types of painting does ABC offer?
Depending on the project, ABC's experienced painters will apply paint using brushes, rollers and sprayers.
Our painting pros routinely help homeowners with:
Brightening up a space with a new coat of paint
Removing "popcorn" ceilings
Painting brick fireplaces
Applying stain or paint to fences and decks
Painting doors, trim and baseboards
Adding chalkboard paint to a wall or surface
Adding texture, stripes or stencils to a wall
Advising homeowners on paint colors and textures for different areas
Exterior painting jobs, including painting siding
Painting an entire home for a new look
In addition to applying a new coat of paint on an existing wall, ABC's painters repair cracks and holes in your drywall so that paint goes on with a smooth, even finish. For more involved projects, we can enlist a pro from ABC's Handyman department to remove and replace rotting wood and damaged siding and window sills.
If you have a large painting job, we can also complete the project in stages to make it more convenient for you and to help spread out the costs over time.
What's ABC's clean up process after painting work?
ABC prides itself in making homeowners' lives easier, and this extends to leaving your home as clean as we found it. Our painters will treat your home as they would their own and work as quickly and efficiently as possible to minimize any disruption to your routines. When your project is complete, we will leave you with any extra paint and other materials we did not use in case you need it for touch-ups later.
Can you complete painting projects while I'm away at work?
You can trust our ABC painters to work in your home while you're out. Once you let us know how to access the areas we need to get started, we can complete a project while you are gone, and you can return home to a freshly painted space.
Get Started
We offer a full range of handyman services.
What Our Customers Are Saying
"ABC Home & Commercial Services did an outstanding job of redesigning, replacing and trimming many of the trees and shrubs on our residential property. They also mulched all of our flower beds, added all new bed border around the trees/beds and then added grass sod in several areas that needed it. Brandon and Michael were always very cordial and professional in handing their day to day business. My wife and I were pleased with the quality of their work. We couldn't have expected more we were pleased with the overall quality of their work. Overall they represented their company in a very positive manner."
"I have had ABC for more than a year now. Definitely glad i switched. All issues I have get handled. I use to stress about pest control as a property manager but, not anymore. A shout out to Jeremy, our technician. Does a great job. Courteous, well informed, professional, and he cares. Thanks for taking care of my tenants."
ABC's Complete List of Home Services in Bryan-College Station
Why deal with multiple service providers when ABC can do it all?