Lawn Services in The Woodlands, TX
Your lawn is your home's welcome mat. A green, lush carpet of grass and colorful flower beds enhance your curb appeal, increase your property value and encourage you and your family to spend more time outside. Keeping your yard looking healthy—especially in the dry, hot and humid climate here in The Woodlands—requires a combination of time, tools and expertise many homeowners don't have. When it comes to lawn services in The Woodlands, homeowners agree that ABC Home & Commercial Services provides reliable, high-quality mowing, edging, trimming and landscaping to showcase your biggest investment.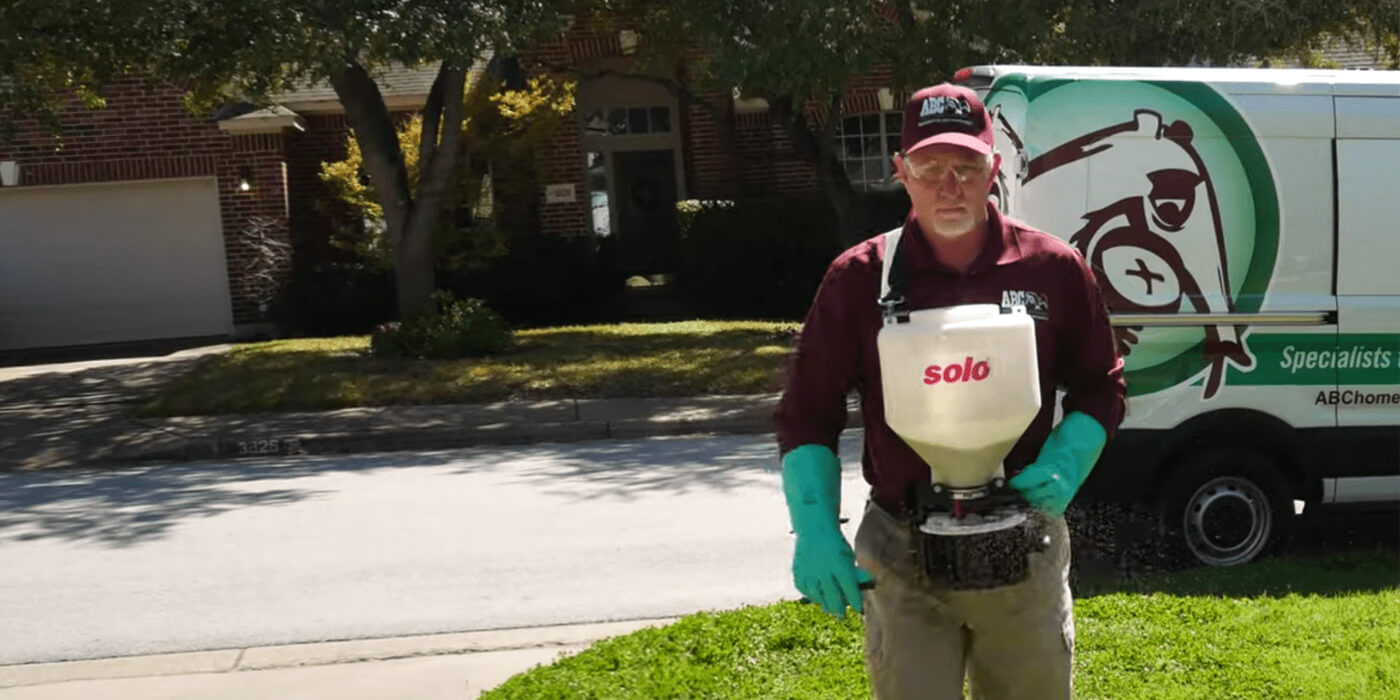 Download Transcript
Comprehensive Lawn & Landscaping Services
Our top priority is the health and well-being of your family. That's why ABC only uses products formulated for residential use, in low concentrations. During the decades that we have worked on lawns in The Woodlands, we at ABC have learned which products work best, while minimizing the impact on the environment. Customers can request to see the Material Data Sheets on any of the products we plan to use, so you know what the key ingredients are and any potential risks, and we work with customers on alternatives to address any concerns.
The ABC Process
1. Contact ABC
We'll learn what you need over the phone or during an in-person meeting at your home. Usually, we can schedule an appointment in a few business days.
2. Get An Estimate
We'll provide you with an estimate based on your goals and our recommended set of services. Once we get your approval, we will get you on the schedule.
3. Service
Our trained specialists perform all agreed-upon services. When we're done, we will clean up any debris to keep your yard neat and looking great.
4. Follow-Up
Depending on what services we performed on your property, we'll provide you with an update or recommend additional follow-up or ongoing services.
ABC takes an individualized approach to lawn care. That means that the recommendations from our experts take into account your type of grass, its condition and the amount of water and fertilizer you are currently using to develop a schedule of mowing which will fit your time and budget and keep your yard healthy. Some of our customers in The Woodlands count on us for regular mowing and others contact us on an as-needed basis.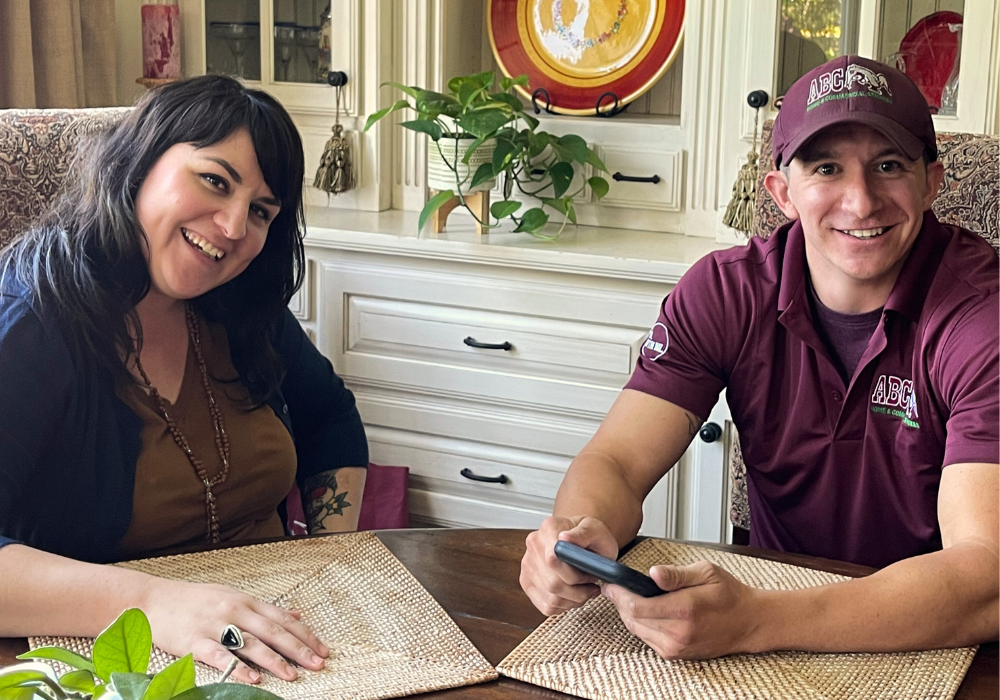 Get Started
We can turn your vision for your yard into reality.
At ABC, we treat our clients' homes as we would our own, which means that we only hire the best of the best. Our employees undergo background checks and receive extensive in-house training, so they are equipped to deliver unparalleled service. When you choose ABC, you are choosing not only experts in lawn care, but also a company staffed with entomologists and master landscapers, so our team can take on any problem or challenge you may be having with your outdoor spaces.
Frequently Asked Questions
What lawn services do you provide?
Whether you prefer ongoing, one-time or seasonal assistance, ABC's background-checked lawn specialists can take care of any size lawn project so that you can get back to doing the things you enjoy.
Here in The Woodlands, homeowners rely on ABC to:
Mow the grass, edge along driveways and paths and trim shrubs and trees so that your yard looks neat and tidy.
Incorporate new plants into your existing landscaping which fit your lawn's needs, whether you have full sun, full or part shade or if you need deer resistant varieties.
Recommend native, drought-tolerant alternatives to your current mix of flowers and plants.
Convert grass to lower-maintenance groundcover to save you money on your water bills.
Clean up your yard by removing leaves, yard debris and thatch which can attract pests and encourage lawn diseases.
Create a new landscape plan with zones for different uses (for your pets, for your children, for gardening, for outdoor entertaining and for a pool or water feature).
Repair your sprinkler system so that your grass and plants get the moisture they need to survive the hot summers we have here in The Woodlands.
Brighten your home's appearance at night and improve your security with the installation of outdoor lighting.
Once your yard is looking great, you can schedule periodic visits from ABC's lawn care experts, on a timeline that fits your needs and budget, so you can enjoy a picture-perfect yard without having to lift a finger.
What happens during the initial consultation?
On our first visit to your home, our background-checked lawn expert will gather information from you about what type of project you have in mind and your budget. After inspecting your property, ABC will provide you with a no-obligation estimate, customized to your property and your needs. This set of recommendations will include all anticipated costs, so that you won't have to deal with any hidden or unexpected fees.
Can you treat lawn diseases or other problems?
Our in-house experts have the knowledge and training to identify and treat common lawn diseases, including brown patch, shade and drought stress, iron chlorosis and take-all patch. Our inspectors can provide you with a treatment plan to address your problem and suggestions on how to restore your lawn.
Can ABC take care of landscaping and lawn care at my business in The Woodlands?
Local businesses in The Woodlands can count on ABC for the same level of reliable, high-quality lawn and landscaping services upon which homeowners have grown to depend. Our commercial lawn care team can make your entryway inviting, keep your pathways and walkways neat and tidy and give your exterior spaces a pop of color with seasonal landscaping.
Get Started
We can turn your vision for your yard into reality.
Additional Landscaping Service Areas in Houston
ABC serves many surrounding communities, including, but not limited to:
What Our Customers Are Saying
"Very friendly and helpful staff. On time and great service. They helped me trap and remove the mice that got into my house. The biggest part of their service is preventing them from coming in again. Every one of the people I dealt with either in the field or at the office were super nice! Highly recommend them. Very happy with my service."
"Professional staff, easy to schedule, and great communication. From the very first visit technician was efficient and pointed out a few areas to be aware of. Overall very impressed with quality of service. We have used ABC from the fall 2019 and still very satisfied. Our tech is amazing and does a great job addressing problem spots! We added the mosquito supression service and it has given us our outdoor space back! We love ABC and all techs are highly qualified and trustworthy!"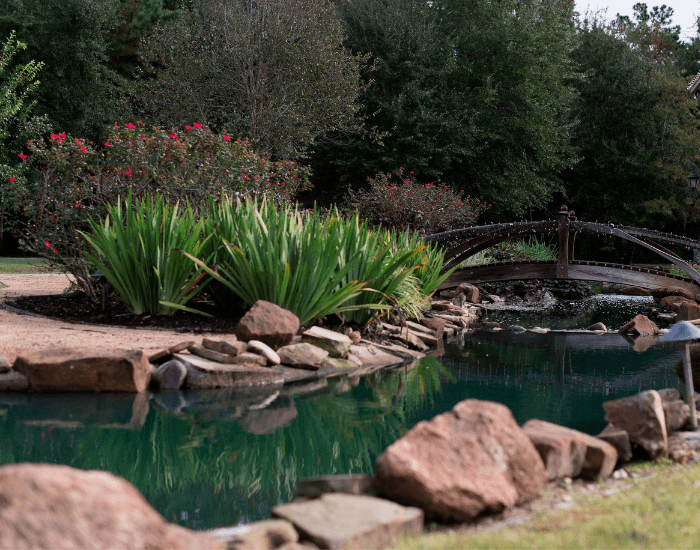 Need Landscaping Services For Your Business?
Our landscaping pros can make seasonal updates or perform a complete transformation so you make a good first impression on your customers.
ABC's Complete List of Home Services in Houston
Why deal with multiple service providers when ABC can do it all?